When I started my career as an Equity Research Analyst at Goldman Sachs in 2000, one of the first lessons we were taught was to find value in low multiples and stay away from lofty P/Es.
Also, over my 16 years in the industry as an Equity Sales and Sell side & Buy side analyst, there was not a week or even a day when I did not hear comments like: "I do not touch any stock above 20x"… sometimes the threshold was as low as 15x or 10x…
It is true that valuation methodologies based on discounting the future Cash Flows of a company are more theoretical than multiples. They use many inputs (equity risk premium, stock beta, terminal growth...) as opposed to a trailing P/E, which is a hard number. This could explain the very high focus we have in the industry on the P/E ratio.
Some of the best investors/traders out there with consistent double or triple-digit returns have been very critical on investors discriminating stocks trading on a P/E seen as "too high." William O'Neil, the father of the CANSLIM strategy, wrote in his famous book, "How to make money in stocks," that the best performing stocks in History have been stocks trading at a much higher P/E than the market.
He made an analysis based on 50 years' data research to include several bear/bull cycles, which proved that on average the top-performing stocks started their upturn on a P/E of 20x or above vs. 15x for the market. Those stocks peaked on a 45x forward multiple on average.
In simple terms, if you were not willing to buy stocks with above average P/E, you would have automatically eliminated most of the best-performing securities.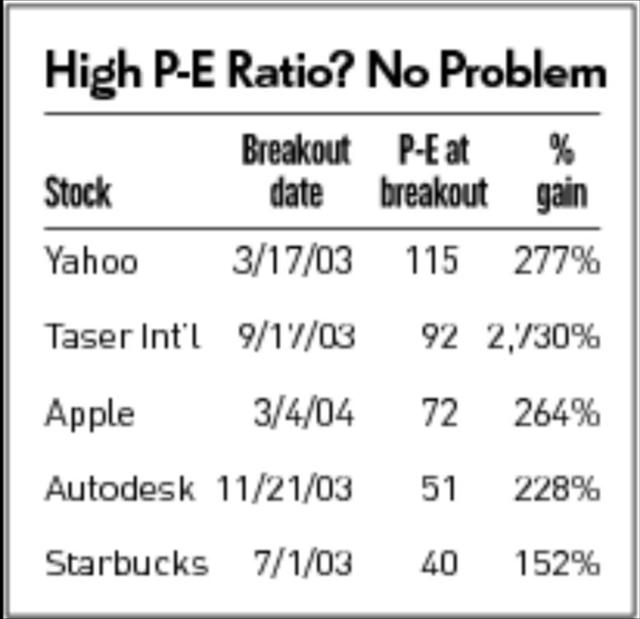 Jim O'Shaughnessy, one of the pioneers in quantitative equity analysis, in his famous book "What works on Wall Street" proved that using the P/E alone as a metric was not very powerful. The table below is taken from his analysis. Buying the lowest P/E would not have helped you to outperform on a 10yr CAGR basis. Doing the same analysis on small/mid cap would give you even less chances to outperform the market if you were buying only stocks trading on low multiples. For large caps, your odds are much higher though.

Interestingly the correlation between multiples and performance is much better using Price/Sales (and gets even better if you combine it with high ROE). So, buying low P/E and selling high P/E stocks, for mid cap, looks like an inefficient strategy.
Let's take some examples of what an investor would have missed, had he decided to stay away from stocks purely based on multiples:
Xerox (NYSE:XRX) sold for 100x P/E in 1960 before a 33,000% move ($5 to $170 adjusted for splits).
Syntex was trading on a 45x P/E in July 1963 before a 400% move.
Genentech was trading on 200x in November 1985 before a 300% move in 5 months.
AOL (NYSE:AOL) was trading on a P/E of 100 in November 1994 before a stunning 14,900% increase from 1994 to December 1999.
Yahoo (YHOO) was trading on 938x P/E in 1997 before advancing by 7,800% in 29 months to peak at a P/E of 1,700x in 1999.
TASER (TASR) was on a P/E of 230x in 2004 before it progressed by 300% in 24 months.

Tesla Motors (

TSLA): 2013 at $65 buy level in May, TSLA was on 100x P/E… it moved to $290 and attracted tonnes of short sellers using the valuation argument all along its progression.
And the list goes on with names like Home Depot (NYSE:HD), Starbucks (NASDAQ:SBUX), eBay (NASDAQ:EBAY), Amazon (NASDAQ:AMZN), Netflix (NASDAQ:NFLX), Facebook (NASDAQ:FB), Priceline (PCLN), Chipotle Mexican Grill (NYSE:CMG)… The 25 best-performing stocks between 1995 and 2005 had an average P/E of 33x, the top two over the period on a total return CAGR basis were Celgene (223x P/E at the start) and American Eagle Outfitters (NYSE:AEO) (30x).
What is even more astonishing is the fact that some of those "market leaders" broke out of a base pattern formation (cup/handle, buyable gap up…) to make parabolic moves at the highest P/E level of their history.
Let's take Crocs (NASDAQ:CROX) as an example. If you were buying Crocs in 2006 at 60x P/E, you could have made 700% in 20 months before the stock peaked. This P/E was the highest for the stock in its history. Say you waited the first leg down to jump in at what was its lowest P/E at that time below 30x… you would have lost 99% in a year… hmm…
Sun Micro Systems was a leader in the 90s and topped in 2000. The stock price and P/E were at new highs before the stock had a 760% run… the share price then collapsed by 80% in 8 years to become a value trap.
Here is quick analysis of Alphabet (NASDAQ:GOOG) (NASDAQ:GOOGL), which has been a "super-performer." GOOGL traded on a trailing P/E of 68x at the IPO. In September 2004, it broke out at $140 (c$70 on the chart, stock was split in march 2004), and quadrupled by January 2006. You can see on the second chart the P/E expansion (unfortunately, the chart does not capture 2014).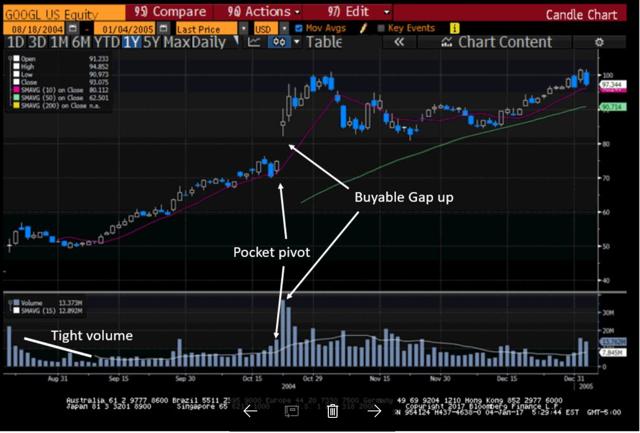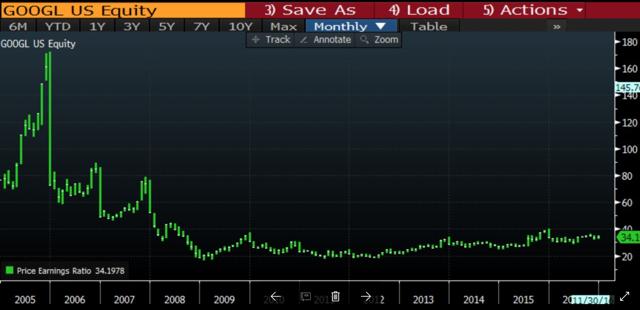 The best performing stocks cannot be approached on a static P/E. One of the reason is the difficulty to anticipate how big the business can be. Those companies share similar features: Disruptive product/service that enable people to improve their productivity, their leisure enjoyment and standard of living.
It is never easy to assess how big such stories can become. One should assess the market size, its growth, the company's market share potential, the risks of competitive technologies or services, model margins/FCF/Sales years out… it makes long-term projections much tougher as the earnings grow so fast that the real question is how long can it continue at such a pace.
For those reasons, the 12-month forward P/E can look astronomical. Another element that pushed the P/E upward is the limited number of shares and imbalance between supply and demand those companies have before their massive runs.
But why so many mutual funds (and often too late index funds) get involved? A simple reason: Say 98% of your portfolio tracks the S&P 500, you just need two of those names a year to outperform the index by 200bps+. Therefore, the best "growth" fund out there like Fidelity Contra Fund or Parnassus are constantly looking for them and early buyers. Peter Lynch, considered as one of the best Mutual Fund manager of all times, was massively involved in such strong growth candidates to outperform its peers so consistently for decades.
So how does one find those high P/E stocks and value them?
"Super-stock" candidates need to be found and analyzed on a methodology combining multi-statistical filtering (relative strength, accumulation, mutual funds ownership, low number of shares outstanding, money flow in the sector...) with fundamental analysis (disruptive product or service, sales/earnings acceleration and revisions, high ROE, earnings breakout year...).
But the use of basic technical formation is almost mandatory given the higher beta they carry. Adding technical analysis increases the probability of entering, reducing and exiting positions successfully. Basic formations like cup/handle, saucer, ascending base, pocket pivots in a base, double bottom, base on base, undercut rallies... are chart patterns that help increase your batting average.
It is a very hard task, but highly rewarding as the performance of investors like Mark Minervini, David Ryan, Chris Kacher or Gil Morales prove…
Getting the basics on those high growth companies help on the short side as well. Those stocks get very tempting to short but the timing can be a killer. Take Netflix, Keurig Green Mountain (GMCR) or Tesla for instance. How many hedge funds have lost a fortune trying to short them against the momentum claiming the P/E was not making any sense, that the "E" expected was too high or using the argument (NFLX for instance) that the valuation was already pricing in 100% market share in a too inflated market size?
Those investors can even be fundamentally right (at some point), but the cost to be wrong in the meantime is often too painful and they must cover the short, pushing the stocks even higher.
Minervini and O'Neil give a back of the envelope method to come with a "price target" for such high growth stocks. It can also be used to avoid opening a short position too early. Even if every case is different, those market leaders have indeed very similar patterns. One could use the current P/E multiple at the breakout level from a primary base, multiply it by 2.5x and using a next twelve months EPS on your model (or even on consensus).
As an example, Facebook cleared a double-bottom base in July 2013. Its P/E ratio at the $29 entry point was 49x. Multiply 49 by 2.5x. That gives you an expanded P/E of 122x. At the time, analysts expected earnings in 2014 to rise to 91 cents a share. That gave investors a preliminary target of $110.
Very rough analysis, but it's often better to be roughly right than precisely wrong…
It is obviously not necessary to own those names to make good returns especially for asset managers looking for a low volatility strategy or L/S market neutral. The main argument against chasing those stocks is related to the downside risk and the "bubble argument." But bubbles can be very profitable for investors who learn how to ride them.
In a bear market or severe corrections, those market leaders go down on average 70% vs. 30/40% for the market. They get killed and often start cracking before fundamentals start to deteriorate (on earnings miss, lower guidance, execution issues…), which is why a tehnico-fundamental analysis is required.
But is it worth mentioning that value strategies can also hurt a lot as we have seen over the last few years. In the last few days, the clothing retailer NEXT in the UK was a good reminder (carrying almost double-digit FCF yield, single-digit P/E). So was the recent rotation out of supposedly "defensive" names post US elections.
A fair question to ask is how does someone spot the peak. The exit point is tricky but again there are clear technical messages sent by the share price and volumes. One would have to use technical analysis on top of fundamental to spot a possible top and exit point. Many leading stocks end up with an explosive run on heavy daily volumes (exhaustion gap, climax). This occurs usually after multiple base formations (a series of 5+), extended price from the long-term MAs, after big stock splits, placings... Post such a parabolic run, the volatility of the stock increase and any sell off on huge volumes with a 10 DMA/20 DMA violation can be used as an exit point or position reduction.
Nvidia (NASDAQ:NVDA) could be in this situation currently with a multiple expansion of 170% in 2016, sitting at an extended level 70% above its 200DMA and increased volatility. But so far, it only violated the 10 DMA, so it could be too early to say. The trick is to assess if we are in a correction/shakeout phase or climax. Market leaders can sometimes correct by 35%-40% before forming a new base and shooting higher.
Hope you will find this analysis useful. The aim was to share some of the great stuff that exists out there, which prove that the P/E metric can be very misleading and is not predictive for the best stock market winners.
Hundreds of books are published every year on stocks, but I have found very few as useful as the ones published by those investors/traders mentioned in this write up.
Please do not hesitate to contact me as I'm always keen to communicate and meet with fund manager, investors, traders interested in those topics.
Disclosure: I am/we are long GOOGL, FB, AMZN, NVDA. I wrote this article myself, and it expresses my own opinions. I am not receiving compensation for it (other than from Seeking Alpha). I have no business relationship with any company whose stock is mentioned in this article.