This article will examine where REITs stand in 2017 fundamentally, with a look at REIT valuations relative to history, relative to the S&P and relative to each other. My conclusion is that REITs are positioned to outperform the broader market and the actively managed portfolio we outline later in this article is intended to outperform REITs.
Fundamental outlook
In brief, a strong economy outweighs the Fed.
Since REITs became the 11th GICS sector at the end of August 2016, commentary on REITs has been dominated by generalists according to Chris Hudgins and Jake Mooney who coauthored an interesting piece (that is only be available to SNL customers) for SNL Financial. They posit that generalists view REITs as being closer to bond substitutes, causing the sector to be viewed as more sensitive to interest rates than it really is. This theory is backed up by substantial REIT underperformance since the GICS change.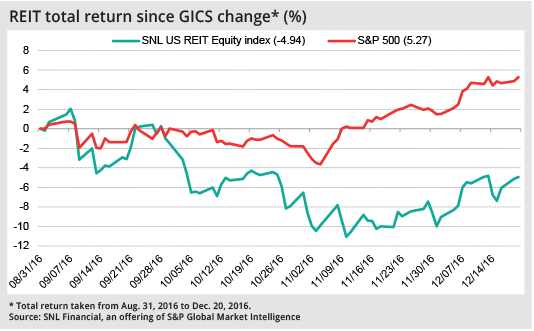 We at 2nd Market Capital tend to agree with their thesis based on an abundance of circumstantial evidence that we observe in our daily work.
Whether or not you agree with the opined etiology, it is clear that REITs have gotten substantially cheaper relative to the broader market. We see the greenness of generalists with respect to REITs and the price movement that it has caused as an excellent buying opportunity.
REITs got cheap on a mistaken view that they are materially harmed by rising interest rates and the corresponding view that they are not significantly helped by a stronger economy.
In reality, REITs are far more sensitive to the economy than they are to interest rates and we believe the renewed economic growth from impending fiscal stimulus will outweigh the possible 3 hikes from the Fed. Essentially, the generalist analysts seem to be missing a few key points.
Increased economic activity increases the rent tenants are willing to pay so renewal rates are more positive and re-tenanting efforts are more fruitful.
REITs largely use fixed rate debt or hedged floating rate debt, both of which can be termed out to match the duration of their assets.
A substantial portion of REITs can increase rental rates in the near term. The perception of most leases being long term is a fallacy. Hotels reprice daily, apartments annually, office and industrial REITs have a resting level of vacancy which can be filled.
Fundamental summary: While REITs do have some defensive attributes, they retain the ability to fully participate in macroeconomic prosperity. Therefore, I believe the relative underperformance in recent months has been misguided and represents a buying opportunity.
Valuation relative to history
REITs are historically cheap. With the MSCI US REIT Index (RMZ) at 1,158 as of 1/10/17, it is still below its peak in 2007 where it crested 1,200. Consequently, the strong performance of REITs since the financial crisis merely represents recovery.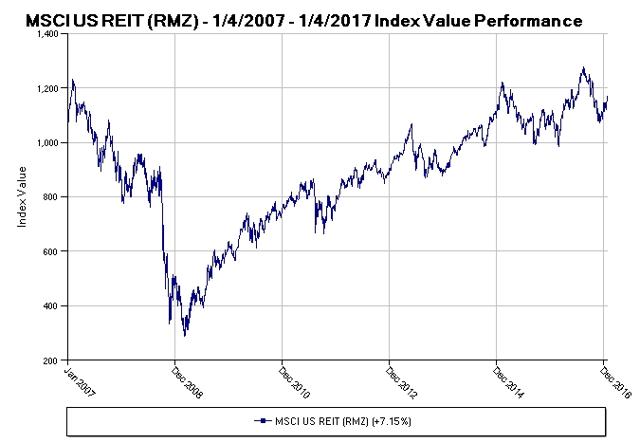 Source: SNL Financial
In contrast, the Nasdaq has sailed well beyond its very bubbly pricing of 2,000 and the DOW and S&P are at or near record highs.
In terms of valuation, REITs have gotten cheaper since 2007.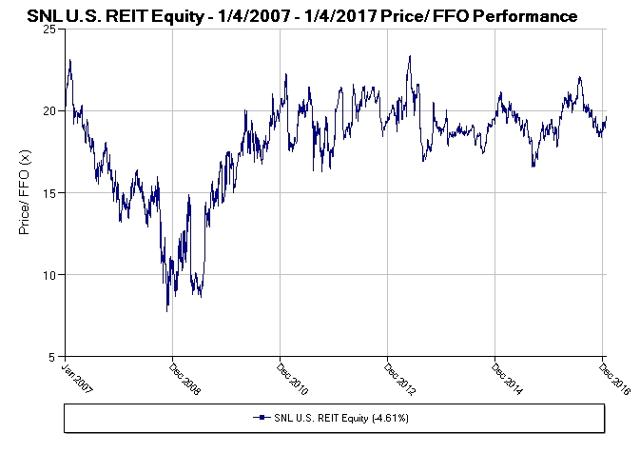 Source: SNL Financial
All that talk about REITs being in a bubble as a result of low interest rates is utter nonsense. REIT valuations at about 19X FFO are right in line with history. Adjusting for a positive fundamental outlook, I would actually suggest REITs are on the cheap side.
Valuation relative to S&P
We covered this topic in greater detail in a previous article, so we are merely reposting the conclusion so as to use the information for our 2017 outlook. Our analysis suggests REITs are a better value than the S&P as they have more growth relative to current trading multiples. Despite REIT FFO/share growth substantially outpacing S&P EPS growth in the last 3 years, the S&P P/E multiple has expanded materially while REIT P/FFO has remained flat.
Intra-REIT valuation
REIT internal valuation is starkly in contrast to the index. While the index overall has had rather stable valuation, the prices of individual REITs have been all over. This broken correlation should be a good sign as it suggests fundamentals are coming back into play as the primary desideratum of valuation.
Internally, REITs have had a platykurtic shift featuring a broad plateau of multiples with high occurrence and almost non-existent tails.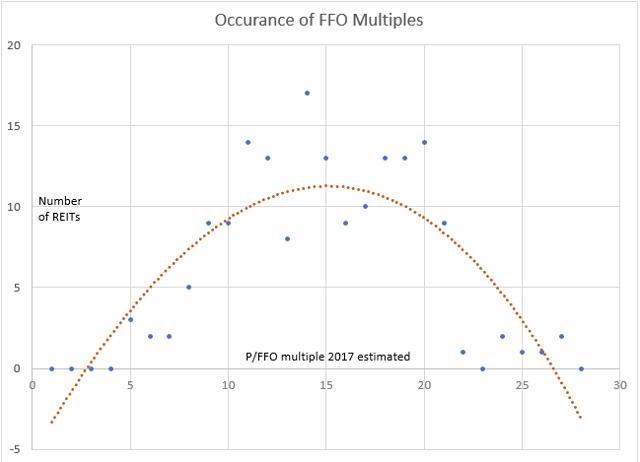 Source: Data from SNL Financial as of 1/5/17 and graphed in Excel
I am aware that this sort of chart is uncommon, so for clarity, the blue dot above the 15 on the X axis simply means there are 13 REITs with a FactSet consensus 2017 estimated P/FFO multiple of 15.
This pattern of FFO multiple occurrence suggests valuation is top of mind. Overvalued stocks have corrected and the overly cheap were bought up to some extent. The number of REITs trading over 21X or under 5X 2017 estimated FFO is about the smallest I have seen.
If one was a value REIT investor throughout 2016, they likely outperformed. However, it is not all gravy as the stocks we once championed as being tremendous values are no longer opportunistic. Our perennial favorites like Gladstone Commercial (NASDAQ:GOOD), NexPoint Residential (NYSE:NXRT), Lexington Realty (NYSE:LXP) and others that used to be clear value buys are now approaching full valuation.
Does this mean the opportunities for outperformance have dried up? Not at all.
Active management adapts to change
While our stocks got expensive, our portfolios didn't. New opportunities have emerged as previously expensive stocks with great fundamentals got cheap. Active management is not just about finding great stocks, but about recognizing when these great stocks have played out. With NXRT having more than doubled since its low point in early 2016, we think much of the value we once saw is already realized. It is still a good company, but it is priced like a good company.
When a stock climbs too far too fast, it becomes due for a pullback. This is not a mere pattern but rather a legitimate fundamental cause and effect. A stock that has appreciated at a rate that exceeds its economic growth is objectively less opportunistic than it was before the appreciation. This is a basic principle of finance.
Active management is different.
Active management can resist overheating.
2CHYP, the portfolio we presented at the start of December 2016, has appreciated 6.6% to close out the year ($105,805 NAV as of 11/30/16 to $112,828 NAV as of 12/31/16). We are not presenting this figure to brag, a 1-month return is basically meaningless and in no way constitutes a track record. The purpose of bringing it up is to demonstrate a concept.
While 2CHYP is up 6.6%, it has gotten cheaper on a P/FFO basis. As of 11/30/16, the portfolio P/FFO was 9.74X while at 12/31/16, portfolio P/FFO is 9.27X (both 2017 estimated FFO by FactSet consensus).
This is the purpose of active management. We continually reposition into the stocks we believe are most opportunistic at the current moment in time. Heading into 2017, here is how we have 2CHYP positioned.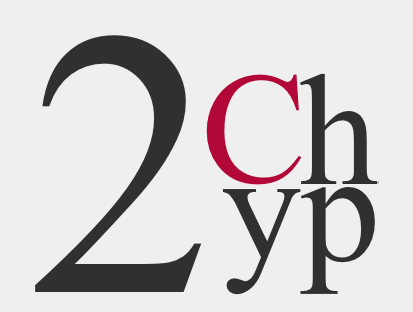 There are still a good number of REITs that have a disproportionately high quality relative to their value. As of 12/31/16, 2CHYP was a mix of quality value and deep value which we define as follows:
Deep value: A company with flat to weak growth, but significantly oversized cash flows.
Quality value: A stable company with moderate to strong growth prospects.
2CHYP's portfolio is shown below, color coded between deep and quality value.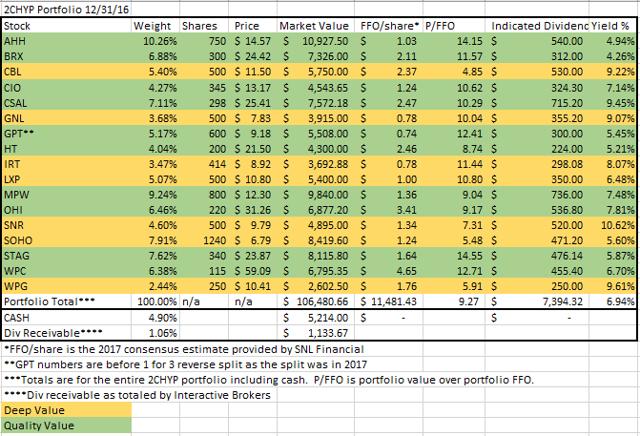 Each position has its own buy thesis which we describe in the 2 page company profiles that we will share with subscribers in the coming days. Below, we analyze 2CHYP at a portfolio level in absolute terms and relative to the index.
Lower multiple and higher yield
2CHYP is far cheaper than what a traditional value manager would consider value. A 20% to 40% discount to the broader index would typically be considered value, but 2CHYP is less than half the price of the index as a multiple of FFO.
The forward FFO multiple of REITs, as measured by the SNL US REIT index is 19.3X.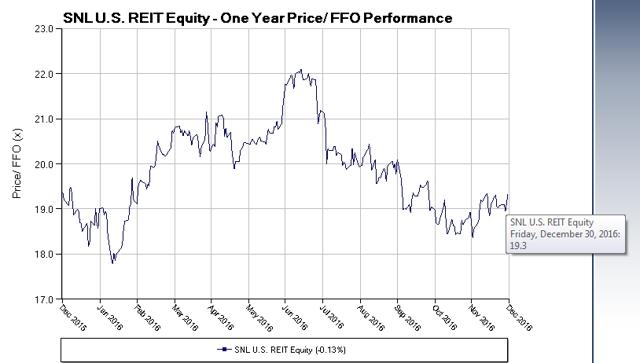 Source: SNL Financial
2CHYP is just 48% as expensive with the aggregate P/FFO of portfolio holdings at just 9.27X.

The great thing about value is that it provides more cash flow such that significantly larger dividends can be paid out without needing an aggressive payout ratio.
At a portfolio yield of 6.94%, 2CHYP's dividend yield is 78% higher than the 3.89% yield of REITs in general. Despite the higher yield, 2CHYP's FFO payout ratio is only 64.4% as compared to 75.1% for the index.
2CHYP performance
Those who read our first 2CHYP article may recall that we built this platform with intent to compete with and beat passive investing. As such, we compare our performance on an ongoing basis with the iShares U.S. Real Estate ETF (NYSEARCA:IYR) and the Vanguard REIT Index Fund (NYSEARCA:VNQ).
Now that 2CHYP has been running for 6 months, we can examine its historic performance as part of our quarterly analytics. So far, 2CHYP has done well, outperforming the IYR by 1,732 basis points (17.32%).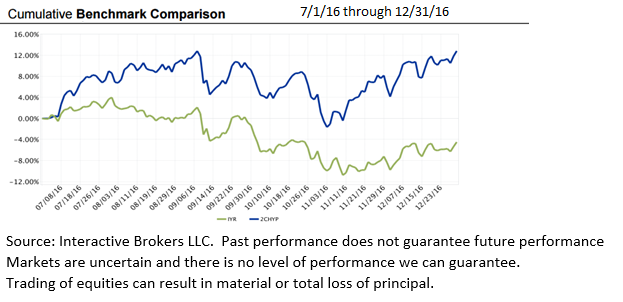 Relative performance against the VNQ is similar with 2CHYP outperforming by 1,719 basis points (VNQ was down 4.36% from 7/1/16-12/31/16 while 2CHYP was up 12.83%).
I cannot emphasize enough that 6 months is not sufficient to be a track record and that historic performance says nothing about future performance.
Breaking down the absolute return, 9.3% came from capital gains while 3.6% was from dividends (including receivables).

Source: Interactive Brokers LLC
Due to a wide variety of holdings, the dividends came frequently throughout the period.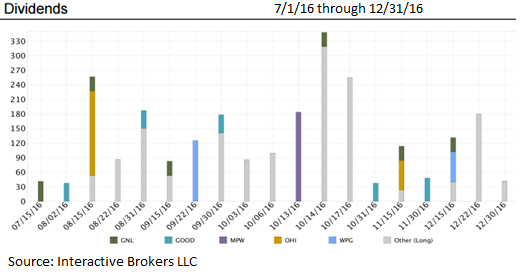 Dividend growth
At 2CHYP, we intend to grow the portfolio yield through a combination of organic dividend increases and opportunistic trading. Among 2CHYP's 12/31/16 holdings, there were the following dividend raises over the past 6 months.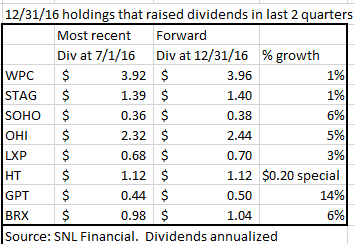 These raises are not the entirety of dividend growth within 2CHYP. If we can successfully grow the absolute dollar value of 2CHYP, through intelligent trading, the yield on initial capital should increase over time. As of 12/31/16, yield on initial capital was 7.4% despite a current yield of only 6.9%. This should improve shortly as we invest the $5,214 in cash and $1,133 of receivables.
Holdings to watch
Shortly before the end of the year, we added to Omega Healthcare (NYSE:OHI) as it is now below a 10X multiple, creating a nice entry point into this serial dividend raiser. OHI has formerly traded at a premium to its peer healthcare REITs due to its reliable growth and generally strong performance. In early 2015, OHI traded in the $40s with a P/FFO multiple over 15X.
Now, OHI is at $32.44 (intraday 1/9/17) with a forward estimated P/FFO under 10X. It is still reliable and still performing well, just much cheaper. It has priced down on a volatile regulatory and reimbursement environment for skilled nursing facilities or SNFs, but the cost savings that SNFs provide to the healthcare vertical helps to ensure their long-term viability. We see the changes as a slight negative to certain providers, but potentially beneficial to the industry as SNF utilization improves through bundling. Since OHI is the most diversified SNF REIT, its performance should approximate the weighted average of the industry. If things turn out the way we anticipate, OHI has at least 50% upside.
Another healthcare REIT that has gotten too cheap is New Senior Investment (NYSE:SNR). Its senior housing portfolio is a nice diversifying holding against OHI since SNR is almost entirely private pay. As such, its exposure is more to the general economy and the stock market which fuels the nest eggs which eventually finance senior living. A large chunk of SNR's equity was raised at $13.75 per share, and this money was almost immediately channeled into reasonably new properties.
I find it hard to believe that these properties could already have lost that much of their value. Given the decent performance in terms of occupancy and rental rates, it seems more likely that these properties are still worth about the same as they were when purchased a year or 2 ago. SNR does not strike us as a great company, but the value is quite deep and its dividend is over 10%. It may have gotten punished at the end of last year as a tax loss sale, so it has some potential to turn around in 2017.
Exciting new opportunity
Beyond the start of year holdings, we always keep an eye on what could be the next stocks to join the portfolio.
Jernigan Capital (NYSE:JCAP) is an interesting new company that is too small to have been noticed by most institutions. If the self-storage development environment stays tepid or better, JCAP is positioned for significant growth which is not yet priced in.
We typically do not like finance REITs as they can be opaque and unreliable. In particular, we do not like junky loans that are bundled to improve ratings so that they can be securitized. JCAP, however, has strong underwriting with an advantageous position in the development waterfall. With a participating preferred, JCAP will still be profitable in a mediocre development, but it has potential for much higher returns through retaining a significant portion of the equity. Additionally, we find JCAP's management to be highly experienced in self-storage and its developers primarily use CUBE and EXR to manage the properties.
Bottom Line
REITs as a group are reasonably cheap in absolute terms and significantly cheap relative to the broader markets. This suggests decent performance for the group and we believe there is room for outperformance with a variety of uniquely mispriced REITs. We intend to stay extremely active and poach opportunities the moment they arise.
Important Notes and Disclaimer
The holdings presented were the entire holdings of 2CHYP as of 12/31/16, but may not represent the holdings for other time periods. We do not intend presentation of 2CHYP's holdings as a recommendation, but rather as a statement of historical fact.
We cannot determine whether the portfolio holdings presented are suitable for any given reader. Readers are encouraged to contact their financial professional to discuss the suitability of any strategies or holdings prior to implementation in their portfolio.
The specific securities identified and described herein do not represent all of the securities purchased or sold for advisory clients of 2nd Market Capital Advisory Corporation (2MCAC). It should not be assumed that investments in the securities identified and described were or will be profitable.
A list of all prior purchases and sales made by the investment advisor representative (Dane Bowler) in the 2CHYP portfolio is available upon request. It should not be assumed that purchases and sales made in the future will be profitable or will equal the performance of the securities in this list.
Benchmark Comparison: 2CHYP is compared to the iShares U.S. Real Estate ETF and Vanguard REIT Index Fund because these are common methods for investing in a portfolio of REITs and we view these as competitors or alternatives to 2CHYP. Both IYR and VNQ have fees that are factored into performance, while 2CHYP does not have a fee aside from trading commissions which are factored into performance. 2CHYP's dividends are reinvested, while VNQ's and IYR's dividends are paid but not reinvested.
Strategy and market conditions: 2CHYP uses a bottom up stock selection process which may fare better in certain market conditions than in others. It may perform better when value is in favor or worse when value is out of favor.
Expenses: Returns reflect the deduction of any transaction expenses. There are no costs or management fees charged nor deducted.
Past performance does not guarantee future results. Investing in publicly held securities is speculative and involves risk, including the possible loss of principal. Historical returns should not be used as the primary basis for investment decisions. Although the statements of fact and data in this article have been obtained from sources believed to be reliable, 2MCAC does not guarantee their accuracy, and assumes no liability or responsibility for any omissions/errors.
Calculation Methodology: Partial year return for the period 7/1/16 through 12/31/16, unaudited. Dividends in 2CHYP are reinvested.
Disclosure: 2 nd Market capital and its affiliated accounts are long GOOD, NXRT, HT, SOHO, WPC, OHI, MPW, AHH, BRX, CBL, CIO, CSAL, GNL, GPT, IRT, LXP, SNR, STAG, WPG and JCAP. I am personally long HT, SOHO, WPC, OHI, MPW, AHH, BRX, CBL, CIO, CSAL, GNL, GPT, IRT, LXP, SNR, STAG, WPG and JCAP. This article is for informational purposes only. It is not a recommendation to buy or sell any security and is strictly the opinion of the writer. Investing in publicly held securities is speculative and involves risk, including the possible loss of principal. The reader must determine whether any investment is suitable and accepts responsibility for their investment decisions. Commentary may contain forward looking statements which are by definition uncertain. Actual results may differ materially from our forecasts or estimations, and 2MCAC cannot be held liable for the use of and reliance upon the opinions, estimates, forecasts and findings in this article.
Disclosure: I am/we are long HT, SOHO, WPC, OHI, MPW, AHH, BRX, CBL, CIO, CSAL, GNL, GPT, IRT, LXP, SNR, STAG, WPG, JCAP.
I wrote this article myself, and it expresses my own opinions. I am not receiving compensation for it (other than from Seeking Alpha). I have no business relationship with any company whose stock is mentioned in this article.