In our natural gas daily yesterday, we noted that the latest 11 to 15-day outlook showed the torch pattern developing in the East Coast and the cold source in Western Canada to be dissipating. The new forecast now shows the torch pattern moving more North and colder than normal temperatures to creep into the Southeast. Here's the latest GEFS run depicting the weather changes.
As a result of the newly updated forecast, February has the chance to return to normal.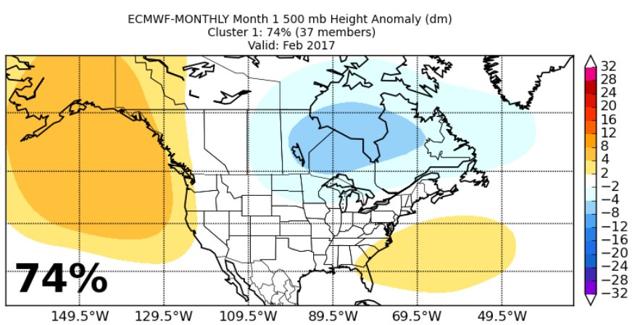 Source: Genscape
We noted yesterday that despite the bearish forecast, the recent pessimism over winter is close to its peak. Winter isn't over by any means, and a normal winter February could see storage draw down materially. If weather remains normal after the 1/27 week, the EOS estimate for April is ~1.56 Tcf, which is still 200 Bcf below the average.
On the fundamental side, US natural gas (NYSEARCA:UNG) production is recovering slightly from the freeze off. We expect US gas supplies to recover back to 71 Bcf/d over the next week, but the overall volume has definitely been disappointing. Looking at the current pace, it's unlikely that US gas production would reach 73 Bcf/d by the end of January as we originally expected. We could still see 72 Bcf/d, but it's becoming increasingly difficult to see production ramp up rapidly.
The structural deficit continues to favor the bulls despite the bearish January weather. Traders are already taking bearish bets off the table with even normal winter in sight for February, and we think prices should recover to $3.50/MMBtu.
We give material weather updates to premium subscribers every day before the market opens. If you are interested, you can sign up here.
8 to 14-Day Outlook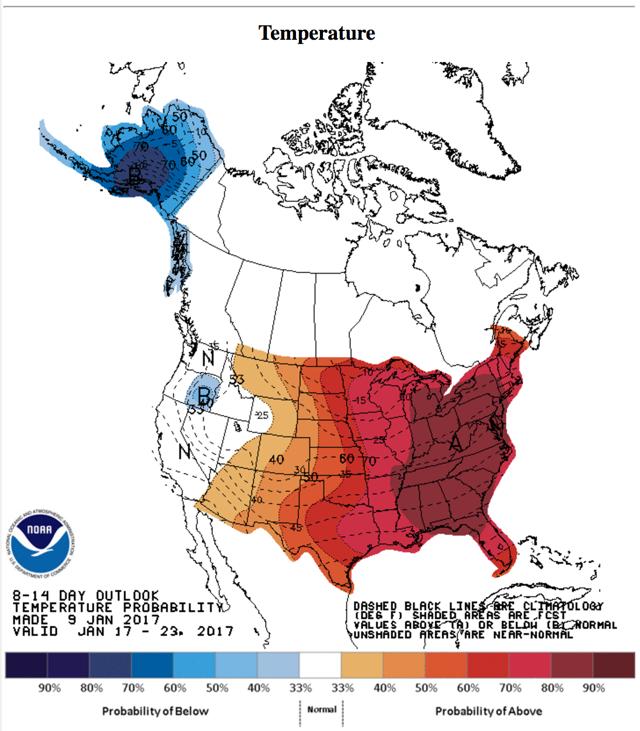 Disclosure: I/we have no positions in any stocks mentioned, and no plans to initiate any positions within the next 72 hours.
I wrote this article myself, and it expresses my own opinions. I am not receiving compensation for it (other than from Seeking Alpha). I have no business relationship with any company whose stock is mentioned in this article.