Background
Since the elections, marijuana-related stocks have been a very hot industry. As 26 states and Washington D.C. now have some form of cannabis legalization, the industry is clearly growing.
With the cannabis industry so hot recently, many investors ask whether or not there is a marijuana stock ETF that they can easily invest in to get exposure to the marijuana industry. With over 200 individual companies operating in and around cannabis, it can be tough to pick the winners. Unfortunately, due to hurdles like limited liquidity in many of these pot stocks, there is not a marijuana ETF yet.
While there is not yet an ETF to get broader exposure to the cannabis industry, there is one mutual fund that is offering this to investors.
Marijuana Mutual Fund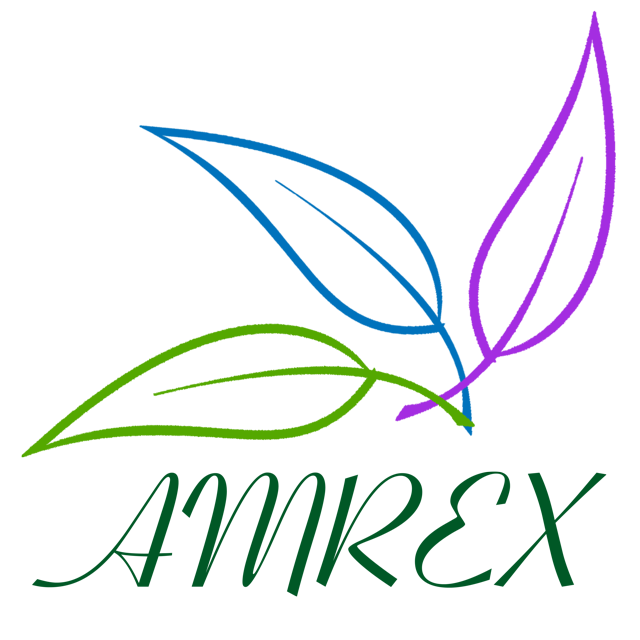 The American Growth Fund Series II E (MUTF:AMREX) is a diversified mutual fund that has a marijuana focus. While the Series II fund was established in February 2011, in July of 2016, the fund reorganized to focus on cannabis. We wanted to provide readers with a comprehensive breakdown of the fund so they can determine if this is how they should invest in the growing marijuana industry.
Fund Details
At under $1 million in AUM, this fund has yet to gain serious investor interest. With a 5.75% load fee, many think twice before making an investment in AMREX. However, for those looking for long-term investment in the cannabis industry, the fee can be thought of as a really high convenience fee for being able to invest in over 20 marijuana-related companies with one fund.
A Lot of Cash
We figured we should jump right into AMREX's holdings so that we can see what underlying companies we are getting into by buying this fund. Looking towards the fund's most recent Form NQ with the SEC, we see AMREX's holdings as of October 31, 2016. The market value of the investments listed in AMREX's 10/31 Form NQ has been updated to reflect current prices in the chart below.
As seen in the chart below, the largest investment is cash. While many money managers keep a small pile of cash aside so they can jump on opportunities as they arise, keeping this large of a percentage in cash means that many investments are not being fully deployed into the cannabis industry.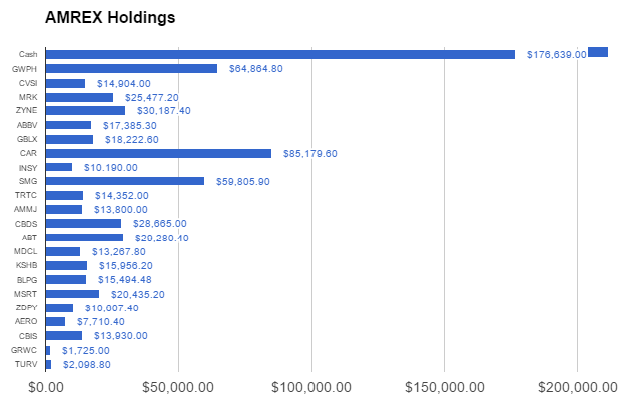 Top Holdings
Cash aside, there is a good mix of companies held by the fund ranging from pharmaceutical manufacturers to agricultural technology companies. Some of their largest cannabis-related holdings include:
Cara Therapeutics Inc. (NASDAQ:CARA) - With such widespread use and abuse of opiates in this country, many advocate that cannabis-based therapies can replace or diminish the necessity of these highly addictive prescriptions. CARA is currently in the preclinical phase of development for its cannabinoid-based chronic pain therapy.
GW Pharmaceuticals Plc. (NASDAQ:GWPH) - GWPH is a pharmaceutical company focused on using cannabinoid-based medicine to treat a wide variety of conditions including epilepsy and multiple sclerosis.
The Scotts Miracle-Gro Company (NYSE:SMG) - They say if you want to get rich in a gold rush, sell shovels. SMG has invested heavily in the cannabis industry alongside this very mentality. With a major stake in AeroGrow International (OTCQB:AERO) and more, SMG is poised to capitalize even further from the growth of this industry.
All Holdings
Below is a full table of all AMREX holdings. The market value of the investments listed in the 10/31 Form NQ have been updated to reflect current prices.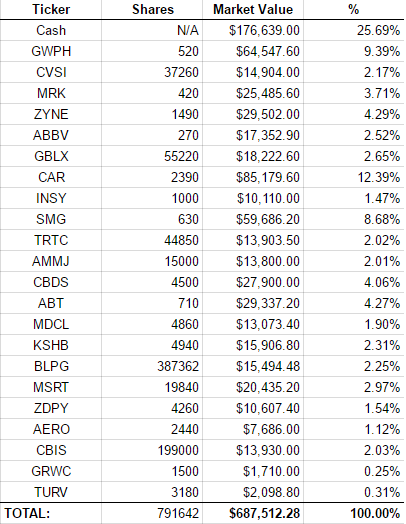 Performance
With such a high load fee for AMREX, investors want results! Below is a chart comparing the performance of AMREX to its top holdings over the last 6 months. As you can see, over the last 6 months, AMREX is the only one in the negative.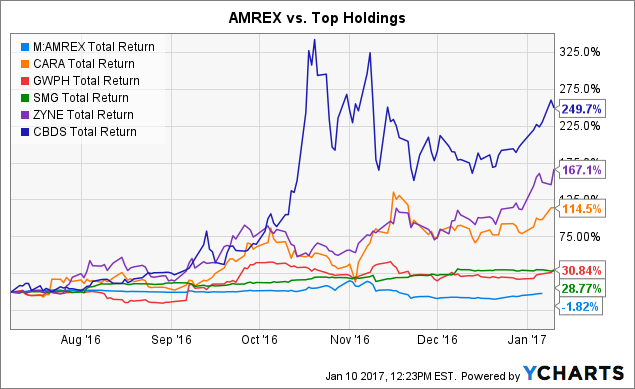 While some of AMREX's underlying holdings have gone down in price over the same period, this is proof that some investors may be better off picking individual marijuana-related stocks rather than buying a basket. This depends purely on one's level of comfort with analyzing and investing in the various subsectors of the cannabis industry. For those who have a difficult time picking the winning marijuana stocks however, investing in a professionally managed marijuana mutual fund may be the way to go.
Professional Management
Last but not least, is the fund's management. One of the perks (depends who you ask) of mutual funds is the professional management. This professional management is in theory supposed to be watching your money and allocating it appropriately to achieve the fund's objectives.
With over 30 years in the securities industry, Timothy Taggart is a veteran. In addition to years of industry experience, Taggart also holds an MBA in finance and accounting from the University of Denver.
Conclusion
We hope this has been a useful guide to the first and only marijuana mutual fund. We are extremely bullish on the cannabis industry as a whole, and believe it's going to continue growing at this astounding rate for quite some time.
How investors choose to gain exposure to this industry depends largely on one's time horizon, investing style, and appetite for risk. For some investors, investing in a basket of marijuana-related companies through the marijuana mutual fund AMREX is the way to go.
Be sure to follow us to get notified of new articles on Seeking Alpha!
Disclosure: I/we have no positions in any stocks mentioned, and no plans to initiate any positions within the next 72 hours.
I wrote this article myself, and it expresses my own opinions. I am not receiving compensation for it (other than from Seeking Alpha). I have no business relationship with any company whose stock is mentioned in this article.