Biogen (NASDAQ:BIIB), which is best known for its multiple sclerosis therapy franchise, will be spinning off Bioverativ (NASDAQ:BIVV) on February 1, 2017. On January 6 Bioverativ executives gave an extensive presentation on the new company that should give investors a good idea of whether they want BIVV to be part of their portfolio.
Bioverativ will start with Biogen's hemophilia therapies and $325 million in cash. The therapies are Alprolix for hemophilia B and Eloctate for hemophilia A. Both therapies were introduced relatively recently and so have many years of exclusivity before they go generic. Bioverativ should report positive earnings from the beginning. Best of all, it is already planning on expanding to other blood diseases beyond hemophilia.
Spin off details
Bioverativ will be spun off as a special dividend for Biogen stockholders of record as of close of business on January 17. The distribution will take place on February 1. Each Biogen stockholder will receive one share of BIVV for every two shares of BIIB held. Given that Biogen has about 217.6 million shares outstanding, that will be about 108.8 million shares of BIVV issues. Fractional shares will be paid in cash (amount unknown at this time).
To account for the period between January 17 and February 1, Biogen shares will trade, in addition to continuing under BIIB (regular way), with an ex-distribution ticker BIIB WI, starting January 12. BIVV WI (when issued) will also start trading on January 12. The WI tickers should disappear on February 1.
Note: BIIB WI "will not carry the right to receive shares of Bioverativ as part of the special dividend distribution. If shares of Biogen common stock are sold in the "regular-way" market after January 17, 2017 but before the distribution date, the shareholder is selling the right to receive shares of Bioverativ common stock with respect to such Biogen shares as part of the distribution." [Biogen press release of December 22, 2016]
I believe speculating in BIVV WI and BIIB WI will be a specialty trade and only a loose indicator of how the regular stocks will trade after February 1.
Biogen is fairly widely held, especially among investors specializing in biotechnology. The question for most of us, once we receive our distributions and the market establishes a trading range, will be whether to hold the BIVV shares or to trade them for something else. In addition, some investors who have avoided Biogen may see its rapidly growing, focused hemophilia franchise as a more worthwhile investment.
2016 results and 2017 Guidance
In Q3 2016 Alprolix had revenue of $85 million, up 6% sequentially from $80 million and up 30% from $66 million year-earlier.
Eloctate revenue was $132 million, up 6% sequentially from $125 million and up 46% from $91 million year-earlier.
Total hemophilia therapy revenue in Q3 was $217 million, up 6% sequentially from $205 million and up 38% from $157 million in Q3 2015.
Biogen plans to report Q4 results on January 26. So we will have Q4 revenue for the therapies after the record date, January 17, but before the distribution date for BIVV.
Guidance for 2017 for Bioverativ, given on the January 6 conference: revenue is expected to be up 17% to 19% from 2016. The operating margin is expected to be between 38% and 42% GAAP or 43% and 47% non-GAAP. The tax rate will be high, due to almost all revenue being recorded in the U.S., at 36% to 38%.
Guessing Q4 2016 revenue near $225 million, total 2016 revenue will be near $830 million. With 17% to 19% growth that would bring 2017 revenue to between $971 million and $988 million, so I will use $980 million. Using the mid-point of the GAAP operating margin range of 40%, that should result in pretax earnings of $392 million and (using 37% tax rate) post-tax earnings of about $247 million.
If there are indeed 108.8 million shares issued, GAAP EPS would be $2.27 per share.
Given my rule-of-thumb P/E ratio of 20, at the end of 2017, if my assumptions and calculations are correct, BIVV should be worth roughly $45 per share. If you like the higher non-GAAP numbers, and a higher P/E for rapid earnings growth, and the $325 million cash balance, it would certainly be possible to argue that BIIV will be worth $45 per share or more as soon as it is issued.
Of course, Bioverativ executives could be mistaken about their guidance, and there are always investors and analysts who can come up with negative theses for any given stock. Nothing is guaranteed.
Pipeline
Bioverativ will start with a strong preclinical pipeline: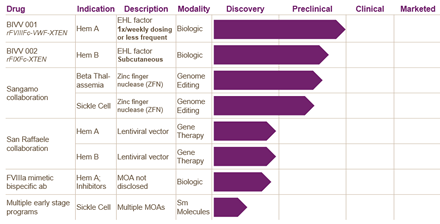 BIVV 001 is the most advanced preclinical therapy and the plan is to move it into the clinic in 2017. If it follows the same sort of timeline shown by Alprolix and Eloctate, and of course if it passes its clinical trials, it could receive commercial approval in 2021 or 2022.
Note that not all the pipeline is for hemophilia. Beta Thalassemia and sickle cell anemia therapies are also in development. Long run, Bioverativ plans to expand to treat non-cancer rare blood disorders. The ultimate revenue opportunity is larger than from hemophilia alone.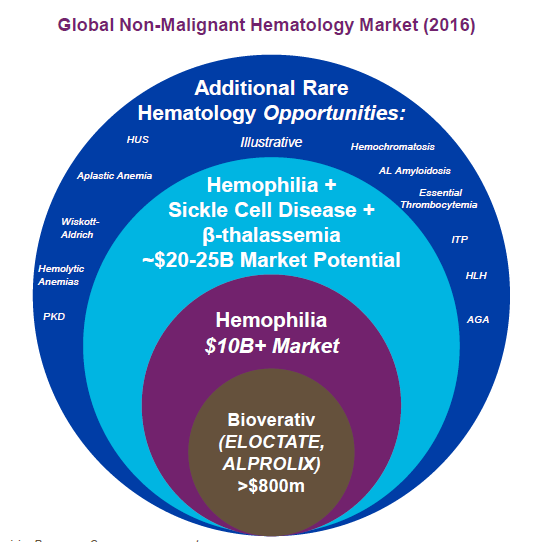 Pros and Cons
The argument against Bioverativ is essentially that hemophilia is a crowded field with more advanced therapies in clinical trials, at other companies, that could make Alprolix and Eloctate obsolete. The hemophilia landscape is interesting and promising. The two most talked about potential therapy types are RNA interference and gene therapy.
Note (chart above) that Bioverativ is positioned to develop gene therapies. RNAi is promising, but has its own issues to contend with. Investors will want to look at the rest of the hemophilia therapy landscape as part of a detailed evaluation of BIVV's long-term competitive potential.
In 2017, at least, Bioverativ's lead in the field is solid. What patients and doctors want is to prevent bleeding, rather than having to respond to it. Alprolix and Eloctate need less frequent dosing than traditional factors. Follow up, Phase IV studies are underway to show the benefit of what is called prophylactic, as opposed to on-demand, use.
BIVV 001 is designed to be dosed weekly, or perhaps less often. Gene therapy and RNAi in theory could provide longer protection, but safety, efficacy, and length of protection has yet to be proven.
The overall hemophilia market is growing about 7% per year, based on units, not price increases.
Bioverativ CEO John Cox and his team seemed quite confident at their investor day. They talked about the ability to give outsized returns to shareholders. The spinoff was said to be "all about capital allocation, efficiency, and strategy." It all sounded very positive, but then presentations to the analyst community almost always are.
Conclusion
On the whole I am positive about Bioverativ. Nevertheless, I am always price sensitive. As a Biogen stockholder, I will receive the special dividend. Most likely I will hold it for the long term, as I hold Biogen. But if the market appears to undervalue BIVV, I would look at accumulating more. If speculation drives it high enough, there will be some price where I will sell mine.
Note that as with any spinoff, the price of Biogen should drop roughly to compensate for the lost earnings. The market capitalizations of the two companies combined should start near the prior market capitalization of Biogen.
Since capital allocation is especially important in biotechnology investing, I am disclosing that at the time this article is written Biogen constitutes 6.6% of my overall portfolio. That makes it my fourth largest position.
Disclosure: I/we have no positions in any stocks mentioned, but may initiate a long position in BIIB over the next 72 hours.
I wrote this article myself, and it expresses my own opinions. I am not receiving compensation for it (other than from Seeking Alpha). I have no business relationship with any company whose stock is mentioned in this article.