Investment Thesis
Mainstreet Health Investments (OTC:MHIVF) provides investors with an opportunity to invest in a highly-focused U.S. based senior housing real estate company with triple-net leases and high-quality tenants, while providing a stable income stream (dividend yield of ~8%) and visible cash flow growth.
About Mainstreet Health Investments
Mainstreet Health Investments completed its Initial Public Offering on June 2, 2016, raising US$103 million at US$10.00 per share. The IPO proceeds were used to partly fund the acquisitions of an additional 13 seniors housing facilities in the U.S., which combined with the 11 properties already owned by Mainstreet Health, comprise the 'IPO portfolio'. The 24 seniors housing assets in the IPO portfolio total 3,332 beds/suites and were acquired for US$442 million, equating to a cap rate of ~8.%.
All the properties in the IPO portfolio are located in the U.S., primarily in the Chicago area in Illinois (74% of beds/suites across 11 properties) and Pennsylvania (9% of beds/suites across seven properties).
Mainstreet has a proven strategy with a portfolio of solid income producing senior housing properties: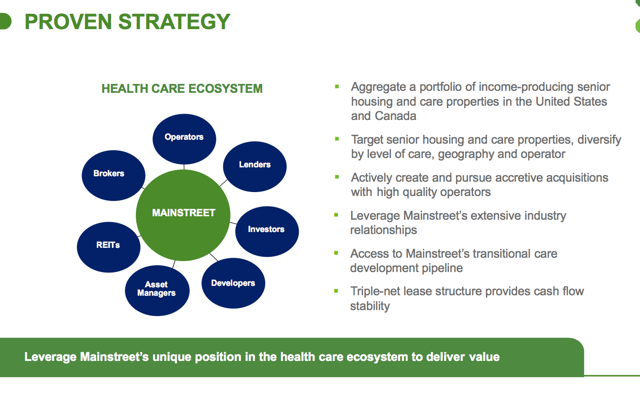 Source: Mainstreet Investor Presentation.
In 2016, Mainstreet successfully executed the following transactions:
Raised US$183 million of equity and US$45 million of convertible debentures (through public offerings).
Acquired 35 senior housing properties in the U.S. and Ontario, Canada.
Funded mezzanine loans for 10 transitional care properties in development by Mainstreet Property Group (the company has an option to acquire each property).
Current market cap is ~US$280 million and the company trades on the Toronto Stock Exchange (Ticker: HLP.U).
After the recently announced transactions, Mainstreet will have a well-diversified pro forma portfolio with high-quality tenants and ~$600 million of investment properties: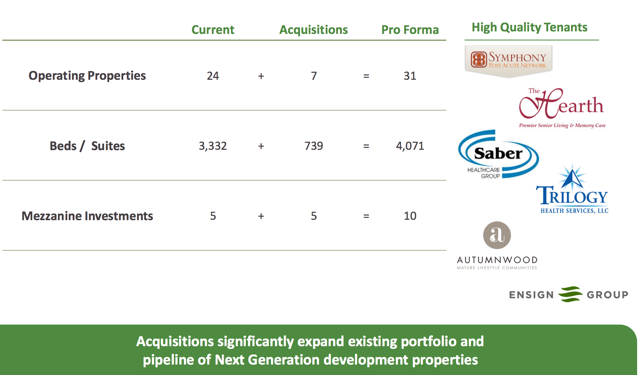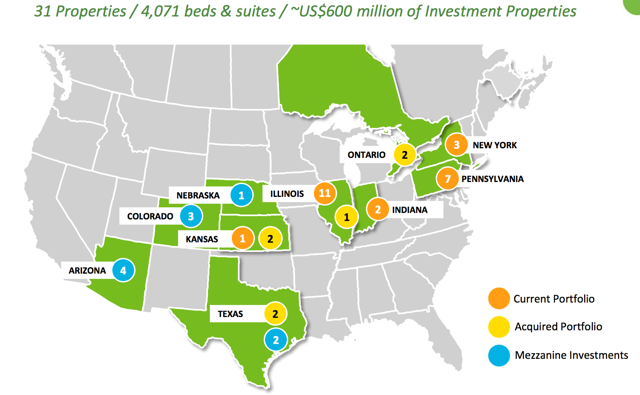 Source: Mainstreet Investor Presentation
Mainstreet's recent acquisitions result in a strong diversified portfolio with ~59% of assets in Illinois: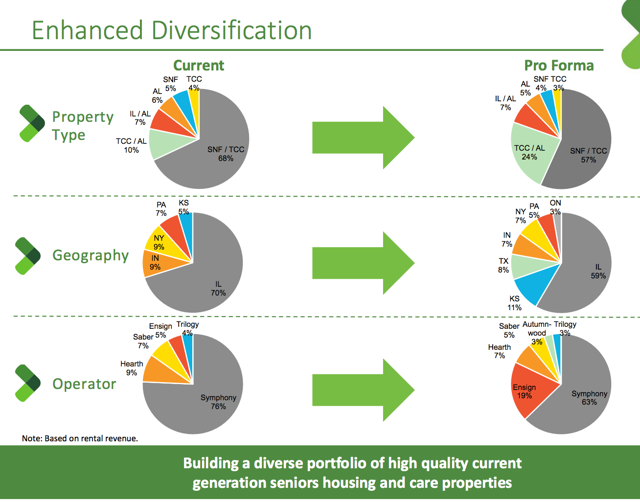 Source: Mainstreet Investor Presentation
The industy outlook is excellent and the North American seniors housing asset class has exceptionally attractive demand and supply characteristics. The oldest members of the baby boomer generation turned 65 in 2011, and as one of the largest generations in history, their advance into the seniors (age>65) category will swell over the coming years. The population of seniors in the U.S. is expected to rise at a much faster rate than the overall population at around 4 times the rate of growth of the general population.
In absolute terms, over a 15-year period the population of seniors in the U.S. is forecast to grow from 48 million in 2015 to 74 million in 2030, an increase of 55%. Predictably, as the aging of the population accelerates, demand is expected to quickly outstrip supply, which has been constrained, particularly for high-acuity skilled nursing facilities. This unprecedented demographic shift and contemporaneous supply shortfall provides a compelling backdrop for seniors housing investments.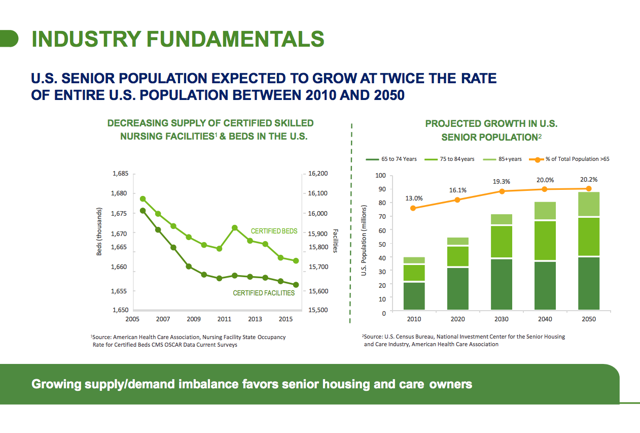 Source: Mainstreet Investor Presentation.
Key Reasons to Buy Mainstreet Healthcare
Triple Net Lease Structure: This structure eliminates operating risk and provides very stable cash flows. Under the triple net lease model, Mainstreet Health owns all of the real estate, which is leased to the operator of the facilities (the tenant), who is responsible for all operating expenses. Furthermore, all leases include annual rent escalators of ~2%, which should underpin organic annual growth in cash flow per share of ~3%, with additional potential growth from acquisitions.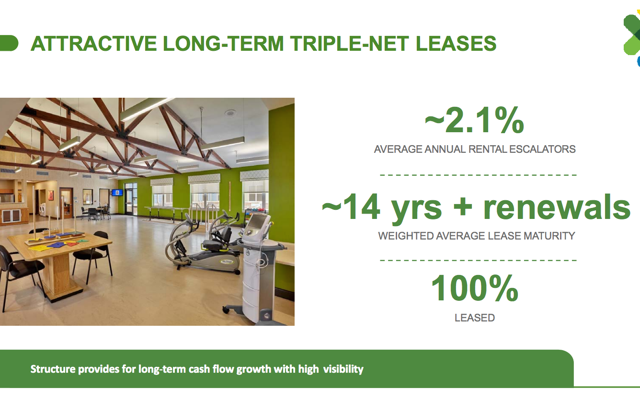 Source: Mainstreet Investor Presentation.
Solid Growth Potential: In addition to acquisitions, a key advantage is Mainstreet Health's strategic relationship with related party Mainstreet LLC, which serves as the company's development partner and is a reliable source of acquisition opportunities.
Excellent Management with Solid Track Record: Management has a proven track record of creating shareholder value. Current management team includes executives who were part of HealthLease Properties REIT, which delivered a ~70% total return in its time as a public REIT from 2012 to 2014. In early January 2017, CEO Adlai Chester resigned for personal reasons, and Scott White, President and COO, was appointed as the new CEO.
Undervalued with Attractive Dividend Yield: Current dividend yield of ~8% and P/AFFO 2017E of ~8.0x is very attractive versus peers. Implied cap rate for the properties is ~8.5%. Debt/GBV is a manageable 55% and payout ratio is ~70% (Source: Street Research).
Conclusions
Mainstreet Health Investments is a long-term BUY as it provides investors with access to a well-diversified U.S. based senior housing real estate company with triple-net leases and high-quality tenants, as well as a solid dividend yield of ~8% and attractive valuation.
Disclosure: I/we have no positions in any stocks mentioned, but may initiate a long position in MHIVF over the next 72 hours.
I wrote this article myself, and it expresses my own opinions. I am not receiving compensation for it (other than from Seeking Alpha). I have no business relationship with any company whose stock is mentioned in this article.