The Half Million Dollar Income continues to move towards its goal of providing half a million dollars in lifetime income. My son, looking to take advantage of rapidly growing healthcare markets, has sold his position in Baker Hughes and used this along with his investment income to invest in Johnson & Johnson. At the same time, he has recently opened himself a Roth IRA. The combination of these two things shows how the portfolio is progressively working towards its goal of increased income.
Introduction
The last article on the Half Million Dollar Income Portfolio was written in December 2016. In the last article, I discussed how the portfolio has changed as a result of my son moving to the University of Illinois - Urbana Champaign. This included a discussion of how my son has begun using some money from the account as a source of spending income hurtings its value. However, over the past month, my son has received some money from Christmas gifts that he has put into the portfolio.
However, on top of the changes in the portfolio in the most recent quarter, something else has happened. Now that my son is 18 years old, him and I have talked about it, and he has opened up a Roth-IRA account. While money added to a Roth-IRA account is added after taxes, the earnings, assuming he waits until he is 59.5 to withdraw them, are tax free. At the same time, I am hoping that such an account will convince my son to save for retirement rather than spending his money now.
Portfolio Overview
Now, for the uninitiated, it is time to begin by discussing the two goals of the portfolio. Those who followed the portfolio previously and remember these goals, feel free to skip to the next section.
The portfolio has two goals. The first is to provide my son with an introduction to the stock market. The stock market is an incredibly difficult thing to analyze, and tends to widely fluctuate. More so, new investors by themselves have a tendency to chase "shiny objects," resulting in expensive lessons. By introducing him to the stock market early, I hope to provide him with an overview of the stock market. At the same time, I hope to introduce him to a buying and holding strategy of investing, where he finds companies he likes and invests in them for the long run.
The second goal of the portfolio is to provide my son with $200,000 in annual inflation adjusted income by the standard retirement age of 65. That retirement age is currently 47 years away, which means assuming a 2% annual inflation rate, the portfolio will need to provide $538,000 in annual income. Hence the title the "Half Million Dollar Income Portfolio." One important thing to keep in mind is that the portfolio is now more than a year old, and the $200,000 in income was $200,000 in income as defined by the portfolio's start. Due to inflation, that number is now slightly higher.
Current Portfolio
Now it is time to move on to discussing the current portfolio. The portfolio has experienced some recent and continued growth as a result of the Donald Trump effect. While this effect has slowed down, the portfolio has still achieved some impressive results. On top of this discussion of the portfolio, I will also add a section discussing my son's plans for the Roth-IRA portfolio.
| | | | |
| --- | --- | --- | --- |
| Stock Name (Ticker) | Numbers of Shares | Dividends per Share | Yearly Overall Dividends |
| Pimco Strategic Income Fund (NYSE: RCS) | 100 | $0.08 | $8.00 |
| Noble Corporation (NYSE: NE) | 100 | $0.00 | $0.00 |
| Gilead Sciences (NASDAQ: GILD) | 20 | $1.88 | $37.60 |
| Berkshire Hathaway (NYSE: BRK.B) | 10 | $0.00 | $0.00 |
| Anheuser Busch Inbev (NYSE: BUD) | 10 | $7.00 | $70.00 |
| Altria (NYSE: MO) | 15 | $2.44 | $37.60 |
| Nevsun Resources (NYSE: NSU) | 100 | $0.16 | $16.00 |
| Reynolds American (NYSE: RAI) | 15 | $1.84 | $27.60 |
| Johnson & Johnson (NYSE: JNJ) | 15 | $3.20 | $48.00 |
| Realty Income (NYSE: O) | 20 | $2.40 | $48.00 |
| Healthcare Property Investors (NYSE: HCP) | 20 | $1.48 | $29.60 |
| Apple (NASDAQ: AAPL) | 25 | $2.27 | $57.00 |
Total Dividend: $378.40
Portfolio Discussion
As we can see, since last month's article, the portfolio's income has gone up respectably by approximately $40 annually. This is mainly a result of my son selling Baker Hughes and choosing to invest in Johnson & Johnson instead. Baker Hughes, while a strong investment, is currently in the process of being merged with General Electric's (NYSE: GE) oil and gas business.
Baker Hughes merger with General Electric will leave General Electric with the majority of the company but provide Baker Hughes shareholders a special dividend of $17.50. And while Baker Hughes saw its stock price rise as a result of this, it appears the company's stock price has peaked out. My son decided he wanted to place the cash combined with his Christmas income into an investment he saw as having additional growth potential.
He picked Johnson & Johnson.
Now before I discuss his reason for picking Johnson & Johnson I want to discuss what this decision means. In the December article for the Half Million Dollar Income Portfolio, I discussed how my son, in his four months of college, sold his investment in Johnson & Johnson. His explanation for this sale was that he wanted to turn away from blue-chip companies which he saw as not having much appeal.
Yet here he is again, looking to invest in the company. From my point of view it appears that his initial sale of Johnson & Johnson was the combination of wanting spending money and the fact that Johnson & Johnson was a boring investment to him. Given that was the first time in his life he has had direct access to so much cash, I can understand his appeal in wanting to sell existing stocks and make new investments.
This now appears to have worn away some and he is back to looking at companies as investments for their ability to produce long-term cash flow. I am glad and hope he continues to look at investments based on this ability. Most importantly, I am okay with him selling positions to invest in something else, but by reinvesting in the same thing a few months later, he is missing out on dividends and costing himself transaction fees with minimal benefits.
I have explained this to him and only time will tell if he takes it into account. However, now, let's go on to his reasoning for why Johnson & Johnson is a strong investment.
Johnson & Johnson is the largest healthcare company in the world with a market cap of more than $300 billion. The company is a dividend aristocrat, and has increased its dividend consecutively and annually for more than 50 years. As a result of this increasing dividend, the company currently provides investors a respectable yield of almost 3%.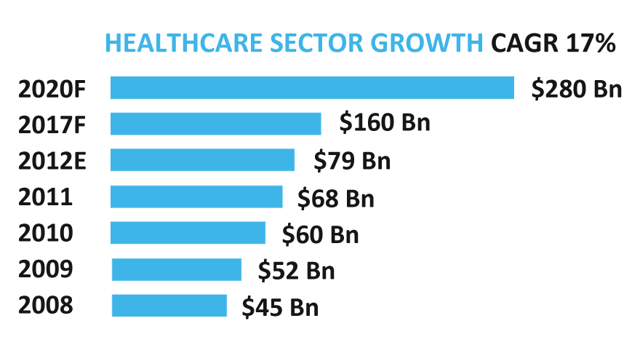 Healthcare Sector Growth - GHSPL
The healthcare industry is growing rapidly, so rapidly in fact, that over the next 3 years it is expected to grow from $160 billion in 2017 to $280 billion in 2020. Johnson & Johnson, as the largest company in this industry, should see its profits grow significantly at the same time. In fact, assuming that Johnson & Johnson continues to maintain its share in the industry, a very likely scenario, over the next few years the company could see its profits almost double.
Combine this with Johnson & Johnson's commitment to shareholders and we have a company with growing earnings, earnings that it will likely return to shareholders in the form of dividends and share repurchases. I support my son's decision to purchase 15 shares of this company and believe it should provide him with long-term growing dividend income.
Roth-IRA Income
Now that we have discussed the Half Million Dollar Income Portfolio, it is now time to discuss the new Roth-IRA portfolio. By making the Roth-IRA portfolio now, my son can contribute up to $5500 for 2016 year by mid-April 2017 along with another $5500 for 2017 at the present time. So far, my son has put in a few hundred $ in cash but has not invested any so far.
I would like to see my son maximize his annual contributions for his Roth-IRA portfolio every year. He has 4 months to maximize his 2016 contribution, something that I would like to see him pull off. As a result, he will likely have to get a job at school or find another source of income to earn this much money in 4 months. However, he seems committed to this goal.
Conclusion
The Half Million Dollar Income Portfolio has seen some minor changes in the past month. The only change for the main portfolio was selling Baker Hughes and combining this income with Christmas gift income to invest in Johnson & Johnson increasing the annual income from the portfolio by roughly 10%. On top of this, Johnson & Johnson is a major company that should provide the portfolio with long-term income and is an incredibly investment.
One of the most significant changes for the portfolio, is the opening of a new Roth-IRA account. Currently, my son can add up to $11 thousand to his Roth-IRA at the present time, $5.5 thousand which must be added by mid-April 2017. Given that my son withdrew income from the portfolio in the first semester, he will need to get a job to accomplish this. However, he seems committed to doing this.
I look forward to hearing in the comments what you think about the recent changes to the Half Million Dollar Income Portfolio.
Disclosure: I am/we are long AAPL, BRK.B, BUD, GE, GILD, HCP, NSU, JNJ, MO, NE, O, RAI, RCS.
I wrote this article myself, and it expresses my own opinions. I am not receiving compensation for it (other than from Seeking Alpha). I have no business relationship with any company whose stock is mentioned in this article.