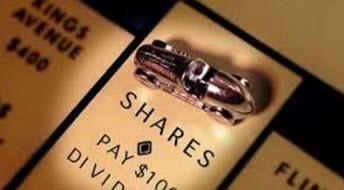 General Electric (NYSE:GE) currently offers income investors a safe long-term investment. The transformation of the company into an industrial pure-play powerhouse is essentially complete. The company has a fortress balance sheet and solid cash flow. Furthermore, General Electric is a solid dividend payer. The company has increased the dividend 100% over the past five years. Today, the company has committed to return billions more to shareholders by 2018. While performing further due diligence, I have uncovered a unique dividend growth buying opportunity in the stock. In the following article I make the case General Electric is now a solid dividend growth buying opportunity.
Current Chart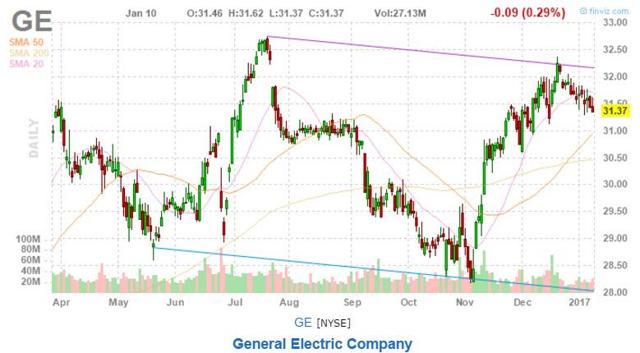 Source: Finviz.com
Unique Dividend Growth opportunity
General Electric stated last year that the company would be freezing the dividend for 2017, yet increased it by one cent in the last quarter. I see that as a sign the company may surprise investors and increase the dividend during 2017, maybe even give some sort of special onetime dividend payout. Jeff Immelt stated on the last conference call:
"In addition, we should receive a $4 billion dividend from GE Capital. So for the year, we expect free cash flow plus dispositions to be more than $32 billion above our goal. As I noted earlier, we continue to invest in long-term growth and competitiveness and with the improved outlook on CFOA, we plan to boost our buyback by $4 billion to $22 billion with a total cash return to investors expected to be $30 billion including the dividend. Our balance sheet remains very strong. All of our cash metrics look solid for the year."
The rumor mill is swirling once again that Jeff Immelt's time at General Electric is coming to an end based on reading the recent tea leaves. Wouldn't it be a nice way for him to go out with a special dividend as the icing on the cake? Furthermore, EPS growth is expected to accelerate.
EPS growth acceleration
General Electric held its 2017 outlook event recently. Immelt stated 2017 operating EPS would be $1.60-1.70. The company expects $135 billion in 2017 revenues, above the $122.7 billion consensus. Immelt once again projects organic growth of 3-5%. The company expects to return $19-21 billion to shareholders next year.
The big surprise was that Immelt stated he expects to hit $2 EPS share in 2018. He said the company would overcome the expected weakness in its oil and gas business and seemed much more optimistic than he did previously.
I'm cautiously optimistic that General Electric will achieve its earnings goals. The company has reaffirmed its $2 EPS target for 2018 and offered a "high bar" forecast for revenue gains of 3-5% next year. Immelt stated:
"We continue to invest in the company. In the quarter we announced investments in additive manufacturing, digital platforms and wind turbine supply chain. These will add to earnings in 2018 and position the company in fast growth markets in the future."
This is a nice set up for the upcoming earnings report. I expect Immelt and company will not back away from their bold predictions just a quarter ago. Even so, there is much fodder for both major headwinds and tailwinds. The major problem I have right now is the current macro condition of the market. I feel the market participants have drunken way too much of Trump's Kool-Aid and are currently experiencing a sugar high of sorts.
The market's current sugar rush
The market is currently sitting at all-time highs and appears priced to perfection. This is an extremely precarious position to be in. Any hiccup in macroeconomic or geopolitical conditions could bring the markets tumbling down in an instant.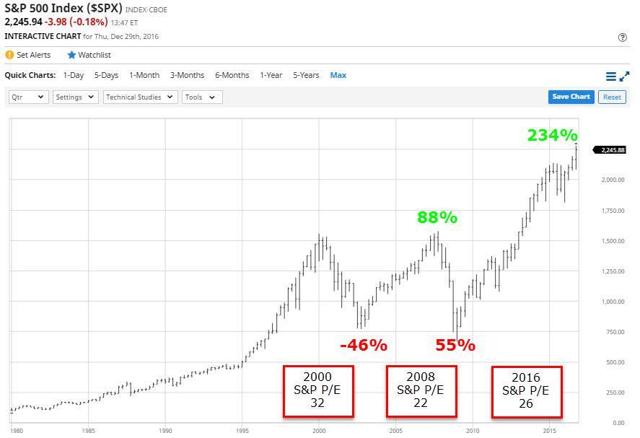 Source: BarCharts
Furthermore, the Fed just raised rates and took a more hawkish tone for the coming year stating three rate hikes are on the table. The green shoots we see now may turn brown once the support of the central bankers evaporates. We will at the very least experience heightened volatility based on the removal of the Fed's longstanding put. So it is not all great news.
The Last Word
General Electric is making all the right moves to continue as a going concern for years to come. This is very appealing to me. Furthermore, you get paid a 3.05% dividend yield to boot. I believe the current tailwinds far outweigh the headwinds. Even so, I would definitely layer in to any position over time. The stock is currently trading at the upper level of its five-year historical valuation range.
Final Thought
I believe General Electric will beat expectations on the next conference call and may announce further changes to the dividend plan. If I were looking to start a new position at this time, I would buy a third prior to earnings, a third after, and keep the rest of my power dry to buy up shares on any potential pullbacks.
Those are my thoughts on the subject. I look forward to reading yours. If you thought this article was interesting, please click on the "Follow" button at the top of the article by my picture. I would greatly appreciate it. Please use this information as a starting point for your own due diligence.
Disclosure: I am/we are long GE.
I wrote this article myself, and it expresses my own opinions. I am not receiving compensation for it (other than from Seeking Alpha). I have no business relationship with any company whose stock is mentioned in this article.