Ladder Capital Corp. (NYSE:LADR) looks like a good deal. The commercial real estate finance company's shares have expectedly fallen off the latest highs after Ladder Capital announced a class A common share offering in December. Core earnings upside related to an expected increase in short-term interest rates and strong dividend coverage outweigh concerns over the secondary in my opinion, and I would recommend an investment in Ladder Capital at this point.
I penned an article on Ladder Capital Corp. in December in which I listed a couple of reasons why investors may want to consider the commercial real estate finance company. One of the reasons I cited supporting the bull case was that the real estate finance company's strong core earnings were positive since inception and that Ladder Capital has had excellent dividend coverage based on core earnings over the last five quarters.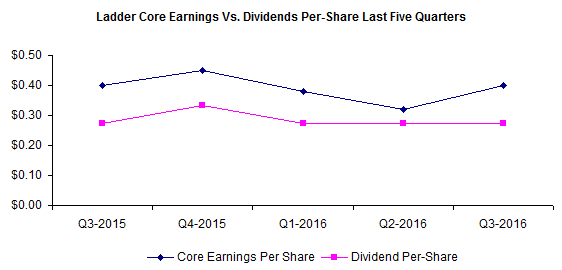 (Source: Achilles Research)
Ladder Capital's average dividend payout ratio in the last five quarters was only 74 percent, leaving significant headroom for dividend growth.
In fact, Ladder Capital raised its recurring quarterly cash dividend by a whopping 9.1 percent in December thanks, partly, to a high level of dividend coverage.
Interest Rate Upside Still A Top Selling Point
Yet another reason to consider Ladder Capital as an income play was that the commercial real estate finance company has positive asset sensitivity due to its floating rate loan portfolio that is poised to contribute positively to core earnings (and dividend coverage) as short-term interest rates continue to rise.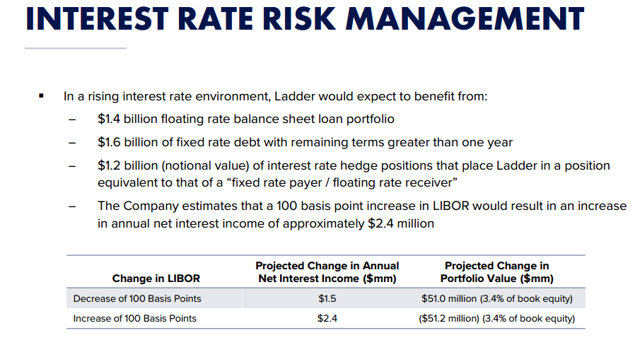 (Source: Ladder Capital Corp.)
Taking Advantage Of The Sell-Off
Ladder Capital's management said in December that some shareholders - including certain affiliates of Alberta Investment Management Corp., GI Partners, Northgate Capital and TowerBrook Capital Partners - wanted to sell 10 million shares of class A common stock in an underwritten secondary public offering. The price was set at $13.60, and an underwriting option to buy 1.5 million additional shares was exercised. Ladder Capital did not get any proceeds from the share sales.
Expectedly, Ladder Capital's shares went into a tailspin after the announcement, but they now appear to have established a bottom. Secondaries always weigh on a company's share price in the short run, but they also often bounce back just as quickly. In the case of Ladder Capital, shares have quickly bottomed out, offering a compelling entry point for investors wanting to take advantage of the company's strong dividend coverage and interest rate-related core earnings upside.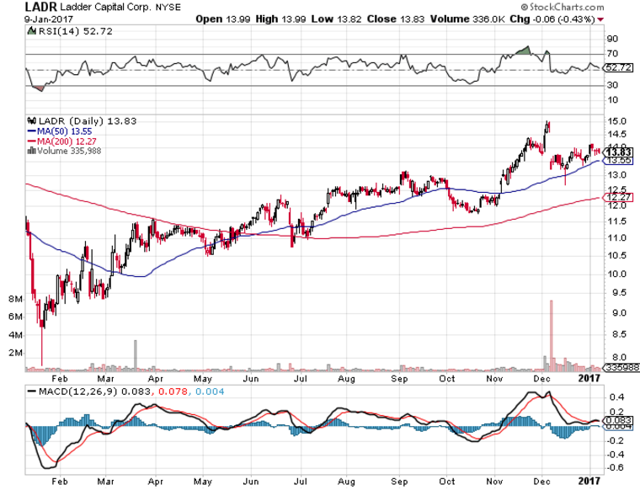 Source: StockCharts.com
Your Takeaway
Ladder Capital is a robust choice in the commercial real estate finance sector, and the secondary common stock offering has weighed too much on investor sentiment as far as I am concerned. Ladder Capital has more than solid dividend coverage, and the floating rate loan portfolio is poised to improve dividend coverage even further as long as interest rates will rise. An investment in Ladder Capital yields 8.68 percent based on a recurring quarterly cash dividend of $0.30/share. Buy for income and capital appreciation.
If you like to read more of my articles, and like to be kept up to date with the companies I cover, I kindly ask you that you scroll to the top of this page and click 'follow'. I am largely investing in dividend paying stocks, but also venture out occasionally and cover special situations that offer appealing reward-to-risk ratios and have potential for significant capital appreciation. Above all, my immediate investment goal is to achieve financial independence.
Disclosure: I/we have no positions in any stocks mentioned, and no plans to initiate any positions within the next 72 hours.
I wrote this article myself, and it expresses my own opinions. I am not receiving compensation for it (other than from Seeking Alpha). I have no business relationship with any company whose stock is mentioned in this article.