Thinking about the Xerox (NYSE:XRX) story on a long enough timeline might be enough to make any observer either chuckle or shake their head in awe or disbelief, though we needn't look that far back in time to see the blatant inefficiencies in corporate America. The Conduent (NYSE:CNDT) business line was acquired in 2010 by Xerox to participate in what Xerox perceived to be a smart acquisition that would be accretive to its earnings and future growth potential. The line toted by management at the time was probably far from the reality of the situation. With every claim in the financial world, there is often a flip side to things. Such acquisitions into new and "growing" lines of businesses say to me that the acquiring business's management is envious and impatient about getting its share price and market share higher regardless of the bottom-line effect on the value per share calculus over the long term. This turned out to be the case for Xerox's acquisition. It did not capture market share or grow with the market over the years. In fact, it went nowhere and lost profitability. It did $6.5 billion of business in fiscal 2009 and $6.66 billion of business in fiscal 2015. While its market has been growing at a CAGR of ~6%, it's obvious to conclude that Conduent has missed some opportunities along the way in terms of both acquisitions and organic growth.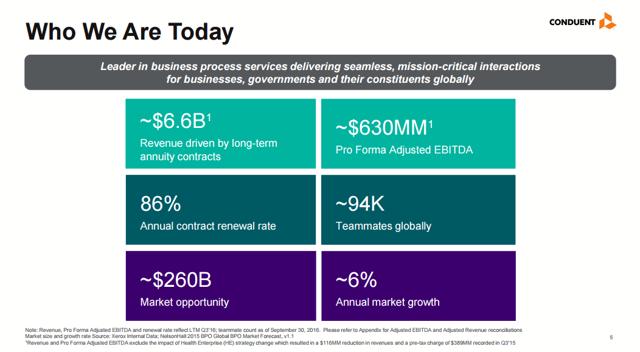 (Source: Conduent's investor presentation)
Icahn put together a roughly 8.13% position toward the end of 2015 shortly after Ursula Burns, the CEO of Xerox, announced that the board authorized a review of the structural options for the company. However, at the time, Burns had no plans to support breaking up the company into two pieces. While Burns had stated that although the public thought Icahn was behind the push to separate the company, the board actually came to the same conclusion on its own. Icahn merely applauded the move and agreed with the board. On Twitter, Icahn stated the following:
"Happy to announce we reached an agreement with $XRX re: separation into two independent public companies ... We believe the separation will greatly enhance value for $XRX shareholders. I applaud and respect Ursula Burns for doing what she believes shareholders want - as @Donahoe_John did with $eBay and $PYPL. I hope and believe the results will be just as good for XRX shareholders."
Whether the move was indeed heavily influenced by Icahn or not is irrelevant at this point as it was long overdue and should benefit shareholders' interests much more than keeping the company together.
Splitting the two: better late than never
Xerox and Conduent, while both in the business service and outsourcing business, are in two distinct markets. Xerox's printer business and document outsourcing business are relatively mature markets with Xerox itself being a major player. While Conduent is still a large player in its market, the market is far larger in relation to Conduent's share versus Xerox's market-to-market share ratio. It is also a growing market. The optimal capital allocation of these two differing business markets could not be any more different. Xerox has limited growth opportunities, but it has a steady stream of cash flows. Conduent has tremendous market opportunities to gain market share and to grow with the market and cash flows to achieve such a goal. However, sometime after the acquisition was made and far too late in my opinion, Xerox realized that this was a terrible mistake. The market was leaving Conduent behind due to the fact that approval for any riskier than usual but likely to be worthwhile expenditures for Conduent's business line had to come from the minds and orthodoxy of Xerox's top executives. Could a team of managers who lead a company that was largely in a stable and slowly declining business hope to recognize and act upon the opportunities presented to their smaller subsidiary which was in a growing and more dynamic industry? I think the answer is obvious at this point. The nature of Conduent's business and industry requires bolder, more creative and growth-oriented thinking.
Take the capital allocation plan shown in my previous article, which shows that over $1.1 billion has been spent in each of the past three years to buy back stock and the roughly $290 million per year spent on cash dividends.

(Source: Xerox's historical 10-K filings)
While such a capital allocation plan may be appropriate for a company like Xerox, it makes almost no sense for Conduent, which was willingly or unwillingly dragged along without much of a say in the matter. The correct capital allocation plan for Conduent would be zero buybacks, zero dividends and 100% of free cash flows in acquisitions and internal R&D. While Xerox may have had some plans to do tuck-in acquisitions for its Conduent business line, the results show that it failed to do so with any success. I attribute such a failure due to the fundamentally different mindsets needed to run each business successfully in today's environment. With the companies now separated into two independent entities, capital allocation will immediately become more efficient since both companies will now be operated with an individualistic approach and an independent managerial mindset.
The second immediate improvement from the split is related to capital allocation but focuses more so on the prevailing and desired share price for the stock. A major competitive advantage for a growth stock is actually the price of its shares and its market capitalization. This is the company's cost of capital and in a growth industry segment, this can mean the difference between being left in the history books or being the next big story. Conduent could be marketed as a growth story at some point if it were to develop successfully over time. Xerox will likely always be viewed as being in a shrinking business regardless of whether that is the case or not. Conduent will gain a sizeable advantage if it is allowed to gain a very expensive market capitalization. It can use shares to acquire other companies in both the private and public market at a much smaller expense to shareholders than if their shares were undervalued. Xerox's buyback plan benefits shareholders much more when its shares are priced at a level that's lower than their intrinsic value. The lower the better. Consider the scenario in which Conduent actually wildly succeeds as a subsidiary of Xerox. The successful growth of Conduent would push up the stock price of XRX as a whole. However, Xerox would still allocate capital as per usual with mostly stock buybacks and some dividends. Therefore, capital would be wasted on buying back Conduent's success reflected in XRX's stock price and Conduent would receive none of the benefits of their success that would be reflected in their individual stock ticker price to lower its cost of capital for important acquisitions. In other words, there would be almost no benefit to the combination of Xerox and Conduent under one ticker and company under almost any plausible scenario. It is only due to a flawed thesis believed in by management which implied that somehow Conduent's business would enhance Xerox's overall growth prospects that put the two companies together in the first place. The real results were that the combination stunted Conduent's growth and burdened Xerox's cash returns to shareholders. The disapproval and ultimate reversal of the actions based on this false reasoning will be a value creation event in and of itself.
How to think going forward
While the spinoff creates value through a major change in the incentive and capital allocation structure of the company, none of this is of any use without actual operating growth for the companies. This is one thing where I must admit that I have no capability to properly estimate with any strong confidence. While there is no guarantee of future success, the possibility to succeed has been created for Conduent and Xerox has effectively decreased the cost of its buyback program which will now accrue more efficiently to shareholders. Both companies have set out their respective goals and can now strive to achieve them without the hindrance of the other. Conduent will likely experience some thoughtless selling for a few days due to Xerox investors getting rid of their shares for various reasons including ignorance of what it is. I continue to hold both positions for now post spinoff.
Disclosure: I am/we are long XRX, CNDT.
I wrote this article myself, and it expresses my own opinions. I am not receiving compensation for it (other than from Seeking Alpha). I have no business relationship with any company whose stock is mentioned in this article.