Kinder Morgan (NYSE:KMI) is expected to report earnings this month, and it's important to address any concerns investors may have heading into the Q4 2016 report. I hear the same concerns over and over again: the Trans Mountain project, dividend restoration, and the magnitude of debt. All very fair concerns, but as I'm learning with this company, it's one priority at a time. The largest near-term catalyst that shareholders are waiting on is the Trans Mountain pipeline extension, for which I want to provide a rebuttal to a few warped views I've seen lately.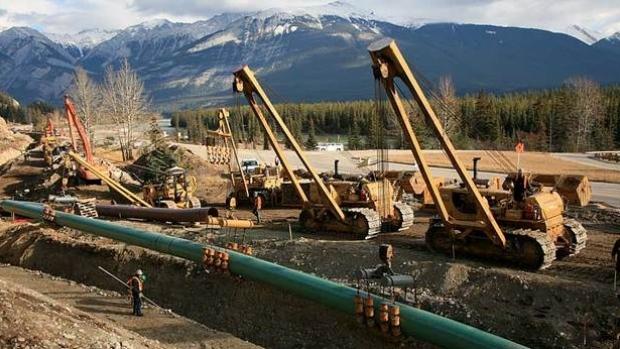 Source: CBC
What Are Your Concerns?
Fellow contributor David Alton Clark, who is quite an excellent author, in my opinion, has continually brought up a multitude of concerns as they related to Kinder Morgan. The first concern revolves around the increased project cost for the TMEP. Instead of $5.4 billion, the project cost is now $6.8 billion, all in CAD. To put that in terms of USD, you're looking at a former cost of $4.08 billion and a current cost of $5.14 billion. TMEP is Kinder Morgan's largest medium-term catalyst (short term for the stock), so it's pivotal that cost discipline comes center stage. So, to Clark's credit, this is a very fair point to bring up.
Clark talks about two potential problems with this increased project cost. First, he says that if costs rise too high, suppliers who have agreed to contracts with Kinder Morgan may opt out. Is it that simple? Absolutely not. Since we can't see any of these contracts (heck, if you find one anywhere I haven't looked yet, let me know). If any of these suppliers breach their contract to exit, they'll likely be forced to pay a penalty fee to Kinder Morgan. If Kinder Morgan is the party at fault and overruns a clause that limits the costs associated with the project, I highly doubt suppliers will walk away, considering how challenged Canadian E&Ps have been in the last two years, as their commodity price discount is substantially higher relative to the gauges the United States gets to use. Evidence of this can be quite clearly seen in the massive depreciation of the Canadian dollar to the U.S. dollar.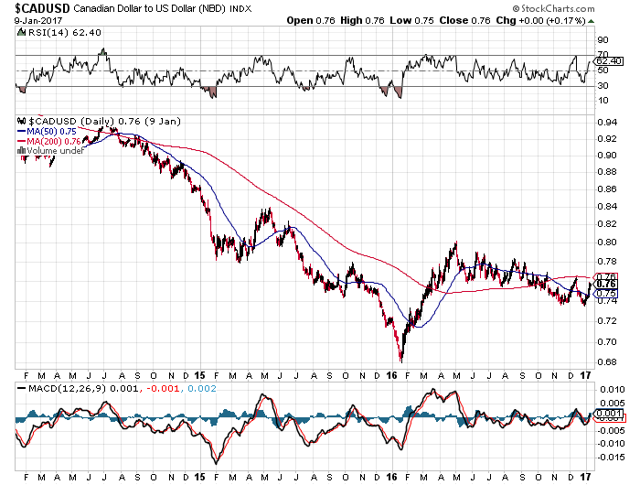 Source: StockCharts
Furthermore, I'm inclined to believe Kinder Morgan can control costs, because despite all of the disappointing actions that have occurred with this company in the last two years, it's often well within its full-year budget guidance, missing at most by a few percentage points.
Second, he talks about the blocking of Energy Transfer Partners' (NYSE:ETP) Dakota Access pipeline as a precedent for the coming decision on TMEP. I wrote an article a few weeks back addressing this topic, and I'll make it clear again: Kinder Morgan is not Energy Transfer. The two pipeline situations are vastly different, as the probability of TMEP being approved is materially higher than that of Dakota Access, based upon the relationships Kinder Morgan has established with native groups in the region and PM Trudeau's approval.
These are two key items that help pave the way for TMEP, as Dakota Access didn't have the support of key figures or native groups. Are there still groups that oppose the pipeline and want to file lawsuits? Of course, there's going to be opposition every step of the way, as with any pipeline build; but to view this as a risk capable of overcoming TMEP is an oversight.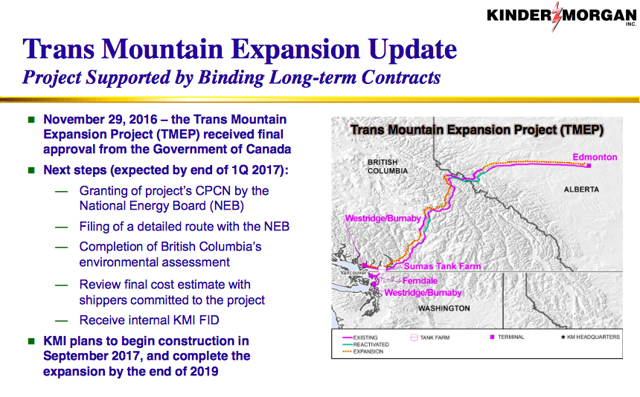 Source: Investor Presentation
Potential Guidance From Q4 Earnings
First, with respect to TMEP, I think you'll get an update on the earnings call more on the rationale behind the increased project costs and whether or not there are potential obstacles that could cause the cost estimate to rise. I can nearly guarantee that Kinder Morgan is in constant contact with its suppliers as to the rising costs of the project and working on solutions, should costs be revised upward again. Either way, those E&Ps need this revenue stream and transport option, so I'm inclined to believe Kinder Morgan still has a large amount of borrowing power.
The trend with Kinder Morgan on earnings reports is that the market has effectively ignored the actual top and bottom line figures and focused on what management has to say about future operations, notably as they pertain to the restoration of a higher dividend. For example, on the Q3 2016 earnings report, the market jumped with joy and analysts ran to their desks to upgrade the stock on word that KMI has excess distributable cash flow and may be working on funding a near-term dividend increase.
Moving forward, I think a key piece of guidance we're going to get is where the divestment program is heading and how divestment proceeds will specifically be used in the coming quarters. Is the CO2 unit on the chopping block? Will the company's E&P assets be sold off? Are there non-core assets the company wishes to divest in the short term? All excellent questions that we need the answers to in order to better understand how the balance sheet will fare in 2017.
Another warped view I've seen is that commodity prices are the alpha and omega of this company. In a recent article by Fundamental Investing, the author focuses purely on commodity prices as they relate to Kinder Morgan. It's a rather optimistic article preaching to buy the stock because somehow crude oil is getting to $65 by the end of the year and that means KMI will go up.
Great! Based on what? The outlook is based on nothing more than a linked article to one portfolio manager's opinion. There's no graphs, charts, or personal due diligence to support the claim. Do commodity prices help KMI out? Undoubtedly. But are there things for Kinder Morgan that are far more important in the near term that could warrant significantly more upside, like the approval of TMEP, a material debt reduction, sale of assets, and a dividend restoration? Quite obviously, yes.
For anyone looking for a quality daily outlook on O&G commodity prices, if that is your slice of pie, head over and read the reports by HFI Research, as they're actually backed by quality data. Regardless of where crude oil and natural gas prices are at the end of the year, I wouldn't place the price target now for them at an extremely optimistic or pessimistic level, as that's only going to warp your expectations and cause your investment decisions to be poor. Commodity prices for this company are in the back of my mind as I spend my due diligence time looking at the efficacy of backlog projects in terms of target rates of return and approval probabilities, debt sustainability, and performance relative to peers.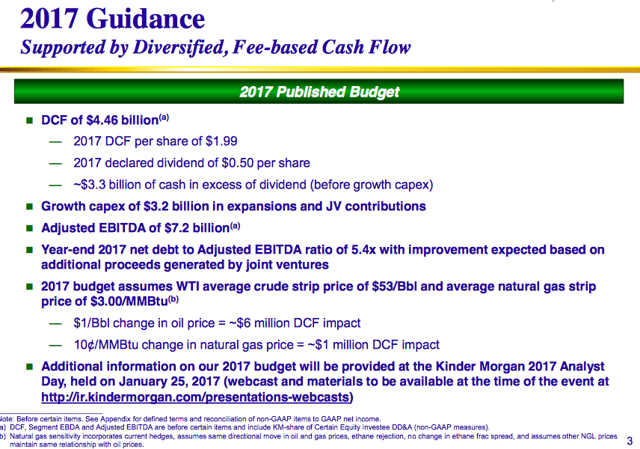 Source: Investor Presentation
Conclusion
I think investors' bottom lines have to be rather sane. They have to curb their expectations with investments, or they're only ever going to be disappointed. Kinder Morgan has a massive catalyst with TMEP and is working on putting it in service in a timely manner. I don't know what the cost fate of TMEP is, and quite frankly, no one does at this point of time; however, I can ensure you that Kinder Morgan will keep on fighting to put this catalyst on-line, all the while preserving financial stability. Remember, it's not as easy for a supplier to say "I'm done" when they've signed a binding contract with North America's third-largest energy company.
Disclosure: I am/we are long KMI.
I wrote this article myself, and it expresses my own opinions. I am not receiving compensation for it (other than from Seeking Alpha). I have no business relationship with any company whose stock is mentioned in this article.