Investment Thesis
Equity Residential (NYSE:EQR) offers some great long-term opportunity for the value investor. With continued developments in key areas with high occupancy rates and strong job markets, Equity Residential seems the right place to put your money.
Demand in 2017
High occupancy rates of 96% show that Equity Residential operates its business in booming economic environments. While some states have experienced a slowdown in job growth, the areas Equity Residential operates in have shown an increase in the number of new high-income jobs, and the trend remains relatively strong looking ahead into 2017.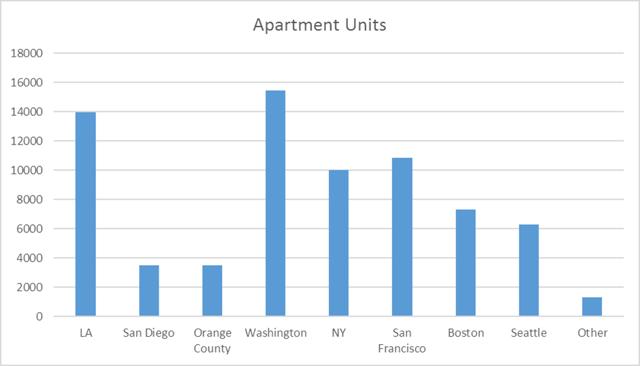 (Image by Michael A. Ball.)
By holding most apartments in major metropolitan areas, resident turnover rates are continuing to decline, reflecting the strong economic fundamentals of these areas.
Looking forward I would assume more projects to be launched in Seattle. The company should be aiming to have around roughly 8,000 apartment units for Seattle in 2018, back to the average.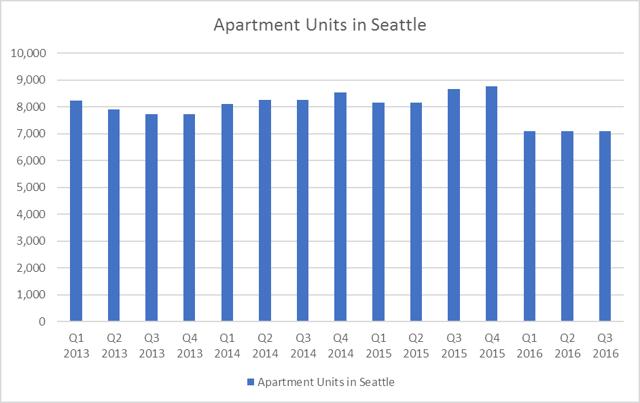 (Image by Michael A. Ball.)
Seattle offers Equity Residential a better future to expand than it has previously. It seems to be the best place due to the ever-growing strong job market.
Amazon job openings alone were last recorded at 8,000 in Seattle. That is up from 3,300 from the year prior.
Cloud computing and tech giants are gravitating towards Seattle. Microsoft (NASDAQ:MSFT) recently stated that it would be opening an AI (artificial intelligence) group in Seattle, and after Microsoft had a great 2016, they have plenty of cash to expand.
Projects under development in Seattle as reported in the third quarter were 875 apartment units. Once completed, this would take the total to 7,971, and I would expect management to keep this number in the 8,000 range heading into 2018.
Q3 highlights and what to expect in Q4
Key highlights as pointed out in the last release publications are as follows:
Increased same-store revenues 3.4% in the third quarter.
Paid a special cash dividend of $3.00 per share, or approximately $1.1 billion.
On October 12, 2016, completed a $500 million unsecured debt offering at a coupon of 2.85%, the lowest ever for an EQR 10-year and the third lowest of any REIT 10-year.
Named the 2016 Global Residential Listed Sector Leader in Sustainability by GRESB.
(source EQR Q316.)
The company also said." Renter demand in urban and high-density, close-in suburban markets remains extraordinarily strong as demonstrated by 96% occupancy across our portfolio." Said David J. Neithercut, Equity Residential's President, and CEO. "However, new apartment supply and slowing growth of higher paying jobs have combined to constrain rental rates causing our revenue growth this year to revert more in line with historical trends."
(source EQR Q316.)
Q4 earnings get released 1 st February 2017. I expect the company to have total revenue of around $2.8 billion, up roughly 5.5% from 2015 Q4.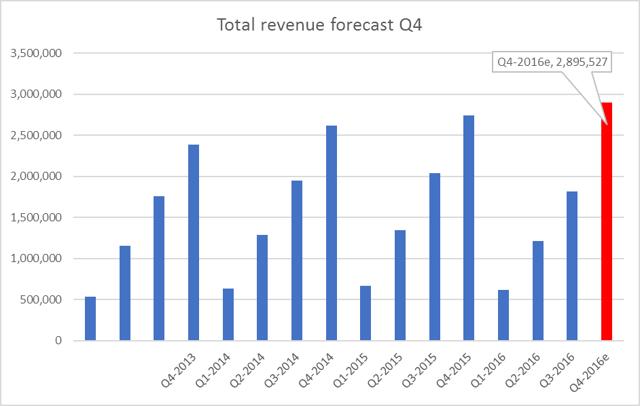 (Image by Michael A. Ball.)
On a trailing twelve months or annual number, I would assume around $6.5 billion, down around -3.67% YoY.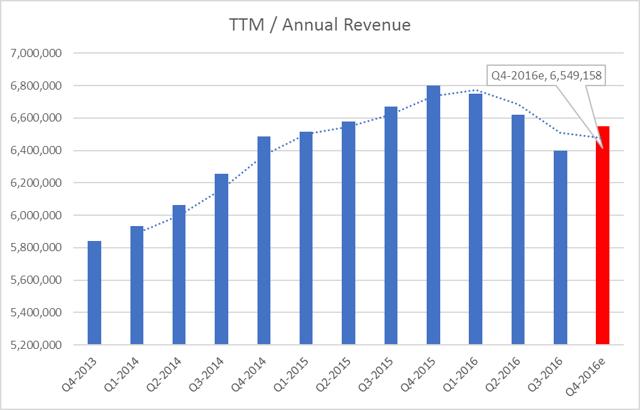 (Image by Michael A. Ball.)
This is top line revenue. A bulk of the company's net income came from asset sales in Q3. Continued future asset sales were discussed during the Q3 conference call on the Q and A.
2017 could produce more large asset sales as we have seen in 2016, but share buybacks would represent a more reasonable management decision to boost EPS in my view. EQR has already issued a special dividend of 4.8% to shareholders, so contracting the current supply of shares is a possibility soon.
"Equity Residential (NYSE: EQR) declared a special dividend of $3.00 per share.

The dividend will be payable on October 14, 2016, to stockholders of record on September 26, 2016.

The annual yield on the dividend is 4.8 percent."
(Source Street Insider.)
DCF model valuation
Using data discussed in the latest earnings release, and my own assumptions, I look a little more ahead into the future, rather than just the next quarter. Doing so I found a share value that could offer some opportunity, for people who see a longer-term perspective on Equity Residential.
The model is in the image below. It produces a future share price estimate of $75.26.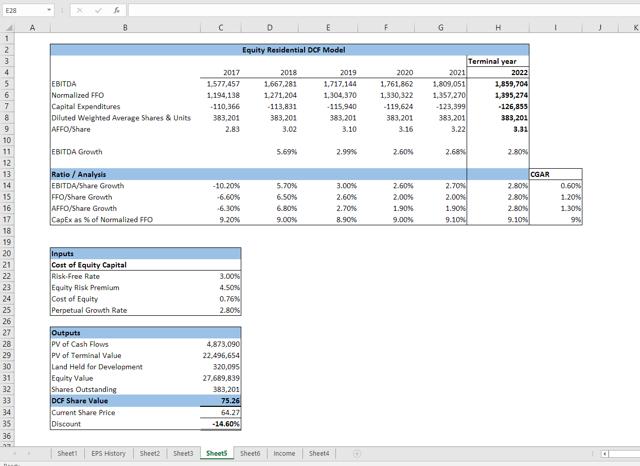 (Image by Michael A. Ball.)
As you can see the model, current market price trades at around a 14% discount to the DFC projections.
12mo NAV valuation
The Future NAVPS also show a good low-risk opportunity.
NAV per share - w/12-month forward growth

66.76

Current price

64.2

Fair Value on NAV Valuation

70.10

Targeted Premium (Discount) to NAV

-8.37%
Risks to model assumptions:
Projects still under construction delays Larger than expected growth in housing supply in the key portfolio areas. Slowing job growth on the West coast and NYC could weigh on total revenue. An increase in occupancy turnover. Higher rate increases faster than the market expects could offset management's guidance.
Conclusion
Equity Residential offers a good opportunity for the longer term and the value investor. Despite core revenue recently slowing slightly, value can still be found.
Metropolitan areas with growing hubs of tech activity, job creation, and innovation will provide more economic expansion and demand in the housing sector in the near future. The company has a good portfolio in these areas and is well positioned to absorb more demand fueled by job growth.
Buying shares at current market levels would be a great portfolio addition. With a current dividend yield of just over 3% and a history of special dividends, what more could you want in a stock?
Disclosure: I am/we are long EQR.
I wrote this article myself, and it expresses my own opinions. I am not receiving compensation for it (other than from Seeking Alpha). I have no business relationship with any company whose stock is mentioned in this article.