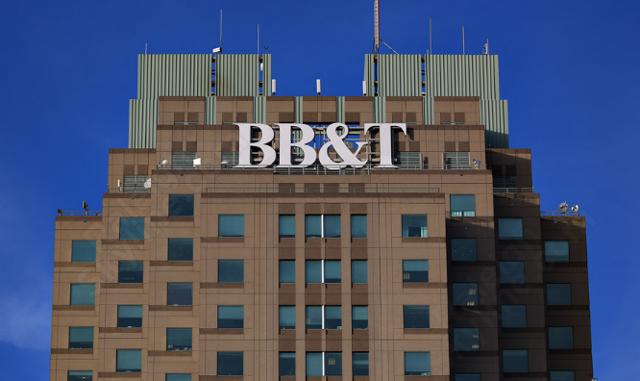 I've been pretty critical of BB&T (NYSE:BBT) for a few quarters now as I've seen the bank as inferior against its peers in a variety of ways. The unfortunate thing is that it has continued to sport average or better valuations despite the operational challenges it has faced. And although it has typically had terrific standards in terms of credit metrics, its very expensive M&A-based strategy hasn't panned out quite as well as it could have. Heading into the Q4 report, the stock is right near its highs and perched on a ledge that looks rather precarious to my eye. Given the challenges BBT is facing - including a new consent order - I just don't see this turning out well for bulls.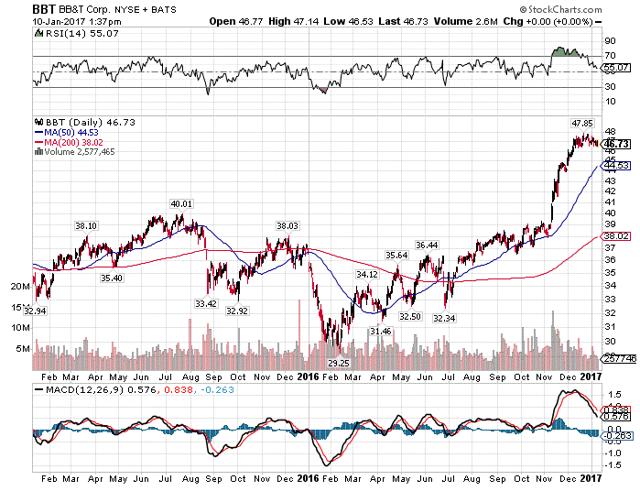 Estimates have been steady for Q4 as analysts are looking for 9% sales growth - thanks to acquisitions - and for EPS to move up from 64 cents to 73 cents. I've long been a critic of BBT's growth-by-acquisition strategy because it is very expensive and takes an enormous amount of execution and patience for it to work. That is a discussion for another day, but for the moment, it is safe to say that BBT's top and bottom lines should look a lot better this year than they did in last year's Q4.
But organic growth continues to be a problem as BBT's core lending business hasn't produced a great deal of it on its own. This is a big source of angst for me - particularly with respect to 2017 guidance - because BBT is so reliant upon bread-and-butter lending, and as has been well publicized, mortgage demand has been rough since the Fed hiked a few weeks ago. That won't last forever, but if the Fed does indeed carry on with its rate hikes and mortgage demand is soft, while BBT's margins may rise, I have to wonder if volume will be low enough to offset margin gains. Q4's numbers aren't going to be that interesting because of the lateness of the hike, but guidance and commentary surrounding 2017 is going to be of the utmost importance. BBT's share price has a rosy mortgage market priced into it, and I'm not convinced that is what will actually come to fruition. Housing prices are very high in much of the country and the combination of that and rising rates isn't exactly enticing to buyers.
Then there is the matter of the consent order that came out recently related to BBT's practices with respect to money laundering. There is no real impact to earnings (or at least, there shouldn't be), but if it keeps BBT from buying another big competitor for a couple of years, that could certainly derail its growth plans. BBT - as I've mentioned repeatedly before - is rather incapable of growing on its own, and instead opts to almost constantly buy smaller competitors. If it can't do that, it has no ability to put together material growth, and that's a problem as it represents an involuntary shift in strategy.
Of course, perhaps it is a blessing in disguise as it could save BBT from itself in terms of the constant madness of implementing multiple acquisitions at one time. Perhaps the break from significant M&A could help BBT get right what it already has, but this looks bad at the very least. Plus, additional scrutiny from regulators is unfavorable to put it mildly and that is where BBT finds itself.
The stock is going for 15 times next year's earnings despite the challenges it faces in terms of margins and outright growth, well in excess of names with much brighter futures like Morgan Stanley (NYSE:MS), Goldman Sachs (NYSE:GS), Citi (NYSE:C), Bank of America (NYSE:BAC) or just about any other large bank you can name. BBT's chosen strategy and concentration on core lending may not work quite so well when lending volume is down as consumers - particularly on the mortgage side - face a bit of sticker shock as rates rise. The weakness we saw in the back half of December in mortgage demand isn't a fluke, and while I don't know how long it will stick around, it is bad news for BBT.
The rally the stock has embarked upon has very clearly lost steam as the momentum indicators have rolled over in a big way over the past couple of weeks. With the stock at new highs, I have no idea what BBT could say during its report that would catalyze the stock to move higher. Conversely, there are many things it could say that could have the opposite impact and that is my base case from here. The euphoria surrounding bank stocks has driven all players - even also-rans like BBT - to new highs, and for this one, I think time is up. There is no way to justify 15 times earnings here with all of the company-specific challenges BBT has right now, so this one is certainly a sell going into the report.
Disclosure: I/we have no positions in any stocks mentioned, and no plans to initiate any positions within the next 72 hours.
I wrote this article myself, and it expresses my own opinions. I am not receiving compensation for it (other than from Seeking Alpha). I have no business relationship with any company whose stock is mentioned in this article.