Everyone wants to invest in quality companies and for that reason, one would expect that quality companies would offer lower returns in the future. In other words, the high demand for quality stocks would result in higher prices and lower future returns. Surprisingly, that turns out not to be the case. In fact, quality companies outperform the broader market both in the U.S. and around the world.
In a paper titled Quality Minus Junk, AQR's Cliff Asness, Andrea Frazzini, and Lasse Pedersen define a quality factor which ranks stocks based on profitability, growth, safety, and payout. Profitability includes gross profits, margins, earnings, accruals and cash flow. Growth is measured as growth in profitability. Safety is measured using price based (stock beta and volatility) and fundamentals based (leverage and volatility of profitability) measures. Payout is dividend payout over earnings and a higher payout is preferred. Below is a chart of U.S. stocks sorted into five buckets based on this quality measure, using data from AQR. High quality stocks earned 6.1% more per year than low quality stocks since 1957.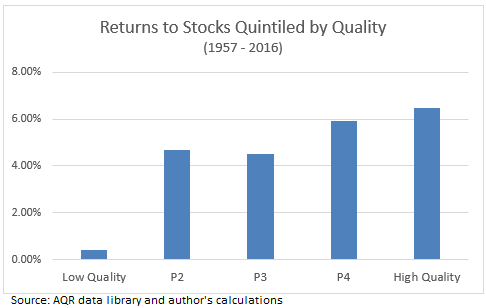 According to the capital asset pricing model, a stock's beta should be the sole determinant of its returns. But there are several anomalies that seem to defy the CAPM, such as momentum, value and size. Each of these has a somewhat plausible explanation as to why they might work. Explaining the returns to quality is a bit more difficult. One possible explanation is that investors might prefer higher risk, junk stocks that offer a lottery-like payoff, bidding up their prices and setting them up for lower future returns.
Investors looking to overweight quality stocks have a number of ETFs to choose from. We highlight four of them here.
iShares Edge MSCI USA Quality Factor (BATS:QUAL)
QUAL tracks the MSCI USA Sector Neutral Quality Index which scores stocks based on three metrics: return on equity, financial leverage and volatility of per share earnings growth during the past five years. Stocks are scored on a sector neutral basis, meaning that the fund overall does not take any sector bets. QUAL charges an expense ratio of 0.15%, making it the cheapest ETF mentioned here. Top holdings include Johnson & Johnson (NYSE:JNJ), Berkshire Hathaway Inc B (NYSE:BRK.B), and Kimberly-Clark (NYSE:KMB).
PowerShares S&P 500® Quality ETF (NYSE:SPHQ)
SPHQ's index uses return on equity, financial leverage, and one-year growth in net operating assets. Compared to QUAL, two out of three of the metrics in SPHQ are basically the same, but for the third, QUAL measures the volatility of earnings per share growth while SPHQ measures the one-year growth in net operating assets. According to the accrual anomaly first identified by Richard Sloan (see here and here), firms with large and growing accruals tend to have poor returns in the future. SPHQ changed indexes in March of 2016. The ETF charges 0.29%. Top holdings in SPHQ include Verizon Communications (NYSE:VZ), Procter & Gamble (NYSE:PG), and Home Depot (NYSE:HD).
Both QUAL and SPHQ weight their holdings based on the strength of their exposure to the factors and their market capitalization. SPHQ targets 100 stocks from the S&P 500 whereas QUAL targets stocks from the MSCI USA Index of large and mid-cap stocks and the ETF recently held 125 stocks.
WisdomTree US Quality Dividend Growth ETF (NASDAQ:DGRW)
DGRW selects stocks based on ROE and ROA as well as analyst consensus growth forecast. Stocks are weighted by the dollar amount of dividend. Stocks are first screened to remove those with less than $2 billion in market cap or those with payouts greater than 100%. DGRW charges 0.28%. Top holdings include Johnson & Johnson, Apple (NASDAQ:AAPL), and Microsoft (NASDAQ:MSFT).
FlexShares Quality Dividend Index ETF (NYSEARCA:QDF)
QDF focuses on stocks with strong management efficiency (capital structure and capital expenditures), profitability, and cash flow. The precise definitions are proprietary. Dividend-paying stocks are quintiled based on these three metrics, and the worst scoring quintile is eliminated. As with QUAL, stocks are ranked on a sector-neutral basis. The ETF targets a beta close to 1. QDF charges 0.37%, making it the most expensive ETF mentioned here. Top holdings include Wells Fargo (NYSE:WFC), Exxon Mobil (NYSE:XOM), and Pfizer (NYSE:PFE).
In Conclusion
Among the four ETFs mentioned above, I believe that SPHQ has the closest focus on quality. Unlike QDF and DGRW, SPHQ does not include dividends. While payout is part of AQR's definition of quality, investors have plenty of other choices when looking for a dividend ETF. Unlike QUAL and QDF, SPHQ does not use a sector neutral approach, so it takes a less constrained approach to quality. SPHQ is more transparent than QDF. Finally, SPHQ uses accruals as part of its definition of quality.
Disclosure: I/we have no positions in any stocks mentioned, and no plans to initiate any positions within the next 72 hours.
I wrote this article myself, and it expresses my own opinions. I am not receiving compensation for it (other than from Seeking Alpha). I have no business relationship with any company whose stock is mentioned in this article.