Ohio Class Submarine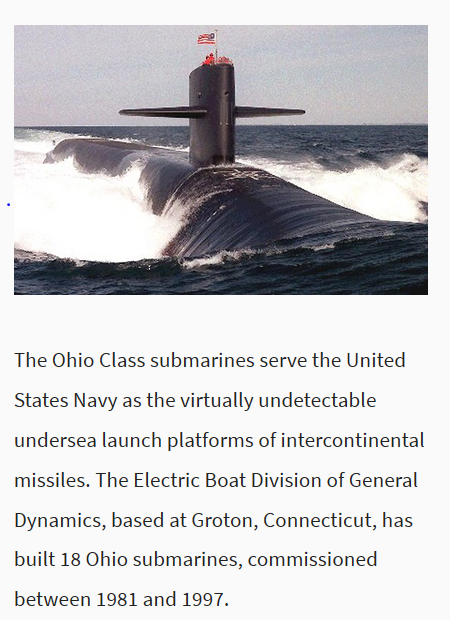 Purpose
Although this article is viewed through the prism of four defense contractors at a time when America's military defense structures are in severe decline, its underlying purpose is to distinguish the growth potential of General Dynamics (NYSE:GD) after the newly elected president has vowed to make us safe.
Protecting America Through Strength
The President-elect has made clear his intentions of bring America's national defense standing to a far higher level to protect Americans from increasing world threats, including terrorism, geopolitical tensions, wars in the Middle East, saber-rattling by North Korea, global expansionism in eastern Europe by Russia and heightened tensions between the U.S. and China concerning territorial rights and freedom of the seas over a vast expanse of the South Pacific.
Current Defense Weakness
In a speech last September, Trump attacked President Obama for allowing defense spending as a share of the U.S. economy to track to low levels not seen since the end of World War II . This has occurred in a climate where adversaries are spending significant amounts for procuring and manufacturing military goods.
Trump stated:
We currently have the smallest Army since 1940.
The Navy is among the smallest it has been since 1915.
The Air Force is the smallest it has been since 1947.
And he promised:
Trump Favors More Spending for Defense
One of the most important priorities to consider as an investor is that the Trump White House would favor a defense budget that is 15% greater than the Obama administration's 2017 budget plan. This translates into about $90 billion more than the anticipated $583 billion requested for 2017. Note also that projected budgets for 2018 through 2021 continue to rise. The point is that there is an expectation of a rebound in defense funding that could be funneled into major defense corporations.
U.S. Defense Department Base and OCO Budgets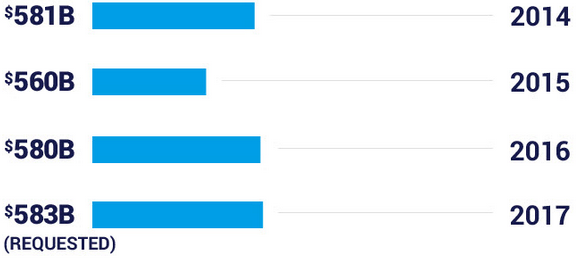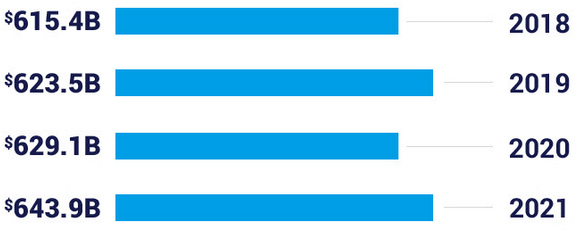 Source: DOD
The Defense Industry Expects A Rebound
After three successive years of lower budgets, the aerospace and defense industries expect a major rebound in the Federal government's defense spending with continuing funding-level growth into the near future.
For investors, this represents an opportunity to buy into companies that comprise the U.S. defense sector. Greater defense appropriations are a major financial stimulus for major industry suppliers.
"That kind of money would pay for a long list of: aircraft carriers, submarines, jets, bombers, tanks, and hardware!"
NATO Build-Up Stimulus
Correspondingly, 16 NATO member states have indicated a likelihood of increasing military spending. The NATO target is a defense expenditure of only 2% of GDP; currently, only 2 countries comply, but there are expectations that the U.S. may pressure NATO to contribute more to mutual defense. This augurs well for the U.S. defense industry that also contracts with our allies for military purchases.
Major Defense Stocks Rise On Election News
The comparative chart below tracks four major U.S. defense stocks - General Dynamics, Northrop Grumman (NYSE:NOC), Raytheon (NYSE:RTN) and Lockheed Martin (NYSE:LMT) - that rose immediately following the presidential victory, but have since dipped as investors are tuning into the upcoming Congressional budget battles. The companies were selected based on their representation of the aerospace/defense sectors. The following data cannot be generalized to other defense corporations that were not included, but they can be compared to available data for other companies in the defense sector.
These four major defense contractors have much to gain if Trump's defense agenda is funded. The comparative chart below shows major price gain activity beginning November 9, peaking through early December then consolidating into the new year. General Dynamics peaked higher and maintained a share value closer to the high. Please note the convergence of all four in early August compared to their present divergent rankings. GD is the only company whose stock price did not dip below the August convergence point. It will be the focus of the remaining article.
Company Comparisons Chart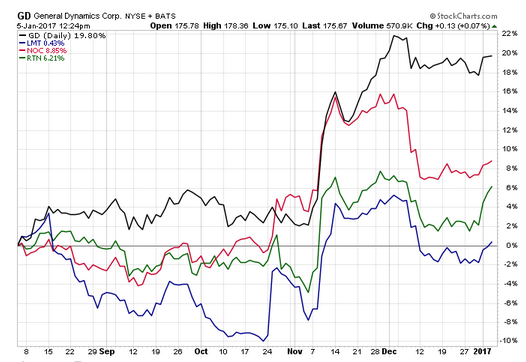 Source: StockCharts.com
General Dynamics
General Dynamics Corporation operates in four areas: Aerospace, Combat Systems, Information Systems and Technology and Marine Systems.
It rose from a share value of $153.78 on November 8 to close at $162.09 the following day, increasing more than 5%. It closed on January 5 at $176.14, for an overall 12.6% increase since the presidential election. The comparisons above show it led the three other defense companies reviewed, while holding share value better during the consolidation that followed the peak.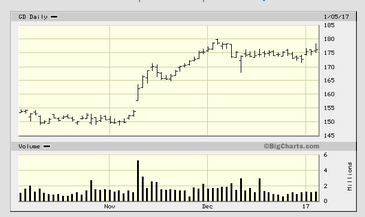 Source: BigCharts
What Funding Will Impact General Dynamics?
Since the key focus of GD is its naval business, let's start with boats and ships. The secretary of the Navy wants 355, up from the current 308. Submarines are designated by the Navy as boats, and the Ohio-class ballistic missile submarine (see above) is a $100 billion program built by GD. In addition, the company is also building two of the Virginia-class submarines a year. Add to that more DDG-51 missile destroyers and amphibious assault ships.
The company recently secured a $34.7 million contract from the U.S. Naval Systems Command for its Electric Boat Division to acquire on-board repair parts for Virginia-class submarines.
How about planes? GD also has a significant business jet operation. It built the Gulfstream, which is a top-of-the-line large-cabin business jet that would add to company profits in a growing economy.
Price Movement
GD gained 25.6% over the past one-year, outperforming the Zacks categorized Aerospace-Defense industry's gain of 10.9%.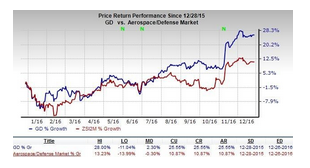 Source: Zacks
Earnings Trends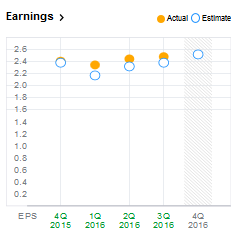 Source: Yahoo Finance
Earnings have increased during the last three quarters, exceeding estimates. Current earnings estimates for Q4 project a continued growth in earnings.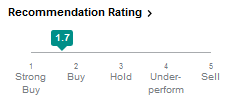 Source: Yahoo Finance
Analysts' recommendations are in the Buy and Strong Buy range.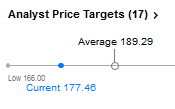 Source: Yahoo Finance
A price target of 189.29 is recommended by 17 analysts. Merrill Lynch's specialized defense company analyst, Ron Epstein, has a price target of $200 for GD, which is 18 times earnings for aerospace and 19.5 times earnings for defense.
GD Enjoys A Dominant Role
As one of the only two contractors in the world equipped to build nuclear-powered submarines, GD enjoys a dominant position as a Navy contractor. The company also continues to be a prime contractor for the development of the Virginia-class submarines.
According to the Department of Defense, GD was awarded contracts for $324.5 million in 2016.
The 2017 fiscal year budget proposal calls for $582.7 billion in funding for the Pentagon, which includes $8.1 billion for submarines (with over $40 billion in the next five years).
Congressional increases for defense would surely inflate this amount, which makes the battle for the budget in Congress a key issue for defense investors to monitor.
What About Northrop, Raytheon and Lockheed?
These companies were selected for the mix because they are fine defense companies in their own right and deserve your consideration. Since they were not my top choice, more detail will have to wait for follow-up articles. But let me point out their specific contributions to the defense sector:
Northrop Grumman
They have a strong growth outlook based on their aircraft and defense electronics portfolio. They are a key supplier on the F-35 and the F-18, the prime contractor in the B-21 long-range strike bomber program and a key contractor in many unmanned vehicle and cyber programs.
Raytheon
Raytheon is a provider of defense electronics, missiles and integrated defense system for ships. About 40% of their backlog is international. One of their bigger exports is the Patriot missile system.
Lockheed Martin
Lockheed enjoys major growth from the F-35 program which is a key variable to monitor in terms of future contracts.
Takeaway
The need is there, the promise of re-building America's defenses is there, and what remains for investors to watch for is the government funding to do it. This is especially sensitive given the $20 trillion debt burden that currently weighs on the U.S.
Funding defense will require exceeding current budget spending limits imposed by Congress. The task will require a national investment far in excess of that set by the Budget Control Act of 2011, which has dominated the budget debates in Washington for the last five years.
IMO, the legacy of the 2011 debt ceiling fight bears most heavily on the new president's ability to significantly strengthen America's defense posture. The first positive sign is if Congress increases the present defense budget for 2017, which the new President will request. This requires the Republican Congress to remove the mandatory Budget Control Act spending caps.
Note: Thank you for reading and commenting. You can follow my articles on SA by clicking the circle button ("Follow") after my name on top of the page.
Disclosure: I/we have no positions in any stocks mentioned, and no plans to initiate any positions within the next 72 hours.
I wrote this article myself, and it expresses my own opinions. I am not receiving compensation for it (other than from Seeking Alpha). I have no business relationship with any company whose stock is mentioned in this article.
Additional disclosure: The information and data that comprise this article came from external sources that I consider reliable, but they were not independently verified for accuracy. Points of view expressed are my reasoned opinions, not investment advice. I bear no responsibility for investment decisions you make.