Coca Cola Femsa (NYSE:KOF) is the largest Coke bottler in the world. It has operations in Mexico, Central America, South America and the Philippines. Due to the massive points of sale it needs to serve, the company has invested heavily on supply chain management and distribution.
I believe KOF is having a diversification problem. It's no secret the global consumer is opting out of carbonated beverages as they are perceived as "unhealthy". With such trend in traction, KOF has invested heavily on its product portfolio to rely less on CSD. (Carbonated Soda Drinks)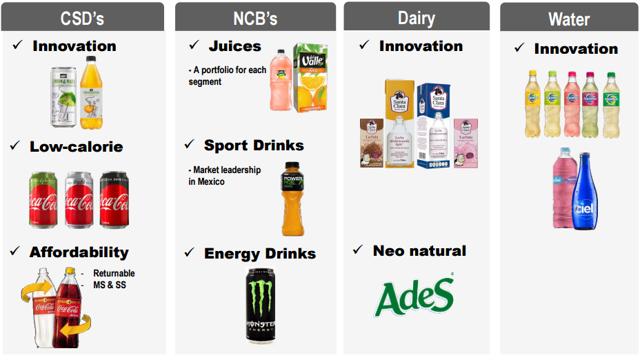 The company participates in most beverage categories. This is good news as it means KOF has acknowledged they must diversify from CSD´s. Even though, I believe they are missing opportunities in some market segments such as coffee and functional beverages.
I am not implying that the current portfolio is bad, but it could certainly be refurbished to serve niches that are experiencing growth at the expense of carbonated soda drinks.
By looking at the evolution of the volume mix we can appreciate how dependent KOF is to CSD.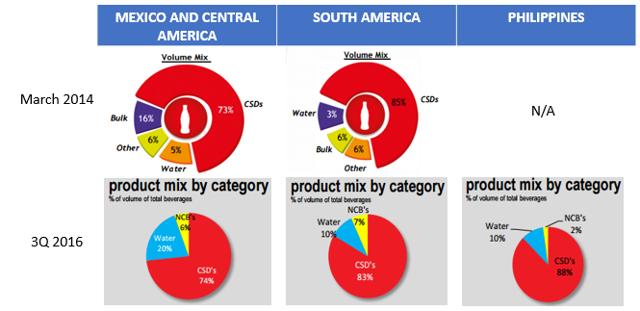 Source 3Q2016 Investor Presentation & March 2014 Investor Presentation.
As we can see, CSD participation has not decreased on the product mix. Sadly, we cannot make any conclusions on other categories other than CSD as the information is not consistent. Therefore, KOF remains as sensitive as before to a sudden change in consumer preferences. It is clear that by growing its product portfolio the company is better suited to "catch defectors" who are willing to stop drinking CSD. Sadly, this does not calm my concern on the financial implications if CSD ran quickly out of fashion.

Source 3Q2016 Investor Presentation.
KOF bulls will argue that the averages have not changed due to the impressive volume growth that the company has experienced on all its categories. Even though this is true, the company seems to be "riding the CSD wave" as long as possible and not making such a great effort on diversifying its income.
I believe it's important to make a comparison between the US and the Mexican market. This is because trends that happen in the US are followed by Mexican consumers a few years after they happen. On 2009, Fruit Beverages comprised 15.2% of the Soft Drink business in the USA. Today, KOF's market penetration on this segment is not even close to what it ought to be 7 years ago.
I know it is not academically accurate to compare 2009 numbers to what happened in 2016. But this comparison was made just to show how the numbers were before we saw the "I am not drinking CSD´s anymore" wave. I am sure this numbers are higher right now, and would show KOF´s volumes are more dependent on Carbonated Soda Drinks than before.
KOF is a great CSD bottler. Even though the company has made significant efforts on diversifying, data suggests that the company is as dependent as before on Carbonated Soda Drinks. This is risky for stock holders as consumers are willing to abandon the product that represents around 80% of sales for the company.
Even though the product portfolio is robust, KOF seems to be managed from bottom to top (counting beans instead of looking to get more beans). By looking at investor presentations, the company talks on optimizing its Supply Chain Management and Distribution operations, (which is great), but does not disclose any plans on how it will grow its milk, water and juice business.
Conclusions:
With current consumer trends, KOF has a high risk of experiencing financial troubles once the "I do not drink CSD's anymore" trend settles. Even though its product portfolio is robust, investors should be wary if CSD volumes increase or remain the same in the future.
KOF's stock price will remain low (or continue decreasing) until the company starts to provide results on its volume mix.
Disclosure: I/we have no positions in any stocks mentioned, and no plans to initiate any positions within the next 72 hours.
I wrote this article myself, and it expresses my own opinions. I am not receiving compensation for it (other than from Seeking Alpha). I have no business relationship with any company whose stock is mentioned in this article.
Additional disclosure: Please do your own due dilligence, I am not responsible for any investment decision based on the information contained in this article.