Ford (NYSE: F) is one of the most active and liquid stocks out there and at $12.85 provides a great opportunity to earn income and dividends in most accounts.
One challenge for DIY investors who hold small accounts is diversification. Eight months ago I published an article here about an account in which I attempted to own world-class, globally diversified dividend-paying value stocks. Honda (NYSE: HMC), my favourite motorcycle company, made up both the Japanese and consumer discretionary segment of this portfolio. I held 32 shares of the ADR for more than two and a half years.
What's not to like about Honda? It's bumping up against 52 week highs and earnings are the strongest they have been in 4 years. But the stock is volatile (10% more beta than Ford). The dividend is erratic. It gets paid in Japanese Yen which are then converted into US dollars, so the amount fluctuates. On top of that, I have calculated that 2.8% tax has been withheld on the dividends (the net amount after the Japanese government's 15% withholding tax which they then offset with a credit) as well a 2.4% ADR fee that is levied by my broker each time it is paid. So although the withholding tax is not as punitive on HMC as it is on some European domiciled-ADRs, it doesn't bolster the case for owning Honda, whose dividend is half of Ford's.
The most superficial securities analysis tells us that Ford is clearly the better buy:
| | | | | |
| --- | --- | --- | --- | --- |
| Company | P/E | Dividend Yield | Payout Ratio | Debt to Equity |
| Honda | 16.76 | 2.75% | 40% | 3.82 |
| Ford | 6.29 | 4.75% | 45% | .49 |
(Source: my calculations from Google finance)
I believe that this debt number is one factor depressing Ford's valuation, even though a huge part of it is made up of liabilities from the finance division (~$123 billion out of $196 billion as of 1 year ago) for which other competitors have no equivalent. Nonetheless, Honda, GM (NYSE: GM), Toyota (NYSE: TM), and Volkswagen (OTC: OTCPK:VLKAY) are all close to their 52 week highs, while Ford is 12% off of its.
Even with these highs, the absolute valuation of the auto sector is historically cheap as Paulo Santos outlined in a November 30 article. The valuations are depressed over justifiable fears of just how sustainable maintaining year over year of record-breaking auto sales, as we have seen for the past three, is. But Ford, for its part,has picked a good time to break records, as it is just exiting the meat of its heavy debt-repayment schedule:

(Source: Annual Report)
If we can get through the next two years without the recession reaper taking a scythe to that pile of unsecured debt, the risk profile of the business improves considerably thereafter.
Dividends and Cash Flow
Ford and Honda have different fiscal years. Both delivered the most operating cash flow last year that they had in at least five. But Ford has already surpassed last year's total $16B of operating cash flow through three quarters, while Honda halfway through its year was at $400 billion yen, not on target for last year's record $1.4 trillion.
The table below reveals that, while both companies have paid out in the mid-teens of operating cash flow, prudent for their capital intensive industry, Ford has had greater and smoother cash flow growth. This has enabled Ford to up its payout considerably: by 100% in 2013, 30% in 2014, and 15% in 2015. Last year there was no increase but a special dividend equivalent to 2.66 times the quarterly payout. This year the special dividend is only 5 cents as the company has released profit guidance on the conservative side due to investments in technology.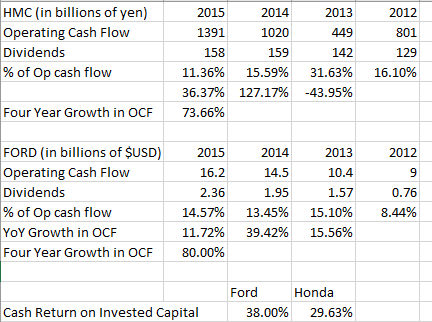 Source: my calculations from Googlefinance
The most telling number for value investors is ROE. Honda has not cracked double-digit ROE in years while Ford has quadrupled Honda's since it was last below it two years ago. While the profits will be moderate this year, and ROE is clocking in at about 12% as of Q3, it still meets the double digit requirement: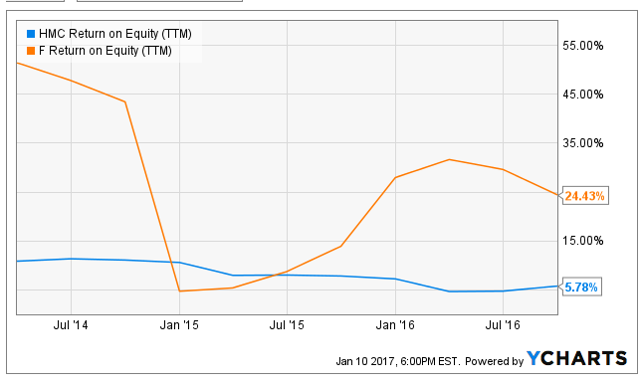 Macro Considerations
For 35 years in a row, Ford owns the best seller category in pickups in the United States and Canada. It is also proficient at making small cars which you see in Europe and Asia, where Chevrolets and Chryslers are notably absent. Honda, despite the sterling reputation of the Civic and the Accord (and recently winning the best pickup category at the Detroit Auto Show), booked revenue as follows in FY 2016:
| | | | | |
| --- | --- | --- | --- | --- |
| Division | Sales (millions of Yen | % of total revenue | Operating Margin | |
| Motorcycles | 1,805 | 12% | 10% | |
| Cars | 10,767 | 72% | 1.4% | |
| Finance | 1,894 | 12.8% | 10.8% | |
| Power Products | 352 | 2.3% | -8.8% | |
Source: company website
We can see that "nice to have" vehicles like motorcycles and ATVs make up a not insignificant 14.3% of total revenue. Honda makes better margins selling motorcycles than cars, but cars are the bread and butter; the 1.4% it earns on these is half of Ford's 2.8% margin. The power products division would continue to be a source of trouble in a downturn; consider oil-price crash afflicted Calgary, Alberta,where over 10,000 ATVs were on sale on kijiji at one point last year.
Ford, meanwhile, is steady as she goes. 8 straight quarters of $31B+ revenue, consistently $2B plus from the finance division, and while the company is overwhelmingly reliant on North America for sales (65%), 4/5 international divisions were profitable last year compared to just 2 in 2014, with the exception of South America.
Corporate taxes are always a thorny issue for visible multinationals like these. Japan has already cut it corporate tax rate by approximately 10% in 2016 as part of its policies aimed at spurring growth. Whether Trump enacts his proposed tax cut or how his Mexico/NAFTA/Tariff policies remains to be seen but if increasing the long term growth rate from 2 to 3 percent is his target, it is hard to see how it would not involve a net benefit to Ford which is thriving in the current fiscal regime.
Liquidity: Flexibility and Income
We have to mention sales, margins, and the macro environment even though an investor has zero control over these three things. The main reason I dropped Honda for Ford is the increased income and flexibility. Owning 100 shares of a company in a margin or retirement account gives you the write to sell 1 call contract against them. The idea is to earn additional income off of your shares. The CBOE Buy-Write Index gives an example of how this approach can out-perform the market over long periods of time.
I did not own enough shares of Honda to write a covered call, and buying that money would have meant over 30% of the account being exposed to one stock yielding 2.5% minus nickel and dime considerations. For beginners, liquidity in options is key. While options trade on thousands of NYSE and NASDAQ securities, most of them do not have the volume and liquidity to make trading them worth it, especially when you factor in broker commissions. The Honda ADR only has monthly expirations and, even though Honda has bigger market cap than Ford (54 vs 50 billion), there are only about 2,000 contracts of open interest on the January 20th monthly expiration. Ford, meanwhile, has weekly contracts that trade on it and several hundred thousand contracts of open interest on the same expiration. What does this mean? It means that the securities are actually priced efficiently and therefore, worth trading.
With dividend dates coming up, I will not jump into selling a call against my shares just yet (Be careful when selling calls around ex-dividend dates). However, I intend to undertake a monthly covered-call writing program on these Ford shares in the near future with the goal of reducing my cost base, something that was impossible with Honda.
Ford will probably not make you rich overnight. But it presents much better value and income opportunities for that style of investor than Honda. Also, the stock was above $15 for much of 2014 and 2015. Many long-term holders will complain about the performance since then but I think that focused use of covered calls and a DRIP (also in effect with 100 shares) Ford presents an attractive entry point to build a long-term position.
Disclosure: I am/we are long F.
I wrote this article myself, and it expresses my own opinions. I am not receiving compensation for it (other than from Seeking Alpha). I have no business relationship with any company whose stock is mentioned in this article.