Although oil (NYSEARCA:USO) has dropped to a new low in 2017 on Tuesday to $50.82/bbl as investors questioned OPEC's production cut. I for one remain unconvinced that there is a very good bearish argument out there. I could certainly change my mind if I see more data that would point to OPEC's failure.
As for today, I expect more negative data from the EIA, especially on the domestic supply side.
Domestic Supply
For starters, I expect domestic supply's rise to continue. Oil did fall early in the week, but that won't impact what happened last week, when oil touched $54/bbl. Producers (XOM, CVX, BP, CHK) must have been salivating!
As I mentioned in my previous article (read Oil Rally: No Longer A Mirage), domestic production has been picking up since July. Even though supply seems to have tapered in recent weeks, the long-term trend is no doubt positive. During this period, domestic supply increased by an average of 13 Mbbl/day per week. I expect this trend to continue and likely accelerate given higher prices last week.
Also, a quick note for next week. Yes, the headline may sound scary (Oil just reached a new low in 2017!), but it's been a while since producers have enjoyed such high prices (let's say $50+/bbl) for an extended period of time. I believe that the small decline in oil is unlikely to suddenly dampen the current trend of rising production.
Inventory
API reported an inventory build of 1.5 MMbbl. The current estimate for the EIA release isn't far behind at +1.16 MMbbl. If you've followed my articles in the past, you know that I do not place a heavy emphasis on week to week inventory changes as the data are the result but not the cause of shifts in underlying supply/demand fundamentals. A single week's change is really a drop in the ocean in the grand scheme of things; actual figures deviating from estimates by several hundred thousand or even a few million barrels will not suddenly alter my view. Nevertheless, it's important to understand expectations so we don't get surprised. Given my forecast of an increase in supply, an inventory build (as expected by analysts) isn't crazy to imagine. While the estimate seems acceptable to me, I still expect inventory to trend down over the near-term on average, continuing the recent trend.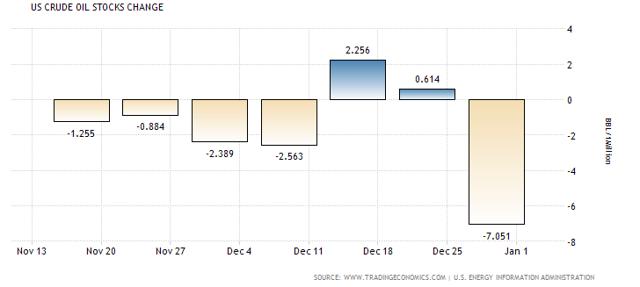 Still a Bull
While I expect EIA data to show bearish developments, the overall picture does not change in that the reported increase in supply will be unlikely to offset the planned cuts by OPEC. Of course, we should always be open-minded. Nothing is certain and we could definitely wait a bit longer before stating that OPEC's cut did indeed establish a new normal. If the data show a huge increase in supply or a big jump in inventory due to soaring imports, which has been going sideways for the past couple of months), then I will re-evaluate my bullish thesis. As Stanley Druckenmiller says, watch your basket carefully.
Click the "Follow" button beside my name on the top of the page to be updated with my latest insights. To learn more about the Core Value Portfolio, whose goal is to compound capital at 20% over the long term, I encourage you to read the introduction to my investment process. Premium subscribers get full access to the Core Value Portfolio.
Disclosure: I/we have no positions in any stocks mentioned, and no plans to initiate any positions within the next 72 hours.
I wrote this article myself, and it expresses my own opinions. I am not receiving compensation for it (other than from Seeking Alpha). I have no business relationship with any company whose stock is mentioned in this article.