Nevsun Resources (NYSE: NSU) is a Canadian mid-tier copper production company. The company recently closed its acquisition of Reservoir Minerals getting access to the incredibly valuable Timok Upper Zone and Lower Zone while creating a $1 billion mining company. As we will see throughout this article, the company's recent drilling results from this region point towards long-term earnings potential.
Introduction
Nevsun Resources was founded in 1965 as a Canadian mining company headquartered in Vancouver, British Columbia. The company did not explore Africa until the 1990s, but currently only has one asset, a 60% stake in the Bisha Mine in Eritrea, Africa. However, this asset is a strong cash producing asset and has allowed the company to provide its current dividend of almost 5%.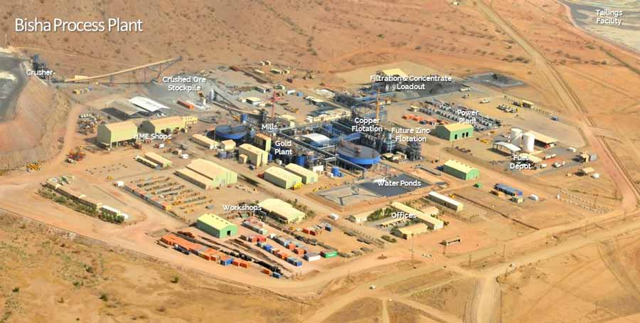 Bisha Process Plant - Nevsun Resources
Nevsun Resources has seen its stock price stay fairly consistent over the past 5 years. However, even with a fairly consistent stock price, the company did have its up and downs. The company saw its stock price drop to a January-2016 low of just over $2 per share along with a broader market turndown. However, since then, the company's stock price has recovered to pre-crash prices of just over $3 per share.
Nevsun Resources Timok Project Upper Zone
While Nevsun Resources has the Bisha Mine project, that project and the company's overall financial position, are discussed in other articles on Seeking Alpha. Here we are discussing Nevsun Resources' Timok Project and the potential financial rewards of this project to Nevsun Resources shareholders.

Nevsun Resources Drilling Result Highlights - Nevsun Resources Upper Zone Drilling Results
Let's begin by highlighting Nevsun Resources Upper Zone results, that is the portion of the company's Timok project that will likely begin to get mined first. The above image shows the highlights of the company's Upper Zone drilling results. The company has found a large number of high grade resources. This has allowed the company to identify some high grade shells that contain significant resources that can be mined.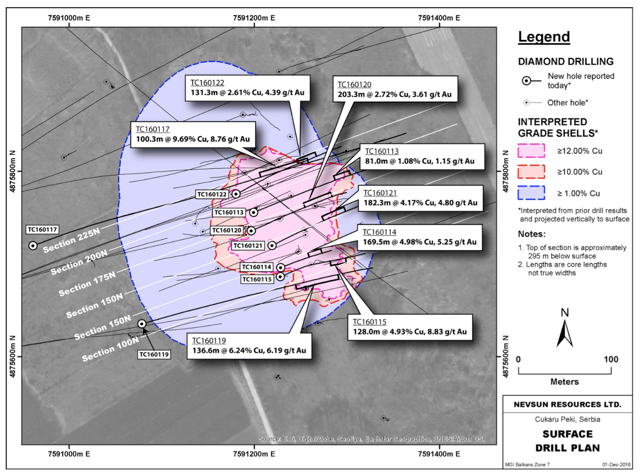 Nevsun Resources Upper Zone Shell - Nevsun Resources Upper Zone Drilling Results
This shows how Nevsun Resources has identified two grade shells, one with more than 12% copper grade and another with more than 10% copper grade. The above image shows an overview of the holes that the company has drilled in this area. With copper prices at more than $2 per pound, that means that Nevsun Resources has stumbled on a large amount of highly economical resources.
Not only does the region have significant copper resources but it also has gold resources. In fact, several of these drill holes have 5 grams or more per ton of gold. Across the world, the average grade of all gold mines is just over 1 gram / ton. That means that not only is this deposit comparable with other gold mines, but it also has incredible copper assets.
This shows the enormous value of the Upper Zone of Nevsun Resources' Timok Project and how economical it would be.

Nevsun Resources Upper Zone Reserves - Nevsun Resources Upper Zone Drilling Results
Looking at the resources stored in Timok Upper Zone project and we see the earning potential of these results. The Upper Zone has an astounding 1.7 million tonnes of indicated resources at an incredibly high grade of 13.5% copper and 10.4% g/t of gold. That means that these resources hold roughly 230 thousand tonnes of copper and 17.7 million grams of gold, a resource potential valued at more than $1 billion.
Given that Nevsun Resources is a $1 billion company, and that resource on the company's Upper and Lower Zone are just beginning, more than $1 billion of indicated resources are very impressive. Adding in the inferred resources increases the value of the Upper Zone by billions of dollars and shows the potential of this region to increase Nevsun Resources' future income.
Nevsun Resources Timok Project Lower Zone
Now that we have discussed how Nevsun Resources' Upper Zone has billions of dollars of value that points towards long-term earnings, let's discuss the high potential of the company's Lower Zone project.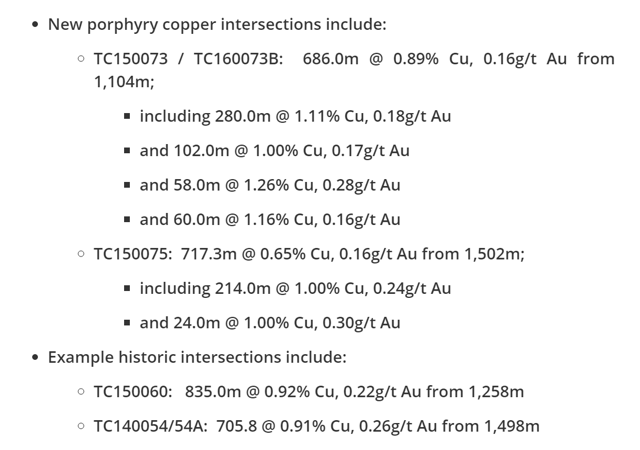 Nevsun Resources Lower Zone Results - Nevsun Resources Lower Zone Drilling Results
Looking at Nevsun Resources' results from the Timok Project Lower Zone and two things should become immediately clear. First is the noticeably lower grade of the resources. While above, we were looking at multiple regions with grades 5%+, here we are looking at regions with grades on the order of 1% or so.
However, that does not mean that the mine won't be economical given that most copper deposits are on the order of 0.4-1%. That means that the Lower Zone will likely still be profitable, just not as profitable as the incredibly high grade Upper Zone. This is especially true given that the Lower Zone might need underground mining or very large scale open pit mining, since these deposits start 1000 meters down. Underground mining would increase capex costs and lower profits.
There is, however, a major benefit to be seen here. Above, when we were looking at the Upper Zone deposits, you might have noticed that most of these drill holes found deposits that extended over roughly 100 meters of depth. However, in the Lower Zone, these drill holes that indicate close to 1% copper resources extend over 700+ meters plus.
These are some enormous deposits. And while they might not generate Nevsun Resources the same earnings potential as the Upper Zone, they still have the potential to generate massive amounts of revenue and profits. Proof of the value of this Lower Zone is shown in the fact that when Nevsun Resources was able to acquire the entire Upper Zone, Freeport McMoRan insisted on holding a respectable portion of the Lower Zone and is helping with the drilling program.
This shows the strong potential that the Lower Zone is seen as having and Nevsun Resources' commitment to it.
Nevsun Resources Earnings Potential
Now we have discussed Nevsun Resources' Upper Zone and Lower Zone in detail, including the incredible potential that they hold, it is now time to discuss the strength of these assets. For this discussion, we will focus solely on Nevsun Resources Upper Zone assets as the company's Lower Zone assets have yet to be quantified.
For the purposes of our discussion, we will also look at the total value of the Upper Zone's indicated and inferred resources rather than just the indicated resources.

Nevsun Resources Upper Zone Resources - Nevsun Resources Upper Zone Investor Presentation
The above slide shows Nevsun Resources inferred and indicated resources from the Timok Project Upper Zone. They were discussed briefly above and the image has been reposted here for your convenience. As we can see, the Timok Project Upper Zone contains 1.7 million tonnes of indicated resources and 35 million tonnes of inferred resources.
Using the given resource grades, there are a total of 1.245 million tonnes of copper and another 77.18 million grams of gold. At present market prices of $2.52 / pound for copper and $38.12 / gram for cold, that makes the total value of these resources an astounding $9.2 billion. For the first 9 months of 2016, Nevsun Resources earned $194.5 million in revenue resulting in $39.5 million in net income. (I ignored the net income attributable to shareholders because Nevsun Resources only owns 60% of the Bisha Mine project but it owns 100% of the Upper Zone).
This means that Nevsun Resources had a net income margin of 20.3%. Applying the same net income margin to the company's $9.2 billion in Upper Zone resources, and we get a total net income potential of $1.87 billion. Not bad for one project from a company with a $1 billion market cap.
Conclusion
Nevsun Resources is a vast company with a number of different operations. One of the most important things the company has done recently is acquire Reservoir Minerals in a share-based acquisition that used capital and diluted itself out to a market cap of $1 billion. However, as part of this acquisition, Nevsun Resources was given access to the incredibly value Upper Zone and a partial stake in the Lower Zone.
Looking solely at the company's drilling results and we see how the company's Timok project has massive potential. The Upper Zone alone has a number of drill holes that have shown grades of 5% or higher. The Lower Zone, while consisting of lower grades, has significantly more resources. Valuing the Upper Zone resources, we see that it has the potential to generate $1.87 billion in net income.
This net income is more than Nevsun Resources' entire market cap.
As we can see, Nevsun Resources has impressive resources with massive value. The value of these resources has the potential to make Nevsun Resources a much larger mining company. And this helps to support the idea that Nevsun Resources is a strong investment at the present time.
Disclosure: I am/we are long NSU.
I wrote this article myself, and it expresses my own opinions. I am not receiving compensation for it (other than from Seeking Alpha). I have no business relationship with any company whose stock is mentioned in this article.