Some investors might find the news that General Motors (GM) is allocating another $5 billion of owners' money to pay former shareowners as good news. A fellow Seeking Alpha author has written an article title " General Motors: Great News For Investors," it is a good read.
I will take the other side and argue that this is bad news. GM began its share repurchase program after an activist investor group made the suggestion. In March 2015 GM paid an average price of $38.03 for shares, now 21 months later the shares fetch $37.35. During this time, GM transferred $6 billion of owners' money to former owners' in exchange for shares. That is roughly $3.72 per share that owners' did not receive. The $14 billion that the Board has allocated for share repurchase is roughly $9 per share.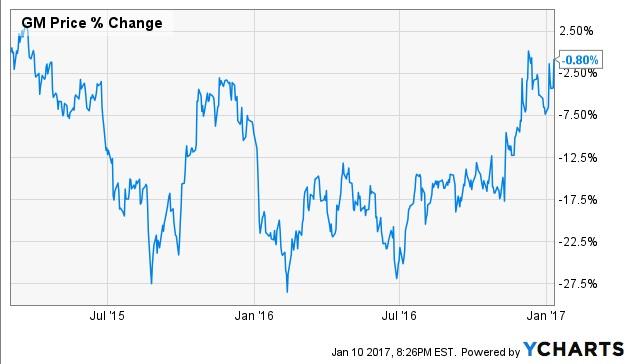 GM shares would yield 9.75% if the $2.12 used to repurchase shares per year ($3.72/21) is added to the current yearly dividend of $1.52. The dividend rate could be $3.64. This would produce a stock with a 9.75% yield at the current price. If investors demanded a 7.5% yield, then the stock price would be $48.53, or 30% higher than the current price.
GM's press released talked about increased 2017 EPS per diluted-adjusted shares of $6.00 to $6.50. However, the release did not disclose the expected number of diluted-adjusted shares that would be outstanding nor a dollar amount for the diluted adjusted income. It could be possible that adjusted income will decline, but the diluted-adjusted share count declines to the extent that EPS increases.
The lack of detail in the press release combined with Board decision to increase the capital allocated to former shareowners' to $14 billion is worrisome. If GM had fully funded pension funds and an AAA credit rating, then allocating capital to repurchase shares via a Dutch Tender might make sense.
Should Congress reduce corporate taxes, then the benefit of tax benefit of debt is reduced. And should interest expense be a disallowed expense, then the cost of debt would increase. The tax-loss carryforward would become less valuable.
At September 30, 2016, we had $34.4 billion of net deferred tax assets consisting of: (1) net operating losses and income tax credits; (2) capitalized research expenditures; and (3) other timing differences that are available to offset future income tax liabilities, partially offset by valuation allowances. The net operating losses and income tax credits include U.S. operating loss and tax credit carryforward deferred tax assets of $8.3 billion of which $8.0 billion expire by 2036 if not utilized and $300 million can be carried forward indefinitely; and Non-U.S operating loss and tax credit carryforward deferred tax assets of $5.9 billion of which $1.4 billion expire by 2036 if not utilized and $4.5 billion can be carried forward indefinitely.
Bottom Line
If GM were confident in its future then it would reward shareowners with the cash, or if it wanted to repurchase shares, it would tender for shares permitting all shareholders the same opportunity to sell shares back to the firm. In addition, insiders would be buyers of shares.
If share repurchases increase shareholder value, then why has the market capitalization of GM declined since the share repurchase plan has spent $6 billion?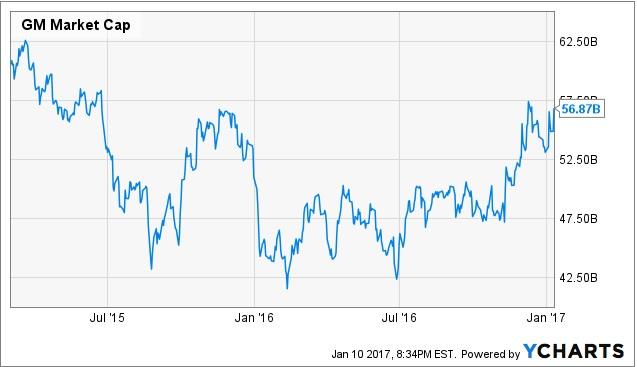 GM has no plans to increase the stock dividend during 2017, therefore investors will have less purchasing power from the dividend, should there be any inflation. Source: GM Slide Show, slide 34.
Disclosure: I am/we are long GM.
I wrote this article myself, and it expresses my own opinions. I am not receiving compensation for it (other than from Seeking Alpha). I have no business relationship with any company whose stock is mentioned in this article.
Additional disclosure: Also long warrants.