It is time to make some adjustments to my $100,000 CEF portfolio. Here is the list of CEFs and prices I suggested in July.
Fund

No. of Shares

Ave Price per Share

Total

Percent of Portfolio

Yield

Fund Type

HYB

1250

$8.00

$10,000

10%

8.30%

Bond

RNP

500

$20.00

$10,000

10%

7.10%

REITs

RFI

400

$13.00

$5,200

5%

7.10%

UTF

500

$20.00

$10,000

10%

7.60%

Utility

UTG

175

$28.00

$5,000

5%

6.50%

HQH

400

$25.00

$10,000

10%

7.80%

Healthcare

HQL

540

$18.50

$10,000

10%

8.00%

FIF

570

$17.50

$10,000

10%

7.40%

Energy

BTO

200

$24.00

$5,000

5%

6.10%

BDCs

ETO

400

$21.00

$8,400

8.40%

9.70%

Tax Advantaged Funds

HTD

300

$22.00

$6,600

6.60%

6.60%

JTD

370

$13.50

$5.00

5%

8.50%
Source: Author's work in July
Starting with HYB this article looks at the 6 month price graphs of each CEF to see if they could have been purchased at my suggested average price.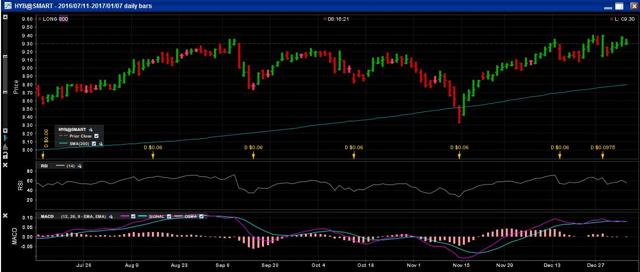 Source: Interactive Brokers
If one waited for the price of HYB to get to or below $8.00 per share, one would not have purchased this CEF. I did not wait for it to decline to $8.00 per share and have been buying it regularly for the past several months. The current price is $9.30 per share with a 7.7% yield that's paid monthly. At the end of December NAV was $9.89 per share, selling at a $0.59 discount to NAV. It paid a special dividend in December of $0.925 per share; $0.06 per share was for January's distribution and $0.0325 was a special extra payment for 2016. The fund plans to continue paying $0.06 monthly for the rest of 2017. Considering its solid performance over the past year and its current NAV, I recommend holding HYB if you own it and $9.00 per share seems a reasonable average price to purchase it going forward.
RNP's market price has not fared as well as HYB's and currently sells for $19.50 per share. Since I recommended buying it at $20.00 per share, I have not only purchased the full amount for my portfolio, but have purchased a double allotment or 1000 shares. The graph below shows that RNP was selling lower than its current price over the past 6 months. I took advantage of the sale price at that time and bought the additional shares.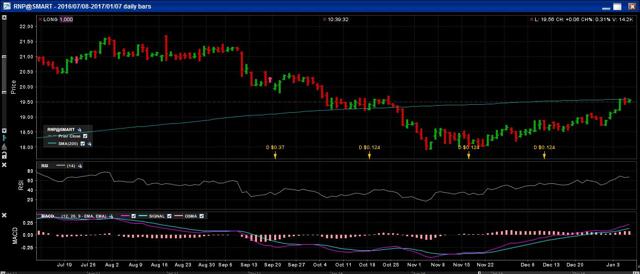 Source: Interactive Brokers
Since I purchased several hundred shares at about $18.00 per share, I have capital gains on my shares and will probably sell 500 shares when it reaches $21.00 again. RNP changed it dividend policy from paying quarterly to monthly at the end of its fiscal year in October. This makes it more appealing to the retiree who needs cash for living expenses. RNP is a raging buy because it sells at a good discount from its NAV of $22.17 with an attractive 7.6% yield. I recommend that one allot a higher percentage of one's portfolio to this CEF for the time being.
RFI, a sister CEF to RNP, currently sells for $12.50 per share, about $0.50 lower than my recommended buy price in July. Here again I purchased more than the suggested amount for my own portfolio at even lower prices. It also sells at a significant discount to its NAV of $13.61 per share. The graph below shows market prices for RFI over the past 6 months.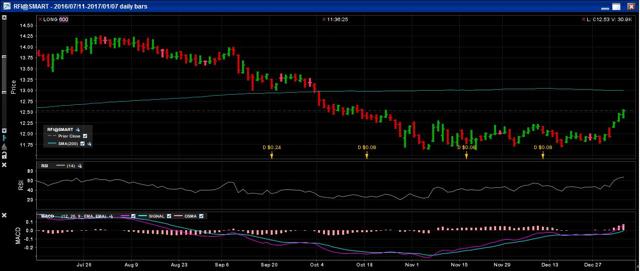 Source: Interactive Brokers
One could have purchased RFI at $11.75 per share in November. But if one missed that opportunity, it's still a bargain offering a 7.6% yield that pays monthly just like RNP. I plan to sell my over-allotment of RFI when it approaches $13.20 per share.
UTF is another CEF that sells below my suggested price in the first article. At $19.50 per share UTF offers an 8.1% yield. To the delight of retirees like me, it recently adopted paying dividends monthly as shown in the graph below.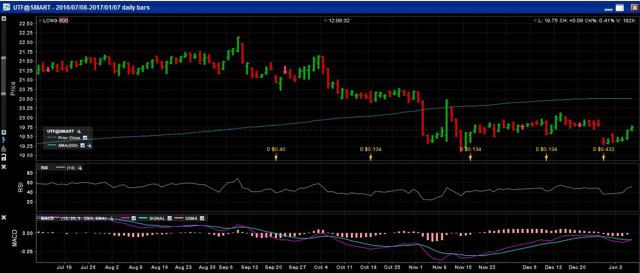 Source: Interactive Brokers
UTF's current NAV is $22.33 per share indicating that one can buy this CEF at a 13% discount to the value of its holdings. In my opinion this makes UTF another stock in the bargain bin.
When UTG had its secondary offering recently, the market price dropped, so I purchased quite a few additional shares at the lower price. One can see the big price dip in October when the offering was made on the 6 month graph below.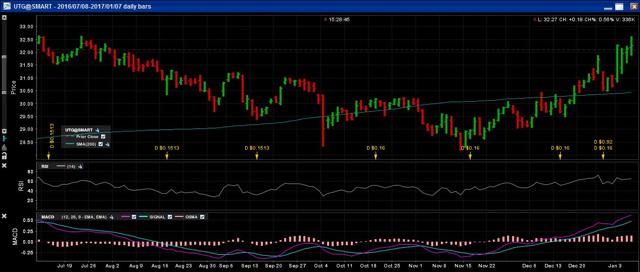 Source: Interactive Brokers
Since UTG's price has regained everything it lost, I sold out. I decided to use that capital toward other CEFs that offer better yields and sell at significant discounts to NAV. UTG's NAV and market price are currently around $32.00 per share. UTF offers a better yield and sells at a huge discount to NAV so it makes economic sense to move capital from UTG to UTF. There is nothing wrong with UTG, it pays $0.16 monthly and management does a good job, but I consider UTF and some other CEFs better alternatives at the moment.
HQH currently sells 10% lower than my suggested average price in the first article. This is another fund where I purchased more than the recommended amount. I currently hold 600 shares and actually have a small profit on them because I purchased them at sale prices. The 6 month graph below shows the huge dip HQH took from its July selling price.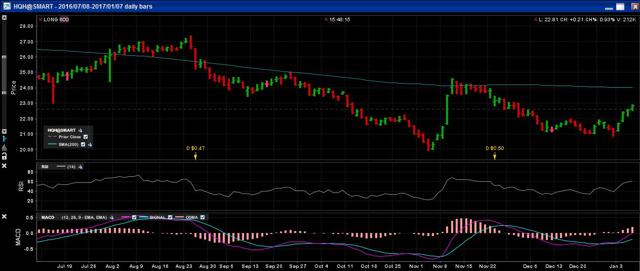 Source: Interactive Brokers
Buying HQH when it was $21.00 per share took some courage, but it's paid off so far. Many healthcare stocks took it on the chin when Trump called out some drug companies for outrageous pricing in one of his Tweets. While HQH went down after that episode, the fund surprised me by increasing the dividend from $0.47 to $0.50 per quarter so that it currently offers an 8.8% yield. HQH sells at a 4½% discount to NAV at $23.67 per share. I'm convinced that the market overreacted to president-elect Trump's comments about prescription pricing and expect to see a further rebound of healthcare stocks over the coming weeks.
HQL also sells at a lower price than my July suggestion to buy it at $18.00 per share. Since I followed my own buying advice of accumulating shares over a period of time, my average price for HQL is lower than $18.00 per share. It too was hit with the same Trump hammer as HQH and the price drop is conspicuous on the graph below.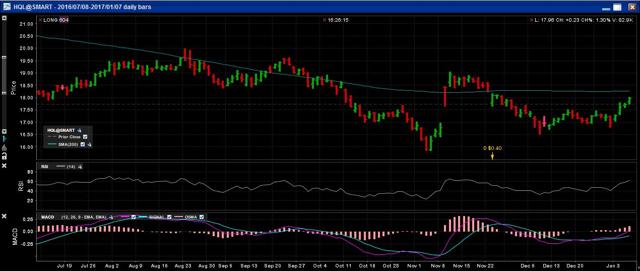 Source: Interactive Brokers
HQL sells at a discount to its NAV of $18.94 and pays an irregular dividend that has been averaging about 8-9% annually. While I am OK with this CEF, I only hold the recommended amount suggested in the first article. I prefer HQH over HQL because of its larger size and assortment of holdings
FIF is currently my favorite CEF. I'm convinced energy prices are about to rise in the near future and FIF stands to benefit. For that reason I doubled my shares but have not been able to purchase them at my recommended average level of $17.50 per share. The price movement of FIF is displayed in the graph below for the last 6 months.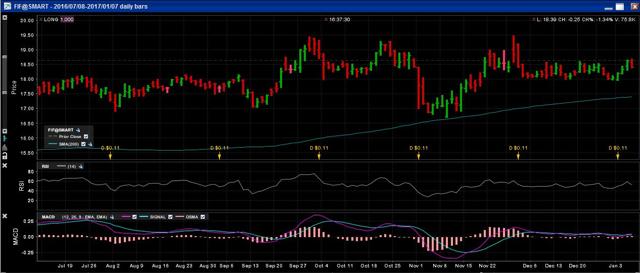 Source: Interactive Brokers
I am moving FIF's average buying price up to $18.50 per share because of my bullishness on energy. FIF offers a yield of 7.2% and at $18.50 is selling considerably lower than its NAV of $20.39 per share. FIF pays $0.11 monthly and will likely be in a position to increase this dividend in the near future and so I recommend doubling up on FIF because its bright future.
Those who follow me regularly already know that I recommended selling BTO. It is currently selling above it's NAV of $36.11 per share and only pays 4%. If you have not sold it, I recommend that you do so now. One can see its dramatic price rise over the past few months in the graph below.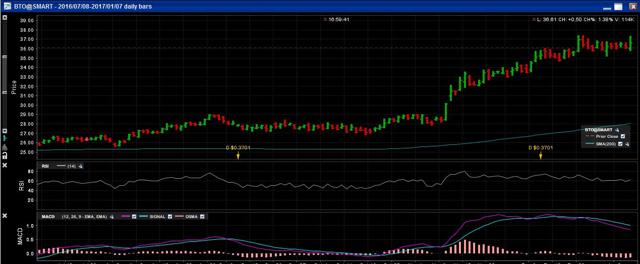 Source: Interactive Brokers
I never purchased any of these shares since I considered it overpriced from the start. One can see I was wrong and if I had bought shares right away in July, it would have given me some wonderful capital gains.
ETO is currently selling around the price recommended in the July article at $21.00 per share. I own 400 shares and have a small profit in them since I purchased them below $21.00 per share. One can see the price movement of ETO over the last 6 months below.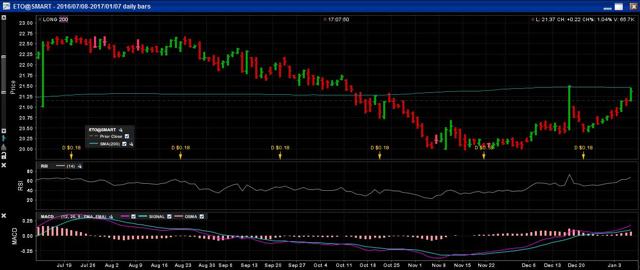 Source: Interactive Brokers
At $22.31 ETO sells at a 4% discount to NAV and pays $0.18 per share monthly to yield 10.1%. ETO is an excellent CEF to carry in one's taxable portfolio since management attempts to minimize taxes on its distributions. If one's CEF portfolio is in a tax free fund one might look at ETJ and EVV as possible alternatives to ETO.
HTD is a tax-advantaged fund that I have not purchased since most of my investments are in an IRA. It is selling $2.00 higher than the July recommended price although one could have purchased it below $22.00 for a short period in November. The price movement of HTD over the past 6 months is displayed below.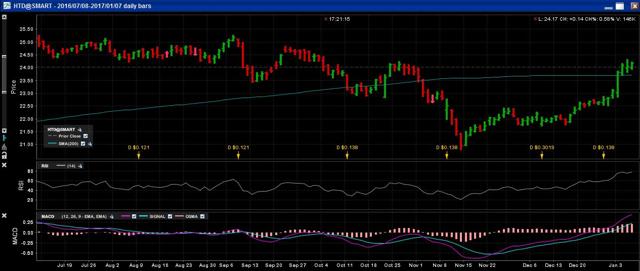 Source: Interactive Brokers
HTD's NAV is running about $1.00 above market price at $25.12 per share. Its yield is just shy of 7% and one gets paid monthly with this fund. This may still be a good addition to one's taxable portfolio, but if one wants to add it now I suggest an average buying price of about $23.00 per share.
I have a full complement of JTD at 400 shares in my taxable account. My average price is above the $13.50 price recommended in my first article and I am sitting on a small loss even as it sells for $14.00 per share. One can see the 6 month price movement on the graph for JTD below.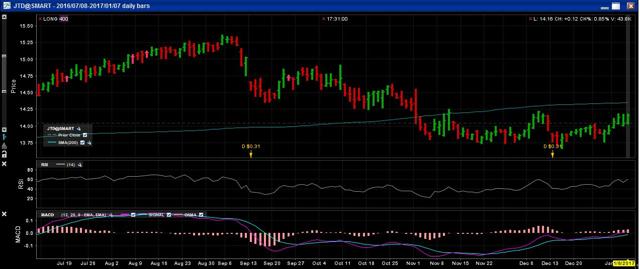 Source: Interactive Brokers
I have consolation in its 8.8% dividend paid quarterly and a NAV of $15.77 that is 10% higher than its current market price. JTD looks to be the best tax-advantaged CEF of the group at its current price. If one desires to purchase it now, I suggest overloading JTD and reducing the other tax-advantaged funds.
Since I am bullish on energy over the next year or 2, I am adding AMZA as possible alternative for one's CEF portfolio. I recommended AMZA when it was first offered and it was a huge mistake because it was introduced at the height of the MLP bonanza. The price of this fund took a 60% clip shortly thereafter. However I am convinced that MLPs will make a comeback with rising energy prices and AMZA is in a prime position to cash in when this occurs. One can see the 5 year market price of AMZA below.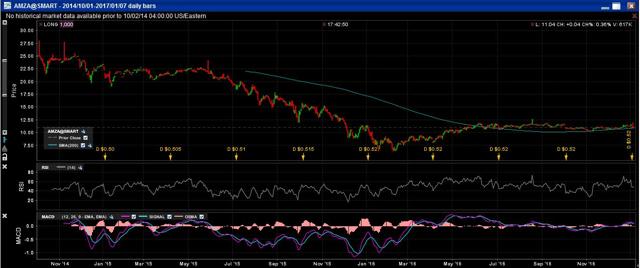 Source: Interactive Brokers
AMZA's NAV of $10.93 is right around its market price and currently offers an 18.5% yield. Since AMZA invests exclusively in MLPs and LLCs, it is one way to invest in these securities without dealing with K-1s. It also avoids the restrictions of certain securities firms that disallow MLPs in tax-free accounts. If one is not bullish on energy, don't buy this CEF.
Here is my updated 7% $100,000 CEF portfolio for the retiree who needs cash to live on.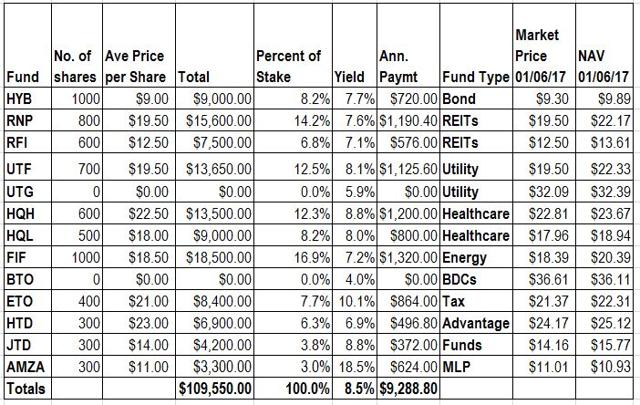 This portfolio has been tweaked from the July offering in several ways:
All suggested purchases are in even lots.
HYB has been reduced by 250 shares
The CEF portfolio now offers an 8% yield instead of 7%
REIT and Energy CEFs take a greater proportion of the portfolio
Portfolio adds up to $110,000 instead of $100,000 because of these changes
For those who care whether the author is eating his own cooking, I own all these CEFs except HTD. I am over-represented in AMZA, but as for the others I own them in the same proportion as indicated in the chart above. Finally, for those of you who didn't read the July article an excerpt of the dollar averaging technique from it is quoted below.
"Since most investors do not have the ability to time the market, it is better to dollar average into the issues being purchased. Follow the example below using JTD, one of the CEFs suggested for this portfolio. The graph for last year and 4 points of suggested purchase are shown.

Source of Graph: Interactive Brokers Web Site (Arrows & Comments from author)

Instead of purchasing all 400 shares at $16.00 right now, one purchases 100 shares at 4 different times which nets one a $14.25 average price for the 400 shares. By spreading purchases out over a year, it reduces the price by $1.75 for the shares. (100 shares at $15.00, 100 shares at $14.50, 100 shares at $13.00 and 100 shares at $14.50) This method requires no special ability or special timing, but a plan, patience and a discount broker to keep trading costs low."
Disclosure: I am/we are long HYB, RNP, RFI, UTF, HQH,HQL, FIF, ETO, HTD, JTD, AMZA. I wrote this article myself, and it expresses my own opinions. I am not receiving compensation for it (other than from Seeking Alpha). I have no business relationship with any company whose stock is mentioned in this article.
Additional disclosure: The prices in this article are as of 1/07/2017.