The holiday shopping season has finally come to an end soon to be followed by the highly anticipated fourth quarter earnings season where the winners and losers will finally be crowned. Certain industries have performed better than others throughout the year and look to build on their impressive numbers going into the new year. Technology, for example, was full of positive surprises last round of earnings reports with 88 percent of the S&P 500 tech companies reporting earnings above estimates. On the other hand, telecom names in the S&P 500 had a much more tepid quarter with 60 percent reporting earnings in-line or below estimates. As the next round of numbers come out, it looks like the retail industry might rotate down to the worst performing. Factset reported that 100 percent of S&P 500 consumer staples companies and 71 percent of S&P 500 consumer discretionary companies gave negative guidances for Q4. After a bearish holiday season, there might be some short opportunities as a down trend persists.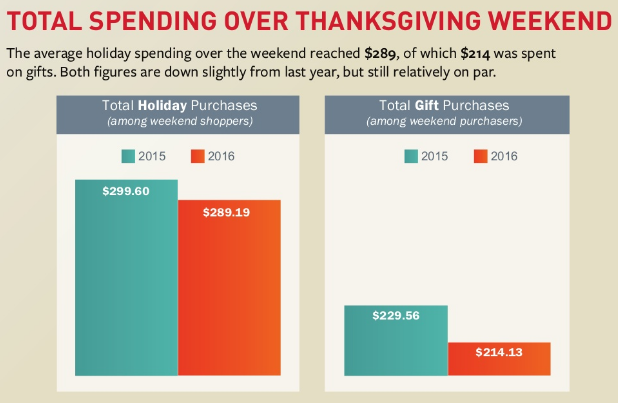 From NRL report
Typically, Black Friday and the month of December are the biggest drivers of retail growth for companies as consumers spend big during the holidays. The seasonal trend is typically noticeable and not tradeable, but any positive surprises can bolster optimism for a stock in the coming year. In 2016, things may be different. In a National Retail Federation report on holiday spending, consumer spending on candy and food and gifts for family was estimated to have fallen for the first time since 2008. The average holiday spending during the biggest retail weekend of the year, fell as well. The NRF found that total holiday purchases for that period fell 3.4 percent with gift purchases (included in the total) down 6.7 percent. This trend reflects the slight curtailing of consumer confidence over the past two years, a bearish trend that could spoil the holiday fun for retail stores like Kohls (KKS), Macy's (NYSE:M), and J.C. Penney (NYSE:JCP).
Although, there's enough evidence to conclude that there never was going to be any holiday fun as store closings in 2016 blemished retailers' reputations throughout the year. Department stores are seeing a lot of products taken from their shelves, according to CNBC. Michael Kors and Coach did so to avoid promotions and discounts. Athletic apparel brands are also exiting to market their brands themselves. With big name brands exiting brick-and-mortar stores around the country, their waning profitability is leading to closings as leases begin to expire at the end of the year. M recently reported that they would close 68 stores across the country shedding about 10,000 jobs. Sears (NASDAQ:SHLD) released a list of 150 different Sears and Kmart stores that will see their doors closed as well. Brick-and mortar sales and traffic have failed to compete with online competitors who are taking advantage of consumers' access to mobile phones and other devices. The writing is on the wall for a long-term deterioration of the industry, and a disappointing Q4 earnings will only reassert its demise.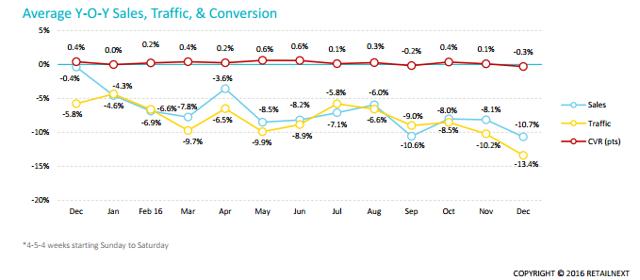 From RetailNext
The chart above shows year over year retail sales, traffic, and conversion over the last 12 months. Throughout the year, brick-and-mortar retailers have seen huge drop offs in their sales from last year, and the holidays were no different. In December, sales and traffic were down a whopping 10.7 percent and 13.4 percent respectively with the conversion rate down slightly as well. Sales closer to Christmas improved a little, but altogether, the numbers translate to the worst holiday season since the financial crisis. Retailers' revenues and cash flows are being squeezed more and more by this bearish trend, and firms with debt problems are seeing balance sheet issues threatening their financial health. The firms most reliant on brick-and-mortar sales will be most affected during the Q4 earnings season and may capitulate in the long-run as consumers begin to use online alternatives.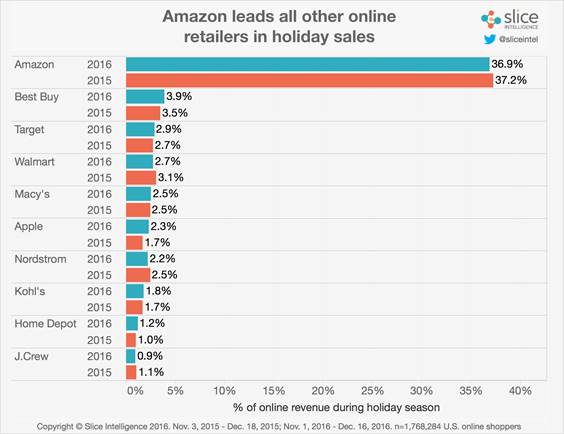 From CNBC
The holiday season wasn't bearish for retail firms that get a majority of its revenue from online sales. In the NRF report, consumers said that they would shop online just as much as they would shop in department stores, a stat that's up 6.8 percent from last year. After Black Friday, consumers said they were considerably more likely to shop online to finish their shopping online especially millennials who said that 62 percent of the time. The consumers new propensity to shop online pushed e-commerce numbers to all-time highs. The Adobe Digital Index results showed holiday online sales reaching all-time highs. One of the brightest spots of the report was the Thanksgiving weekend data, "Total online sales since Thanksgiving Day are up 26% YOY, to a whopping $7.4 billion, which amounts to more than 10% of retailers' total holiday sales." Black Friday online sales alone were up 39 percent from last year. Brick-and-click retailers were, perhaps, the best performers this holiday season as hybrid stores like Wal-Mart (NYSE:WMT) and Best Buy (NYSE:BBY) are bound to see online revenues bolstering their holiday results.
The general trend is quite obvious after looking at the data. Online shopping is quickly becoming a preference to traditional brick-and-mortar shopping. As the online experience continues to become immersive, physical retailers will see their revenues deteriorate. M, JCP, and KSS have already shown how weak retail data can hurt stocks that were once bright spots within the industry. These companies and their peers should have weak earnings over the next two months and could potentially be shorted. On the other hand, stocks like Amazon (NASDAQ:AMZN) who have a large online presence could surprise analysts with impressive numbers. In the end, it's the long-term trend that matters, and the conclusion is that the digital divide is set. Online shopping will dominate traditional retailers if they fail to make the transition.
Disclosure: I/we have no positions in any stocks mentioned, and no plans to initiate any positions within the next 72 hours.
I wrote this article myself, and it expresses my own opinions. I am not receiving compensation for it (other than from Seeking Alpha). I have no business relationship with any company whose stock is mentioned in this article.