As I pointed out in a recent article, which looked at the wider uranium market, there is a compelling argument to be made for a uranium market turnaround after nearly a decade of decline. I already looked at the obvious contender for a relatively solid investment as a way to play a potential uranium rally, namely Cameco (NYSE:CCJ). This time I want to highlight a company which offers an obvious alternative and more aggressive strategy for playing the uranium recovery story. Denison Mines (NYSEMKT:DNN) is small, its stock has plunged a great deal since the collapse of uranium prices a decade ago and if the price of uranium will continue to decline for a prolonged period, it is possible that it will not make it at all.
It is a potentially high risk/high reward stock within an industry that is itself a high risk/high reward investment proposition. One of the main differences involved in buying Denison versus Cameco stock is that with Cameco one can afford to be very wrong about the timing of an uranium price turnaround, as long at it will happen eventually, while with Denison, one has to get the timing more or less right. For the first nine months of 2016, it lost $10.8 million on revenues totaling $10.5 million according to its third quarter report. It currently has $15.5 million in cash, and a $24 million credit facility, so it cannot continue taking losses indefinitely, without eventually having to start selling assets. Problem is that in the commodities mining sector, it is often hard to sell assets at a decent price during prolonged periods of hard times.
Denison's value currently comes from the assets it is sitting on, including part ownership in a mill, which is a major source of revenue share currently. It is also involved in decommissioning services, which gives Denison another source of steady revenues. Its current value and potential comes however from sitting on a significant mining operation in the initial development phase in the Athabasca Basin in Saskatchewan. It can currently claim 69 million pounds of indicated and inferred uranium reserves attributable to Denison from this mining operation.

Source: Denison November presentation.
The current potential value of those reserves estimated at the lower spot price, versus the generally higher long-term contract prices is almost $1.4 billion. Denison has additional properties it is exploring, with some potential to add significant reserves.
The estimated capital cost of developing the Wheeler River mining operation that is attributable to Denison is 661 million Canadian dollars ($550 million).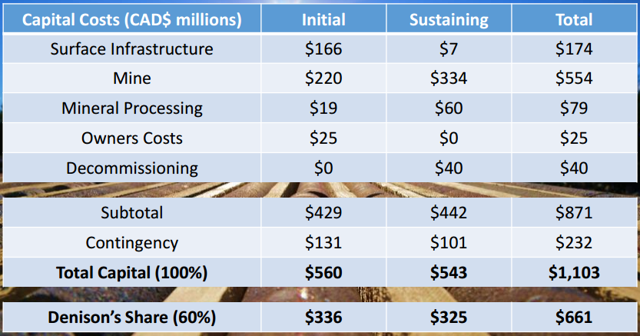 Source: Denison November presentation.
These are only preliminary estimates, and given the magnitude of the investment needed, which if we look at only the initial capital needed to develop the mine, it is more or less equivalent to Denison's market cap, we can see where the risk comes in. Once production were to commence, the additional revenue would certainly make things much easier. But in the meantime, in the absence of a reversal in the declining uranium price trend, Denison could easily end up having to give up on the project eventually, given that it can easily run out of resources.
On the other hand, if I am right and we will see a reversal of the uranium market trends within the next few years at the latest and we will enter a sustained bull market driven by a widening gap between mined supplies and consumption, Denison is just the type of company which will explode much higher. If the stock purchase is timed right, it is the ideal investment for the more adventurous investor.

Source: Cameco.
The risk as always is that the timing will be thrown off and the Denison investment can easily be a major loss. It is for this reason that I personally prefer the likes of Cameco, which allows for some leeway in terms of investment timing, given my overall investment philosophy of investing for the longer term, based on the big picture. But of course, an investment strategy involving buying Cameco as a way to play the assumed recovery in uranium prices is not likely to provide for anywhere near the same kind of up-side potential, assuming perfect timing in investing in both cases. It is a classical case of the potential risk/reward ratio being positively correlated. Preference depends on one's self confidence in being able to time the investment as perfectly as possible. I for one am not very confident in timing it in the shorter term, given that I tend to take the longer term perspective, but it is a tempting stock nevertheless.
Disclosure: I/we have no positions in any stocks mentioned, and no plans to initiate any positions within the next 72 hours.
I wrote this article myself, and it expresses my own opinions. I am not receiving compensation for it (other than from Seeking Alpha). I have no business relationship with any company whose stock is mentioned in this article.
Editor's Note: This article covers one or more stocks trading at less than $1 per share and/or with less than a $100 million market cap. Please be aware of the risks associated with these stocks.