The dot com bubble led to the demise of many 'tech' companies. A number of those that survived have struggled to find growth. Yahoo (NASDAQ: YHOO), once valued at about $125 billion is now being sold for a song. Shutterfly (NASDAQ: SFLY) and Coupons.com (private) have struggled to adapt to the 'new world'. A number of dot com companies such as Amazon (NASDAQ: AMZN), eBay (NASDAQ: EBAY) and Priceline (NASDAQ: PCLN) have achieved tremendous success.
This article is about Autobytel (NASDAQ: ABTL), a once successful company valued at $2.2 billion and now valued at just $137M. In the trailing twelve months (NYSE:TTM), the share price has lost 29.9% of its value. A large part of the decline happened after Q3 results when Amazon reported its entry to the online car marketplace business. In this article, I will highlight a few reasons why I believe that ABTL has some upward potential. The company will however not reach the levels it reached in the early days of its IPO.
The Online Car Market
The online car buying (selling) market has had a lot of interest in the past two decades. As more people shop online, entrepreneurs have come up with solutions to ease this process. Some of the best known online car buying companies are: Beepi, Shift, Carvana, Vroom, TrueCar (NASDAQ: TRUE) and CarsDirect. The traditional dealerships have also embraced the online car market. Autonation (NYSE: AN), one of the largest dealers in the country announced a $100 million online investment. A random look at the websites of the dealers listed in the Automotive News report shows that most companies are investing in online car sales. In addition, traditional e-commerce platforms such as Amazon, eBay, and Craigslist have entered the online car market.
While venture funding in the online auto startups has increased, the sector has faced a number of challenges. Beepi, which was among the first of the new breed of companies was acquired after a Chinese backer pulled out. TrueCar on the other hand has continued to make losses despite its $1.2 billion valuation. Also, this is despite the fact that total car sales in the United States have grown significantly as shown below.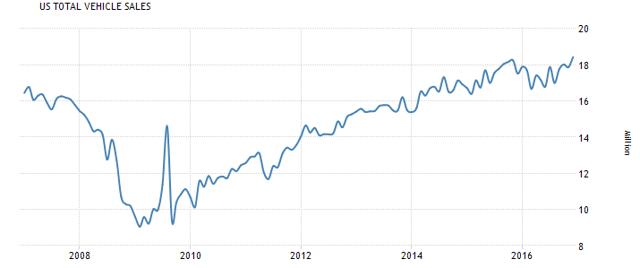 Source. Trading Economics
I believe part of the reason for this is that most Americans have not embraced the act of buying cars in the internet. They use the internet to do their research and then go to a local dealer to buy the car. In the chart below, I compared two terms in Google trends to see the results. I compared the term ' Car Dealer' and the term ' buy car online'. As shown, in the last twelve months, more people have been interested on car dealers, and not buying cars online.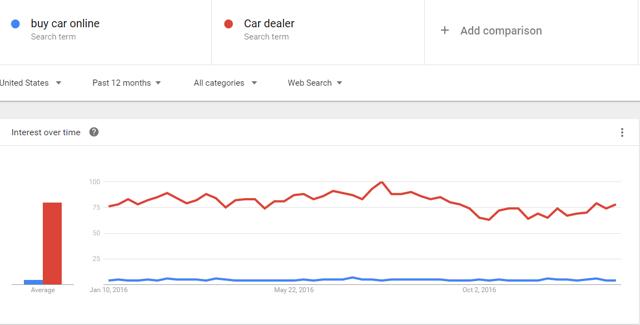 Source. Google Trends
In the future, people will continue to find car deals online and visit a dealer to close the deal. This was observed in a 2015 research by Autotrader which found out that by 2020, 80% of car buyers will use the internet and multiple devices to buy a car.
Autobytel Growth
Across all measures, the current valuation and financial performance of Autobytel has not been pleasing. A 20-year-old company with a record EBITDA of $11.78 million should not make sense. However, investors in the company are pleased that the management is effecting changes to turn around the company. As previously mentioned, I believe that the best days of the company are behind it.
As you can see in this link (registration needed), the management have been able to grow a company from annual revenue of $51 million in 2010 to $133 million in 2015. EBITDA has grown from -7.607M in 2010 to $11.78M in 2015. Total assets have grown from $37.83M in 2010 to $153.59M in 2015. The company has achieved all this while growing the total liabilities by a meagre $30M from $14.73M in 2010 to $45.39M in 2015.
ABTL has achieved this growth by selling underperforming businesses and buying new companies to boost its lead generation and pay per click business. In December 2016, the company sold its underperforming specialty finance business to Internet Brands for $3.2 million. As seen below, this arm of business was underperforming for quite some time.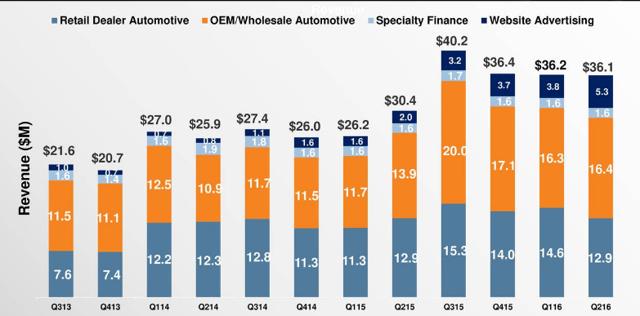 Source. Seeking Alpha
Acquisitions
In 2015, the company bought its rival, Autoweb in a $15.6M all-stock transaction. Autoweb is a company that provides car dealers and OEMs with high quality leads generated from its proprietary search engine technology. Since the acquisition, ABTL has worked to integrate Autoweb's technology with the company. The results have been promising with click revenue accelerating by triple-digit year-over-year. The click revenues associated with Autoweb increased from $1.4m in Q3 2015 to $5.5m in Q3 2016.
In 2015, the Autobytel acquired Dealix in a $25m transaction. Dealix is a top lead generation company for dealers and OEMs. Dealix also operates the successful used car marketplace, usedcars.com which had revenues of $3.8m in Q3. Dealix delivered almost a thousand-retail new and used car dealers to Autobytel. In Q3, the management reported an 8% decline in dealer count. This was attributed to the company's initiative to 'clean up' the Dealix dealers so that it can focus on larger and more profitable dealers. This is a positive move as the company seeks stronger and better relationships with dealers and OEMs.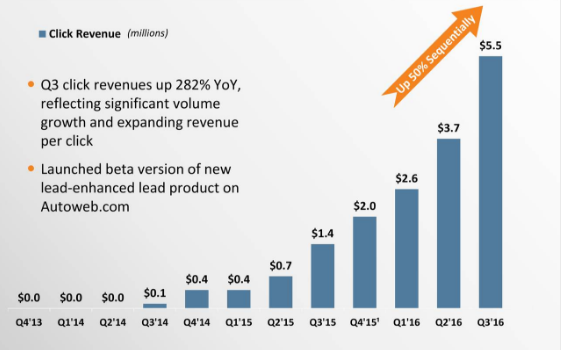 Growth attributed to Autoweb and Dealix acquisitions. Source. Seeking Alpha
Apart from the two acquisitions, another catalyst for the share price and the performance of the company is the insider transactions. When making investment decisions, I look at the ownership structure of the company. Insiders of ABTL own 16.46% of the company. In June 2016, Jeffrey Coats, the company's CEO bought 150,000 shares. He has since then sold a few of his holdings and bought some more. Other insiders like the Chief Revenue Officer and other directors have continued to buy more shares. I take this as a positive move for the company because it shows the insiders have confidence in what they are doing.
Conclusion
As the company recovers, a number of risks might derail my bullish thesis. First, the company faces a lot of competition from larger companies like Amazon and eBay and startups such as those mentioned above. Second, the company has a millennial problem which it must address. The company's assets are in web-based platforms. It is estimated that millennials will be biased against web-based platforms when buying cars. Therefore, the company must invest in developing mobile based platforms to reach this demography. Third, the share price might be affected if the initiatives the company has put in place starts to slow down. For instance, if the company's pay-per-click products reduce the momentum.
ABTL has a forward (1 year) PE ratio of 9.175 which is a bit lower compared to companies that it competes with. Amazon and eBay have a forward (1 year) PE of 50.9 and 14.8 respectively. ABTL is increasing revenue, EPS, and all the major metrics are doing well for a company in a turnaround stage. The two acquisitions, when completely integrated in the company, I believe better results will be achieved and the share price will go up.
Disclosure: I/we have no positions in any stocks mentioned, and no plans to initiate any positions within the next 72 hours.
I wrote this article myself, and it expresses my own opinions. I am not receiving compensation for it (other than from Seeking Alpha). I have no business relationship with any company whose stock is mentioned in this article.