A modified version of this article was released to members of the Cambridge Income Laboratory 1 week ago.
A "CEF" arbitrage opportunity, indeed!
People buy gold and silver for a variety of reasons. Traders may buy it for speculation. Others hold it as portfolio insurance, or as an effective diversifier to equity or bond positions, and not to mention the diverse ornamental and industrial uses of the precious metals.
The launch of the SPDR Gold Trust (NYSEARCA:GLD) and the iShares Silver Trust (NYSEARCA:SLV) in 2004 and 2006, respectively, provided investors with an easy ETF "wrapper" to own gold and silver. However, investors have raised concerns about whether the GLD and SLV ETFs are actually storing real gold and silver bullion. (See Some Concerns Underlying Gold-Backed ETFs and Does GLD Really Hold Gold, Or Is It A Scam? for two Seeking Alpha articles on this subject).
Investors who have such concerns may opt for physical possession of gold and metal coins or bars. However, purchasing bullion from gold or silver dealers often entails paying a significant premium above the spot price of the metal. Additionally, physical possession can raise other potentially complicated issues, such as bullion contract, delivery logistics, storage, insurance or assay.
A third possibility, at least, exists. The Central Fund of Canada (NYSEMKT:CEF) (0.09% yield, -10.33% discount, -2.00 z-score, 0% leverage, 0.31% expense ratio) is a closed-end fund that holds gold and silver bullion. According to CEF's website, the Fund was founded in 1961, and it has been trading as a closed-end fund since at least 1983. The latest figures show a 61.1%:38.7% split between gold and silver. Importantly, the CEF's -10% discount means that you are buying $100 of gold and silver for only $90.
As CEF trades on the stock exchanges, investors can achieve exposure to gold and silver without having to deal with any of the above-mentioned issues. CEF's website states that the gold and silver bullion is stored in the highest security rated treasury vaults at a Canadian chartered bank on an unencumbered, allocated and segregated basis. Importantly, because CEF is structured as a closed-end fund, it holds a fixed number of shares and hence also a fixed amount of gold (1,672,644 ounces) and silver bullion (75,644,102 ounces). Investors therefore do not have to worry about the mechanics of ETF share creation and redemption (which has to be theoretically accompanied by the physical transport of bullion to and from the ETF vaults) that have been deemed to be suspect for GLD and SLV.
The historical premium/discount chart shows significant fluctuations in premium/discount value over the years. The fact that CEF still exhibited periods of sustained premium even after the launch of GLD and SLV could be a consequence of the aforementioned worries.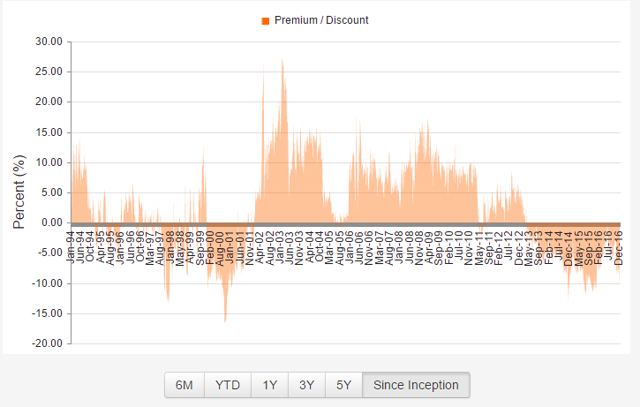 (Source: CEFConnect)
Looking at the premium/discount chart of CEF over more recent time periods reveals that as recently as early November, CEF's premium/discount had hit a high of -0.85%.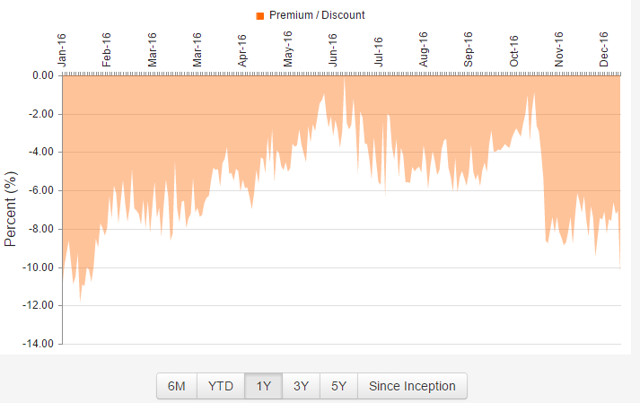 (Source: CEFConnect)
Since then, CEF's NAV has dropped by about 11%. However, due to its expanding discount, CEF's price has declined by even more, leading to significant underperformance versus GLD and SLV as seen from the chart below.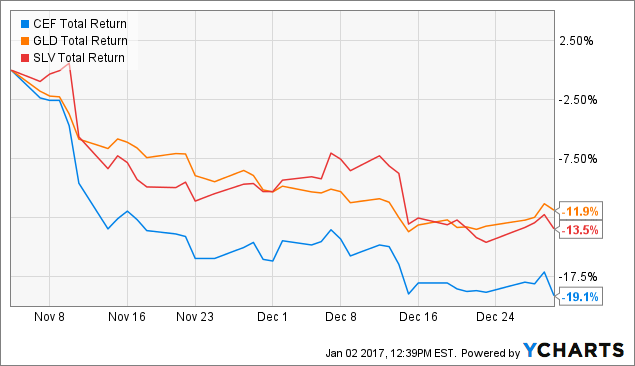 CEF Total Return Price data by YCharts
CEF's current discount of -10.33% puts it firmly into the undervalued camp, and it has a 1-year z-score of -2.00. Looking at the above long-term premium/discount chart indicates that discounts beyond -10% are very rare, limiting the potential downside of an arbitrage play.
The simple trade is to go long CEF and go short a 61:39 mixture of gold and silver bullion. Thankfully, given that GLD and SLV are highly liquid ETFs, there shouldn't be any difficulties with shorting these. Interactive Brokers has plenty of GLD and SLV to short, and there is actually a rebate of 0.10-0.20% for shorting those two ETFs meaning that you are getting paid to short the two ETFs! Alternatively, instead of shorting GLD, one could own the DB Gold Short ETN (NYSEARCA:DGZ) which is an inverse gold ETN.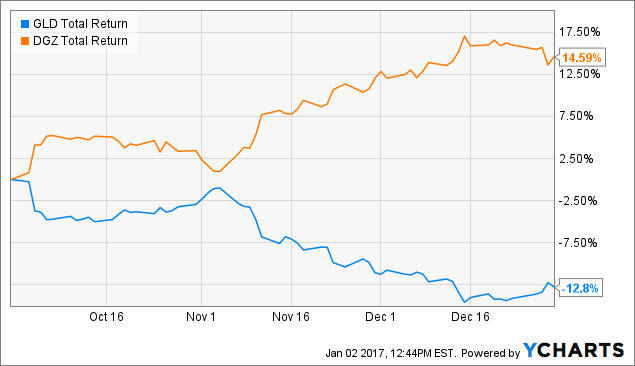 There doesn't seem to be an inverse 1x silver fund however. In theory, one could go long with a 50% weighting in the ProShares UltraShort Silver ETF (NYSEARCA:ZSL), a 2x inverse ETF, but that introduces an element of leverage decay that might make the arbitrage trade a bit more difficult to execute.
What type of gains are we looking for here? If CEF's premium/discount would contract from its current value of -10.33% to its 1-year average of -5.64%, we'd be looking at a gain of alpha of about 5 percentage points.
Given that gold and silver are straightforward assets, I'm quite confident that premium/discount reversion in CEF will allow this trade to become profitable. As GLD and SLV are ETFs, I don't expect any sudden explosion in the premium of GLD and SLV, a risk that would have been present if another CEF was used as the short side. As a consequence, I would personally be comfortable with taking a larger position on this trade.
The below chart shows that a 61:39 split of GLD and SLV has tracked the NAV of CEF closely over the past three years.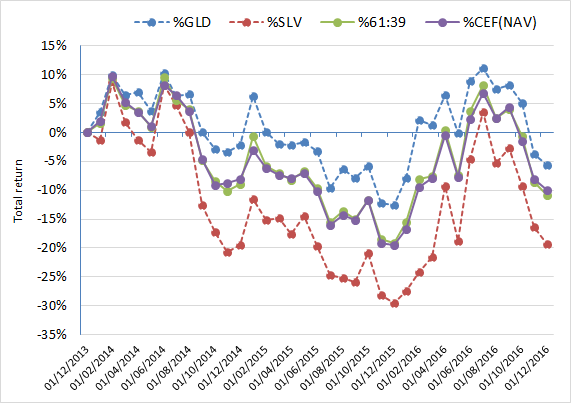 (Source: Stanford Chemist with data from Morningstar)
On the other hand, the price performance of CEF deviates from its NAV and from the 61:39 GLD:SLV pair due to fluctuations in premium/discount value. And therein lies the arbitrage opportunity.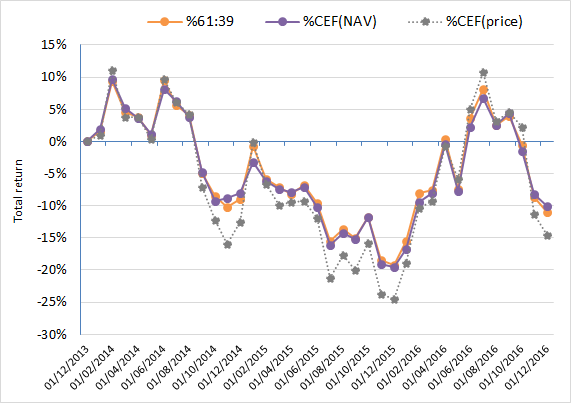 (Source: Stanford Chemist with data from Morningstar)
[January 10th update] CEF's discount has contracted from -10.33% to -6.64% in 1 week, allowing us to harvest the difference. In the subscriber chat, I mentioned that I had closed the trade after two days, with CEF outperforming a 61:39 GLD:SLV pair by 1.33% (>100% annualized).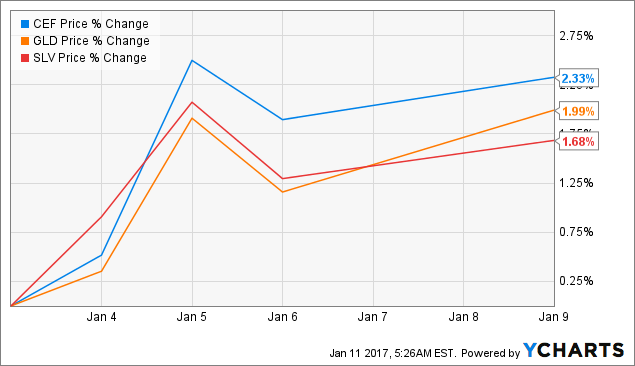 CEF's current discount of -6.64% is still wider than its 1-year average of -5.59%, and its z-score is -0.50 (down from -2.00), so there might still be some room for this trade to run. This marks the 10th successful CEF arbitrage trade of the Cambridge Income Laboratory, out of 10, for a 100% success rate.
If you have enjoyed my article, please consider clicking the "Follow" button next to my name to be alerted to new content! Subscribers to the Cambridge Income Laboratory (#2 on Marketplace for both ETF and CEF categories) are alerted of my best trade ideas in advance, can view my personal ETF/CEF income portfolio and have early access to my monthly CEF and ETN reports. For more details on what subscribers receive visit here. Sign up for a free trial by the end of January to beat the 2017 50% price increase!
Disclosure: I/we have no positions in any stocks mentioned, and no plans to initiate any positions within the next 72 hours.
I wrote this article myself, and it expresses my own opinions. I am not receiving compensation for it (other than from Seeking Alpha). I have no business relationship with any company whose stock is mentioned in this article.