Late last year, the Jolly Green Giant was the (mostly) unseen character behind a mysterious ad campaign by B&G Foods (NYSE:BGS). The idea was to generate some interest. Now, months later, we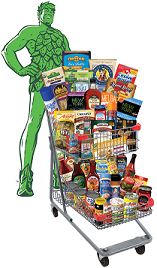 get to see a more playful Giant in two new commercials, and it's also one that seems a bit younger and with thicker thighs than I remember from decades ago. Or maybe it's just the power of suggestion and the line in the commercial:
... and [the Giant] learned those jump squats really paid off.
In one ad, the Giant is seen wading into a pond to cool off his feet, and in the other, he is seen making snow angels. More importantly, we see two new types of products released by B&G aimed at selling healthier foods for children. The first is Veggie Tots, using broccoli, cauliflower, and broccoli and cheese, rather than potatoes. The second set is riced vegetables, using cauliflower rather than rice in the mixed vegetables.
On the last conference call, CEO Bob Cantwell discussed seasonality and ad spending on the Green Giant brand:
... A little lower margin business on Green Giant in the fourth quarter for two reasons. One is this trade promotional spending. This is the time when you spend money in frozen and cans. You sell a lot of product during Thanksgiving, and then a little bit during Christmas, but a lot of products in Thanksgiving. And there's deals in those categories. The other piece is, we're spending between $18 million and $20 million in marketing on Green Giant in the fourth quarter. We came into the fourth quarter - to put it in perspective, we've spent $14 million year-to-date on Green Giant. So, for nine months, we spent $14 million. We're going to spend between $18 million to $20 million here in the fourth quarter. And that's really what's doing in them.

... When we give guidance for 2017, that spend is going to be a little smoothed out, and certainly going to be heavier in the winter months, so the first quarter and fourth quarter. But it will not be as all oriented to one quarter and when we look at 2017 for Green Giant.
This was not the first time the CEO has spoken about seasonality of the B&G business, and it's probably not the first thing that comes to mind when thinking about a business that sells products to grocery stores. However, if there is seasonality, why weren't these new Green Giant commercials broadcast before the Thanksgiving-Christmas season instead of waiting until after the start of the new year? The reason shouldn't have been that the products weren't available. On that same Q3 conference call, Cantwell was asked about the new products:
David Palmer - RBC Capital Markets LLC: ... Could you perhaps elaborate on the progress with the Green Giant innovation so far? In the scanner data, we really can't see that innovation. It looks like we're capturing some of the drag from discontinued SKUs, but not getting the benefit from some of the new products that you say are flying off the shelves. We're not really capturing that so far. So, could you perhaps elaborate on what is indeed happening out there? And if you have a sense about when that will show up in the scanner data that would also be useful for our tracking purposes.

Cantwell: Sure. Well, first, on the second part of that, you should be seeing that in scanner data very quickly here. I'm not sure of the timing and why you haven't seen it. We started shipping customers really middle of September, some of the larger frozen customers really beginning of October. It's on shelf in most major customers across this country as we speak. Like I said, we're expecting anywhere between $6 million and $8 million of sales in the fourth quarter here.

You should be able to find it. It's pretty much everywhere as we speak and any major customer has it as of today. I mean, there's a couple of customers who aren't taking it into the latter part of the fourth quarter. But the larger customers, as you would expect, have it as we speak. Now, in the month of September, we only sold through about $1 million of the product. So, really the sales are starting to pick up here. Because the two largest customers in this country as a retailer really took it at the beginning of October. So, you won't really see those sales reflected in data - until the next data run here probably toward the end of this month, early November.
Palmer wasn't the only one concerned about the lack of Green Giant business. This was a business that was expected to post about $550 million in sales; however, by the end of Q3, sales were falling short. I had previously written:
During Q3, the revenue was $113.8 million and the first three quarters came in at $351.2 million. During the Q4 2015 conference call, management was asked about the anticipated quarterly sales for the brand. CFO Tom Crimmins replied:

... our projection for Green Giant, which we put out before, business is 26% in the first quarter, 31% in the fourth quarter, and then kind of second quarter and third quarter pretty equal at 21%, 22%.

If that percentage distribution is correct, sales in Q4 would only come in at $158 million and total revenue for the year at $509 million. That's far short of the $550 million that was initially projected and subsequently presented at the 18th annual ICR Conference on January 12, 2016.
By mid-December, the Green Giant revenue was still not appearing, and Seeking Alpha reported:
Stephens cuts the food stock to Equal-Weight from Overweight.

The firm expects the B&G's Green Giant business to recovery slowly after sales ahead of Thanksgiving disappointed. During the four weeks ending November 20, vegetable (frozen/shelf/prepared) volume fell dramatically on a year-over-year comparison.
While the company may have spent marketing dollars on coupons and customer promotions, it apparently did not do enough to boost sales. And the question remains as to why it chose not to run an ad campaign sooner. Beginning in January certainly wasn't going to provide much benefit for the 2016 holiday season.
Dividends
While Green Giant sales plodded along, the dividends have been sharply increased. There was a small dividend increase in the latter part of 2015 from a quarterly rate of $0.34 to $0.35, followed by two increases in 2016. The first was a 20% hike to $0.42 announced in February, followed by another 10.7% bump announced in early November to $0.465. With Tuesday's closing price at $43.25, the forward yield is 4.3%. It is a dividend that can also be expected to grow at some point during 2017, although I would expect the rate of growth and the amount of the increase to be far less than occurred in 2016.
For those less familiar with the company, B&G regularly leverages up its balance sheet to make accretive acquisitions. The company then issues more stock in order to reduce debt as well as increase its cash balance in preparation for its next acquisition. In addition to the Green Giant acquisition (purchase price of ~$765 million) that closed in late 2015, it also purchased the much smaller Mama Mary's brand earlier that year (~$50 million), and followed those two acquisitions with the purchase of several brands of spices from ACH Food Companies ($365 million) and the Victoria Fine Foods pasta sauce business ($70 million) in 2016. These types of acquisitions are what drive increases in the company's dividend, and I expect the Victoria Fine Foods acquisition will contribute another penny per quarter in 2017.
Buy, Hold or Sell?
Is the current yield and a growing dividend enough for an investor to consider B&G? At this point, I am somewhat neutral on the stock, and my current position has dropped from more than 5% to below 3% of my holdings, and most of that has February or May covered calls with a strike price of $45 written against the positions. Back in September, in a pair of transactions where I bought the stock and wrote a covered call, I purchased shares for $47.20 and simultaneously sold the February calls for $3.90 and the May calls for $4.60. Combined with the dividend, the anticipated annual percentage yield was expected to be in the low to mid-teens.
If I were to commit new funds in this sector, I would likely use a similar "buy the stock and sell the covered call" transaction. That said, it is also likely that I would again lean towards selling the $45 strike price, even though it is not currently in the money.
Why the shift towards a more conservative outlook? Aside from the possibility that Green Giant revenues are proving to be more difficult to stabilize and grow, there is also the likelihood of further dilution to shareholders with another secondary offering shortly after the annual results are posted. If that occurs, history tells us that the secondary will be priced attractively, meaning it will be priced a few dollars below the market price.
Guidance
B&G Foods traded as high as $52.84 in late July of last year, and had still traded above $50 in late September. After the company trimmed guidance with its Q3 earnings report in late October, the shares dropped back below $40. The key guidance figures were:
Net sales were reduced from a range of $1.39 billion to $1.42 billion to a range of $1.38 billion to $1.40 billion
Adjusted EBITDA increased from a range of $317.0 million to $327.0 million to a range of $322.0 million to $328.0 million
Adjusted diluted earnings per share were decreased from a range of $2.11 to $2.21 to a range of $2.11 to $2.17
It is difficult to project the Q4 and full-year company results. Not only did both acquisitions close in Q4, but the extent of Green Giant's weakness is unknown. Ordinarily, I would look at the 10.7% dividend increase and assume that the results would be fine. In this case, though, the announcement came just one week after the Q3 results were announced, and there were still two months to go in the quarter.
Although it is only anecdotal evidence, I should also point out that I have not seen the new Green Giant products - or even much in the way of the traditional Green Giant products - in the frozen food sections of the local Walmarts or grocery stores.
Summary
I have no immediate plans to add to my B&G holdings other than through dividend re-investing. If that should change, it is almost a certainty that any incremental investment would be through the simultaneous purchase of stock and sale of a covered call. It's also possible that B&G will surprise to the upside and I will lose a majority of my position at $45 per share. It's a risk I am willing to take.
I will be looking forward to the company's annual report and year-end conference call to find out about the Green Giant results and management's initial reactions to the recent Victoria Fine Foods and ACH purchases. However, should the shares drop back below $40, I will seriously consider increasing my position.
Disclosure: I am/we are long BGS.
I wrote this article myself, and it expresses my own opinions. I am not receiving compensation for it (other than from Seeking Alpha). I have no business relationship with any company whose stock is mentioned in this article.
Additional disclosure: In addition to my long positions in BGS, I have $45 February and May covered calls written against a portion of my long position. I also reinvest dividends and may add shares or write additional calls at any time.