The recent OPEC cuts had many oil bulls (NYSEARCA:USO) in a serious fit of confirmation bias. As OPEC made its deal the price of oil shot up. I was called out for my bearish stance on my pre-agreement article found here, where I voiced my opinion that sub $50 oil is here to stay.
While I try to ignore the day to day news when predicting macro-trends, it is hard not to with oil. The news follows you everywhere, online, in print, in discussions with friends. However, avoiding the news frenzy is more important in oil than any other commodity. The media is always going to focus on making an urgency, or making a headline. It is not interesting to report that the long-term market for oil remains in oversupply and that the marginal cost for a barrel of oil has dropped dramatically from several years ago. Unfortunately for followers of these news outlets, that is what drives their opinions.
Marginal supply is what drives the long-term trends for pricing in a commodity market. Prior to the advent of shale oil, the cost of a marginal barrel of oil (i.e to get one extra barrel of supply) was much higher than today's price, plausibly $80 to $100 depending on the region. As shale oil efficiencies, technology, and reservoir information came of age, the cost of that marginal barrel has plummeted to below $50. That marginal barrel will set the long-term price, and there is (almost) nothing OPEC can do about it.
OPEC Made A Mistake
OPEC finally caved into the pressure to cut supply. Admittedly, they cut a substantial number of barrels more than I expected and seem to be following their promised cuts so far. However, this belies the truth of the market and tries to ignore the changes in the macro trend in oil - that supply is more abundant and cheaper than ever.
As predicted, OPEC's cut caused a bump in prices. Also as predicted, prices are now beginning to face reality. Shale is ramping up, oil majors are reinvigorating projects, and dozens of oil companies around the world who have spent the last years planning for a ramp up in supply are moving into action. Analysts are already predicting a swift return to action in 2017 on the back of the OPEC deal.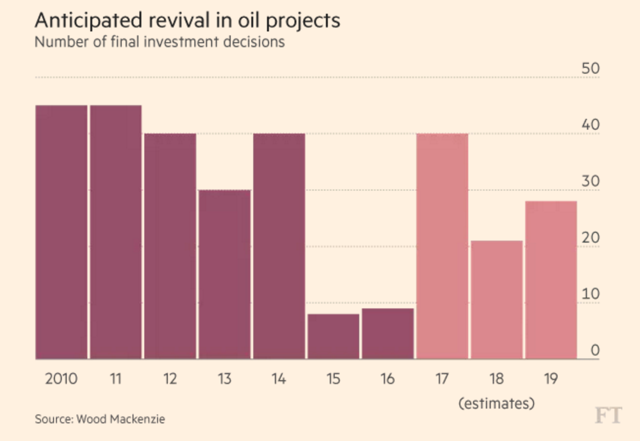 Source: Financial Times
Taking Stock
Let's take stock of the market situation. We have a rapidly rising rig count, a predicted avalanche of final investment decisions across the world, and a team of oil producing nations that want to maximize their profits. The vast majority of private, Western companies have incentivized their executives on productions rates and reserves - not profits. So they are going to follow their incentive structure and maximize production.
OPEC is going to quickly see that their cuts were, and are, inadequate. OPEC is no longer the sole source of vast, abundant, and readily available oil. That means they are no longer the master of the market. OPEC could cut 10 million barrels, and the market would eventually catch up. Years of $100+ oil brought a flood of capital to the market and a fight for new supply. Billions were invested in bringing trapped shale oils to market, and billions more will be made from that investment.
Every day, shale oil gets better, cheaper, and faster to respond. Rigs are getting better and rigs of the future are being built today. Shale, due to its geology, can be worked on like an assembly line. And, we all know what happens when you take something that is typically ran in a one-off manner, to an assembly line. The cost of producing that good plummets, efficiencies are made across thousands of iterations, and technology that applies to one product applies to all. We may be at the height of shale technology, but more likely, we are at the beginning. The floor for shale oil is anybodies guess, mine is that the cost of producing it will drop into the low $30's within this decade, and oil will remain under $50 for the foreseeable future.
Disclosure: I/we have no positions in any stocks mentioned, and no plans to initiate any positions within the next 72 hours.
I wrote this article myself, and it expresses my own opinions. I am not receiving compensation for it (other than from Seeking Alpha). I have no business relationship with any company whose stock is mentioned in this article.