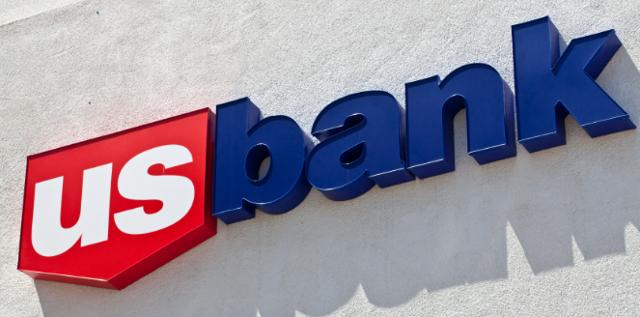 U.S. Bancorp (NYSE:USB) has broken out to new highs along with the rest of the banks since the election and sentiment is certainly positive. The backdrop of economic growth that will require lots of new lending, lower taxes and friendlier regulators is certainly appealing, and USB stands to reap those benefits as much as anyone. But USB has historically traded for a sizable premium to its peers despite mounting evidence - in my view - that the premium is no longer deserved as the company's performance reverts to the mean. Heading into Q4 earnings, USB is expensive to be sure, and while I wouldn't short it here, it certainly looks like a good opportunity to lighten up if you're long.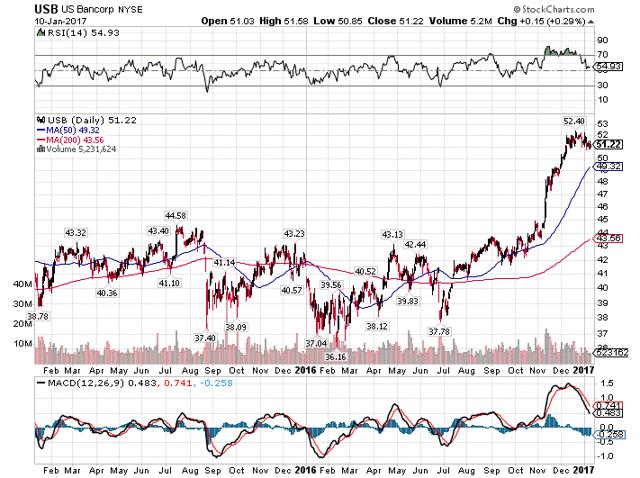 USB's high rate of revenue growth is expected to slow in Q4, but 4% amounts to enough for banks these days. USB has been working to build its fee business and has done so admirably, something that has been responsible for much of the revenue growth in 2016. Higher rates wouldn't have had much impact in Q4 as the hike was so late in the period, but USB certainly looks poised to reap that benefit this year. The revenue picture should have looked much like it did in Q3, but there are still some things to look for that are of importance.
On the subject of loan-to-deposit ratios, USB still has some work to do. Other banks have begun to increase their ratios by boosting lending as rates have begun to move more favorably for traditional lenders. USB hasn't done a great deal of that yet as its loan growth has been very low and largely outpaced by deposit growth. That means USB still has lots and lots of additional deposits it could begin to lend out in 2017. Any progress on that in Q4 and/or commentary surrounding that subject will be of great interest due to USB's large community bank model that relies heavily upon traditional lending. Q4 may or may not have seen progress, but looking forward, if USB is to grow materially, it will have to step up its lending efforts.
USB's expenses will be in focus as well as this bank is one of the most efficient in the entire market. That certainly helps it grow earnings and generate its industry-high ROE, but expenses have also been growing of late. I'd like to see USB pull back on spending growth because it isn't boosting revenue quickly enough to continue to spend freely. As I said, I'm not sure there's a lot of room for improvement because its efficiency ratio is already at 55% or better but it also cannot afford to worsen. USB's Q4 expenses will likely be the determining factor for whether or not it beats estimates so they are of the utmost importance heading into 2017. Discipline is key in this business, even in a rising rate environment.
While USB will doubtless benefit from the higher rates that are (apparently) coming, slumping mortgage demand is a bit worrying. USB relies upon traditional lending rather than money center activities so rates are of more importance to USB than perhaps the mega-banks that have other revenue streams. The late-December period - while brief - showed us what can happen when consumers experience sticker shock from higher rates. Expensive housing and higher rates are a bad combination for mortgage volume, and while some will certainly buy anyway out of need, perhaps those that want to move won't. It is way too early in 2017 to know if this will be a problem, but conditions are certainly right for it, and that worries me with respect to USB.
At 14.8 times forward earnings, USB has rallied rather less than some of the other large banks. Perhaps market participants are finally beginning to realize that USB's excellence is less pronounced than it was a year or two ago, and that the premium it once sported is no longer appropriate. Regardless, USB's valuation - in this environment - is still high even if the gap between it and competitors has shrunk. EPS growth is going to be slow this year at just 6% and that means it should trade lower than others that have much better growth prospects. As I said, I don't think USB is expensive enough to short here, but it is still pricey, and for that reason and all the headwinds it could face in 2017 to growth, there are better places to park your money. I don't think the Q4 report will change that for the better, but has the potential to impact it negatively.
Disclosure: I/we have no positions in any stocks mentioned, and no plans to initiate any positions within the next 72 hours.
I wrote this article myself, and it expresses my own opinions. I am not receiving compensation for it (other than from Seeking Alpha). I have no business relationship with any company whose stock is mentioned in this article.