By Parke Shall
Brand-new loan delinquency data is out and it furthers our long-held case that the shorter term credit cycle is in the midst of turning and that equity markets will see some punishment over the coming year or two.
It shouldn't come as a surprise to anybody reading us that we are not overly optimistic on the future of the equity markets for the next year or two. We have been incorrectly stating that we would see a correction in equities for about the last year now, but instead of seeing our predictions become reality, we have seen equity markets find any excuse that they can to rally and we have seen the Federal Reserve do very little to indicate to the markets that it has confidence in the economy going forward.
At this point, we have two choices. The first is to admit that we were wrong, which we will do, and then we can continue our relatively firmly held belief. The second is to renege on our past prediction and simply state that we have been run over by a bull that shows no signs of stopping. When faced with these choices, it is easy for us to come to the decision that our outlook will stay the same. We simply think a correction in the market has been pushed off by the market finding two excuses to rally after Trump was elected: deregulation and corporate tax cuts. Neither one of these things has happened yet, but you wouldn't know that from looking at equity prices, which have gotten far ahead of the news.
We have been citing an upcoming downswing in the credit cycle as a major catalyst for equity markets to eventually pull back. With interest rates rising nominally and Americans stuffed to the gills with as much debt as they can possibly take on, the equation is pretty simple. Once payments start to rise, even in the smallest bit, there is going to be more and more consumers who cannot service the level of debt they have taken on. Over the last few months, we have pointed to delinquency data to help make our case that this cyclical downswing was occurring, and this morning we have even more data we can point to. CNBC reported just yesterday,
Delinquencies rose in last year's third quarter, according to the American Bankers Association. The ABA's Consumer Credit Delinquency Bulletin tracks 11 loan categories, including home equity lines of credit, auto loans and credit cards. The report defines a delinquency as a payment that's 30 days or more overdue.

"There have been a lot of new jobs created, wages have increased, and that has improved the financial position of consumers," said James Chessen, ABA's chief economist. Still, "it's important for consumers to remain cautious and maintain their discipline in keeping debt at levels they can comfortably manage."
It is also worth noting is that at one point, CNBC says in the article that "Credit card delinquencies increased to 2.74 percent of all accounts in the third quarter, the ABA said, though that's still below the 15-year average of 3.68 percent."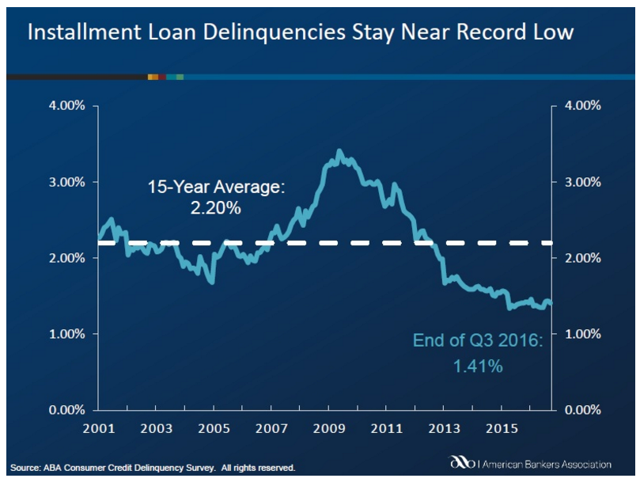 (Source: CNBC)
This "below average" statement is an often used defense when we make the argument that the credit cycle is turning,. People point to statistics like this all the time, claiming that the number of delinquencies (whether credit card or installment) are still below average. This is of course a fallacy because the statistical data we are being presented with includes an extremely large aberration in delinquencies around 2008. When you remove this high watermark from the delinquency data, it then becomes much easier to see that delinquencies are closer to, or potentially above, the average. We'd also see that the move in delinquencies we have seen over the last six months has been far more pronounced than this chart would lead on.
But this isn't a class on how to read a data set on a chart. We are going to feel the effects of this debt starting to fester not only in obvious ways, with consumers spending less, but also in the financials of anybody that lends, whether it is bankers or individual retailers. We would keep our eye on the P2P lenders like Lending Club (NYSE:LC), as these companies have the lower creditworthy borrowers and will likely first be the ones that show cracks in the surface. From there, we will see retailers who lend, specialty banks and even some of the larger banking institutions eventually start to reflect these delinquency numbers in their financials. Another area we expect to exemplify how bad the problem is would be subprime auto lending.
Make no mistake about it, these new data point to bad things coming down the pike for equity markets. If the Federal Reserve can find its spine and continue to raise rates over the coming year as it has stated it intends to, interest expense will grow even further for the average American and we should continue to see these delinquency numbers on loans rise. The biggest marked effect will be consumer spending, which we anticipate will be reduced relatively drastically over the course of the next couple of years. As it becomes more and more expensive to borrow money, consumers will need to tighten their belts and start to make sacrifices when it comes to their spending, instead of throwing caution and discretion to the wind the way did they have over the last seven or eight years.
We continue to believe that the equity markets will soon see a correction once President elect Trump makes his way into the White House and the Federal Reserve continues to bump interest rates higher.
Disclosure: I/we have no positions in any stocks mentioned, and no plans to initiate any positions within the next 72 hours.
I wrote this article myself, and it expresses my own opinions. I am not receiving compensation for it (other than from Seeking Alpha). I have no business relationship with any company whose stock is mentioned in this article.