Cybersecurity is one of the most pressing issues in the United States at present. The list of companies that have been hacked recently include:
eBay (NASDAQ:EBAY) (150 million passwords)
JPMorgan Chase (NYSE:JPM) (73 million emails)
Target (NYSE:TGT) (40 million credit card numbers)
Yahoo (YHOO) (1 billion accounts)
Amazingly, hackers managed to acquire 20 million identities of people who had been subjected to FBI background investigations. And of course, there is the most talked about hacking occurrence, the DNC email leak, which may very well have cost Hillary Clinton the presidential election.
President-Elect Trump has declared that cybersecurity is a top priority for the next government.
Cyber-attacks from foreign governments, especially China, Russia, and North Korea along with non-state terrorist actors and organized criminal groups, constitute one of our most critical national security concerns.

As President, improving cybersecurity will be an immediate and top priority for my Administration.
It only stands to reason that cybersecurity stocks should prosper under the coming Trump government, and along with them, ETFs that focus on cybersecurity. Investing in ETFs, as opposed to individual securities, provides a good way of reducing risk, while participating in broad industry movements.
At present, there are two cybersecurity ETFs, the NASDAQ CEA Cybersecurity ETF (NASDAQ:CIBR) and the ISE Cyber Security ETF (NYSEARCA:HACK).
| Key Property | CIBR | HACK |
| --- | --- | --- |
| Assets Under Management | $121M | $761M |
| Average Daily Trading Volume | 65071 | 261910 |
| Foreign Currency Exposure | 34.7% | 44.0% |
| Net Expense | 0.60% | 0.75% |
HACK is the larger, more mature ETF, with an inception date of Nov 12, 2014, while CIBR started trading on July 6, 2015. CIBR provides lower management expense and foreign currency exposure.
An examination of the stock charts shows that CIBR has steadily outperformed HACK from its inception.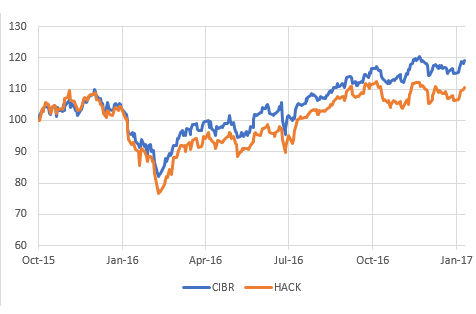 The difference in performance can't be entirely explained by management expenses and currency exposure. The two ETFs hold different securities.
| No. | CIBR | HACK |
| --- | --- | --- |
| 1 | Symantec (NASDAQ:SYMC) 6.08% | Proofpoint (NASDAQ:PFPT) 4.92% |
| 2 | Cisco (NASDAQ:CSCO) 6.00% | Imperva (NASDAQ:IMPV) 4.71% |
| 3 | Palo Alto Networks (NYSE:PANW) 5.90% | Trend Micro (OTCPK:TMICF) 4.69% |
| 4 | VMware (VNW) 5.89% | Cyberark Software (NASDAQ:CYBR) 4.69% |
| 5 | NXP Semiconductors (NASDAQ:NXPI) 5.87% | Palo Alto Networks 4.69% |
Examination of the price chart for CIBR shows that the recent price of $20.26 is at the resistance level. If this level is pierced forcefully then a breakout is in effect and further upward momentum should be expected.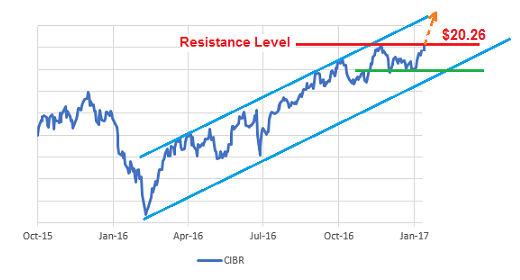 If on the other hand, the resistance level is not broken, then the price will retreat to the support level of $19.45 but the hug the lower support line of the ascending channel. In other words, there will be a more gradual climb in stock price.
The worst case scenario is a total breakdown, dropping through the support level of $19.45. I don't believe this will happen unless there is a significant broad market downturn.
Disclosure: I/we have no positions in any stocks mentioned, and no plans to initiate any positions within the next 72 hours.
I wrote this article myself, and it expresses my own opinions. I am not receiving compensation for it (other than from Seeking Alpha). I have no business relationship with any company whose stock is mentioned in this article.