Iron ore prices witnessed a revival over the course of 2016, breaking the trend of the continuous decline over the preceding two years. Iron ore spot prices ended the year at levels of $80 per dry metric ton, which are comparable to levels seen at the start of 2015.

Iron Ore Spot Prices, Source: Y Charts
However, despite the recovery in iron ore prices in 2016, prices of the commodity could decline once again in 2017. Subdued demand conditions and an increase in production by major producers of the commodity are expected to put pressure on prices. In this article, we will look at various factors that are expected to materially impact the trajectory of iron ore prices this year.
Iron Ore Rally in 2016
Despite slowing economic growth in China, steel production in the country remained at elevated levels in 2016, growing around 1% year over year in the first eleven months of 2016. However, China's steel production comfortably exceeded its domestic demand for the commodity, with the country's excess production equating to around 21% of domestic demand. State support in the form of subsidies and tax breaks enabled Chinese steel producers to maintain elevated levels of steel production in 2016 in spite of subdued market conditions.
Elevated levels of Chinese steel production propped up the global demand for iron ore - a raw material for the steel industry, since China accounts for the purchase of close to two-thirds of the global seaborne iron ore supply. On the supply side, a sustained period of low prices over the preceding years has translated into a decrease in output from high-cost iron ore producers, as illustrated by the chart shown below.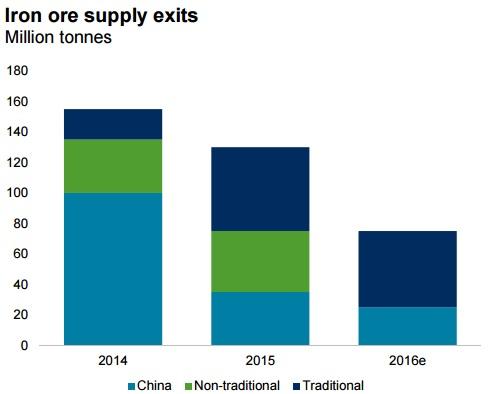 Source: Rio Tinto London Investor Seminar Presentation
A combination of steady demand from China and supply cutbacks from high cost producers drove iron ore prices higher over the course of 2016. Speculative iron ore trading added to the impact of favorable supply-demand dynamics, fueling the rally in prices of the commodity. However, the story for iron ore prices could be entirely different in 2017.
Iron Ore Prices in 2017
Whereas 2016 was characterized by steady Chinese demand for iron ore and supply cutbacks, 2017 could witness faltering demand and rising production from the big miners. Though China pledged to reduce its steel output amid international pressure to do so in 2016, actual steel production figures for the year were contrary to the country's stated intention. However, trade related regulatory action could restrict the market for Chinese steel exports, forcing the Chinese government to make good on its promise to lower production levels.
A number of China's trading partners including the U.S. and Europe have imposed antidumping duties on Chinese steel exports, on the basis of unfair trade practices employed by Chinese exporters. Such trade related regulatory action is expected to limit the export market for Chinese steels going forward. Amid slowing economic growth and a shrinking export market, China's steel industry could be compelled to lower production levels in 2017. A decline in steel output would likely negatively impact Chinese demand for iron ore as well.
An increase in production by major iron ore producers is expected in 2017, with both Vale (NYSE:VALE) and Rio Tinto (NYSE:RIO) on course to raise their production levels as a result of recent capacity additions. Moreover, capacity reductions by high-cost producers could also slow down as a result of the run up in iron ore prices over the course of 2016. As a result, the potential supply-demand dynamics of 2017 are likely to put pressure on iron ore.
Much will depend upon the extent of the reduction in Chinese steel production. Though the country has not followed up its promises to cut steel output with concrete action so far, the changed business environment (as described earlier), could force its hand. Thus, iron ore prices are likely to decline in 2017, with the extent of the decline largely contingent upon the extent of reduction in Chinese demand for the commodity.
Disclosure: No positions.