The Buckle Inc (NYSE:BKE) is a retailer of better quality men's and women's fashion apparel. BKE operates 470 stores throughout the U.S. Like most apparel retailers, BKE is subject to the usual vagaries of the fashion cycle, and faces the same challenges as most mall and strip-center based stores, with lower traffic counts and same store sales declines, but from 2007 through 2012, BKE was a model of consistency, posting annual increases in sales and EPS with consistent gross margins. The market valued BKE at 10-15x EPS and BKE marched from the low 20s in 2010 to a peak of $57.68 in 2013. Then something happened - something bad.
From 2011 through 2014, BKE's sales stagnated. Then in 2015, they actually declined, despite adding more stores and square footage. BKE's gross margin slipped in 2014, and again in 2015. It appears it will drop again in 2016 (FYE 1/31/17) when BKE reports its annual results in March. BKE's shares have responded in kind, dropping from the mid-50s in 2015, to less than $20 in 2016. Shares currently trade around $23.
A review of BKE's 10Ks and 10Qs is insightful in trying to determine whether the shares offer any attractiveness at these lower levels.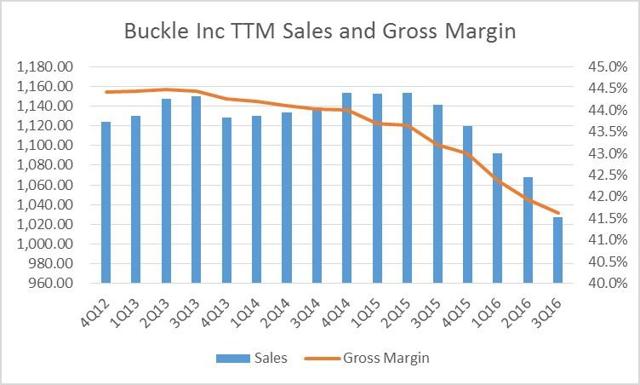 Source: Author's chart based on BKE's quarterly 10Ks and 10Qs
A review of BKE's quarterly results is insightful. While the quarter over quarter sales comparisons did not turn negative until 1Q15, the gross margin and EPS comparisons actually turned negative in 3Q13 - and have remained unfavorable each quarter since. BKE's selling expenses, rent expense and tax rates have showed little change, so the decline in earnings appears to be isolated to the revenue and gross margin inputs.

Source: Author's chart based on BKE's quarterly 10Ks and 10Qs
BKE derives roughly three-quarters of its sales from denims and tops (including sweaters). This core sales component has been the source of BKE's sales decline, as evidenced in the chart below. Denim and tops comprised 80.4% of BKE's 2008 sales and have dropped to less than 72% of BKE's sales in 2016, with the decline most pronounced in the denim category. During BKE's 3Q earnings call, in response to a question regarding margin compression, management attributed the decline to lower sales of boots compared to the year ago period. While that may be true in the most recent quarter, it is apparent that the steady decline in BKE's overall sales corresponds directly with the decline of denims as a percentage of BKE's overall sales.

Source: Author's chart based on BKE's quarterly 10Ks and 10Qs
When BKE reports its year-end results, I will be looking carefully at its sales breakdown and margins. I believe BKE will be hard pressed to reverse its string of unfavorable quarter over quarter comparisons until it can reclaim sales of its core denim products.
While BKE's sales and margin trends are unfavorable, BKE may still be attractive to some patient investors. The company's balance sheet is clean and strong, with no debt (although it does have about $70 million/yr in rent expense) and $4.80/shr in cash. BKE pays a quarterly dividend of $0.25/shr. Annual special dividends have been paid each of the past eight years - many of them substantial, although this year's is a modest $0.75/shr. The regular dividend provides a current yield of 4.4%. The special dividend adds another 3%+ to holders of the shares. While this will not offset the decline in share price over the past two years, BKE is at least paying its shareholders for their patience.
BKE Chairman Daniel Hirschfeld owns 34.6% of BKE's shares. Fidelity owns another 13.3% and Royce & Associates owns 7.2%, so more than 55% of the shares are concentrated in these major shareholders. Royce holds BKE shares in a handful of its funds, while Fidelity's position is concentrated in its the Fidelity Low-Priced Stock Fund No Load (MUTF:FLPSX).
Despite the challenges of the past few years, BKE remains solidly profitable, generates significant free cash flow (easily covering the dividends), and consistently posts operating and EBITDA margins in excess of its peers. BKE competes directly with Abercrombie & Fitch (NYSE:ANF), American Eagle Outfitters (NYSE:AEO), Urban Outfitters (NASDAQ:URBN) and Guess? (NYSE:GES). Only AEO and URBN report operating margins above 10%, but nothing close to BKE's 17.6%. Similarly, AEO and URBN each post EBITDA margins in excess of 14%, but BKE's EBITDA margin is in excess of 20%.

Source: Author's chart based on figures from Yahoo! Finance
Valuing BKE is difficult given the continuing deterioration in sales, margins and EPS. The chart above indicates that BKE's peers trade at a P/E of roughly 15 (consistent with BKE's historic peaks) and an EV/EBITDA of just under 5x. BKE's TTM EPS is $2.41, with S&P projecting 2017 operating EPS of $2.17/shr and Morningstar reporting median Street estimates of $2.20 this year and $2.04 for next year. At a P/E of 10-15x (consistent with BKE's historic range) the implied share price is $20-30 (S&P has a 12 month target price of $25/sh). BKE's TTM EBITDA is $218 million. At a 5x multiple, the implied enterprise value is $1.09 billion. Adding the $233 million of cash, brings the total to $1.32 billion, or $27.40/share, consistent with the range above. At a current price of $23, the market is pricing BKE at 10.6x expected EPS, which is consistent with BKE's historic low P/E multiples. Any improvement in BKE's operating performance will provide a catalyst for upside to more normal multiples - it's just not clear when that improved operating performance will materialize.
As indicated above, BKE shares offer an attractive 4.4% yield at the current market price. A prospective buyer can enhance this return by selling the BKE June 27.5 call for $0.55. If BKE shares stay below $27.50, the call will expire and the seller will retain the $0.55 premium and receive the $0.25 April dividend, for an 8.05% annualized return for the holding period. If BKE trades above $27.50 and the shares are called, the seller will realize a 20%+ return between the premium received and the gain of the shares (and may or may not receive the April dividend depending on the timing of the call exercise). For those not willing to commit to BKE at the current price, the BKE June 22.5 put can be sold for $2.10 today, providing a cash on cash yield of 9.3% before commissions. If the put is assigned, the seller's effective cost of acquiring BKE is $20.40/shr, or less than 10x earnings.
Supporting Documents
Disclosure: I am/we are long BKE.
I wrote this article myself, and it expresses my own opinions. I am not receiving compensation for it (other than from Seeking Alpha). I have no business relationship with any company whose stock is mentioned in this article.