There were over 30 spin-offs in 2016, and it was a good year for investors that look at them specifically. The spin-off index Guggenheim S&P Spin-Off ETF (NYSEARCA: CSD) returned 21%, whereas the S&P 500 returned just around 12%. Pretty impressive numbers, and that's why we focus on them here at Offshoot Investment Research.
So let's take a look at one of the next upcoming spin-offs.
Sealed Air (NYSE: SEE) is planning a tax free spin-off of its food hygiene and cleaning business. The spin-off is expected to be completed some time in 2017.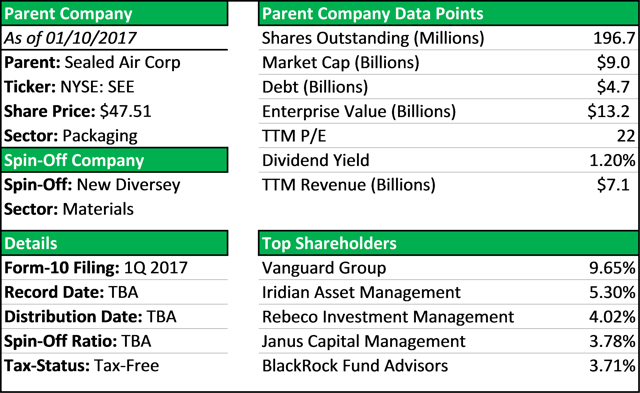 Overview
The spinco (New Diversey) basically has two segments of revenue. Diversey care (76% of revenue) which includes floor care machines, tools, chemicals and data insight. The food care segment provides food safety and water/energy conservation. Total sales on a pro forma basis came in at $2.6 billion and adjusted EBITDA of $305 million. EBITDA margins are 11.8%.
The spin-off is reversing the merger that happened back in 2011 when Sealed Air acquired Diversey for $4.3 billion (please is here). In 2010, sales were $3.1 billion and adjusted EBITDA of $453 million. The merger hasn't been managed well with EBITDA margins and revenue contraction.
Diversey Comparables

There is plenty of room for margin expansion as you can see; competitors have stronger margins. If Diversey can expand margins, its EBITDA multiple should expand closer to 14, which would value the company at $4.3 billion enterprise value. With becoming a standalone business, this will provide the strategic focus the business needs, and gives a high probability of returning to slow growth.
Sealed Air Comparables

On a pro forma basis, new Sealed EBITDA came in at $826 million with 19.5% EBITDA margins. With having better margins and new focus, Sealed Air should trade at a 12x multiple. With 12x EBITDA, the company's enterprise value would be $9.9 billion.
Valuation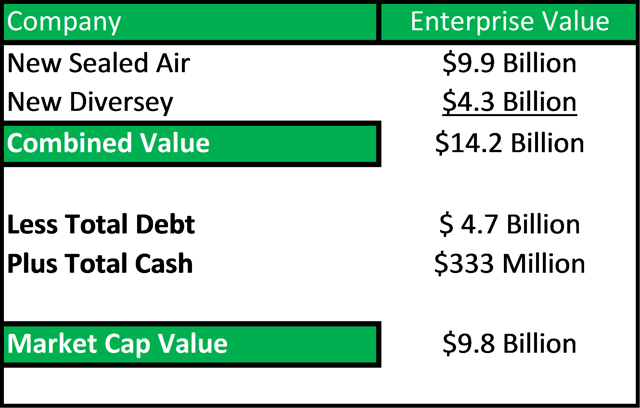 I used the current debt load and cash since management wants to have similar leverage and credit ratings for both companies post spin-off. This is a big factor though in the valuation and could change dramatically once management produces Form 10 with more detail. For now, there does seem to be a little value post spin-off with 9% upside, which isn't enough margin of safety for an investment pre-spinoff.
Takeaway
The spin-off should bring much welcome news to current investors with trying to bring back revenue growth. New Diversey has hindered the top line numbers as a consolidated business. Investment allocation should be much easier. As an investment pre-spinoff, I don't see any value, but post spin-off, I'm interested in seeing if new Diversey does see some selling pressure. The company is much smaller than the two businesses, but more detail is needed to fully understand the scope of the situation, especially, the distribution ratio.
To read more research on stock spin-offs, fund holdings, micro-cap companies, and special situations please consider following me (by clicking the "Follow" button at the top of this article next to my name) to receive notification when I publish research next.
Disclosure: I/we have no positions in any stocks mentioned, and no plans to initiate any positions within the next 72 hours.
I wrote this article myself, and it expresses my own opinions. I am not receiving compensation for it (other than from Seeking Alpha). I have no business relationship with any company whose stock is mentioned in this article.
Additional disclosure: This article is intended to provide information to interested parties. As I have no knowledge of individual investor circumstances, goals and/or portfolio concentration or diversification, readers are expected to complete their own due diligence before purchasing any stocks mentioned or recommended.