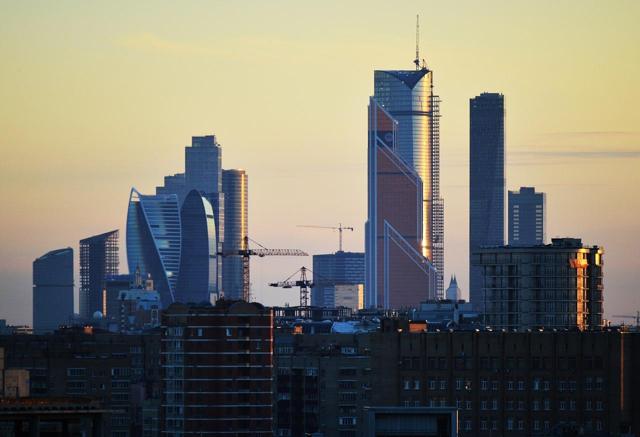 They say that the most hated assets offer the best investment opportunities. Russia had been such an outsider for a long time until recent year when the usual underdog delivered one of the best returns among the emerging markets. The media and analysts attribute this to the oil (NYSEARCA:USO) rebound, OPEC deal and Trump winning the election. There is also a lot of geopolitics, propaganda and controversy surrounding this topic. That's why I'd prefer to focus on cold, hard numbers to minimize the subjectivity of this article.
Stagnating economy
GDP growth is the key determinant of the long-term performance of any equity market. Russia is no exception. And we have a situation here.
Russian GDP Growth (Source: Bloomberg)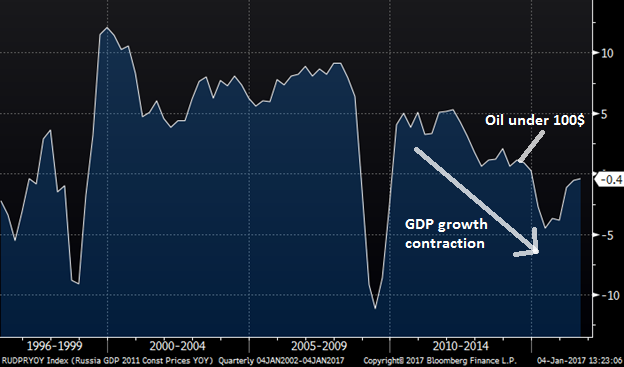 What is interesting, the collapse of oil prices and the imposition of sanctions were not the original cause of the Russian economy weakness, they only exacerbated the situation created by more significant structural problems. Russian GDP growth rate had started to shrink 2 years before these events took place in 2014. GDP bottomed at -3% in 2015 and it is about to be slightly negative in 2016.
These structural problems are:
Aging population and shrinking labor force
Prevailing government role in the real sector
High corruption level in all government related businesses and institutions
Weak legal private property protection mechanisms
Another distinctive characteristic of the Russian economy is the low unemployment rate (5.4%) combined with the low labor productivity. Russia's labor productivity is 40% of the US level and is the lowest one in the Europe.
Looking ahead, it's hard to see any substantial economic recovery without overcoming these challenges. Rallying oil and the possibility of lifting the sanctions in 2017 (both questionable) will only defer the necessity to implement the structural reforms. And so far it seems that external policy is the country's top theme at least till 2018 presidential elections.
But there are some bright spots. A lot of inefficiency provides a great potential for improvement. For instance, in a case of 30-50% increase in productivity, raised pension age, strict anti-corruption measures, Russian GDP growth has tremendous upside potential. However, this is only a theoretical opportunity that requires effective and actionable policies that failed to be implemented so far.
Is Russian market really that cheap?
Let's use MSCI Russia Index (structured quite similar to the RSX ETF) as a benchmark for Russian stocks, and MSCI EM for overall emerging markets (NYSEARCA:EEM) performance. In terms of last year P/E, we see rather stable spread between EM and Russia. There were periods of high oil prices, low oil prices, Russia-USA friendship and cold-war era like confrontation. But the MSCI Russia has always been sustainably 30-50% cheaper than its EM peers.
MSCI Russia vs. MSCI Emerging markets P/E (Source:Bloomberg):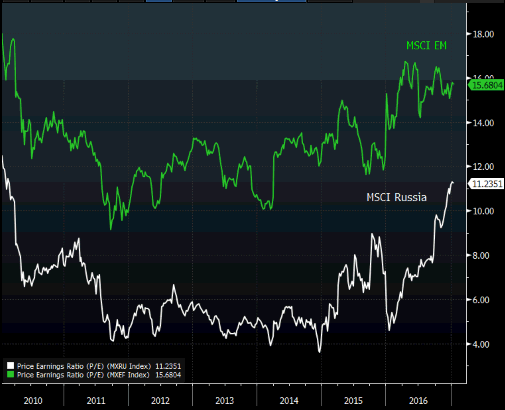 Sell-side analysts have been calling Russian equities undervalued for the last 10 years. For instance, more than 50% of the analysts recommended buying Gazprom (OTCPK:OGZPY) in 2012-2013.The price was above $10; it's $5 now and was as low as $3 last year. Funny enough, when the stock was about to rebound more than 80% from its lows, most of the analysts were neutral or negative on the name.
Gazprom average target price (yellow line), price (white line) and analysts' recommendation distribution (red-green bars) (Source:Bloomberg):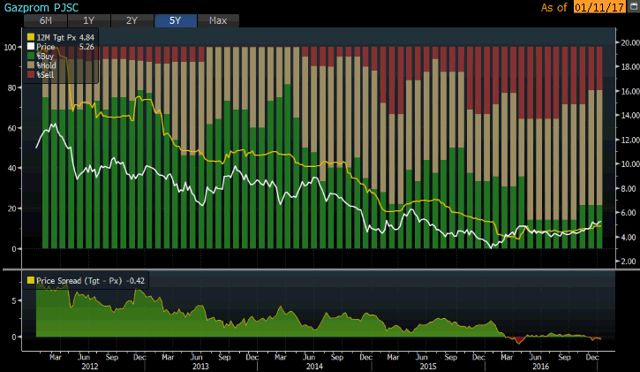 I think if something has been cheap for 10 years, then it's just fairly-priced at this level. Such low valuation normality has several technical reasons:
High percentage of the Russian publicly trading companies is controlled by the government.
RSX ETF composition (Source:Bloomberg):

It's widely acknowledged that government-controlled companies are on average less effective and often have objectives other than maximizing shareholders' value. Thus, stocks of such companies are valued at a substantial discount. And the government concentration in the Russian economy gets only higher lately. For instance, after Rosneft (OTC:RNFTF) acquiring Bashneft and TNK-BP there is only one large private oil company left (LUKOIL).
High share of oil, gas and metals companies in the index and the economy
RSX ETF breakdown by industry (Source:Bloomberg):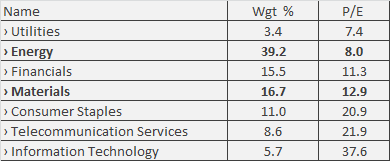 Business of these companies is highly dependent on commodity markets. So when you calculate their fair value via a DCF model you need to apply a higher discount rate to take into account the uncertainty of the future commodities prices.
And there are Russian stocks that are significantly more expensive than the EM average: Magnit, Yandex (NASDAQ: YNDX), X5 Retail group, TCS. They are rapidly growing, retail-oriented companies that are owned by a large number of private investors. They follow decent corporate governance practices and deliver outstanding margins. At the same time, the cheapest Russian blue-chip, Gazprom, is a former Soviet Union era gas ministry that undertakes questionably profitable projects and has non-transparent costs and CAPEX. Unfortunately, the Russian market is still weighted stronger towards companies like the latter one. So, while all these factors remain unchanged, it's unlikely that MSCI Russia will be able to close its spread to other Emerging markets.
The current EM-Russia valuation spread is markedly elevated, it's higher than before the «Crimea annexation», sanctions and even higher than when oil has been above $100. In my opinion, recent Russian market outperformance is mostly attributable to the technical reasons. Russia was underweighted by many players. Then unexpectedly Trump wins and everybody starts talking how good the US-Russia relationship will be under the new presidency. Catch-up trade became very popular; we saw record inflows in the funds investing in Russia right after the elections. This coupled with scarce liquidity bolstered year-end rally. Dollar-nominated indexes and ETFs received additional support from the carry-trade-driven Russian ruble strength.
Investment recommendation and trading ideas
Russian stock market doesn't look cheap relatively to the EM peers and its own valuation history. No fundamental change has taken place lately, and the market is speculatively pricing in the upcoming sanctions' softening/lifting. All this hype can reverse very fast if the actual policy of the new president will be different from what was expected. Longer-term performance of the Russian stock market depends on political and structural changes that are hard to predict.
Yet, there are a number of effective and reasonably priced Russian companies that provide great upside potential, and some of them have stable two-digit dividend yields. Stock picking is the best strategy to profit by on this market. And that's what I'll cover in my next articles. Investing in Russia via ETFs is not optimal at the moment, tactical shorting Russia may be a good trading opportunity after the Trump inauguration.
Disclosure: I/we have no positions in any stocks mentioned, but may initiate a short position in RSX over the next 72 hours.
I wrote this article myself, and it expresses my own opinions. I am not receiving compensation for it (other than from Seeking Alpha). I have no business relationship with any company whose stock is mentioned in this article.
Editor's Note: This article discusses one or more securities that do not trade on a major U.S. exchange. Please be aware of the risks associated with these stocks.