What's the difference between a part-time, low-paying job with no benefits and one that is a full-time, salaried position with a healthcare plan? Apparently nothing according to market pundits, the financial press and a Federal Reserve that is bound and determined to tighten financial conditions.
The Wall Street Journal suggested that "the U.S. Labor Department's December employment report should reassure Federal Reserve officials that the job market finished 2016 on a solid footing, leaving them on track to gradually raise short-term interest rates this year." This is the view from the ivory tower, but the details behind December's jobs number were far from what I would call solid.
Of the 156,000 jobs supposedly created, the accuracy of which is an entirely different matter, there were 11,700 couriers, 10,300 clothing store workers and 29,600 new employees in bars and restaurants. These are not the kinds of positions that support a living wage, yet they are counted as equal to the ones that do. The deteriorating quality of the jobs created has been a black mark on this recovery for years, which is one reason we are seeing such a feeble economic expansion today.
Regardless, the Fed described this discouraging trend as a labor market that is "strengthening" when raising interest rates last month and indicated that three more interest rate hikes may be in store for 2017. Why? The Fed is focusing on the number of jobs created, rather than their quality, and the unemployment rate that is derived from that number. It is assuming, along with the rest of Wall Street, that these new jobs will lead to faster rates of consumer spending growth, which, in turn, will lead to faster rates of economic growth. There are several flaws in this line of thinking.
Additional jobs are not the primary driver of growth in consumer spending and the broad economy. Yet the economic intelligentsia myopically focuses on payrolls each month as if that is the most important number. Instead, it is the growth in income for those who already have jobs, which serves as the primary driver of growth in consumer spending and the broad economy. New job creation is a byproduct of that growth.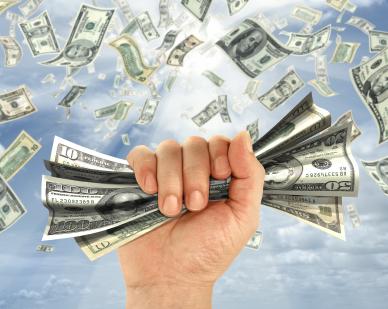 This is not to say that a new job, regardless of compensation level, does not contribute to overall income. It does, but the overall income contribution from 150,000 new jobs is trivial when compared to a 1/10th of a percentage-point increase in the annual rate of wage growth for the more than 150 million workers already employed. Additionally, a decline in the length of the workweek for those 150 million workers by as little as six minutes can wipe out the impact that several months of job creation has on income growth.
The good news in Friday's payroll report was that income, as measured by average hourly earnings, grew on a year-over-year basis by 2.9% in December. That is up from 2.5% in October, and the highest rate of increase since the recovery began. The bad news is that the workweek shrank from 34.4 hours to 34.3 hours, which must be taken into consideration when calculating spending power. We also have to take into account how inflation affects the 2.9% in order to determine the increase in real income.
The rate of economic growth is reported in real terms, as is the rate of consumer-spending growth, so it makes sense to focus on income growth in real terms as well. What I find stunning is that when real-income growth is reported along with the Consumer Price Index approximately two weeks after the payroll report each month, it receives virtually no attention at all. You will rarely hear the punditry on CNBC even mention it. This number factors in the length of the workweek, inflation and the increase in wages to arrive at the growth rate in real weekly take-home pay for all employees. This is the heartbeat of the US economy, and it is fading. Perhaps that is why it receives no mention.
While Wall Street praises payroll numbers and the nominal increase in average hourly earnings, the year-over-year rate of growth in real weekly income has declined from what was 2.5% more than two years ago to what was just 0.5% last month. This is because the rate of inflation has outpaced the increase in hourly earnings and the number of hours in the average workweek has fallen. This is the story that is not being told.
Instead, you have probably read stories about how 19 states raised their minimum wage at the beginning of this year. Approximately 4.3 million workers will receive an additional $4.2 billion in annual income due to this increase. This is good news, but its impact on the overall economy is trivial. $4.2 billion is a kernel of sand on a beach that is a $19 trillion economy with more than $8 trillion in annual wage and salary income.
So if you want to have your finger on the pulse of the US economy, and gauge whether or not the rate of growth is strengthening or weakening, then focus on the growth in real weekly income on a year-over-year basis. This is the blood coursing through the veins of our economy that makes it grow. Why is this important to investors? Consider that corporate profit growth is a function of economic growth, and that economic growth in the US is dependent on consumer-spending growth. Stock prices ultimately fall in line with corporate profits. This is why real income growth is the most important economic vital sign that I follow.
Special Event - DIY Investor Summit 2017: I am honored to partner with Seeking Alpha and Investor In The Family as a presenter at the DIY Investor Summit, along with 24 other distinguished contributors that will be sharing their investment strategies and ideas, current positioning for the new year, and a wide range of sage advice for DIY investors. Click the link below to learn more about this event, which starts on January 23.
Learn more about the DIY Investing Summit 2017
Disclosure: I/we have no positions in any stocks mentioned, and no plans to initiate any positions within the next 72 hours. I wrote this article myself, and it expresses my own opinions. I am not receiving compensation for it (other than from Seeking Alpha). I have no business relationship with any company whose stock is mentioned in this article.
Additional disclosure: Lawrence Fuller is the Managing Director of Fuller Asset Management, a Registered Investment Adviser. This post is for informational purposes only. There are risks involved with investing including loss of principal. Lawrence Fuller makes no explicit or implicit guarantee with respect to performance or the outcome of any investment or projections made by him or Fuller Asset Management. There is no guarantee that the goals of the strategies discussed by will be met. Information or opinions expressed may change without notice, and should not be considered recommendations to buy or sell any particular security.