Please skip the intro if you have read my previous articles.
"It's far better to buy a wonderful company at a fair price than a fair company at a wonderful price."
- Warren Buffett
What is a wonderful company, and what is 'quality' from an investing standpoint? The most constructive definition to address this question is Warren Buffett's concept of 'economic moat', i.e. a long-lasting competitive advantage that allows a given company to harvest above-average returns on its capital, even when faced with economic downturns or powerful competitors. A quality investing strategy should therefore capture the fundamental nature of Buffet's philosophy. Here, our aim is to identify quality stocks at reasonable prices by calculating a simple Quality Score based on 12 fundamental factors.
These factors are the ones that best define the 'quality' dimension of a specific company, according to Buffett and to other investors in 'high quality' companies (like Charlie Munger, Chuck Akre, Joel Greenblatt or Tom Gayner). To calculate the Quality Score, we try to answer questions addressing the following aspects:
Presence of durable competitive advantages;
Favorable market dynamics and relative positioning;
Favorable and defendable market share;
Capacity to grow and compound value over time;
Presence of abundant and recurrent sales with low cyclicality;
Resilience to technological change and to obsolescence;
Presence of multiple cash flow generators;
Presence of pricing power;
Presence of valuable brand equity;
Strong cash-generation ability;
Presence of highly productive assets, as measured by Gross Profits to Assets*;
Presence of high and persistent Returns on Invested Capital.
* Please refer to Novy-Marx's work on Gross Profits to Assets here.
To calculate the Quality Score, one (1) point is awarded when the answer is fundamentally positive ('yes'); minus one (-1) point is subtracted when the answer is essentially negative ('no'); no points are added or subtracted (0) when there is too much uncertainty, or when negative and positive factors are essentially in equilibrium. 'Quality companies' are the ones with a Quality Score above '6'. Let us then calculate the Quality Score for Unilever (NYSE:UL).
1. Does Unilever have strong and durable competitive advantages over competitors?
YES: 1 POINT
Just like oil giant Royal Dutch Shell (NYSE:RDS.A) (NYSE:RDS.B), colonial times' Manhattan Island and rival Reckitt Benckiser (OTCPK:RBGLY), Unilever is yet another British-Dutch creation that has been working out pretty well for all interested parties. Its story begins in 1885 with William Lever, an eccentric Englishman who believed that 'the only healthy way to sleep was outdoors, in the wind and the rain'.
Lever, a staunch supporter of the expansion of the British Empire in Asia and in Africa, would later join forces with leading Dutch margarine manufacturer Margarine Unie in order to dissipate competition and generate economies of scale in the importation of palm oil. Unilever soon became an international powerhouse thanks to the immense territories and maritime traffic lines of the British and Dutch Empires.
Throughout its budding years, the company shipped to the farthest reaches of the world an army of enterprising men - conveniently indoctrinated into Victorian values - with an explicit mandate to establish and nurture Unilever's global footprint. And so they did, by creating supply and distribution networks where none existed, as well as by laying out new manufacturing sites and vast tea or palm oil plantations.
The job required a great deal of confidence, independence and self-initiative since communicating with headquarters from Indonesia or South Africa usually took weeks or even months. This evolutionary pathway forged a fluid company that truly thinks 'local' first and 'global' later. These youthful men created a host of major hubs across the world, such as present-day Unilever South Africa (established in 1891, before the merger between Lever Brothers and Unie), Hindustan Unilever (established in 1934 in the British Raj, which included India, Pakistan, Bangladesh and Myanmar) and Unilever Indonesia (established in 1933 in the Dutch East Indies).
With the possible exception of Nestlé (OTCPK:NSRGY), no other multinational has had such an early, first-mover advantage in emerging markets. Today, the British-Dutch titan's unprecedented depth of local knowledge and formidable range of brands make it a force to be reckoned with in the global consumer staples arena.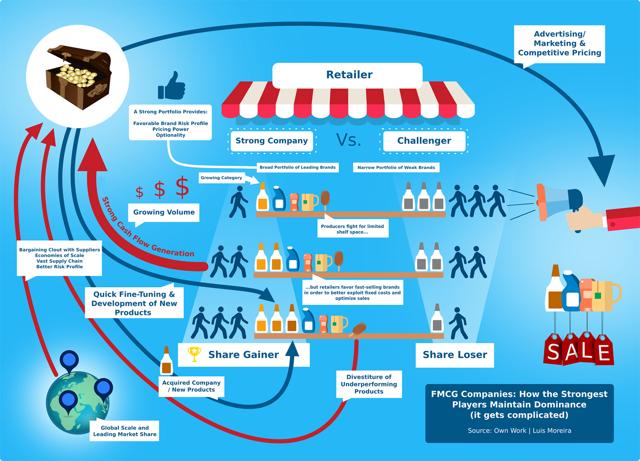 Image Source: Own Work
Unilever also benefits from its deep-rooted relations with major retailers thanks to its diverse portfolio which straddles numerous personal, nutrition and household product categories. As a general rule, there are no switching costs for consumers in the consumer goods space; there may be switching costs for volume-dependent vendors, though (trying to sell new products from weaker manufacturers may prove to be a costly gamble for retailers). Unilever's rich portfolio ensures quick and consistent sales, a fact that gives it a clear advantage over less diverse or less recognized players (please see infographic above).
The company nurtures close relationships not only with large retailers in the West and in China but also with small family shops and rural customers throughout Africa and Southeast Asia. Unilever's approach to developing markets is in fact quite unique - according to Vijay Mahajan, a professor at the University of Texas, the company has the most ingrained 'rural DNA' among all the largest companies in the world. Unilever, so it goes, has a matchless 'ability to recognize the rural opportunity and to develop innovations to tap those markets along with their urban markets'.
This approach goes back generations, as Procter & Gamble (NYSE:PG) rapidly found out when it tried, with great pain, to expand its operations in countries like India or Bangladesh. Unilever's deep entrenchment in the countryside - a mammoth market comprising about 3 billion people in Asia and in Africa - dramatically pushes up the costs for any competitor trying to establish a new foothold outside the more heavily urbanized areas.
Another key factor in Unilever's success is its deep know-how in managing through volatile scenarios. Of Unilever's top 20 markets, 12 are in emerging economies, and in these volatile economies, more than 80% of the management is purely local. Such cultural understanding ensures that the best value-accretive decisions are taken regarding local consumers.
Unilever's competitive advantages also stem from its highly efficient supply networks (the firm occupies the top spot on Gartner's Supply Chain Top 25) and from its vast economies of procurement and scale. Unilever runs 300 factories worldwide, it has thousands of exclusive suppliers, its products are sold in 190 countries, and the company boasts highly differentiated R&D facilities in the United Kingdom, the Netherlands, in China, in India and in the United States. It's a fact that this dual-headed corporate colossus operates in many high-risk markets; however, its inimitable expertise across emerging economies, as well as its renowned brands and sheer size, provide not only an attractive risk/reward profile but also hold the promise of sustained value creation for many years to come.
2. Does Unilever operate within an attractive market?
YES: 1 POINT
The markets where Unilever operates are characterized by stable demand, low cyclicality and volatility, and slow but steady growth. These markets are also typified by intense competition between global and regional players, and between manufacturers and retailers promoting their private label offerings. However, by and large, Unilever's most fearsome global rivals are Nestlé in the food & beverages market, and Procter & Gamble in the household and personal care markets.
Unilever intends to increase sales mainly through volume growth, a sensible approach given both the deflationary environment being felt in Europe and the lingering pressure on margins in almost every other market where the firm participates. However, a leaner and meaner P&G is also chasing volume expansion, while Nestlé is now refocusing its food businesses in a way by which competitors will be hard-pressed to replicate. This state of affairs will certainly continue to depress margins throughout the whole FMCG industry, making it harder for Unilever to achieve higher profitability in the medium-term.
Besides these American and Swiss titans, Unilever also faces global competition from French cosmetics giant L'Oreal (OTCPK:LRLCY) (OTCPK:LRLCF), from Colgate-Palmolive (NYSE:CL) and from Reckitt Benckiser , in the home and personal care spaces, as well as from Danone (OTCQX:DANOY), Mondelez (NASDAQ:MDLZ) and from KraftHeinz (NASDAQ:KHC) in the Big Food arena.
Unilever is becoming less and less competitive in this arena, a fact perfectly reflected in its latest and unusual actions (which are no more than a symptomatic manifestation of weakness in its food businesses): for instance, Unilever has sued Hampton Creek over its Just Mayo brand (a vegetable-based, mayonnaise-like spread), because this product is not 'exactly, precisely, only and simply mayonnaise' according to Unilever's lawyers.
Goliath is afraid of little David with good reason: food products like Just Mayo, which are healthier and more sustainable alternatives to typical mayonnaise, have been hurting the supremacy of Unilever in the spreads market (currently, Hellmann's/Best Foods still dominates about 45% of the mayonnaise market in the US). President Harry Truman used to say that 'If you can't stand the heat, get out of the kitchen' and Unilever seems to be complying with his authoritative pronouncement - the company, having created a new Baking, Cooking and Spreads business as a stand-alone unit, is quite literally exiting the kitchen in a gradual and calculated manner. Selling processed food in developed markets is a tough, saturated and 'hard-to-stand-out' business for any market participant.
But western FMCG companies should also not underestimate their competition in emerging markets. Local players are quickly becoming as efficient and as aggressive as any multinational from North America or from Western Europe. India, in particular, has proven to be fertile ground for a multitude of strong FMCG companies that include Godrej Group (OTC:GDRJY) or Marico (OTC:MRQCY) in personal care products, and Britannia Industries (OTC:BRTQY) or Kohinoor in the processed food market. These are not merely local or regional companies; Marico, for example, is already well established in the Middle East, in North Africa and in Southeast Asia.
India's Tata Global Beverages (OTC:TTAEY), on the other hand, is also challenging Unilever in the global tea market. For now, Unilever remains the top player in the market for tea-based beverages, a very fragmented field with a plethora of challengers that include not only large rivals like Tata (via Tetley) and Nestlé (via Nestea), but also influential players such as Associated British Foods (OTCPK:ASBFY), Starbucks (NASDAQ:SBUX) via its Teavana subsidiary, and Douwe Egberts, among many others. The scattered nature of this market makes it prone to consolidation initiatives in which Unilever, in its quest for premiumization, will probably play an integral role.
In addition to its premiumization initiatives, Unilever is also moving its portfolio into more profitable categories in the personal and home care spaces. This strategy will place Unilever further away from the markets disputed with Nestlé, but will nevertheless place it on a 'head & shoulders' collision course with Procter & Gamble. The American giant pulls out around 65% of its sales from developed economies (which translates into higher margins but sluggish growth), whereas Unilever extracts close to 60% of its sales from emerging markets (which means the reverse).
In the medium to long-term Unilever expects developing markets to account for about 70% of its total sales, a goal that is not beyond the company's capabilities - in comparison to P&G, Unilever has both an overwhelming cultural advantage and a much deeper distribution network in emerging economies (except in China, where P&G is still top dog).
Moreover, most of Unilever's current woes are transient, not structural. Many emerging markets have been hit by geopolitical unrest or currency devaluations, and the slowdown of the Chinese economy also had a domino effect on the neighboring nations (and on Latin American countries) whose economies depend on the export of raw materials.
However, an escalating GDP across most emerging market countries will continue to act as a strong tailwind for the personal care industry in years to come. This statement is a cliché but it's also true and legitimate. Favored by its demography and economics, such countries really are the next frontier of expansion for the FMCG industry - and Unilever undoubtedly occupies an enviable and rather immovable position at the very top of the food chain in these emerging economies.
3. Is Unilever a diversified company, with multiple and complementary cash flow generators?
YES: 1 POINT
Unilever's products are omnipresent both in developed and in emerging markets. Though not a conglomerate, Unilever is a very diversified company and perhaps too much so (this firm sells a lot of different stuff, from consumer electronics to out-of-favor margarine). Its current portfolio of more than 400 different brands is divided into four categories: Personal Care; Foods; Home Care; and Refreshment.
With a turnover of EUR 20.1 billion (representing 48% of operating profits), Personal Care is Unilever's largest and most strategic category. Well-known brands within this category include Lux, Lifebuoy, Dove and Axe/Lynx. Unilever created a new Prestige subcategory which is now heavily investing in premium personal care products that will further strengthen its offers.
Foods is Unilever's second largest category. It accounts for 31% of operating profits and has a turnover of about EUR 12.9 billion. This category includes many strong brands, such as Knorr, Rama and Hellmann's, but it also aggregates the struggling Baking, Cooking, and Spreads (NYSE:BCS) business. Having failed to turn it around over the past four years, Unilever will probably get rid of this legacy business in the near future. BCS sales account for about 5% of the company's total revenues.
On the other hand, many of the company's local food brands are growing at a fast clip, such as Maizena in Brazil and Kissan in India. In general, Unilever has also been quick in its response to shifting trends in food consumption: according to the company, its new and healthier products have been market share gainers both in Europe and in America, as exemplified by Knorr Mealmakers and Hellmann's with olive oil. Nevertheless, mainstream packaged foods will probably see declining sales in the long run.
Accounting for 10% of operating profits, next comes Home Care with a turnover of about EUR 10.2 billion; this category includes two 'billionaire' brands (Omo and Surf) that are especially strong in emerging markets. In reality, the vast majority of its sales (80%) are generated in developing nations, a fact that partially explains its relatively poor core operating margin of 7.6% (compared with Personal Care's 18.9%, or Foods' 18.2% core operating margin).
Refreshment, Unilever's smaller category, registered a turnover of EUR 10.1 billion. It includes three billionaire brands (Lipton, Wall's/Heartbrand and Magnum) and a wide variety of minor franchises both in beverages and in ice cream. This category is also being strongly subjected to premiumization.
Spanning many distinct geographies and product lines, Unilever's multifaceted portfolio benefits both its operational and brand risk profiles. Such portfolio also ensures that no single broad category produces more than one-third of Unilever's operating cash flows. Moreover, it provides 'optionality' and further opportunities to explore new growth runways. In contrast to Unilever, its two most formidable global rivals are focused either on food (Nestlé) or on personal care & household goods (P&G) - there's no denying that Unilever is indeed a very diversified company.
4. Is Unilever a dominant company within its markets?
YES: 1 POINT
On any given day, about 2 billion consumers across the world use one or more Unilever products. The company retains the global No 1 place in ice cream, tea, deodorants, mass skin care, food dressings, spreads, and savory products. Unilever is also the No 2 global player in laundry and daily hair care products. Household cleaning and oral care play second fiddle to Unilever's power brands but both categories still retain sizable strength in regional markets. The company is especially dominant in ice cream, in deodorants and in tea (the most consumed beverage in the world aside from plain water). Despite its ongoing afflictions in developed markets, Unilever is also particularly strong in food dressings and spreads. Mayonnaise, the top-selling processed food dressing in the world, is still very much the realm of Unilever's brands like Calvé and Hellmann's/Best Foods.
Unilever dominates around 27% of the global ice cream sales through a vast stable of brands that include Heartbrand, Magnum, Breyers, Ben & Jerry's, Klondike and Carte d'Or, among many others. In 2014, the Anglo-Dutch firm claimed for the first time the top spot in the North American ice cream market; but in fact, on a global basis, the company has been gaining share in ice cream every year for the last 6 decades, an impressive figure reflected on the fact that Unilever is currently about 2 times larger in ice cream than its nearest competitor (Nestlé). Worldwide, the global ice cream market is expected to grow at a CAGR of 4.6% during 2016-2020.
Deodorant and antiperspirant products, a profitable segment, will grow even faster at a CAGR of 6.7% by 2021. Unilever is the undisputed leader in major deodorant markets, like Germany, the US or the UK (where it has utterly destroyed the competition by claiming over 50% of the share). Most people in developing nations do not use any kind of deodorant on a daily basis - but they will if history is a lesson - and so Unilever will probably enjoy ample opportunities to explore in the years ahead. Interestingly, deodorant is a product that benefits from a high degree of loyalty on the part of consumers, which tend to consistently choose a brand that delivers the intended results.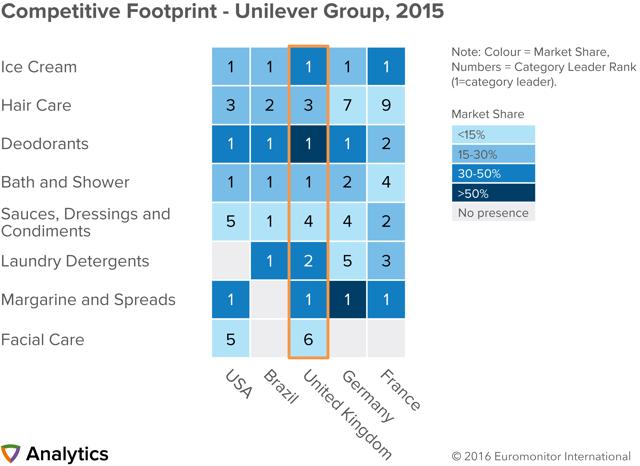 Image Source: Euromonitor International
Unilever is lagging P&G in the facial and hair care products market, although, maybe surprisingly, it occupies the top spot in the US in bath and shower products. Its Sunsilk hair products also occupy the No 1 spot both in Asia and in Latin America. The company, with a global market share around 12%, is similarly the unquestionable world leader in tea-based beverages (the second place is occupied by Tata Global Beverages which controls about 3% of the global market). Supported by names like PG Tips, T2, and Brooke Bond, Lipton - a brand owned in association with PepsiCo (NYSE:PEP) - is the world's best-selling and best-known tea franchise.
5. Does Unilever have a clear runaway to grow and compound value over an extended time frame?
YES: 1 POINT
Unilever has a very long and wide growth runaway to explore in the decades ahead, providing execution is flawless. The company stands to benefit from its deep entrenchment in emerging markets and from the strategic shift into growing categories in the personal and household care segments. However, its upward trajectory will also suffer from a great amount of turbulence.
Unilever's Growth Drivers | Restructuring the Portfolio
Unilever has been sharpening its portfolio strategy in order to increase its exposure to more profitable and faster-growing segments of the market. According to FactSet, the main drivers of sales growth within the global consumer goods sector are household and personal care products; bolstered by ever increasing demand from the Asia-Pacific region, these two categories recorded a noteworthy year-over-growth of 18.4% in 2016 alone.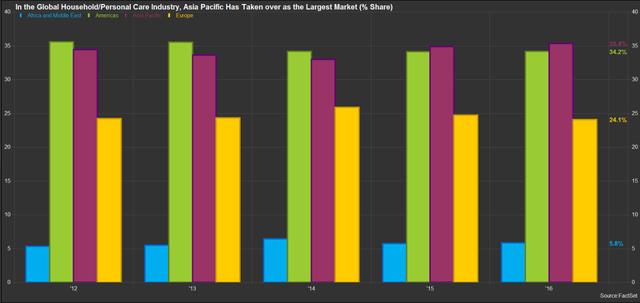 Image Source: FactSet
It's no wonder then that Unilever is steadily shifting its focus towards these higher-margin offerings and away from mainstream packaged food (ice cream, its largest and most vibrant product line, is the clear exception). During the last few years the company has been shedding out underperforming franchises such as Bertolli, Ragu, or Skippy (a peanut butter sold to Hormel (NYSE:HRL) for USD 700 million) and Wish-Bone (a salad dressing sold to Pinnacle Foods (NYSE:PF) for USD 580 million).
In personal care, the company intends to expand the competitive footprint of its 'power brands' (such as Axe, Lux, and Dove), while further strengthening its premium offerings. Dove For Men and Dove Advanced Hair Series, which have been a resounding success since its introduction, are both fitting examples of this strategy. The last few years have also seen some major product roll-outs, such as the launch of Lux in the Philippines - a huge market comprising 100 million people - or the introduction of Zendium (a premium toothpaste that employs enzymes to boost the mouth's natural defenses) in Central and Eastern Europe, as well as in the Middle East. Taking into account that personal care is now Unilever's most value accretive category, such strategic repositioning should benefit both margins and organic growth - providing execution is faultless.
Unilever's Growth Drivers | Premiumization
Unilever has been shifting its focus to premium categories mainly in its Personal Care and Refreshments segments. Home Care was also subjected to premiumization, though not so much in relative terms. Its portfolio mix is now substantially more tilted towards higher-margin products, a change that makes sense in light of the new trends in consumer behavior: shoppers are more eager to buy new higher-quality products and are also willing to pay up for better results and experiences. A premiumization strategy leverages the fact that many consumers, at all income brackets and across many geographies (Europe and Latin America remain weak spots), are now in better financial shape than just a few years ago.
Premiumization in Personal Care
Unilever acquired a host of niche premium brands for its prestige Personal Care segment with the purpose of expanding them to an aggregate billion-worth business. The brands are Kate Sommerville, REN Skincare, Dermalogica, Murad and Living Proof. With these acquisitions, the company is well positioned to tap into a global market that is expected to see growth of about 6% per year in the upcoming half decade. Prestige brands already exhibit sales of EUR 400 million, while Personal Care now makes up about 37% of Unilever's total business.
Although the company is still considering other acquisitions, its basic plan is to leverage innovation and consumer insights to drive sales, both in prestige and in the mass market segment. The company has done this before with great success - a case in point is TRESemmé, a brand of hair care products which Unilever acquired in 2010 when it was still (fundamentally) a regional US brand. Unilever expanded TRESemmé into new emerging markets and then segmented its product line in order to capture premium prices. As a result, TRESemmé is on the fast track to become a 'billionaire' brand.
With Dermalogica, Unilever acquired one of the world's top-selling professional skincare franchises. With its focus on widespread skin conditions like acne and dryness, this brand will face strong competition from Nestlé's subsidiary Galderma; on the other hand, P&G is currently divesting part of its beauty portfolio, creating a void for Unilever and others to explore. Dermalogica, which is sold in over 80 countries, is already well-established both online and at physical locations (mainly in salons and specialized department stores). Unilever seems to be a fitting springboard for further expansion, and by adding to Dermalogica and Living Proof the previous trio of acquisitions, the company has in effect created the second largest personal care business in the world after France's L'Oreal.
On the whole, Unilever's strategy on this front appears promising. However, this plan comes with considerable perils: on the one hand, Unilever may be chasing growth at the wrong price and at the wrong tempo; on the other, there are in fact few synergisms between its legacy mass market channels and the new premium products. At a time when P&G divested many of its premium offerings, will Unilever succeed where its rival failed?
Premiumization in Tea
Despite the pervasiveness of private level, it seems that premiumization in tea has lifted off in much of the developed world. Tea, the archetype of a healthy beverage, lends itself particularly well to premiumization and consumers are now discovering (and demanding) new flavors and new types of tea, from matcha to oolong, and from 'dust' to 'leaf' teas. Unilever intends to ride this growing trend by extending the variety and exclusivity of its tea products, both at-home and in out-of-home consumption, and by escalating T2's geographic footprint.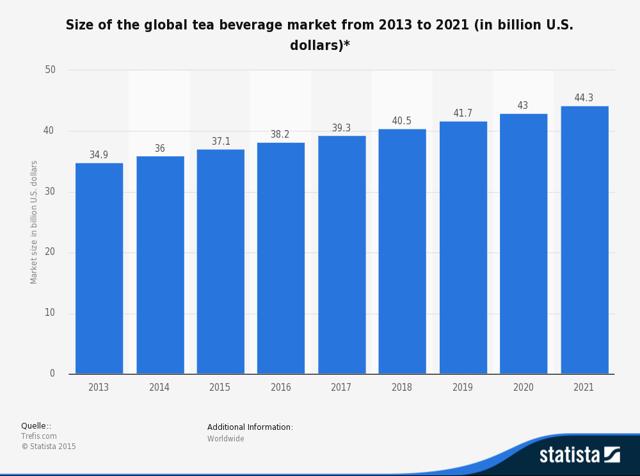 Image Source: Statista
T2, a high-end boutique retailer of premium teas, will spearhead the attack on the premiumization front. Kevin Havelock, Unilever's aptly named President for Refreshment, thinks " there's scope for a T2 in every major city globally", adding that " T2 is a fast growing premium tea business with great potential. This will allow us to bring the benefits of scale and access to new markets to the T2 business and for both businesses to share tea category expertise". Such remarks clearly highlight Unilever's determination to maintain its prominent status as the most powerful player in the global tea market.
However, the company is still over-reliant on mass products based on black and herbal teas. T2, which seems to be following Starbucks' blueprint for expansion, is seen as the most appropriate vehicle to introduce premium teas to a new cohort of consumers who were drawn to the beverage thanks to the perception of uniqueness surrounding it. In fact, the company has ruled out leveraging the T2 acquisition by taking it into mass retailers. Such strategy also comes it inherent risk (considering its core business, beverage shops are not Unilever's cup of tea), but it's also a distinctive way to tap into this high-end tea market where sales have been growing by about 14% per year.
Premiumization in Ice Cream
Unilever is determined to widen its dominance in the global ice cream market through innovation, increased out-of-home consumption, and premiumization. Here again, Unilever acquired its way to growth by buying small but successful firms with bright prospects for future expansion. One of its latest acquisitions was GROM, an Italian brand of super premium artisanal gelatos produced with organic ingredients that cater to health-conscious and ethical-oriented clientele. Pushing Unilever further into higher-margin territory, this acquisition will strengthen Unilever's already domineering portfolio of strong brands, which also includes well-established franchises Magnum and Ben & Jerry's.
Gourmet ice creams, sorbets, and Italian-style gelatos have been gaining popularity all across the developed world. This trend was also a motivating factor behind the acquisition of US gelato brand Talenti in 2014 (it seems that Talenti will lead the offensive in America and GROM in Europe). Talenti has seen explosive growth, having expanded sales by well over 50% since the acquisition was completed. The company is now building up new production facilities to keep up with demand.
For Unilever, premiumization not only feeds in to sprouting consumer trends driving up volume, it also provides the opportunity to greatly increase unit prices per scoop; being just another 'value product' for retailers, the mainstream ice cream market is characterized by low differentiation, high volumes and squeezed margins. Unilever wants to distance itself from this unpleasant scenario by increasing its sales mainly through out-of-home channels.
Out-of-home ice cream consumption accounts for about 70% of sales; the remaining slice is generated through volume-driven retailers where prices are constrained by half the value obtained at specialized ice cream joints. That's why Unilever is keen to increase the geographical coverage of its Ben & Jerry's, Magnum Pleasures and Happiness stores - the plan is to open an additional 3800 ice cream joints across the globe, up from 1200 at the present time. This is a very ambitious goal. Hopefully, Unilever will learn from P&G's mistakes when the American company tried to expand too fast and too aggressively only to get overstretched in too many battles.
Unilever's Growth Drivers | Leveraging Networks in Emerging Markets
Emerging markets are composed of two very distinct spheres: the urban sphere, where middle-class consumers are not very dissimilar to any other consumer in the developed world; and the equally huge rural sphere, where aspiring consumers have to wrestle with a series of challenges in order to get access to basic staples such as shampoo, soap or household cleaning products.
This rural sphere is, in fact, the next 'frontier market' - comprising well over 3 billion people, this is still a largely untapped opportunity for FMCG companies in search of sustained growth. It would be a mistake to assume that these people are all too poor to buy consumer products. There's a middle class in the countryside, and it is on the rise. However, even relatively affluent consumers struggle with the long distances, the lack of infrastructure and the immature supply chains. Such underdeveloped environment acts as a powerful barrier to most FMCG companies - but not quite to Unilever.
The company has a long tradition of developing ingenious measures to play along with the idiosyncrasies of each local marketplace. This is only possible because Unilever is actually a fluid compilation of several local subsidiaries, each with its own particular approach to the market. In effect, in countries like India, Bangladesh, Indonesia, South Africa, Pakistan and Sri Lanka, Unilever has long been considered as just another native company, not a foreign player (in aggregate, these countries account for 27% of the world's population). And nowhere is this more evident than in the Indian subcontinent, where Hindustan Unilever (OTCPK:HNSQY) is - and has been for generations - the largest and most successful FMCG company.
Hindustan Unilever (or 'HUL') is an Indian company to the very core. Its current success in the countryside is largely due to an initiative that requires local managers to live for a month in a village in order to get precious insights into the desires, difficulties, and wants of rural households.
HUL, a quite resourceful firm, also broke new ground back in 2000 with its 'Project Shakti', an initiative that trains local women to sell Unilever's products throughout rural India. 'Shakti' (which means 'power' in Hindi), in addition to empowering these poor but entrepreneurial people, has also widened Unilever's footprint in a way that cannot be replicated by any other company, anytime soon.
Ten years later, HUL's project was further developed to include 'Shakti' men (typically, the relatives of Shakti women) that distribute Unilever's products mainly on bicycles. As of today, this pioneering initiative already has about 70.000 Shakti distributors serving over 4 million households. For Unilever, the project provides access to many rural consumers that the company couldn't reach before, and it also generates a valuable source of income for everyone involved.
In places like rural India or Bangladesh, it is vital that companies make direct contact with their potential consumers. Large retailers are scarce and Internet-based services are still underprovided; it's the opposite in China, where Internet-based services are a given and retail is dominated by large operators: that's one of the reasons why P&G is bigger than Unilever in that country. However, P&G still has no response to Unilever in most other large Asian and African markets. Among many others, Unilever has also tailored its approach to the Pakistani, Vietnamese, Bangladeshi, Egyptian, Philippine and Thai markets.
For instance, in the Philippines - a country where myriad small shops are still prevalent - Unilever is enlisting many of the larger private stores to serve as middle-level distributors; in Pakistan, the company is training women as hairdressers and cosmetologists that rely on Unilever's products to produce a steadfast source of income; in Egypt, Unilever recruited pharmacists, and their pharmacies, to sell products like Dove soaps; and, in the many countries where it obtains raw materials, Unilever has trained thousands of farmers in sustainable farming practices who are now working as favored partners.
The company is preparing the integration of about 500.000 small farmers into its global supply networks. Of course, these enormous armadas of close associates are also doubling-up as loyal customers. However, many would-be customers in emerging markets are unable, or unwilling, to buy products that are viewed as too expensive.
Unilever's response to this problem was to segment its offers and also to create small, single-use items that can be bought on a week-by-week (or month-by-month) basis. In laundry, for example, Unilever sells Wheel for the poorest and Surf Excel for the richest, while Rin is sold to the emerging middle class. Furthermore, Unilever as been especially good at 'reverse engineering' its products in order to flood the market with personal care products - the company starts with the price consumers are willing to pay, and then it figures out how to sell the product for a profit. In countries like India, the Philippines, and Indonesia, the bulk of its sales are generated by small, one-use packets (of shampoo, for instance) that cost only a few cents. This is a very successful concept (but impossible to implement in developed countries) that allowed Unilever to absolutely dominate the market for consumer goods like shampoos and deodorants.
As investors, we should not get carried away with blind enthusiasm. However, concerning emerging markets (and their immense latent potential), it is not easy to find a better-positioned company than Unilever. The company is already growing from an almost insurmountable base with proven cultural knowledge and market development models that will, most probably, generate sustained growth for many years to come.
Unilever's Growth Drivers | Expanding Into Growing Mass Market Categories
Unilever is seeking to offset declining growth in some mass market product lines by expanding into newer growth categories. Examples of this strategy are the acquisition of Dollar Shave Club, a mail-order razor company, and the acquisition of Seventh Generation, a personal and household care product manufacturer with green credentials.
Both firms are based in the US, a safe haven in developed markets for FMCG companies. With Seventh Generation - which uses recycled packaging and natural substances on their goods - Unilever wants to increase its presence in the market for products that appeal to the ecologically-conscious consumer.
Even though this is still a niche category, the acquisition makes strategic sense because it offers premiumization opportunities, a better corporate image, and potential growth in the low double-digits range. Up until now none of the larger manufacturers has rolled out green-focused cleaning products, and so there is a vast white space to fill both in the US and abroad.
Another burgeoning category is men's grooming, and no product appeals more to a man than a shiny new, easy-on-the-skin razor blade. According to Bloomberg "Global sales of men's grooming products like face creams, eye rollers, and exfoliating scrubs are expected to grow 3 percent annually through 2020" with e-commerce being a key driver of sales.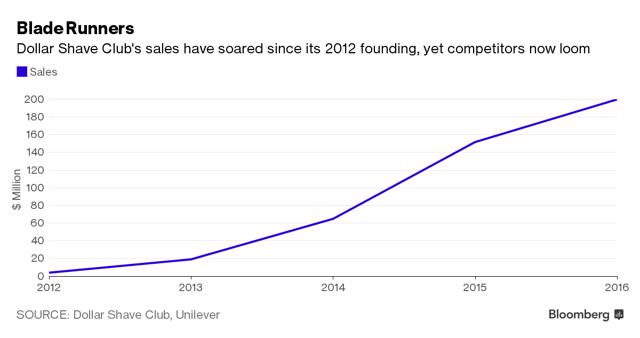 Image Source: Bloomberg
The USD 1 billion acquisition of Dollar Shave Club implied a very rich multiple (five times revenues ) but will provide Unilever a strong presence in the promising business-to-consumer channel. Dollar Shave Club turned on its head the traditional 'razorblade model' by offering subscription services that sell blades for a few dollars per month, including shipping and handling.
Connected, experience-driven millennials are unwilling to pay for the premium-priced, complicated shaving contraptions sold by Schick and Gillette and, by lowering prices and offering convenience (coupled with smart tongue-in-cheek marketing), Dollar Shave Club has indeed managed to build a very strong 'millennial' brand in just a few years.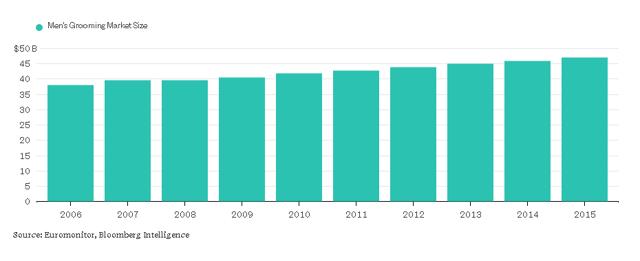 Image Source: Bloomberg
Unilever plans to expand this brand beyond the US and scale its direct-to-consumer subscription model to include lotions, after shave, and other high-margin products. But risks abound. According to the BBC, Dollar Shave Club has about 3.2 million members but has yet to make a profit. The acquisition will also pit Unilever against P&G, a much more experienced player on this field (see image below). Unilever must accumulate critical mass fast, since this business model can be replicated without much difficulty by new entrants and established players alike: P&G already created its Gillette Shave Club (which is now stealing customers from Dollar Shave Club), and let us not forget Amazon (NASDAQ:AMZN) and its proven capabilities of mass selling private label products.

Image Source: Bloomberg
Unilever's Growth Drivers | Aligning Brands with Principles
At first glance, doing good business and doing good for the planet are two irreconcilable attainments. Unilever, however, begs to disagree and it is now betting on its Sustainable Living Plan (USLP) to spur sustained and sustainable growth. This grand plan aims to broaden the positive social contributions of the company, reduce its ecological footprint, and greatly increase profitability and sales.
It is not entirely clear how the company will achieve such hefty goals. For now, the Anglo-Dutch titan, as one of the largest food producers in the world, is committed to source all its agricultural raw materials sustainably by the end of the decade, halve its environmental impact, and help people improve their health and wellbeing (with a focus on specific demographics in emerging markets, like women and children) - Lifebuoy soap, for instance, has championed the importance of hand-washing in order to prevent gastrointestinal diseases in poor countries (changing the hand-washing behavior of new mothers, birth attendants, and toddlers can have a major impact on reducing deaths amongst children under five); Dove, on the other hand, is being employed as a vehicle to improve the self-esteem of young women struggling with their body type or facial looks.
Such initiatives can certainly create positive long-term outcomes, such as improve corporate reputation, raise brand-awareness, increase employee satisfaction and attract top talent. Within its sector, the company has been a prominent member of several sustainability rankings, like the Dow Jones Sustainability Index, the Behind the Brands Scorecard and the GlobeScan/SustainAbility survey.
But more immediate and tangible benefits arise from improved cost-saving measures, and from a more efficient use of water, materials, and energy. Its waste impact has been reduced by 29% since 2010, and 60% of Unilever's agricultural raw materials were sustainably sourced by the end of 2015. In partnership with other organizations, Unilever has also enabled around 600.000 smallholder farmers and 1.8 million small-scale retailers to access programs designed to improve their farming practices and increase their sales.
Unilever has also developed best-selling products that use a smaller amount of resources. An example is Omo, a laundry product that only needs a single rinse to achieve its purpose. During 2014, when 70 million Brazilians suffered from the worst-ever drought in the country, the Omo brand not only received positive media coverage but also increased sales by 15% in a matter of weeks.
Other best-sellers that require lower water inputs include Lifebuoy Self Foaming Handwash (uses 18% less water) and Unilever's "dry shampoos". Is the USLP plan working as it should? According to Unilever, it is: the company's Sustainable Living Brands, such as Knorr, Dove and Hellman's, are growing 30% faster than the rest of Unilever's businesses. Such strong growth has had a soothing effect on investors with skin in the game, but it is still too soon to know whether fighting climate change and P&G at the same time is a good idea or not.
Unilever's Growth Drivers | Air and Water Purifiers
A Unilever vs. Panasonic (OTCPK:PCRFY) showdown seems to be something out of an alternative, weird universe. But that's exactly what has been happening in the Asia-Pacific region, where Unilever is now a major seller of air and water purification devices. The acquisitions of Qinyuan and Pureit water purifiers, as well as the acquisition of Sweden-based Blueair in 2016, reflects Unilever's latest growth strategy of reducing exposure to low-growth brands in favor of greater investments in higher-growth products with strong social and environmental credentials.
With Blueair, the Anglo-Dutch company acquired a leading manufacturer of premium air purifiers in markets that include Japan, China, the US and South Korea. Air purifier devices have seen impressive sales growth in the last few years and, according to Euromonitor, this category is " expected to rise at a promising 4.3% volume CAGR over 2015-2020".
Such acquisition may be a bit surprising for unsuspecting investors - Unilever is known for its hair conditioners, not for air purifiers. Despite this, the company wishes to take advantage of the fact that both air and water pollution are worsening global problems. Unilever, as the second biggest player in the global home care market, will try to harness its strong distribution networks to increase Blueair's geographic coverage.
The main target will be the dynamic Asia-Pacific market, a region where smog, haze, and growing disposable income are conspiring to create a perfect storm of raging demand. The World Health Organization estimates that about 7 million people perish from air pollution each year - and in cities like New Delhi, Beijing or Karachi, air purifiers are in fact a basic living necessity for schools, hospitals and for many other public institutions. Horrible air quality throughout many Asian megalopolises helped more established brands, such as Panasonic or Haier (OTCPK:HRELY), to quickly expand their sales throughout the APAC region.
As part of its environmentally-driven vision, Unilever has also been investing in water purifying appliances since 2008, the year ever-inventive Hindustan Unilever launched Pureit. It caught on fast - this range of ultraviolet and reverse osmosis water purifiers is currently being distributed in 12 countries and has gone on to become the world's best-selling water purifying technology. Initially targeted at the many millions of low-income Indian consumers who didn't have access to potable water, these very cost-effective devices have been praised even by Harvard University in a case study on 'paradigm-shifting' innovations.

Fancy our fantastic water purifiers? We also sell good mayonnaise. Image Source: Hindustan Unilever
Seeking to make safe drinking water available to 500 million people by 2020, Unilever has subsequently more than doubled the size of its water purification business with the acquisition of Chinese company Quinyuan back in 2013-2014. Unilever's purpose was to acquire new water purification technology (complementary to Pureit) and to take advantage of Quinyuan's manufacturing and distribution capabilities in mainland China and abroad. Is this the way Unilever intends to compete with Nestlé , Danone , and Coca-Cola (NYSE:KO) in the drinking water market?
One of the many risks associated with consumer electronics is that they are very vulnerable to copycat versions - hence the highly attritional situation faced by most manufacturers, from GoPro (NASDAQ:GPRO) to Sony (NYSE:SNE), Panasonic and beyond. The electronics industry is not known for its insuperable, moated companies. There are also simpler and cheaper technologies making inroads in this hot market, exemplified by the likes of Nikken's PiMag® Water Technology or by Brita Fill & Go portable water bottles. With our eyes on the long term, this sort of commoditized competition on multiple fronts doesn't seem to bode well for Unilever. The jury is still out concerning this electronic growth driver.
6. Does Unilever rely on a large amount of recurrent sales of relatively small unitary value?
YES: 1 POINT
Of course, most Unilever's products are non-durable and largely 'indispensable' goods that need to be replaced on a frequent basis. The very nature of these goods creates a steady and abundant stream of demand that partially insulates consumer staples companies against economic downturns. Consumer staples companies are generally considered an investment hedge in uncertain times because of such defensive characteristics; but, to stay competitive, these companies still have to constantly fine-tune its prices, volumes, and mix of offerings.
In general, Unilever has been doing a rather good job on this front - according to the company's own statements, underlying sales growth was driven by market share gains across all four categories in 2016.
The key reason why strong global players like Unilever have built such massive brand awareness is the staggering amount of shelf space they acquired in retail. For consumers, switching costs are not existent in Unilever's markets, a fact that increases the uncertainty regarding the demand for a particular product; however, its substantial portfolio of renowned brands largely protects Unilever against negative demand fluctuations for one or several of its product lines.
7. Is Unilever resilient and easily adaptable to technological disruption or obsolescence?
YES: 1 POINT
It is obvious that most products sold by Unilever remain broadly unaffected by new technology and by obsolescence. Society as a whole is likely to covet and need these products in 25 or 50 years, just as it has over the last 150 years or more. But times do change even for an immovable object like Unilever. This fact is clearly recognized by Unilever's CEO Paul Polman, who stated that "The biggest challenge and opportunity we face is the pace of change. Change today is exponential. Driven by advances in technology, whole industry sectors are being disrupted." And for 'technology' he means e-commerce and online marketing.
Fifty years ago, the British-Dutch behemoth was primarily in the business of selling packaged foods and beverages like margarine and tea, with a significant share of soap thrown into the mix. Nowadays, most of its profits come from personal and household care products. The issue is that personal care products, in particular, are very well suited to online sales: they are small, higher-margin goods. It is known that brand strength remains strong in the virtual world, but the conversion from traditional retail to online will undoubtedly be painful for companies like Unilever.
Nimble and newer competitors will find it easier, for instance, to compete with any company regardless of their size. Dollar Shave Club, which was bought by Unilever, is a case in point: in just a few years, this aggressive and well-groomed American start-up stole a big chunk of Gillette's and Edgewell's (NYSE:EPC) customers. The consumer staples industry is trying to adjust itself (albeit clumsily) to consumers operating in a connected world through very fragmented media - from basic mobile phones to tablets, smartphones, and smart TVs.
John Wanamaker, a 19th-century merchant, complained that "Half the money I spend on advertising is wasted - the problem is I don't know which half." Online advertising is increasingly preponderant and it is also a better way to deal with this nagging, chronic problem. However, the rise of e-commerce and online advertising means that brick-and-mortar retailers will slowly lose influence going forward. The symbiotic and mutually profitable relationship between these retailers and Unilever may, therefore, be at risk because shelf space has no influence whatsoever in the virtual world - landing pages have.
The company spends about 15% of its total revenue (equivalent to about EUR 8 billion a year) on advertising and promotion expenses, making Unilever one of the biggest media buyers in the world. Unilever is, in fact, a master at offline marketing but its online presence is in dire need of improvement - the company has indeed tested new forms of advertising on social media, but its marketing efforts only produced a fraction of the intended return. It is not an isolated case, though, since most FMCG companies - like P&G and Nestlé - are really struggling in this sphere as well.
Unilever is trying to bolster its online presence through better-targeted advertising, focus groups, and improved integration between marketing and sales. The company is also assembling new businesses with strong direct-to-consumer channels. Moreover, by highlighting ethical and social issues, Unilever wants to place its focus on brands that can aggregate online communities of millennial consumers, a 2 billion-strong demographic group "with diverse and very different preferences and shopping habits to other age groups".
Despite the difficulties, there's light at the end of the tunnel. For instance, the company's partnership with China's JD.com (NASDAQ:JD) and Alibaba (NYSE:BABA) doubled Unilever's online sales in just one year (in China, a dexterous population of internet users makes it simpler and cheaper to promote and sell new brands through well-established e-commerce channels).
That's not to say that certain direct-to-consumer offerings are all doing badly elsewhere. In fact, some of Unilever's premium businesses, like Maille and T2, are actually doing quite well - Unilever's sales through e-commerce have grown by more than 40% in 2015 alone, and the company makes an additional EUR 1.5 on products sold through e-commerce shops versus the equivalent basket in a physical store. But these efforts are still too small in order to really impact overall sales. Industry-wide, e-commerce represents 19.6% of sales in China (increasing to 33.6% by 2019), 16.9% of sales in the UK and 8.4% of sales in the US. Configuring a paradigm shift with vast implications for FMCG companies, e-commerce may either represent a threat or an opportunity for these companies.
8. Does Unilever exhibit a high degree of pricing power?
NEUTRAL: 0 POINTS
It was on July 5, 1991, that a young Bill Gates first encountered an investor named Warren Buffett. Gates was reticent about that meeting: after all, Buffett was a guy that " just buys and sells pieces of paper." But the conversation that followed was a pleasant surprise for the future tycoon. According to Gates, Buffett " started asking me some questions about the software business and why a small company like Microsoft could expect to compete with IBM and what were the skill sets and the pricing. These were amazingly good questions that nobody had ever asked".
Twenty-five years have passed and a lot has changed, of course: Microsoft (NASDAQ:MSFT) is now way bigger than Big Blue (NYSE:IBM) and Gates is the richest guy on the planet. But the "amazingly good questions" made by Buffett are changeless: what are the skill sets and the pricing? Evaluating Microsoft's pricing power probably helped Gates shaping its subsequent approach to business. Now, let's try to shape our approach by evaluating this supremely important feature on what regards to Unilever.
For both the company and its investors, pricing power is crucial because if a firm is able to charge the prices it wants this will generate higher margins and a vigorous cash flow, which it can then turn into growing dividends or better reinvestment rates over time. Unilever's pricing power is determined by a series of factors, including input costs (about one-quarter of Unilever's COGS is determined by energy prices), the macroeconomic environment and the pressure from peers and from retailers, among others.
Looking at Unilever's operating margins we can see that they're not brilliant when set against peer medians and do not suggest any tangible benefit from an operational or pricing standpoint. But looking in isolation at margins will give us only a truncated picture: those peers are profitable powerhouses in its own right, and most of them actually make the bulk of their money in countries or product categories where extracting good margins is a relatively easier endeavor - Unilever's pricing power, however, is and will be a function of real GDP growth and disposable income in emerging markets.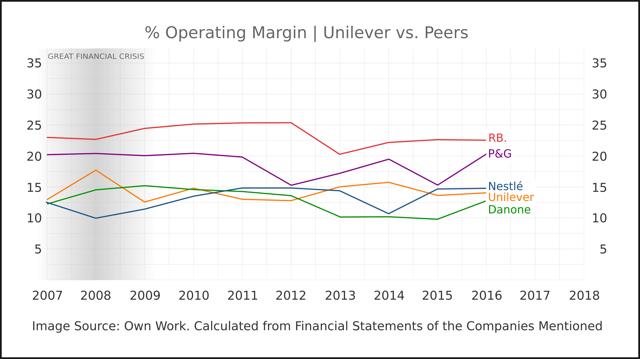 During the last few years, Unilever has only achieved pricing in line with inflation. But so did Unilever's peers. That's a reflection of the tepid consumer demand and the prevailing deflationary forces that afflicted much of the western hemisphere. In Europe and in some emerging countries, Unilever and rivals like Nestlé were especially hurt by the deflation wreaked on commoditized products such as spreads and frozen foods.
Spending power is still strained in much of western Europe, a highly competitive arena where private label penetration and heavy discounting from competitors is on the rise. Many FMCG companies have taken advantage of the favorable commodity cost environment to reduce prices, a tactical decision with poor long-term outcomes.
But reliance on discounting is gradually fading elsewhere, as companies place their emphasis not on lower prices but on communicating brand qualities. That's a better long-term idea than competing solely on price. The problem with discounts is that while they stimulate short-term sales, they also degrade brand strength and profit margins. Despite some anecdotal evidence showing the contrary, the majority of consumers are indeed very rational beings: if a given brand is cheap today, why pay up for the exact same brand tomorrow?
That's why achieving higher sales through promotions alone is merely a short-term, pyrrhic victory. Perceived quality is key, and Unilever is currently moving its portfolio towards premium and higher-margin offerings with better pricing power. Currency devaluations in emerging markets also haven't helped the company, with large countries like Brazil, Venezuela, South Africa and Argentina particularly hit by forex volatility against the euro in 2016.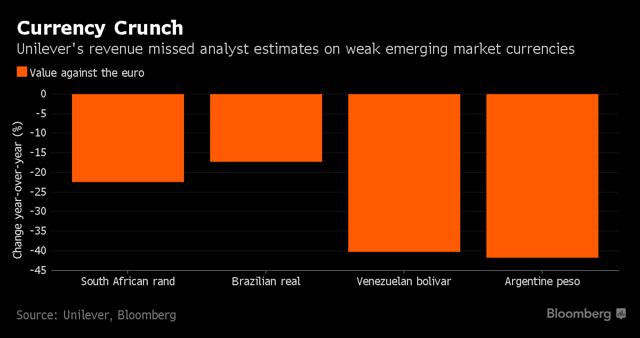 Image Source: Bloomberg
But, despite these transient setbacks, in late 2016 investors were given the chance to observe Unilever's pricing power in action across the UK. Permanently locked in a price war, retailers have a long history of crunching manufacturers' prices to the ground. Very few FMCG companies are strong enough to resist this relentless pressure on margins - the alternative to not being a kind of hostage to retailers would be to lose customers and impair market share. But Unilever is one of the exceptions.
Following Brexit, the fall in the value of the pound raised manufacturing costs in the UK as imported ingredients became more expensive. Such scenario prompted Unilever to demand a hefty 10% price increase on their products sold through Tesco (OTCPK:TSCDY), the leading retailer in Great Britain and one of the largest worldwide. Tesco refused to comply, as it did before with the likes of packaged bread brand Kingsmill, and decided to pull Unilever's brands from its online service. What happened? Many shoppers went shopping elsewhere for their beloved Marmite, Hellmann's and Lipton.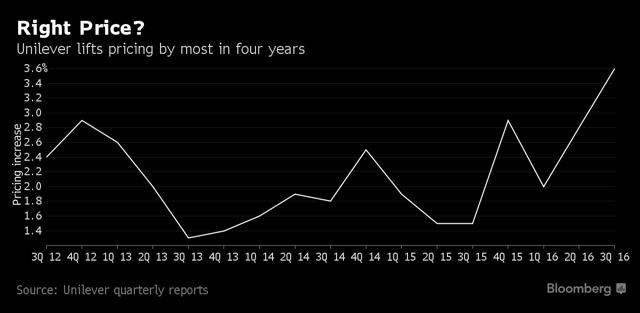 Image Source: Bloomberg
With reason, Unilever felt that it could push through the stand-off owing to the pricing power of its iconic brands - and, according to Euromonitor's well-crafted headline, "Unilever's decision to hold a Magnum to Tesco's head is the logical fallout of price war stand-off". This showdown was more detrimental to the retailer than to Unilever, a company that holds many brands that are either leading (or ranking at second place) in their product categories. Since then, the company and Tesco have settled their differences.
In spite of their low cyclicality, it is obvious that demand for Unilever's products is not inelastic. Input costs from raw materials, the macroeconomic background and the attrition imposed by competitors will continue to exert deleterious effects on Unilever's pricing power. However, the company is far from toothless - we would argue that Unilever does indeed have pricing power when compared to weaker competitors or to most retailers. But, overall, we do not believe the same holds true when Unilever is compared with other behemoths such as P&G and Nestlé.
9. Is Unilever a well-respected brand within its markets?
YES: 1 POINT
Unilever has 13 global billionaire brands straddling foods, beverages, household products, and personal care products. Those brands are Axe, Dove, Omo, Flora, Heartbrand, Lipton, Hellmann's, Knorr, Rama, Magnum, Rexona, Surf, and Sunsilk. According to the latest Kantar Worldpanel's Brand Footprint report, several of these brands are among the most consistently chosen by consumers worldwide.
Kantar defines its 'Consumer Reach Points', a reliable measure of a brand's strength, as the aggregate measurement of how many households bought a given brand throughout the year (penetration) and how often it is bought (frequency); the calculation is then weighted by population size to assess the brand's reach within a given market. This metric actually shows the number of times brands are chosen by consumers.
Unilever is the company with the highest number of brands - 12 out of 50 - in this ranking, and in fact no company even comes close to the Anglo-Dutch giant. P&G comes second with 7 brands and Nestlé only places 4 brands in Kantar's ranking. Because several of these 12* Unilever's brands are mainly sold in emerging markets, they still haven't reached 'billionaire' status. Yet.
Unilever is also the top company in Oxfam's Behind the Brands Scorecard, a ranking that assesses the sourcing policies of the world's largest food and beverage companies; Unilever is followed by Nestlé and Coca-Cola on the podium. Such distinction is in stark contrast with Unilever's place in Reputation Institute's Global RepTrak 100: Unilever only ranks number 71, way behind Nestlé (the most well-reputed food company in the world according to this institute) and most other competitors.
The British-Dutch company is not represented, as well, in Forbes' World's Most Valuable Brands. Such omissions are not positive; yet, both Forbes and the Reputation Institute also classify brands from many other industries, not just from the consumer staples space. Both rankings are also strongly tilted towards western companies - brands from emerging markets are conspicuously absent, and among Asian nations only Japan and South Korea are present.
But in the eyes of consumers, Unilever still reigns supreme. What about the financial market's assessment of Unilever's intangible assets? At 2.6, Unilever's Tobin's Q-Ratio (a measure of how financial markets gauge a company's intangible assets, including brand equity) is relatively strong (please see image below); only Reckitt Benckiser and L'Oreal display better current ratios. Not surprisingly, packaged food companies have the lower ratios (nowadays, brand equity is not so strong for mainstream food products).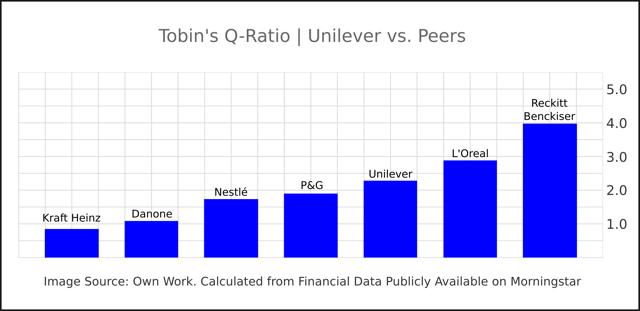 * From the most to the least chosen, the brands are Lifebuoy, Knorr, Dove, Sunsilk, Lux, Sunlight, Pepsodent, Surf, Vim, Lipton, Rexona, and Close Up.
10. Is Unilever a very cash-generative business?
YES: 1 POINT
Free Cash Flow to Sales: Unilever's FCF/Sales ratio averaged 9.49% in the last 10 years. From a Quality Investing standpoint, the minimum threshold is 5%.
Cash Conversion Rate: Unilever's CCR (as measured by Free Cash Flow/Net Income) has been slightly below the intended 100% CCR average during the last 10 years of activity (Unilever's average CCR was 98%). This metric has been improving lately, though: if we only consider the last 5 years of activity, average CCR increases to a respectable 118%.
Positive Free Cash Flow: Unilever has always been FCF-positive during the last 10 years and the company weathered the storm quite well during the Great Financial Crisis of 2007-2009. Unilever is conservatively capitalized, with a current Debt to Total Capital ratio of 52%, a lower figure than the previous year's 58.74%; it also displays a solid, if unspectacular, Piotroski F-Score of 7. Dividends have been the preferred means of returning capital to investors (Unilever has raised the dividend every year for the last 4 decades), with the company exhibiting an above-average payout ratio of around 65% for the past 10 years. Share repurchases added little to returns, but management ensured that such repurchases were made at a price that actually created value. Unilever will continue to pay an above-average dividend yield (currently at around 3.40%) but a significant portion of profits will be channeled towards acquisitions of premium personal and household care categories. Despite its historically superior management effectiveness, the risk of paying too much for these businesses is always a possibility.
11. Is Unilever a highly productive company relative to its total assets?
NEUTRAL: 0 POINTS
Gross profits scaled be total assets has hovered in the low-forties percentage range during the last 5 years. Unilever has been moderately productive at leveraging its vast assets; however, this figure has remained relatively high when compared to its largest competitors.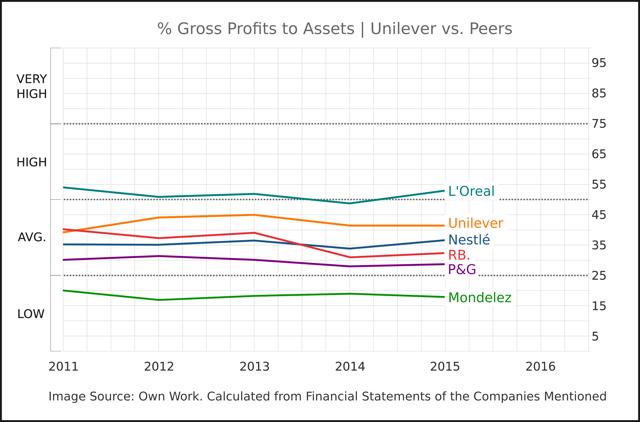 12. Has Unilever maintained high Returns On Invested Capital (>15%) for the last 10 years?
YES: 1 POINT
Unilever has shown a marked ability to sustain (healthy) returns on invested capital well above its estimated WACC of about 7.5%; even when goodwill is included, ROIC has been hovering around 19%-20% during the last 20 years of activity. That's quite a feat and a prime example of the quality of this long-lived business. But the company is not resting on its laurels since ROIC has been gradually increasing as a result of better capital efficiency despite foreign-exchange headwinds and a swell in goodwill. According to Unilever' annual report, for instance, " Sales per factory have increased by 30% since 2009 while costs avoided through eco-production have exceeded EUR 600 million since 2008." The company is also streamlining its complex distribution networks in order to deliver goods to even more customers in an even more cost-effective manner.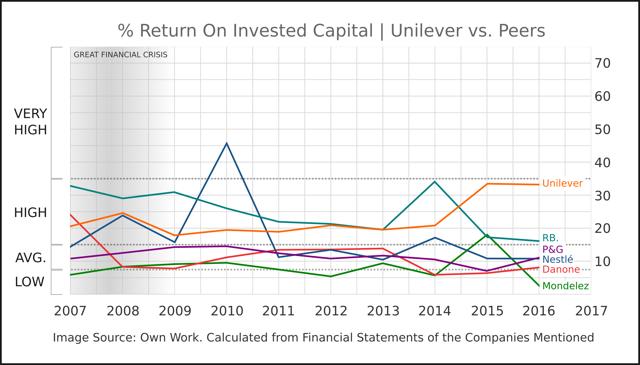 Conclusion
The Quality Investing score for Unilever is 10 out of 12. This is a very high-quality company trading at a very slight discount to our fair value estimate of USD 42.50 per share. Is it clearly cheap? No. But, as Novy-Marx said, " Buying high-quality assets without paying premium prices is just as much value investing as buying average quality assets at discount prices."
After all that was stated above, it is up to investors to judge Unilever's future prospects. Unilever's financials are pretty well covered on SeekingAlpha; this article tried instead to show what facts create those financial figures. Of course, financial parameters are of the utmost importance; but they do not provide the whole picture regarding the underlying economics of a given business. Hopefully, investors will now have a thorough picture of Unilever's underlying economics and, perhaps, a better judgment of mispricing opportunities.
A lot of investors think that the valuations at which 'bond proxies' (like Unilever) trade are somewhat excessive because, being incapable of obtaining the returns they desire from fixed income, bond investors have invested instead in high-yielding consumer staples companies. When bond yields rise, such investors will certainly move back to bonds causing a sell-off of companies such as P&G, Unilever or Nestlé.
But, if inflation settles in, the companies investors want to own are the ones with clear competitive advantages and a reliable growth profile. Inflation also eats into disposable income - within an inflationary environment, people may postpone buying a new car or a bigger home, but it is doubtful that they will stop applying their roll-on every day. Thus, there are good arguments both for and against Unilever.
This strong company has a solid balance sheet, it generates abundant free cash flow and is very effectively managed. Unilever also gets nearly 60% of its money from emerging markets where basic demographics and GDP growth provide it with a powerful (albeit turbulent) tailwind. There's still some upside to this best-in-class business for very long-term investors willing to take volatility on the chin. Definitely, Unilever can make even more out of its enviable heritage in developing countries (which comprise many of the world's most populous and vibrant economies). Unilever is a company to hold for a rainy day, and we bet that you're not at all inclined to sleep " in the wind and the rain" like William Lever used to more than a century ago. Better to hold Unilever and sleep well at night.
The images whose source is 'Own Work' were produced by the author
Disclosure: I am/we are long UL, NSRGY, RBGLY.
I wrote this article myself, and it expresses my own opinions. I am not receiving compensation for it (other than from Seeking Alpha). I have no business relationship with any company whose stock is mentioned in this article.