I believe every virtue, taken to an extreme, becomes a vice. That said, I believe it a good thing when management decides to return capital to shareholders in the form of dividends or share buybacks. When taken to an extreme, however, I think these activities can do more harm than good. It's with that in mind that I want to write about Cintas Corp. (NASDAQ:CTAS).
Share Count Versus Revenue
In late 2004, the share count for Cintas was approximately 177 million, whereas today there are only 109 million shares outstanding. While management went on this buying spree, the PE multiple for Cintas dropped from approximately 27 times to as low as 9.7 times during the financial crisis. Given that the "E" in the PE multiple is "earnings per share", reducing the number of shares outstanding would tend to give the company a more favorable PE multiple, but recently the multiple has spiked again, back to just shy of 25. Given that the company has bought back somewhere in the neighborhood of $2.7 billion worth of stock over the past six years, one could expect a permanently improved PE multiple. It seems that, in spite of management's largesse, investors are still being asked to bid aggressively for a dollar of future earnings from this company. In my view, this isn't worth it.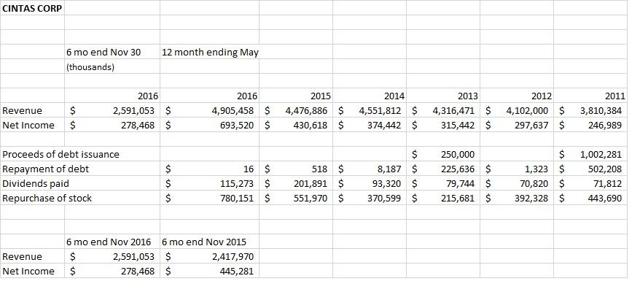 Revenue and Net Income
A review of the six month performance ending November 2016 relative to the same period ending 2015 is telling in my view. In spite of the fact that revenue during 2016 was up approximately 7%, net income plummeted by 37%. If a company can't translate growing sales into growing net income there is something going on that makes me pause and (in all likelihood) avoid the investment. Since investors are compensated by net income, rather than revenue, such a disconnect is reason to avoid the name, or at least insist on a stock price that is significantly discounted.
What About The Stock
When I review the stock price, the forward PE and the EV/EBIT numbers for Cintas, I see a company that is far from significantly discounted. The stock trades at a premium, perhaps because management pumped ~$800 million of shareholder's money into a stock buyback program over the past 15 months. At the moment, the PE for the stock is 24 and the forward PE is approximately 25, suggesting that even the market is expecting a slight drawdown in the fortunes of the company over the next year. Additionally, with an EV/EBIT of 16.15, this is hardly a company that is trading for the discount I would demand from such a sluggish underlying business.
Technical Snapshot
As per our TrendCharts Daily Price Model the daily trend for CTAS turned Bearish on January 6, 2017. After falling almost 4% on December 22, 2016 after reporting earnings the stock has not been able to surpass the $117.00 resistance level. The daily momentum now appears to be pointing to further downside for the stock, with a possible downside price target of $109.00. Today we will be purchasing the CTAS 17FEB17 115 Put Options which we provide us with approximately 21x leverage on our SHORT trade. Our initial stop-loss exit signal will be a daily close above $117.00.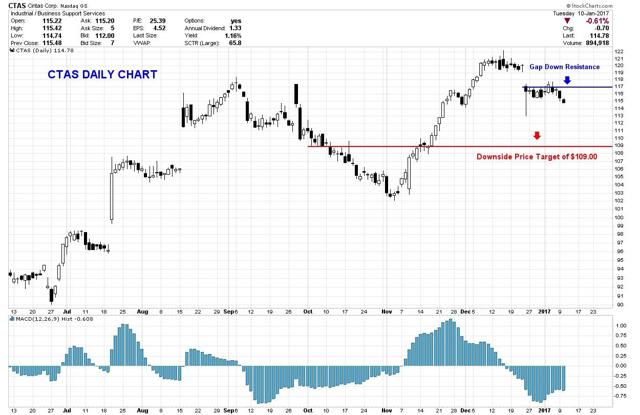 Conclusion
There will be bulls out there who lament the fact that I have not included the fact that the company zigged and zagged this year. Such optimism is excellent in some aspects of life, but in my experience, optimism in the domain of investing is dangerous. Given that there are far better investments just as available to the retail investor, my recommendation is to avoid these shares and move on to an investment that has a better chance of making money.
Disclosure: I/we have no positions in any stocks mentioned, but may initiate a short position in CTAS over the next 72 hours.
I wrote this article myself, and it expresses my own opinions. I am not receiving compensation for it (other than from Seeking Alpha). I have no business relationship with any company whose stock is mentioned in this article.