Rough Year for Biotech in 2016
As 2016 was an overall tough year for public companies in the biotech and pharmaceutical sectors. As seen in the chart below, the Nasdaq Biotech Index was down a whopping 19.1% in 2016, with almost all of the losses taking place by mid-February.
Following the major sell-off, we saw range-bound sideways trading for the rest of the year. Only 11 days into 2017 and many biotech investors believe things may be turning around.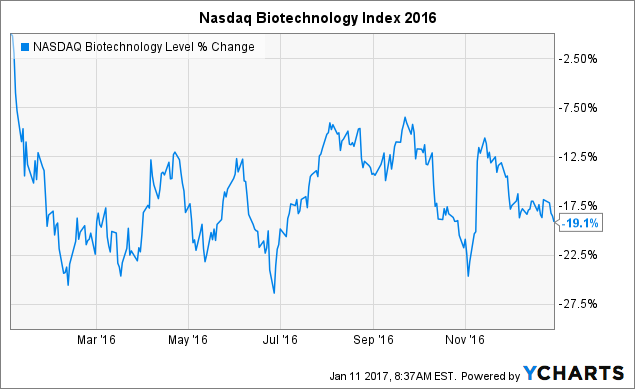 2017 is Looking Bright for Cannabinoid Biotech
So far YTD, the Nasdaq Biotech Index is up just over 8% compared to the S&P 500's 1.34% or the Dow Jones Industrial Average's 0.47% respectively.
While the biotech sector as a whole is doing well this year, it is clear that so far, cannabinoid-based pharma and biotech companies are leading the pack.
While investors in the recreational side of the cannabis industry are busy worrying about the new attorney general, Republican Jeff Sessions, investors in the biotech and pharma side are optimistic.
The AG, the FDA, the DEA and NIDA
The companies operating state-licensed cultivation and retail operations are still breaking federal laws, and it will be Sessions' only job as top lawyer of the U.S. to enforce these laws. Sessions was a bit unclear as to how he would be handling state-licensed operations, but many in the industry are worried.
On the other hand, the companies below are operating strictly within the federal government agencies' parameters and guidelines for developing these cannabinoid-based drugs.
In fact, research applications are reviewed by the DEA before the National Institute on Drug Abuse, or NIDA (within the National Institute of Health), supplies them with "research-grade marijuana." Long story short, Jeff Sessions won't be stopping these pharma companies' drug development operations.
Cannabinoid Pharma and Biotech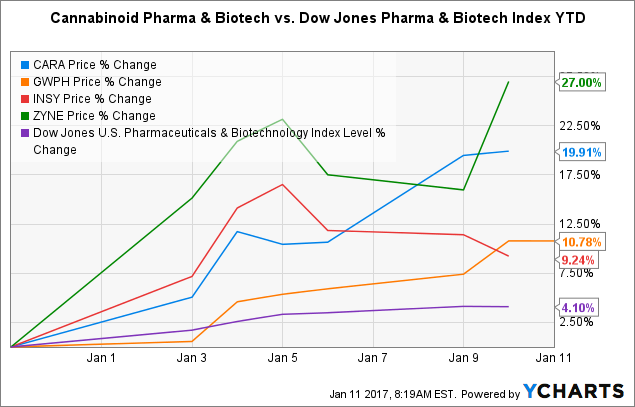 As seen in the chart above, cannabinoid pharma and biotech companies are ripping this year. With Zynerba Pharmaceuticals (NASDAQ:ZYNE) leading the pack up 27% YTD, they are all beating both the Nasdaq Biotech Index as well as the Dow Jones Pharma & Biotech Index compared above.
Also beating the benchmarks are cannabinoid pharma companies such as Cara Therapeutics (NASDAQ:CARA), GW Pharmaceuticals (NASDAQ:GWPH) and by a small margin Insys Therapeutics (NASDAQ:INSY).
Given the tone of Jeff Sessions confirmation yesterday regarding questions about his marijuana plans, cannabinoid pharma may be a less-risky way of investing in the growing industry surrounding the therapeutic and medicinal properties of the plant.
Conclusion
As we go further into 2017, we will be watching these cannabinoid pharma companies closely. Be sure to check out our similar article on synthetic cannabinoid pharma companies. To stay up to date on articles from The Daily Marijuana Observer, be sure to follow us below.
Disclosure: I/we have no positions in any stocks mentioned, and no plans to initiate any positions within the next 72 hours.
I wrote this article myself, and it expresses my own opinions. I am not receiving compensation for it (other than from Seeking Alpha). I have no business relationship with any company whose stock is mentioned in this article.