So good to hear your voice again
Terraform Global (GLBL) finally announced results for 2015 as well as 1Q 2016 Monday January, 9. Given the fact that is now 1Q 2017 there was some obvious awkwardness on the call as GLBL management had to act like it was one year ago. Management did a good job of playing the part and gave away few details of recent events or anything beyond 1Q 2016 - I was surprised they didn't go as far as mentioning their thoughts on Trump's electability. The call itself was fairly brief though, especially given the rumors of a sale and lack of clarity on SunEdison's (SUNE) full impact.
Most importantly however the call brought good news - much as longtime investors in GLBL have suspected GLBL has continued humming along un-phased by its parent's misfortunes. Management remarked that the fleet remained strong and unimpaired (despite a few more public setbacks which GLBL recovered from nicely) and the management team remained intact. GLBL has done a good job setting themselves up to become a fully independent corporation adding additional board members who are notably independent and not just SunEdison cronies. While not a major point I was comforted in the remarkably low turnover that GLBL has had. In a highly commoditized sub-industry like yieldcos turnover can indicate insider's opinions of a company as good as any other indicator. Big name departures at GLBL have been few and far between.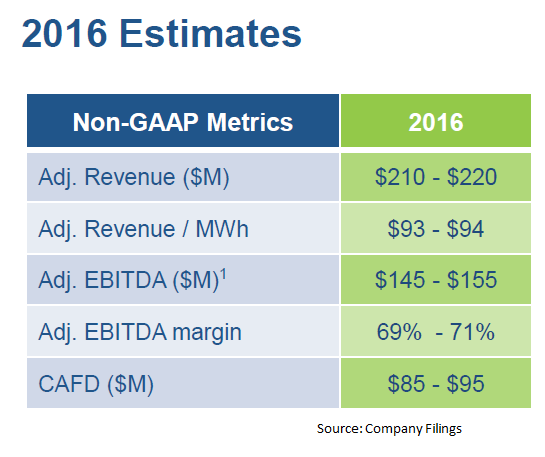 GLBL is a cash and dividend machine. After analyzing numerous clean energy companies, and particularly solar, it's refreshing to see a company performing so strongly. Deterioration of margins in the industry has gone from a question of yes or no to how much this quarter? GLBL's 77% EBITDA margin during 2015 is phenomenal, and its 73% (Non-GAAP) CAFD margin should qualify it for most people's portfolio alone.
GLBL has suffered through the largest impacts of Sun Edison's bankruptcy and won't be weighed down by the failed corporation anymore. The $8M increase in G&A after the loss of SunEdison's support is a worthwhile trade for the $41M decrease in interest support and newly gained independent decision making abilities of GLBL's world class management team.
"No one can doubt the long term potential of these [emerging] markets"
This was the quote from GLBL's CEO on the call and a statement most investors would agree with. GLBL has a diversified and broad exposure to some of the hottest markets for clean energy right now, namely India and China who have both made recent public commitments towards clean energy and have made substantial investments to make them a reality. India alone has a plan for 135 GW of utility-scale power by 2022 something which GLBL will undoubtedly be a player in.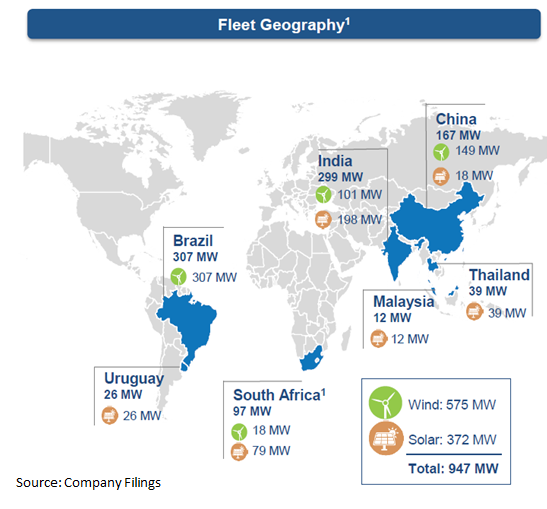 At its core GLBL is a long term play, but for those who don't follow this stock GLBL is one of the hotter acquisition targets in the clean energy space right now. While management would not comment on the status of the strategic advisory process they did name three advisors they currently have on staff. Greentech Capital, a powerhouse boutique advisory in the space, is likely leading the sale and I have strong confidence in their sale process. These assets are generating extremely strong cash flows, have a distressed parent, and a strong international foothold. They will practically market themselves to a financial sponsor with an international presence and news of a sale would not be surprising at any point. Lack of significant ownership at the management level as well as the tumultuous past 12 months for this company make me believe a sale will be welcomed if the price is right.
Estimates
Despite a lack of guidance on GLBL's long awaited dividend there is substantial reason to be optimistic. GLBL's cash hoard which now totals $780M and 2016 CAFD estimate of $90M should make ample case for dividend issuance. While management stated they will wait until after the company's strategic advisory process to make a decision on deploying the cash - this cash is not going to stay in the business and will make its way to investors eventually.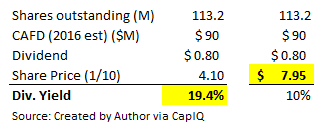 Running the numbers based off 2016 estimates the dividend yield numbers are wild, and something has to give. If GLBL hits its 2016 estimate and continues trading in the low $4s the dividend yield will exceed 19%. A more likely scenario is a massive appreciation of the stock in the run up to dividend announcement which would bring the yield to a more reasonable amount. Assuming the company continues to perform well and hits 2016 estimates a 10% yield would mean the share price roughly doubles.
Conclusion
GLBL is one of few stars in the clean tech industry these days. There are a number of different scenarios which show tremendous upside for the company, and the downside cases are becoming less likely each day.
Disclosure: I/we have no positions in any stocks mentioned, and no plans to initiate any positions within the next 72 hours.
I wrote this article myself, and it expresses my own opinions. I am not receiving compensation for it (other than from Seeking Alpha). I have no business relationship with any company whose stock is mentioned in this article.
Additional disclosure: GLBL should be the primary ticker