Natural gas (NYSEARCA:UNG) has been a rollercoaster ride for bulls and bears the past two months, but the bears got the upper hand to start the year. Natural gas bulls that chased it into year-end have been taken out and shot, but bullish sentiment has surprisingly barely budged. While natural gas is trending higher above its 200-day moving average, the sentiment trend has begun to roll over. This is not a high probability setup and for this reason I've exited my longs.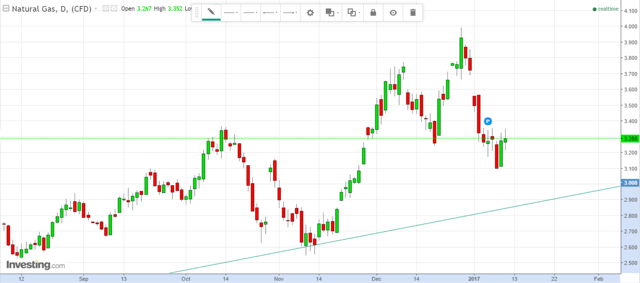 (Source: Investing.com)
For the past two months I've been extremely bullish on natural gas and saw no reason to abandon the commodity. I gave a price target of $4.10 for natural gas in late November and the commodity came just 2.5% short of my target. Due to the parabolic move up in the commodity, I was trimming on my way up to re-balance my position. I made my first sell at $3.57, my second at $3.87 and finally closed the remainder of my position this week at $3.12. The below chart shows a road map of my natural gas trade, which came to an end this week.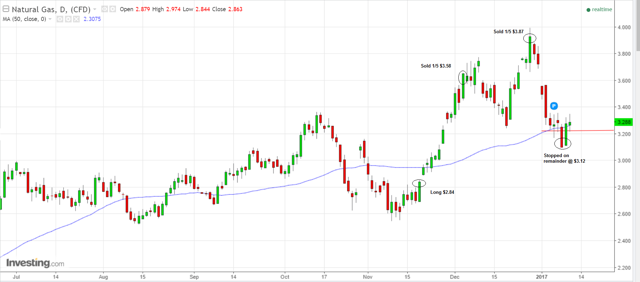 (Source: Investing.com)
My exit price on natural gas was a little frustrating, as the price exploded higher by 7% within 12 hours. Unfortunately, when a stop is hit it's time to get out. I have no interest in sticking it out waiting for a reversal, as often the market will continue dropping. Some may say that I had a poor exit and bailed at the "lows" for natural gas, I would completely disagree. A poor exit for me is breaking my rules and not adhering to my system, even if I made more money. The idea behind stops is that you adhere to them at all costs, and never override your trading system. Here is an example of one of my trades from earlier this year and what can happen by not getting out when a stop is hit: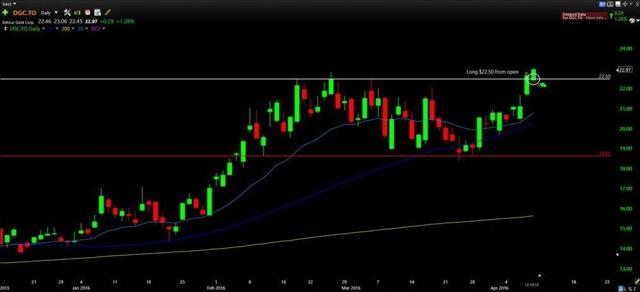 (Source: TC2000.com)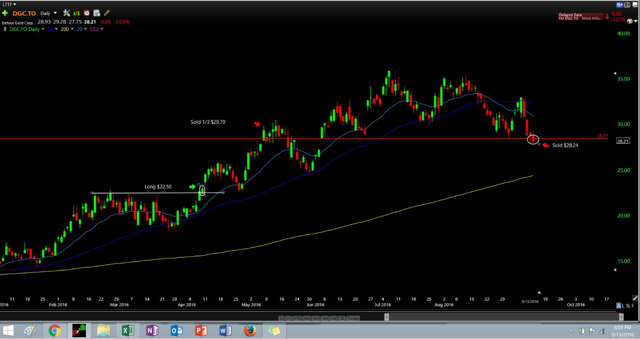 (Source: TC2000.com)
As can see from the above charts, I went long Detour Gold (OTCPK:DRGDF) at $22.50 on the Canadian market in early 2016. The stock quickly rose to $30.00 and I was unable to move my stop up yet at the time. Therefore, I sold 1/3 of my position at $29.70 to re-balance my open risk and held the rest with my initial stop. In early September, the stock finally broke down to new 3-month lows and I exited the remainder of my position at $28.24. This netted me a 25% gain on the trade and was in line with my average winner for equities. Within a week of my exit the stock was trading 9% higher above $30.00, and I was accused of selling the lows. I do not get emotionally attached by getting out at the lows, and this did not bother me in the slightest. Fast forward 6 months and Detour Gold is well below my entry level and has dropped 40% from my exit.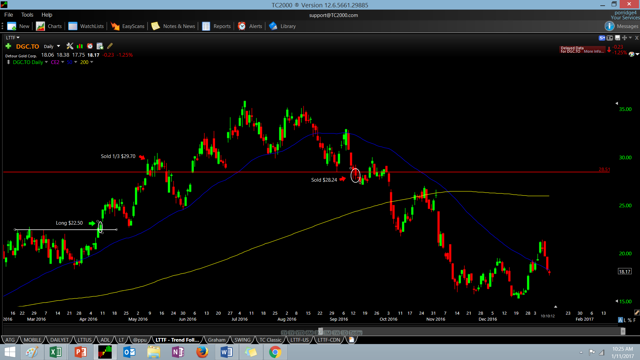 (Source: TC2000.com)
This is a simple exercise in why I believe stops to be the most important tool in trading. If you are not willing to get out when the story changes, then you can incur significant losses as the market turns against you. The point of this exercise is that I don't see a 'good' exit as one that got me the best price, I see a good exit as the one that followed my rules.
Ok, apologies for the 'detour,' back to natural gas.
Bullish sentiment on natural gas has barely budged despite the plunge in prices, and is a little concerning to me. I prefer to see bulls capitulate and throw in the towel on moves like this. The fact that they're not tells me they're feeling a little invincible. As we can see from the below chart, natural gas sentiment has dropped from a peak of 81% on December 28th, to 61% currently. This means that for every 1% drop in the price of natural gas, sentiment has also dropped just 1%. Based on my experience with the Daily Sentiment Index, typically a move of 1% in a commodity is equal to an erosion of 3% bulls.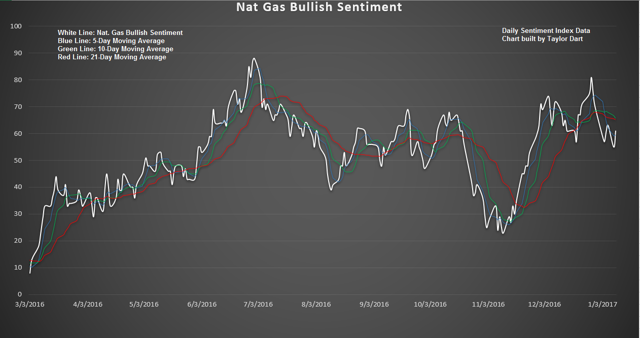 (Source: Daily Sentiment Index, Author's Chart)
You may be wondering why I was bullish at 60% bulls a month ago, but am now very cautious about the exact same reading? I place the most emphasis on the trend of sentiment and not the reading itself. We were at 61% bulls on November 29th and I was as bullish as I've been all year on natural gas, but the big difference was sentiment was trending higher above its moving averages. Right now we have a 61% reading and sentiment is stuck beneath its moving averages. The 21-day moving average (red line) has rolled over and has turned negative, and the 10-day moving average has also assumed a declining slope. This does not mean I am bearish on natural gas here, but this is in no way a high probability trade. My high probability trades from my Sentiment Trend system come from breakouts above all of the moving averages, after price has come off a reading of 25% bulls or less. The most recent powerful buy signal was in early November, which prompted my new long position in natural gas. Currently, we have a Sentiment Trend chart that is in limbo, which gives me a low probability setup and no real direction.
Enough about sentiment, you're probably getting tired of hearing the word repeated. Let's move onto the technicals...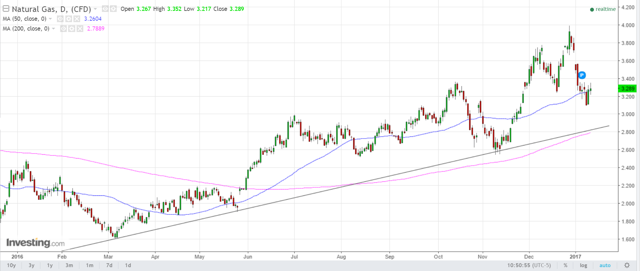 (Source: Investing.com)
Taking a look at a daily chart of natural gas, the bull market is still completely intact. The uptrend line from earlier this year comes in at the $2.85 level and the 200-day moving average continues to trend higher just below it. Natural gas is also back above its 50-day moving average as of this morning's open and is also flirting with support at $3.26. The 50-day moving average crossing over the 200-day moving average gave a strong buy signal of June 14th last year and thus far they are still in bullish alignment. Unfortunately, there is no trade for me here.
Typically, I would consider taking a look at a market like this for an oversold bounce, but the deteriorating sentiment data is deterring me. I do not like taking signals against the trend of my Sentiment Trend system and right now sentiment is not confirming what price is showing me. I would have preferred to have seen bulls come down near the 30% level and I could potentially play a new cross-over above the moving averages.
So what would it take for me to get long natural gas here?
The only way that I would get interested in natural gas to the long side here is if sentiment eroded back below 30%, and price came down near the 200-day moving average and trend line. This would set up a low risk trade against strong support and likely give me a sentiment buy signal from a deeply pessimistic zone. I am not predicting this will happen, I am simply stating what would give me a high probability trade setup.
Does this mean natural gas can't go higher from here and re-test $4.00? No. It simply means I won't be participating in that trade. I only take trades when I have the largest edge in my favor and right now I see only a slight edge to the long side at best. The technicals on natural gas look like they could support a bounce, but sentiment is saying we could be rolling over.
I applaud the bears who hung on despite their drawdown for shorting too early as they've finally been vindicated. I personally hate trading against momentum and the dominant trend, but they've certainly earned their payday by holding out through what was a violent uptrend. I will update readers if I take a new long position natural gas in the coming weeks, but as of right now it looks like I would need a sell-off before $2.90 to entertain the possibility of a new long entry.
Disclosure: I/we have no positions in any stocks mentioned, but may initiate a long position in UNG over the next 72 hours.
I wrote this article myself, and it expresses my own opinions. I am not receiving compensation for it (other than from Seeking Alpha). I have no business relationship with any company whose stock is mentioned in this article.
Additional disclosure: If you liked this article and found it useful, please feel free to follow me by clicking on my name next to my avatar at the top of this article. I also invite you to follow me at www.twitter.com/TaylorDart01 where I routinely share my entries, exits, and stops on new positions, as well as updating followers on sentiment data on markets I am following.