According to AJ Dellinger of International Business Times, "now may be a good time to ditch your shares of Apple (NASDAQ:AAPL)." The rationale for this argument was that several fund managers were going underweight Apple's stock heading into the new year, and investors should do the same. I could not disagree more with this philosophy and would be more inclined to do the opposite of what the author recommended. When fund managers are less optimistic and trimming a stock that is breaking out on its weekly chart, I would rather be accumulating. Apple closed at a new 52-week high today, and there is absolutely nothing bearish about its technicals. The stock is still in buy-mode based on the 40-week moving average strategy I've outlined in past articles, and looks primed to reach my $140.00 target at some point this year.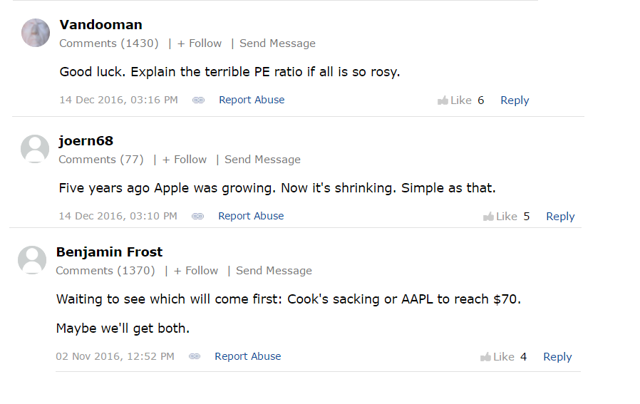 Apple was a fan favorite for years among investors, but the stock's sluggish performance since 2012 has created a sleuth of bears who were skeptical of the stock. My last article was met with predominantly bullish comments, but several bears didn't hesitate to poke their head out and share their views. While many are focused on the fundamentals of Apple which are under scrutiny by thousands of people daily, I prefer to rely on the technicals. I have been trading Apple the past eight years using a 40-week moving average system, and it has significantly outperformed a buy and hold approach over the past 20 years.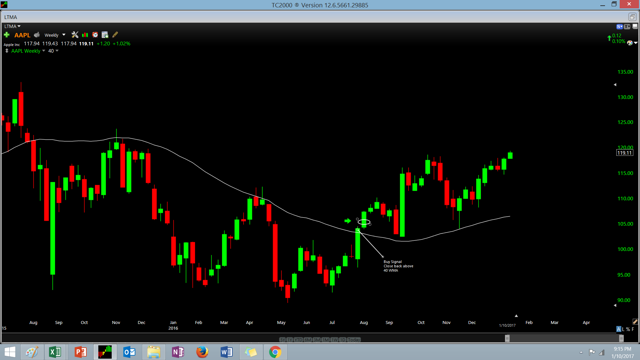 (Source: TC2000.com)
The system is very simple and requires less than five minutes of work each week. I do not need to watch Apple's share price during the day, and I could care less where the stock closes between Monday and Thursday. All that matters to me is the Friday closing price. The goal of the system is to be long only when Apple has momentum behind its back. To avoid whipsaws and intraday trading noise, I find a weekly chart does the best job of filtering out short term fluctuations in the share price.
So how does the system work?
Entries: The system waits for AAPL to make a weekly close back above its 40-week moving average, and then goes long on the opening of the next week.
Exits: The system exits long positions if Apple makes a weekly close below its 40-week moving average.
The below chart illustrates what this system looks like over the past few years trading Apple: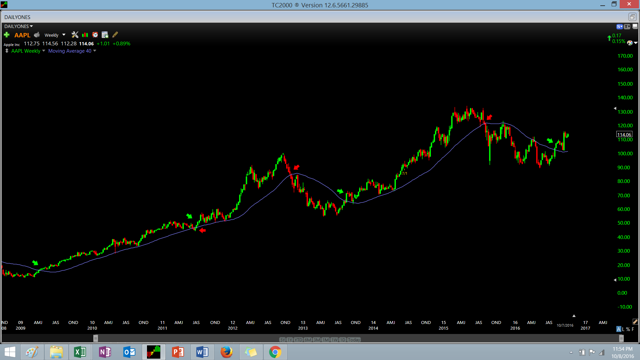 (Source: TC2000.com)
The green arrows in the above chart are entries to long positions, and the red arrows on the chart show the exits. As you can see from the chart, Apple's relationship with its 40-week moving average gives clues to future performance. If Apple is above its 40-week moving average, you will likely do very well long the stock. If Apple is below its 40-week moving average, it would make most sense to sit in cash until it regains this level.
How do I know the system has outperformed a simple buy & hold approach over the past 20 years? The results are as follows:

(Source: Author's Table)
As we can see from the above table, this system has required very little work, but has outperformed a buy and hold approach by a wide margin. The system has had 16 closed trades in the past 18 years, which is equivalent to less than 1 trade per year. In terms of outperformance, there is a drastic difference. An investor that bought Apple with a starting account of $10,000 would have an investment worth just over $1.8 million if he was still holding today. Conversely, an investor who traded Apple using the above system would have a significantly higher return from inception, with an account worth $3.19 million (3,190% return vs 1,800% return).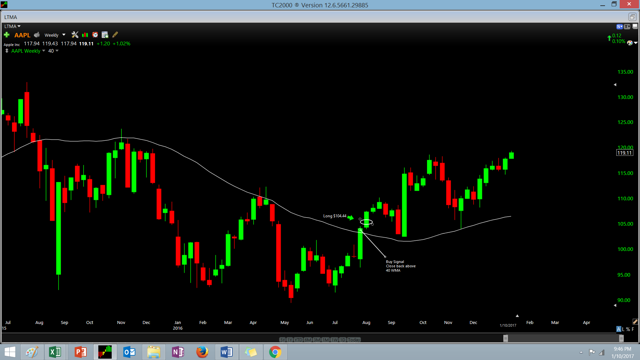 (Source: TC2000.com)
So how am I positioning myself?
The most recent signal for Apple came on July 29th of last year, when the stock closed back above its 40-week moving average. This triggered a new long entry on the first day of the next trading week, and I went long Apple at $104.44 on August 1st. Thus far, I am up over 14% on my trade, and my stop currently sits below $106.54 on a weekly close.
Taking a look at the technicals for Apple, the bears really have no business betting against the stock here. Apple has broken out of a weekly downtrend, and has been making higher highs and higher lows for the past nine months. I posted the below chart in my most recent article for Apple with the following excerpt:
As we can see in the above chart, the bear market for Apple is clearly over. The stock has had a weekly uptrend in place since May and is currently forming a base above its previous resistance at $110.00. While Apple has not seen significant price appreciation yet, this does not invalidate the fact that it's begun a new uptrend. Often new bull markets spend a while shaking out all of the weak hands before they eventually take off. I believe we should see a higher high early next year, and expect we will finally see a $120 handle back on Apple.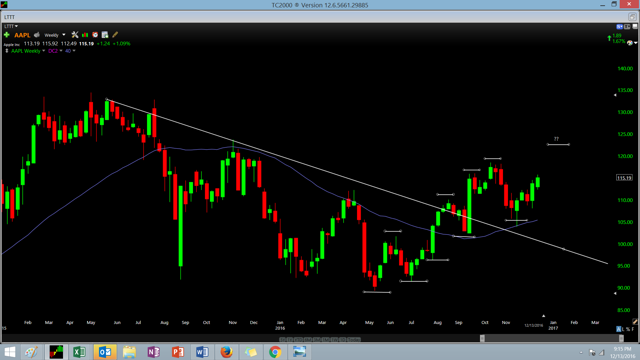 (Source: TC2000.com)
Thus far, my analysis has been correct, as the stock has made yet another higher high near the $120.00 level. Based on the average winning trade for this system, Apple would move to over $200.00 a share before the next exit is triggered. I am not this optimistic on the stock, but I am standing by my $140.00 price target for 2017. The only way I would change my thesis on Apple is if the stock closes below $106.54 on a weekly basis. We can see in the below chart that Apple's 40-week moving average is beginning slope upwards, which is typically a good sign for a stock. Ideally bulls want to see Apple continue to base above $115.00/share, so the 40-week moving average can assume a slightly more positive slope going into the second quarter.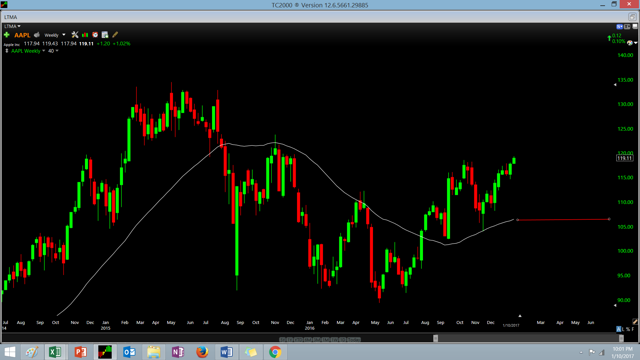 (Source: TC2000.com)
Apple broke out to a new 52-week high today and is now above its minor resistance from its October highs. This is a very positive development for the stock, as it's recorded a new Turtle buy signal as of today. If Apple sees any corrections going forward, I expect the uptrend line to provide support. The uptrend line currently comes in at $110, and this would allow the stock to make a slightly higher low above its December lows. Personally, the next 5-10% move on Apple to be to the upside as momentum is now at its back on a daily and weekly basis.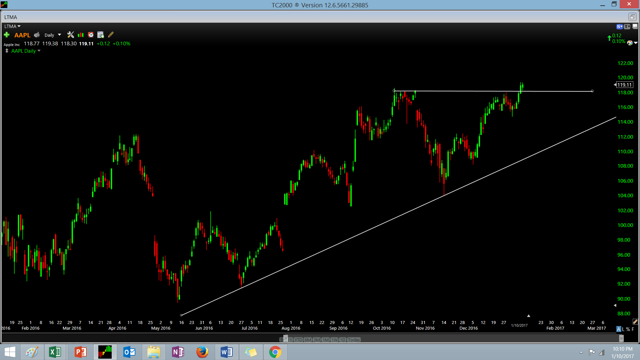 (Source: TC2000.com)
Apple remains one of my favorite stocks going into 2017 and is fairly priced compared to historical valuations. Its P/E ratio (TTM) of 14.37 is well below its five-year average, and it currently pays a very respectable yield for a tech company. While those looking for high-growth stocks may see better options elsewhere, the stock is certainly attractive from a value point of view. I see zero reason to doubt the stock going forward, and believe the base it has built over the past year could be a launch pad for the current breakout. The bear market in Apple ended in 2016, and the bears would be better served to go into hibernation while they still can.
Disclosure: I am/we are long AAPL. I wrote this article myself, and it expresses my own opinions. I am not receiving compensation for it (other than from Seeking Alpha). I have no business relationship with any company whose stock is mentioned in this article.
Additional disclosure: If you liked this article and found it useful, please feel free to follow me by clicking on my name next to my avatar at the top of this article. I also invite you to follow me at www.twitter.com/TaylorDart01 where I routinely share my entries, exits, and stops on new positions, as well as updating followers on sentiment data on markets I am following.