In the previous article of this series, I talked about Celgene's (NASDAQ:CELG) financial guidance for full year 2016 and why it is relatively safe from pricing pressures. I also discussed the company's leading drug, Revlimid and the various factors that can boost the drug's demand in 2017. This article continues to talk about Revlimid, albeit in a slightly different context. While the first article was focused on Revlimid's exploits in the U.S. market and core indication, multiple myeloma, this article expands its horizons to analyze Revlimid's growth in international markets and in other indications.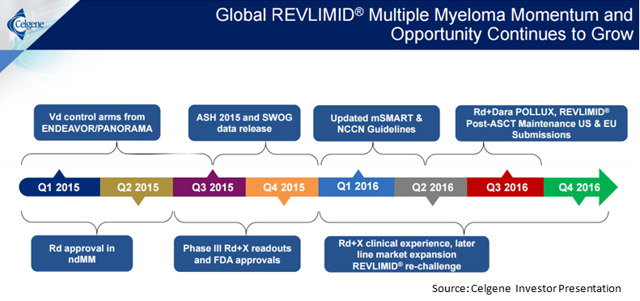 The above diagram shows timeline for Revlimid as it continues to achieve several milestones in multiple myeloma segment. The clinical success of the drug has translated into multiple trends conducive for the commercial growth of Celgene.
Revlimid duration of therapy is expected to witness healthy rise in European markets.
The average duration of therapy with Revlimid in USA for NDMM patients is 18 months. The triplet combinations comprising of Revlimid and approved in USA have demonstrated progression-free survival in the range of 20 to 28 months. So as patients do not use Revlimid only once but also use it in combinations, the average duration of therapy has been pushed to 24 months.
In clinical trials, the combination therapy of Revlimid and Johnson & Johnson's (NYSE:JNJ) daratumumab has demonstrated progression-free survival in the range of 40 to 50 months. So if this combination is approved by U.S. Food and Drug Administration or FDA, it will definitely have a positive impact on Revlimid's duration of therapy.
Currently, in Europe, the average duration of therapy with Revlimid in multiple myeloma patients is only 13 to 14 months. As the drug was launched for NDMM patients in U.S. one full year ago i.e. in 2015, this difference in overall adoption is pretty normal. But this shows that there is a long way to go in Europe, in terms of average duration of therapy. While pricing controls in the European markets are more stringent than those in USA, the solid boost in demand may help in promoting overall sales of the drug.
Celgene projects robust adoption trends for Revlimid maintenance therapy in newly diagnosed multiple myeloma patients in European markets.
In 2017, Celgene expects to obtain regulatory approval for Revlimid as maintenance therapy for newly diagnosed multiple myeloma or NDMM patients, both in USA and European Union. The company, however, has high hopes about Revlimid becoming a maintenance therapy for NDMM post-transplant patient population in Europe. This is attributed to the already present awareness among European investigators related to transplantation maintenance. The roadblock to the adoption of Revlimid as maintenance therapy has been reimbursement. Hence, Celgene believes that the European market will be more receptive to Revlimid maintenance therapy.
In the U.S., usage trends are generally driven by data. So, while Celgene is confident of the commercial success of Revlimid maintenance therapy, it expects gradual pickup in demand after receiving regulatory approval in the market.
Lymphoma is expected to become the next big opportunity for Revlimid by year 2020
On July 25, 2016, Celgene presented positive interim results from Phase 3 trial, REMARC, which evaluated Revlimid as a maintenance therapy for elderly patients suffering with diffuse large B-cell lymphoma (or DLBCL) who had responded to first-line induction therapy of rituximab plus CHOP chemotherapy or R-CHOP.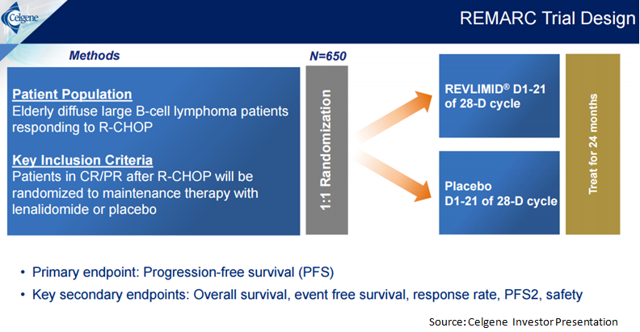 The above diagram shows design of the REMARC trial. The study managed to reach its primary endpoint of progression-free survival and reported hazard ratio of 0.7. This implies 30% reduction in risk of disease progression or death with Revlimid maintenance therapy as compared to placebo.
REMARC trial, however, failed to demonstrate statistically significant improvement in overall survival, which was the secondary endpoint in the study. However, it may be too early to comment on overall survival based on data from this trial.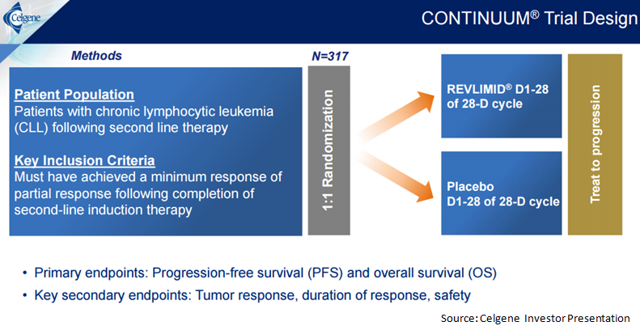 Then there is CONTINUUM trial, which is evaluating Revlimid as maintenance therapy for chronic lymphocytic leukemia or CLL patients after second line therapy.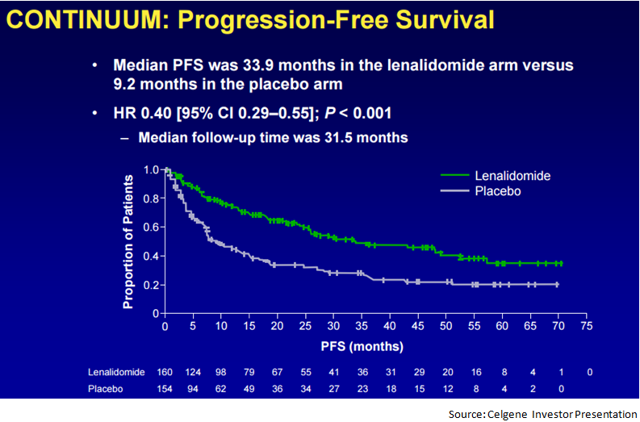 Both progression free survival and hazard ratio for Revlimid as compared to placebo paint a pretty picture for the drug. Again, it is too early to comment on overall survival numbers from this trial.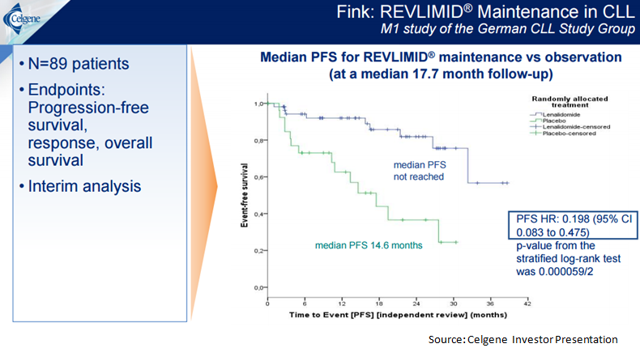 The German CLL study group selected a high risk portion of the CLL population in CONTINUUM trial, characterized by positive minimum residual disease or MRD prior to Revlimid maintenance therapy. It was seen that hazard ratio of 0.2 or 80% reduction in disease progression or death probability was achieved by Revlimid maintenance therapy as compared to placebo.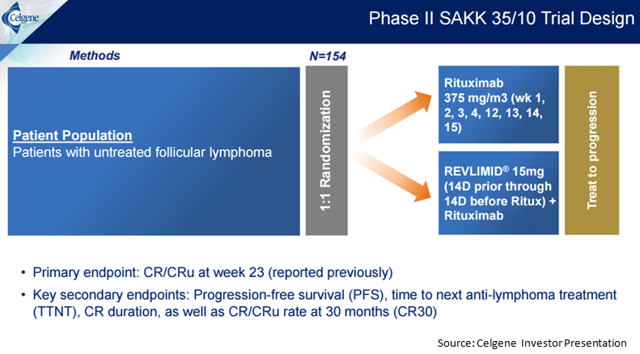 Phase 2 SAKK 35/10 trial evaluated efficacy of Revlimid and Rituxan therapy over Rituxan monotherapy in patients with untreated follicular lymphoma.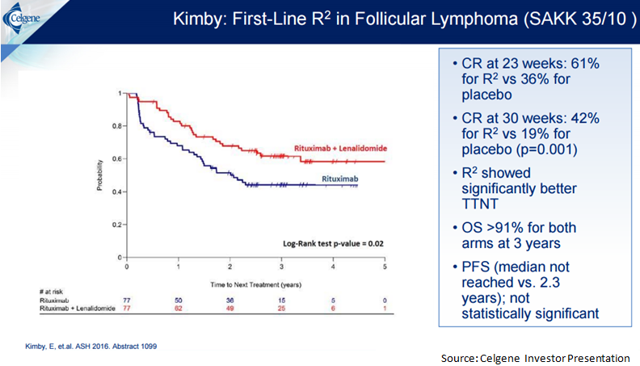 As the above diagram shows, Rituxan and Revlimid combination therapy has shown promising results over Rituxan monotherapy.
Interim data from Phase 3 trial, MAGNIFY, has also demonstrated efficacy and safety of Rituxan and Revlimid therapy in patients suffering with advanced stage relapsed/refractory mantle cell lymphoma, marginal zone lymphoma, and follicular cell lymphoma.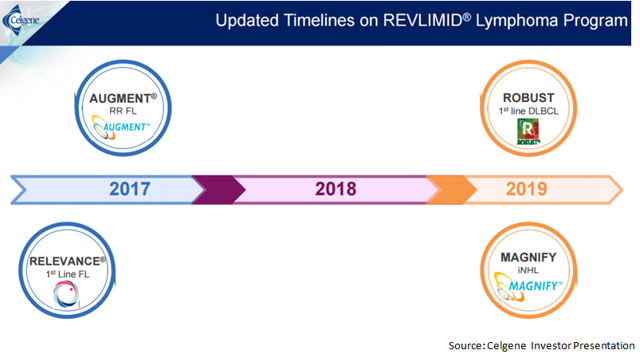 Data from other Phase 3 trials, AUGMENT testing Revlimid in relapsed/refractory follicular lymphoma patients and RELEVANCE evaluating Revlimid in first line follicular lymphoma patients is expected in 2017. Hence, it can be seen that Revlimid is well on track to expand its label in lymphoma segment.
But does that mean that there is nothing more to Celgene's multiple myeloma story?
Well, of course not. There is still Pomalyst left. Launched as the third-line multiple myeloma drug, Pomalyst has always been kind of over-shadowed by the stronger Revlimid. But there are many interesting tales to tell even for Pomalyst. I will analyze Pomalyst and its growth drivers in the next article of this series.
Disclosure: I/we have no positions in any stocks mentioned, and no plans to initiate any positions within the next 72 hours.
I wrote this article myself, and it expresses my own opinions. I am not receiving compensation for it (other than from Seeking Alpha). I have no business relationship with any company whose stock is mentioned in this article.