Introduction
This article is my 42nd installment in a segment called "Buy on the Drop?" in which I choose a stock that recently experienced a large decrease in price and give a recommendation on whether investors should "Buy on the Drop" or not. The recommendations are Sell, Hold, Speculative Buy, Buy and Strong Buy. This is a recurring segment, so if you enjoy the article, "Follow" me to see more. You can read about my previous installment discussing Advanced Micro Devices (NASDAQ:AMD) here.
Acacia Communications (NASDAQ:ACIA) has been in free fall since reaching post-IPO highs September, and the current price looks to be as good an entry as any for long-term investors. Those looking for short-term gains may want to take a wait-and-see approach until the stock can find some kind of floor underneath it. Let's dive in shall we?
Stock != Company
I'm fairly confident that most readers already know the recent history of ACIA's stock movements so I'll give a brief summary before moving on.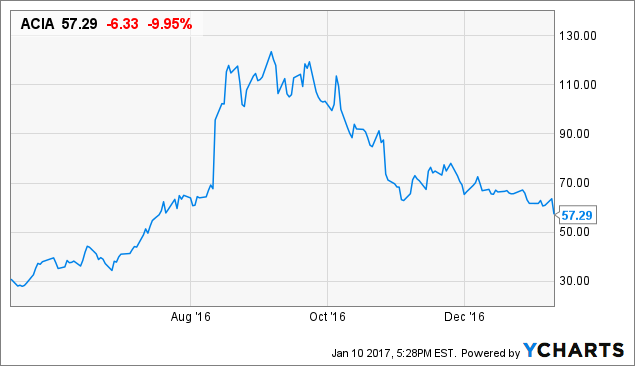 After Acacia's IPO in May at $23 per share, the stock has been on an absolutely wild ride, comparable to that of Ambarella (NASDAQ:AMBA) back in 2015. The price has fluctuated from $23 to a high of $129 (!) in September and now back down to the $50 range. With all this volatility, one might wonder how the underlying company has been performing during this time!
Here is where it is important, as it always is, to make the distinction between stock and company. A stock can plummet when the underlying company makes a ton of money and it can soar when it loses a ton of money. All that matters in the short-term is expectations. When a stock goes from $23 to $120 in a few months, that's usually an indication that expectations are running really, really, really high. In most of these situations, buying when expectations are high is a sure-fire recipe for losing money. One notable exception I've seen recently is Nvidia (NASDAQ:NVDA), but it doesn't happen very often.
The lofty expectations had been fueled by Acacia's strong operating results, mainly due to the current optical component revamp cycle. 100 Gbps is becoming the new norm and anyone who's anyone is upgrading legacy 10G and 40G technology into the new age. Optical component makers are reaping the benefits of this shift, as shown by Acacia's top line results since the IPO:
It's a small sample size, sure, but the current growth is evident. Yet despite revenue of $135 million in Q3, an increase of more than 100% year-over-year ("YoY"), and revenue and EPS estimates for Q4 above consensus estimates, ACIA has fallen 20% since reporting Q3 results on November 10th.
This is where the expectations come into play. When a stock is flying high, investors aren't looking for a single, a double, a triple, or even a home run. Only one thing will push the stock higher: a grand slam. If results beat estimates, the stock falls. If results crush estimates, the stock falls. The only way the stock goes higher is if the company absolutely annihilates and obliterates estimates and expectations. I'm exaggerating and generalizing of course, but I trust I got my point across.
I saw a very similar situation with Fabrinet (NYSE:FN), another optical component manufacturer, before its quarterly report in August 2016. The stock was running higher before earnings and I advised investors to either buy downside protection, slim down positions and buy the drop, or at the very least temper expectations. That article can be found here. As it turned out, Fabrinet handily beat consensus estimates and guided above both analyst and company expectations, yet the stock fell. The situation with Acacia is more pronounced, but the setup and outcome are very similar.
The takeaway here? Buy low, sell high! Sounds easy enough. The hard part is knowing whether the current price is "low" or "high". The lines between these two get progressively more blurred as the investing horizon widens, or in other words, the longer you plan on investing, the less it matters when you buy the stock. How one views ACIA's current situation depends almost entirely, in my opinion, on one's investment horizon. For short-term investors, ACIA is in a precarious situation because momentum is dragging shares down as investors who wanted to get rich quick are shaken out, and because the stock doesn't have much of a foundation to stand on: where is the floor? For long-term investors, the stock is less dangerous but still not without risks.
What ACIA's future in the short and mid-term boils down to is the 100G overhaul and how long it will last (and be profitable). The so-called "super cycle" in the optical component market that is boosting stocks in the sector seems like it will last for at least another couple of years. Beyond that, as I've written previously, we are nowhere near the theoretical limit for optical communication speeds so continual upgrades and revamps are imminent. How will Acacia fare beyond the super cycle? That is certainly a worthwhile question to explore. Perhaps I will discuss it in a future article.
For now, Acacia's growing revenue and relatively solid profit margins, evidence of its share of the super cycle, appear sustainable for the foreseeable future. Using Acacia's EPS for Q2 and Q3, and the midpoint of Q4 estimated EPS, this yields $2.67 per share. Coming up with an estimate for Q1 is difficult considering Acacia was not public then, but if we assume a conservative quarterly EPS figure of $0.60, we get a 2016 forward P/E ratio of 17, which is in-line with other optical component makers. However, Acacia's superior revenue growth would seem to justify that ratio.
If this growth can be maintained, as I believe it can, then current prices levels seem to be a favorable entry point for ACIA. Of course there are risks to be aware of as well. The stock is in a bit of a freefall right now and has no solid floor investors can count on to stop the drop, the company is in a competitive market with thin margins which could rapidly get thinner, Acacia still has work to do to diversify its revenue sources, and there are no guarantees when it comes to the super cycle and its duration. Investors should weigh these risks with the benefits of an investment in ACIA before opening a position. It is my opinion that the current upside potential outweighs the potential risk at the current price, but I will wait until there is a more solid floor underneath the stock before making an investment.
With that said, looking from a long-term perspective the stock has significant growth potential, and so from that perspective, I rate Acacia Communications a Buy on the drop.
Best of luck!
If you want to stay up-to-date on my articles, you can "Follow" me by clicking "Follow" at the top of this page or by going to my author page.
Thanks for reading!
Disclosure: I/we have no positions in any stocks mentioned, and no plans to initiate any positions within the next 72 hours.
I wrote this article myself, and it expresses my own opinions. I am not receiving compensation for it (other than from Seeking Alpha). I have no business relationship with any company whose stock is mentioned in this article.