Back on September 28th of 2016, I wrote my first article on Sequans (NYSE:SQNS), titled Sequans: 10 Reasons To Invest In This Internet Of Things Company. Unless you are already familiar with Sequans or LTE Cat 1\Cat M1, I would suggest you read the above mentioned article before proceeding.
Since the initial article I have been following the company very closely and continue to be impressed with the strong flow of positive indicators surrounding the company, partnerships, market position, investor sentiment, customers and products.
On the date of my first article, the stock closed at $1.65/share. At market close on Friday, Jan. 6th, the stock was at $2.13/share. Although the stock has appreciated 30% over the past 3 months, I believe it still remains undervalued when considering all the positives surrounding the company.
Without further ado here are 10 more reasons to add Sequans to your portfolio.
1) LTE Cat 1 and Cat M1 Networks Have Launched
Verizon (NYSE:VZ) lived up to its promise to make Cat M1 commercially available by the end of 2016. Verizon declined to specify the markets in which it initially became available, but the rollout will continue nationwide throughout 2017. AT&T (NYSE:T) is pursuing a similar timeline and both companies see this as a new frontier for additional revenue now that the US cellular market is saturated. This finally establishes a viable and ultimately huge market for Cat 1 and Cat M1 devices and Sequans is incredibly well positioned to benefit from it.
2) First to Market
Sequans Calliope was the first single mode Cat 1 chipset to become platform certified by Verizon. Sequans have done it again with its Monarch Cat M1 chip which became the first LTE Cat M1 chip to be certified on the Verizon network. On the same day, Gemalto announced the availability of the world's first commercial LTE Cat M1 module, the EMS31, which uses the Sequans Monarch chip. It is a huge achievement for Sequans, with 2016 annual revenues under $50 million and only 200 employees, to beat a market giant like Qualcomm (NASDAQ:QCOM) to such a major milestone.
3) Best Technology
The Sequans Monarch chip is the first in the world to integrate baseband, RF transceiver, RAM and power management onto a single chip. The result is a tiny FC-CSP package that measures only 8.5mm x 6.5mm. This single chip solution should give Sequans a pricing advantage over its multichip competitors. In addition, the Sequans Monarch chip incorporates a programmable RF front end that allows the device developer to enable only those LTE bands needed for a given country\network. The result is that Sequans can ship a single Monarch SKU worldwide.
4) Module Maker Support
Most device manufacturers utilize modules in their design because it provides a standard footprint/connector and allows device manufacturers to upgrade their devices without having to redesign a circuit board. A 2G module could be replaced by a 3G module, a GSM module could be replaced by a CDMA module. Thus, it is vitally important for chip makers to have the support of module makers if they wish to address the broadest possible market. To date, Sequans has announced agreements with 3 module makers, including SimCom which was the world's largest shipper of M2M modules in 2015.
Device makers that are very conscious of physical size are likely to use the Monarch chip in its native FC-CSP package which has only 10%-20% of the surface area of a full blown module.
*It is interesting to note that SimCom is one of the companies that Qualcomm included in its big Oct. 17th, 2016 announcement regarding the MDM9206, but that SimCom subsequently decided to partner with Sequans on a Monarch module that will compete directly with the MDM9206.
5) Sequans is Closing Deals
Those following Sequans will have seen a steady stream of announcements of design wins and new customers over the past two months. With the recent certification of the Monarch chip by Verizon, some of these devices have become commercially available.
These represent incremental revenue that will increase quarter over quarter throughout 2017.
6) Analyst Coverage and Price Targets
The Sequans investor website lists 4 analysts covering the company. All of these analysts have attended the last two quarterly conference calls and display a committed interest in the company.
| | | | |
| --- | --- | --- | --- |
| Analyst | Rating | $ Target | Issue Date |
| | Buy | $3.00 | 10/28/16 |
| | Buy | $4.00 | 10/27/16 |
| | Buy | $3.00 | 10/27/16 |
| | Buy | $4.00 | 10/27/16 |
The average price target for this group of analysts is $3.50 which represents a 67% increase over its present price around $2.10.
I treat all analyst recommendations with initial skepticism and it pays to look more closely at the track record of the analyst in question. Luckily this is easy to do using Tipranks.com as shown in the table below.

As you can see, 3 of the 4 analysts have an excellent track record and are in the top 1% among ranked analysts and experts alike. These are people worthy of the title "Analyst" and their recommendations should be considered very credible.
7) Data Pricing is No Barrier to Adoption
T-Mobile (NASDAQ:TMUS) recently announced a first round of pricing for Internet of Things devices.
For applications that use a little data, customers can get up to 5MB of data per month for $20 per year per device in the first year and just $6 per year per device afterwards. For unlimited data at 64kbps, it's just $25 per year per device, and for a limited time, these customers get $5 off the first year for each device.
I believe a price point of $2/device/month will not be an obstacle in the adoption of devices that offer a reasonable degree of utility.
While these data rates are paltry compared to the needs of modern cell phones, they are perfectly well suited to a large category of industrial and consumer devices with low bandwidth needs.
Asset Tracking: Goods, Vehicles, Bikes, Pets, People
Utility Metering: Water, Gas, Electricity, Fuel Oil
Health Monitoring: Fitness Trackers, Home Medical Devices
Safety: Smoke Detectors, Senior "Life Alert", Intrusion Detection
Telematics: Trucks, Autos, Heavy Machinery, Pumps, Grid
Smart Cities: Lighting, Parking Meters, Road Signs, Air Quality
Sensors: Weather, wind, moisture, flow, temp, runtime, etc.
While solutions exist in many of these categories, they often require permanent power and fixed line connectivity with associated installation costs. By eliminating these needs and having a low-priced module with a battery life of 5-10 years, many of these categories will be forever redefined at much more attractive price points.
8) Insider Buying
When the Sequans ADR offering was completed in September 2016, officers of the company had combined purchases of 360,603 additional shares at $1.65. See the SEC 6-K filing here. It is always reassuring to see insider's view the stock as undervalued and are willing to invest their own personal funds.
9) Institutional Ownership is Increasing
There are 6 new institutional owners reporting as of 9/30/16, accounting for 4.8 million shares. Sequans has just shy of 75 million shares issued, including about 5 million restricted shares.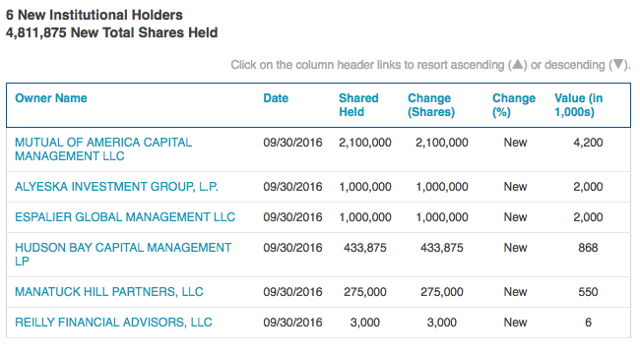 During the same period, only 2 institutions sold out of their position, accounting for only 4,294 shares.

The largest institutional owner, AWM Investment Company LLC, bought 3.2 million new shares in Q3 of 2016 to raise its ownership position to 7.3 million shares as of 9/30/16.
Total institutional ownership rose by slightly over 7 million shares (about 10% of the free shares) in 2016 Q3 to end the quarter at 26.5%.
10) Sequans Offers Huge Growth Potential
When people ask me, "Give me an example of what a Cat M1 chip would be used for?" (They say a Sequans chip but I'm paraphrasing), I tell them to think of a device about the size of 3 quarters in a stack. In it there is a chip (Monarch), a GPS chip and a battery. The device costs about $40 to buy plus another $25 a year. It goes onto your dog's collar and lasts about 5-10 years before it needs a new battery (or recharged). When your dog gets out of the backyard you pull out your cell phone which connects to the dog collar, enables the GPS chip and sends the location back to your phone. You could literally see the real-time position of your dog on a map and quickly go and retrieve him. People love their dogs (and cats) and this makes complete sense to them.
Whether the first wave of demand comes from industrial applications or consumer products it is hard to say. However, with its tiny size, long battery life and low chip price, it is simply a matter of time before innovative companies move into this realm and produce compelling devices.
With 2016 annual sales under $50 million, the impact of a win in a mass consumer device is potentially huge. The Sequans Monarch chip is likely to sell in the $4-$5 range for the chip and $7-$8 for the module, depending on volume. A single consumer device that sold just 10 million units in its first year would approximately double the annual revenue of the company.
Closing Thoughts
It is rare to find an investment opportunity in an emerging tech field that has not already been subject to inflated expectations and an equally inflated stock price. I can only attribute this exception to the fact that Sequans is a micro-cap French company with a US ADR and thus somewhat under the radar.
On that rare occasion when a tech stock has not already seen its stock price run up, it is often because the timeline for adoption of the given technology is murky. In the case of establishing a viable market for Cat 1 and Cat M1 devices, the signals from the US carriers could not be more clear. Verizon, AT&T and T-Mobile all expect nationwide deployment of these technologies by the end of 2017.
Sequans represents the confluence of five factors that make this a very rare investment opportunity.
A micro cap undervalued company.
A well-defined, huge and imminent market.
Best in class products.
Partnerships with key industry leaders.
A management team that is executing well.
I believe those investors with the foresight to buy Sequans and the patience to wait 12 months or more will be very well rewarded for doing so.
Sequans trades in the US as an ADR with the ticker symbol NYSE:SQNS. Trading volumes are typically in the range of 100,000-200,000 shares per day and it's not unusual to see fluctuations of $0.10 on a given day. For this reason, I recommend trading SQNS using a Limit Order.
Addendum
In writing this article, there was no shortage of positives to write about; however, I decided to limit the main article to 10 to make it more appealing to the average investor. For those that are interested in the reasons that did not make the short list, read on.
A1) Single Mode LTE Leadership Position
Georges Karam, CEO of Sequans, has publicly stated that he believes Sequans has a 9-month lead over its rivals, namely Qualcomm. While this is contested by Qualcomm, the facts certainly seem to substantiate Mr. Karam's assertion. A few of Sequans' achievements in this space are:
First true single mode LTE chip
First single mode Cat 1 chip certified by Verizon
First single mode Cat 1 module certified by Verizon
First LTE solution incorporating baseband, RF, memory and power management into a single chip (Monarch)
First Cat M1 chip certified by Verizon
First Cat M1 module to ship commercially
As of the date of publication, the Qualcomm MDM9206 (Cat M1) is not certified by Verizon and there are no commercially available modules using the MDM9206.
These facts strongly support Mr. Karam's claim of a lead over Qualcomm, so I am inclined to believe Mr. Karam's further assertion that the Qualcomm MDM9206 is old silicon that has been software modified to operate as an LTE Cat M1 modem. While this difference may not seem important, it gives the simpler and more integrated Sequans solution an advantage in size and price. There is no shortage of announcements regarding the Qualcomm 9206 but details are very scarce. I suspect this is an intentional choice made by Qualcomm to avert any attempts at a head to head comparison between the two products.
Qualcomm first announced the MDM9206 on October 26th, 2015. A full year later, on October 17th, 2016, it made an announcement with the rather misleading title, Qualcomm Announces Broad Ecosystem Adoption of its LTE Category M1/NB-1 Modem Designed to Support Reliable, Optimized Cellular Connectivity for the Internet of Things. In the announcement, it enumerates 5 module makers that have agreed to make modules using the MDM9206. However, upon closer inspection, we find that none of the 5 module makers were shipping a completed product (neither at the time of the announcement or at the time of writing this article) and two of the five module makers have made no product announcement regarding an MDM9206 based product.
The status of the 5 announced MDM9206 module makers:
U-Blox - SARA-R404M (Verizon) - Overdue for Q4 2016.
Telit - Various - Expected sampling Q4, available 2017.
Quectel - Expected sampling 16-Q4 \ 17-Q1
SimCom* - No product or product announcements
Wistron NeWeb Corp - No product or product announcement
*Note: Interestingly, on December 19th, Sequans and SimCom disclosed an agreement to produces modules based on Sequans Calliope (Cat 1) and Monarch (Cat M1) chips. The SimCom Cat 1 module (SIM7700V) was immediately available with the Monarch to follow later.
A2) Q3 Results and 2017 Outlook
In the Q2 conference call, Sequans provided Q3 revenue guidance of $11.5-$13.5 million and a net loss of $(0.08) to $(0.10) per share. Actual results were revenues of $12.5 million and a loss of $(0.08). Revenue was up 26% sequentially and 33% YoY. Sequans exceeded analyst expectations by $0.24 million and $0.02 per share. Additionally, gross margin increased by 2 percentage points sequentially and 6 percentage points YoY.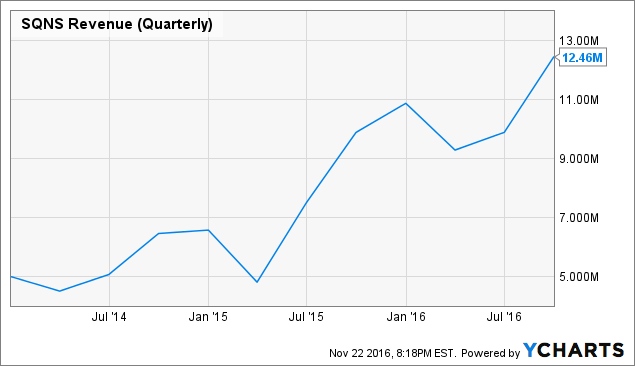 For Q4, Sequans gave revenue guidance in the range of $13-$15 million and expect a loss of $(0.05)-$(0.07)/share. If Sequans hits the midpoint of its guidance at $14 million in sales, that would represent YoY revenue growth of 27%. It is important to note that this revenue does not include any contribution from the Monarch Cat M1 chip which offers a very significant revenue opportunity as 2017 unfolds.
In the Q3 conference call, Georges Karam (Sequans CEO) had this to say about the prospects for their IoT segment in 2017:
Given all these encouraging developments, we continue to believe it is realistic to expect the IoT segment to approach a run rate of $10 million per quarter exiting 2017, with further acceleration in 2018 and beyond.
As a close follower of IoT trends and the overall LTE market, I believe that the 2017 opportunity in Cat 1 and Cat M1 based devices comfortably supports this assessment. This could put quarterly revenues at around $25 million by the end of 2017.
A3) T-Mobile is Incenting Adoption of Sequans Cat 1 Modules
In the same announcement referred to in item 7, T-Mobile also announced that it will cover the cost of a Sequans Cat 1 (Calliope) module (not Cat M1) via a bill credit from T-Mobile, up to $16 per module. For example, a device maker would order 10,000 A device maker would order X thousand Calliope modules for devices that will run on the T-Mobile network. The device maker can then claim a rebate from T-Mobile up to $16 per module.
This is an interesting announcement in that it would suggest the impending arrival of Sequans based devices onto the T-Mobile network where none exist today.
A4) Verizon Wearable Reference Kit
Companies looking to build a wearable IoT device for the Verizon network will probably use the Verizon Wearable Reference Kit. Inside that reference kit you won't find an LTE modem from Qualcomm, Intel (NASDAQ:INTC) or Sierra Wireless. What you will find is a Sequans Calliope Cat 1 modem. Companies that develop and test their product using the Verizon Wearable Reference kit are much more likely to ship their product with the Sequans chip in the final product.
Disclosure: I am/we are long SQNS.
I wrote this article myself, and it expresses my own opinions. I am not receiving compensation for it (other than from Seeking Alpha). I have no business relationship with any company whose stock is mentioned in this article.