A lot of material data on this report including a big jump in crude oil stocks, a really large build of product inventories, a very large increase in domestic production, and a return of refinery utilization rates to normal seasonal levels.
Crude oil prices (NYSE: USO) dropped about $0.50/bbl after the EIA report was released, then started to rally, and are now about $1.50/bbl higher than before the report was released.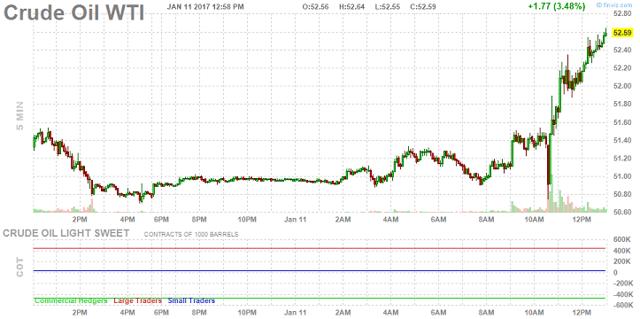 Source: Finviz.com
Stocks:
* Crude oil inventories increased by 4.1 million barrels.
* Gasoline inventories increased by 5.0 million barrels.
* Distillate inventories increased by 8.4 million barrels.
This is comparable to what happened last weeks with the key driver in ending inventories being changes in net imports that drove up or down ending stock numbers.
In last week's report we got a 18.4mm barrel increase in product inventory, combined with a drop in crude oil stocks of 7.1 million bbls and a drop in net imports to 6,497 mbpd.
This week we have a 13.4mm barrel increase in products, combined with an increase in crude oil stocks of 4.1mm bbls and an increase of net imports to 8,325 mbpd.
Overall, numbers are as bad as last week's, once changes in net imports are taken into account. Either way, during the last two weeks product inventories have increased by very alarming numbers.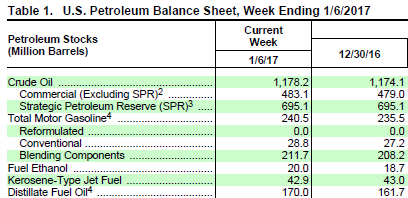 Source: EIA
Production and Refinery Utilization:
* Domestic production increased by 176,000 bpd, which at first glance is very significant. However, as we have mentioned previously, every month, the EIA releases its monthly Short Term Outlook and based on that report, the EIA adjusts the production numbers for the Weekly Inventory release of the corresponding week, so that the ending production numbers for that week, and that week only, match the monthly numbers. Both numbers, the weekly and the monthly numbers, are based mostly on models, but the monthly models match reality better.
As a result, the 176,000 bpd weekly increase did not happen over a week, but it's just the difference between the production number of the monthly report and the production number of the weekly report for the previous week. The total monthly increase in domestic production for the month ended with this weekly report was 150,000bpd.
* Production in the Contiguous United States (excluding Alaska) was reported to increase by 190,000bpd this week. This reported increase suffers from the same methodological issues detailed above. As a reference, the monthly increase in domestic production for the Lower 48 was 155,000 bpd.
* Net imports increased by 1,828 bpd, a very big jump, but a jump that only restores net imports to the level we consider to be normal given current domestic and consumption numbers but excluding inventory levels. We see the low import numbers for the previous week as the anomaly rather than the return this week to more normal levels.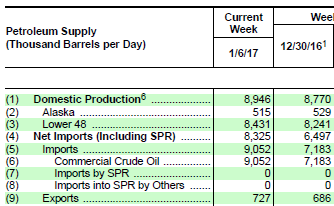 Source: EIA
* Refinery utilization jumped 160 basis points to a more normal level for the season. This follows several weeks were utilization levels were suppressed to attempt, among other things, to reduce inventory levels of products. This also explains the increase in product stocks reflected this week, but makes the rise in crude oil inventories even more disappointing.

Source: EIA
Cushing, Oklahoma:
* Cushing, OK inventories decreased by 600,000 barrels. This follows several weeks in December that registered very large increases in Cushing inventories. Cushing is near maximum historical levels and essentially at maximum operating capacity.
* Gulf Coast inventories increased by 5.8 million barrels reflecting the increase in net imports. Gulf Coast inventories are also at very high levels.

Source: EIA
Conclusion:
This weekly reports shows that the crude oil market is still unbalanced. Product inventories, as well as crude oil stocks continue to increase. As we have mentioned several times before, net imports will have to be suppressed in order for domestic inventory levels to fall.
Disclosure: I/we have no positions in any stocks mentioned, and no plans to initiate any positions within the next 72 hours.
I wrote this article myself, and it expresses my own opinions. I am not receiving compensation for it (other than from Seeking Alpha). I have no business relationship with any company whose stock is mentioned in this article.