Introduction
Uranium has been one of the worst performing commodities even during the preceding bull market since 2011 that came to an end at the end of 2016.
The bear case has been fueled by the negativity surrounding uranium after the Fukushima disaster.
The status quo for the uranium market has been oversupply and a hoarding of uranium by Japanese and other utilities as reactor restarts are delayed and delayed.
After a big two day pop following a strong multiple month move, is uranium's time finally here or is this another headfake by the cruel yellow metal?
Uranium Catalysts
Investors and speculators have long noted the many catalysts that exist for a uranium price turnaround. These include:
Reactor restarts in Japan as the Fukushima hangover weakens.
A clean energy push fueled by the Paris accords signed in 2016
India and China, the world's fastest growing economies, investing heavily in nuclear power to fuel that growth in a clean manner.
Falling uranium prices make the energy source more competitive.
Less competition and production/exploration due to low prices mean that little new supply is coming onto the market.
Many of these catalysts have been known for some time while some, like the Paris accord, are new. The problem, so far, has been that all these catalysts have no made a difference. The uranium spot price has continued its descent post-Fukushima.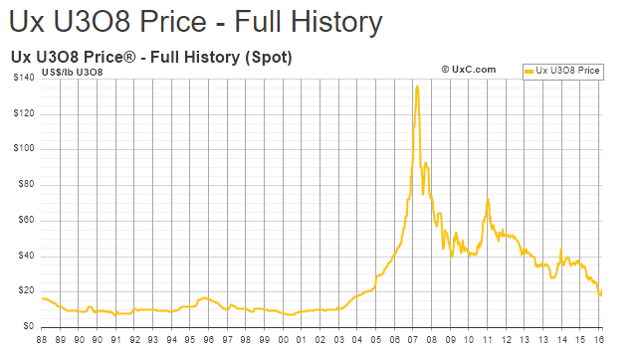 The six month price chart shows a similar story, reflecting little in the way of a post election bounce.

So why have the producers been in rally mode lately? One of the largest producers, Cameco, has had a 64% move off its lows in November.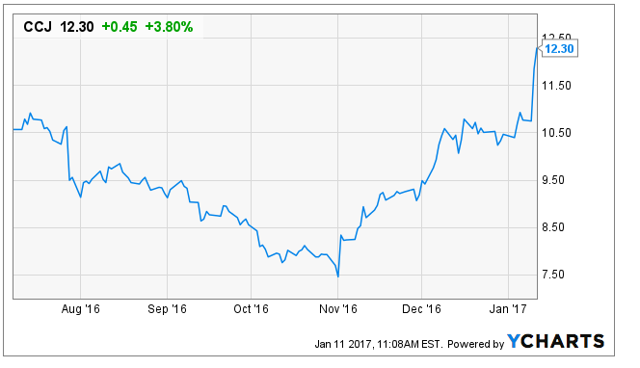 Uranium ETFs, however few there are, have followed suit also (NYSEARCA:URA).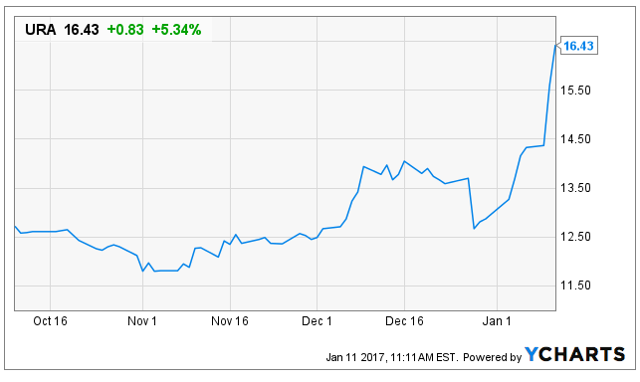 So what explains this move? Is it just a mere wobbling in a volatile market on account of increased speculation?
Has the recovery of uranium finally begun and can you now get on a rising, instead of a sinking, ship?
Kazakstan cuts production - Shadows of the OPEC Deal?
Much like the recovery in crude has been fueled by an agreement and hopes of compliance to said agreement by OPEC, so has the uranium pop been fueled by comments out of leading state producer Kazakhstan.
Bloomberg reports that they will reduce production by 10 percent this year as compared to 2016. The question is now: how high will this take uranium spot prices? Or will it just be a false move until we get hard data that production cuts are actually occurring and demand is now exceeding supply? Unfortunately, I am not a soothsayer so I cannot answer that question. We will wait and see.
What are the best bets in the Uranium sector?
So let's say you find the uranium story compelling and want to get the exposure to the sector. What are the best ways or companies to do it?
I favor individual companies, owned for the right reasons, and thoroughly researched before purchasing. Many of SA are the same, some are not.
My two favorite companies are Cameco (NYSE:CCJ), mentioned above, and an exploration concern Fission Uranium (OTCQX:FCUUF).
Cameco is North America's largest producer of uranium with a market cap of only 4b due to a multi year fall in their stock price.
Cameco is a fully integrated producer. They produce, store, transport, and trade uranium. If Cameco were an oil company they would have wells, pipelines, ships, gas stations, etc.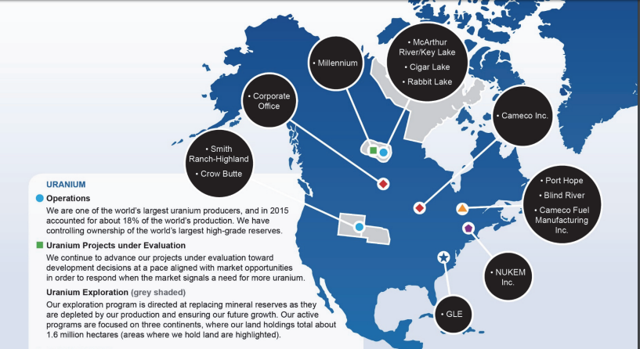 Despite the steady drop in spot prices, Cameco has been fairing decently due to the way the spot price market differs from other commodities. Uranium contracts between suppliers and utilities are signed for the long term, 15-30 years. These contracts may have prices that float or change as a percentage of the spot price but this means that companies will vary rarely be producing and selling at today's spot price.
Cameco, for example, had realized prices of ~$45 per pound in 2015 whereas the current spot price is $18-20.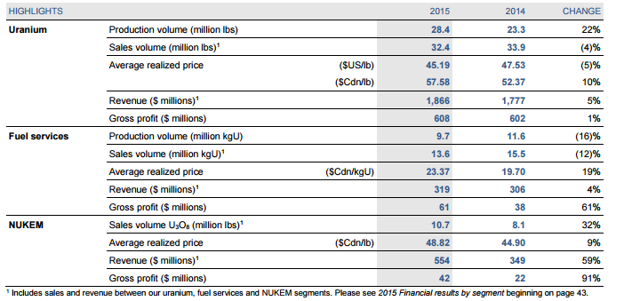 The spot price simply acts as the basis for contract negotiations when new contracts are set up rather than the "market" price for uranium they way it does for oil or coal.
When dealing with such a depressed sector it is important to look at financial health because if uranium does not recover as expected, companies might continue to fall even though many have already been pushed out of business over the past six years.
Cameco is well positioned to survive. Their debt is 1.5b against 500m in cash and they have a debt to total cap ratio of 16%.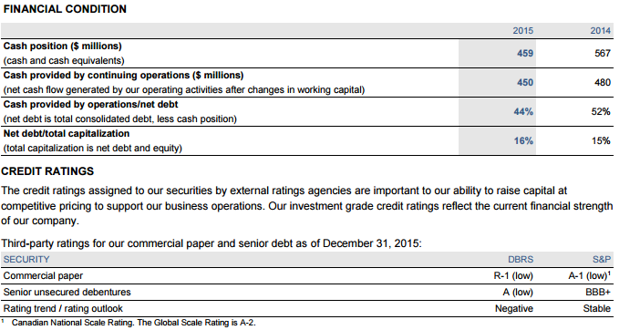 They have paid a constant and unchanged dividend for many years and have managed to stay profitable although profits have been squeezed of late.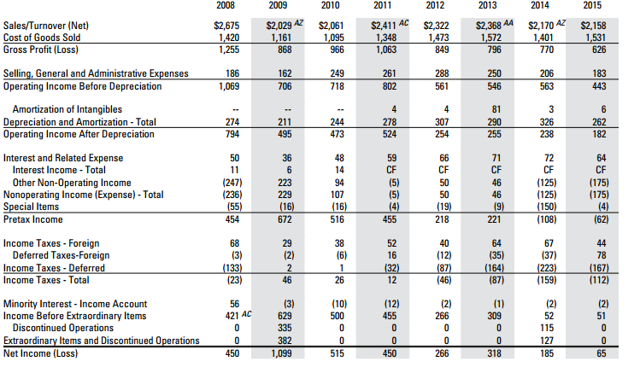 The one caveat is that Cameco has an ongoing dispute with the Canadian Tax Authority for years taxes. This tax liability is listed as immensurable by the company and could be a tough headwind in the future if they are hit with an unfavorable ruling or are unable to appeal.
Fission Uranium
Fission Uranium (OTCQX:FCUUF) is a much more speculative pick than Cameco, which is one of the largest producers in the world. FCU has no revenue-it is an exploration company.
Fission's primary asset is the Patterson Lake South deposit. PLS is a high grade uranium deposit in the Athabasca basin, the Canadian area where many of the best uranium mines are found. Cameco has operations there as do many others producers.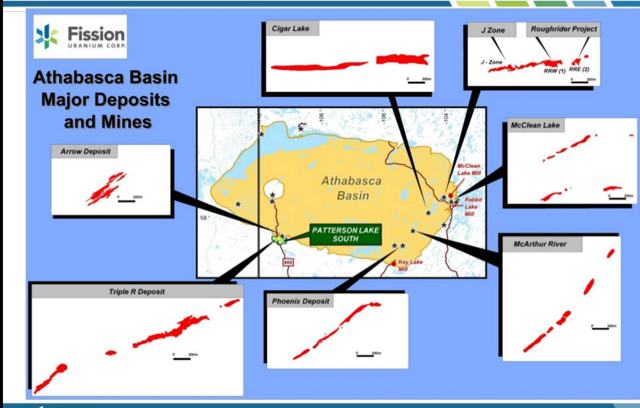 This deposit has undergone drilling. This has been promising so far, but there is still much drilling to be done. The one disadvantage to this deposit is that it is, well, under a lake. Hence the name Patterson Lake South.
This is not as scary as it sounds as other deposits under lakes are being mined currently. It does mean that the project is not as cheap as it otherwise might be but still has the potential to be attractive.
In my opinion, the best thing Fission has going for it is the backing of Chinese mining giant CGN. About a year ago CGN invested $82m in Fission. This strong backing gives Fission a possible future financial partner to continue to secure financing and also opens the door for an acquisition down the road as the mine progresses toward production.
Fission Uranium should need to raise capital in the later half of this year to continue exploration as it had $53 million in cash as of Sept. 30, 2016, which is likely now below $40m.
Fission is a much riskier stock than Cameco for many reasons. Its mine may never come into production and if it does it will not be for many years. The costs to construct the mine and finish exploration are extensive and the current cash reserves of the company are nowhere near enough to cover it. Multiple capital raises are in store.
That being said, Fission does have a potentially world-class deposit and could be a great play for those who want a more volatile and speculative way to approach the uranium sector.
Conclusion
Uranium stocks and ETFs have spike in the past couple months and in the past few days due to production cuts from sovereign producers. Whether the market turns around fully is unknown but a rising price is possible if more reactors come online and the oversupply held by utilities is worked through.
I have outlined my two favorite ideas for playing the possible uranium recovery, one very conservative and one speculative.
Disclosure: I am/we are long CCJ, FCUUF.
I wrote this article myself, and it expresses my own opinions. I am not receiving compensation for it (other than from Seeking Alpha). I have no business relationship with any company whose stock is mentioned in this article.
Editor's Note: This article covers one or more stocks trading at less than $1 per share and/or with less than a $100 million market cap. Please be aware of the risks associated with these stocks.