Many readers remember my January 2nd article about a 'fake' news story concerning a potential Salix sale from Valeant (NYSE:VRX) to Takeda (OTCPK:TKPHF). The article can be found here.
This rumor suggested that Takeda secured several billion in financing and was planning to purchase either Salix or the entire equity value of Valeant. Valeant and Takeda have been in talks over a potential sale of the Salix gastro division, and so this news was seen as a potentially bullish catalyst for the stock.
It turns out that, while fundamentally incorrect, the rumor had a grain of truth. Takeda was planning an acquisition; however, instead of buying Valeant's Salix, the Japanese gastro-pharma bought ARIAD (NASDAQ:ARIA) - an oncological business with a strong pipeline and significant pricing power.
ARIAD stock surged 70+% on the news; Takeda posted a modest 6+% gain, and Valeant remained relatively unchanged.
Investment Thesis(s)
I) Valeant shareholders
For Valeant shareholders, this news is moderately bad. I believe a Salix sale is one of the best ways for the firm to put a serious dent in its debt load without issuing dilutive equity.
For short-sellers, this is good news because it removes a significant risk factor for shorting the stock. Asset sale rumors have the potential to create significant upward volatility, and short-selling VRX is safer with this risk taken off the table.
II.) ARIAD Shareholders
Many ARIAD shareholders have reached their goal: acquisition. After the stock's 70% rally, I do not see much more upside going forward. ARIAD stockholders will receive $24.00 per share in cash.
Great job on an excellent investment!
III.) Takeda Shareholders
This acquisition is great news for Takeda shareholders. Despite the synergies Takeda's gastro-portfolio had with Salix, the business was expensive at $10+ billion, several of its drugs were already facing generic competition, and it may have suffered from cost-cutting and streamlining during the Valeant acquisition.
ARIAD, in contrast, is a growing super-growth firm with generic competition far in the horizon. Its pricing power is reliable, and it sees significant success in its FDA process.
ARIAD's flagship drug, Iclusig, is undergoing trials in Japan - Takeda's home market. There is lots of synergy in this acquisition. The purchase of ARIAD will help stem the revenue declines Takeda has seen in its portfolio over the last few years.
Analyzing Pharmaceutical Rumors
Remember that game called telephone many of us played as kids? We would stand in a line, and someone at the far side would tell a word or phrase to the person next to him until eventually, it reached the end of the line.
By the time the phase got to the last person in line, it has materially changed from what it was intended to be.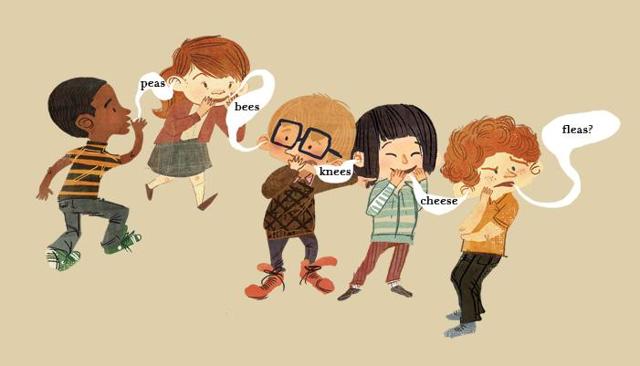 (Source)
This is, perhaps, the same thing that occurs with pharma rumors. There was indeed a grain of truth expressed in the Intereconomia rumors. Takeda was planning a multi-billion dollar acquisition, so what went wrong?
I believe the company insider who leaked the news was only aware of Takeda's financing moves - they knew the company was raising money, but they didn't know what it planned to do with that money.
As the news passed through the line, people's assumptions and interpretations changed it until it was materially different from the truth. This is all very cool stuff, and I think investors who can accurately interpret these leaks can make a lot of money with this, potentially, market-beating information.
Takeda and ARIAD: Sitting in a Tree
ARIAD has three major assets, described here. Quotes are directly from the firm's 10-Q.
Iclusig® (ponatinib) is our first approved cancer medicine, which we are commercializing in the United States, Europe and other territories for the treatment of certain patients with rare forms of leukemia. In 2015, we generated $112.5 million in net product revenue from sales of Iclusig, and we intend to continue to focus our commercial efforts in the United States and Europe, while we seek to extend our geographic reach outside these territories through regional distributorships and collaborations. In late 2014, we secured an exclusive agreement for the co-development and commercialization of Iclusig in Japan and nine other Asian countries with Otsuka Pharmaceutical Co., Ltd., or Otsuka, for which we received an upfront payment of $77.5 million and are eligible to receive additional milestone payments. We are conducting additional randomized clinical trials to evaluate Iclusig at lower starting doses and in earlier lines of therapy, which, if successful and approved, could potentially expand its addressable market.

• Brigatinib (previously known as AP26113) is our next most advanced drug candidate, which we are developing for the treatment of certain patients with a form of non-small cell lung cancer, or NSCLC. In 2014, brigatinib received a Breakthrough Therapy designation from the U.S. Food and Drug Administration, or FDA, for the treatment of patients with ALK+ NSCLC who are resistant to crizotinib, and we initiated a pivotal Phase 2 trial in these patients. We completed enrollment of this pivotal clinical trial in the third quarter of 2015, and, assuming favorable results, expect to file for regulatory approval in the United States in the third quarter of 2016. In addition, in the second quarter of 2016, we plan to initiate a randomized trial of brigatinib vs. crizotinib in first-line patients, which, if successful, would expand the potential commercial opportunity of the drug candidate.

• AP32788 is our most recent, internally discovered drug candidate, which we are developing for the treatment of patients with NSCLC with specific mutations in the EGFR or HER2 kinases. In December 2014, we nominated AP32788 for clinical development. We submitted an investigational new drug application, or IND, to the FDA in December 2015, and we plan to commence a Phase 1/2 proof-of-concept trial in 2016.
Takeda's $5.2 billion purchase of ARIAD is a great match. The acquisition diversifies Takeda out of its specialized gastro field and into ARIAD's high-margin specialty oncological niche.
ARIAD's drugs have massive pricing power, and this is the sort of thing Takeda needs considering its rapidly declining revenue.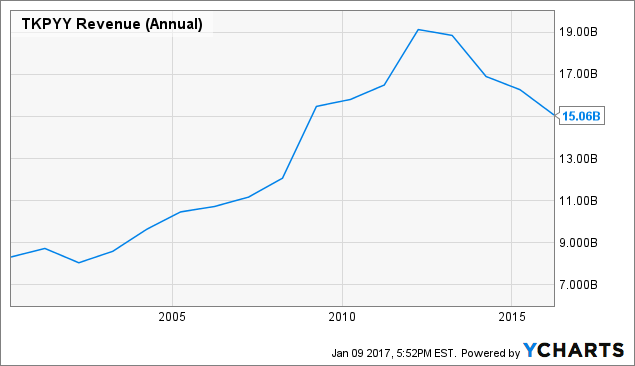 Iclusig, ARIAD's sole marketed asset, is making a push into Japan and nine other Asian countries. The drug was recently approved by the Japanese authorities in September 2016 for the treatment of Leukemia.
ARIAD doesn't have a fully-fledged pharmaceutical business in Japan, at least not to the extent that it can develop and commercialize its products without outside help. The company has relied on Otsuka Pharmaceuticals (OTCPK:OTSKY) to commercialize its drugs in Japan, but with the Takeda acquisition, the combined firm should be able to cut out the middle man and integrate Takeda's fledgling Japanese operations into Takeda's existing infrastructure.
Takeda has a strong gastro-portfolio, but it also has a growing oncological division with three products in Phase 3 for the Japanese market. In addition, the firm has been pushing hard to grow its presence in the blood cancer market. Iclusig, as a leukemia drug, will be a strong addition to this division.
ARIAD's North American operations have already successfully commercialized Iclusig in the United States. The drug sees good revenue growth, but at less than $200 million in annual sales and a massive R&D/commercialization expenditure, Takeda's $5.2 billion buyout is expensive. Takeda seems to be very optimistic about the firm's growth potential, pricing power, and pipeline.
ARIAD has come under scrutiny for its pricing policy in the past. Perhaps, Takeda, a non-American firm, will be less beholden to the court of U.S public opinion. In fact, some commentators believe that ARIAD's massive price hikes are a big reason why it attracted such a large acquisition price.
The Negatives
ARIAD is very expensive at $5.2 billion, especially considering the firm's sub-$200 million revenue and negative EBITDA (mainly due to R&D). It's interesting that Takeda was willing to pay so much for a business that will take billions more in investment to make profitable.
Salix, on the other hand, has drugs that are already generating $1 billion+ in revenue alone (Xifaxin) and are still being developed for additional indications. The Salix division also generates EBITDA.
Why did Takeda low-ball Valeant so hard on the Salix deal? $10 billion for Salix doesn't seem very extreme for a firm willing to pay $5.2 billion for ARIAD. Perhaps, Salix is weaker than we think. However, even I, as a Valeant bear, am not fully convinced the ARIAD deal was a better value (the market disagrees, Takeda shares were up 6%.)
Valeant Alone in the Corner
Valeant has long promised asset sales, and investors are once again left disappointed. The company's $30 billion debt load is staggering and a huge drain on the company. In addition, it suffers from declines in many of its core businesses.
Valeant's management has acknowledged the power of divestitures to unlock value in the stock, and it is willing to sell 'anything' for the right price. Nevertheless, it looks unlikely that Valeant will be able to sell its Salix division. Takeda was simply the most synergistic potential acquirer because its desire to dominate the U.S gastro-market could perhaps induce it to overlook some of the generic competition and other problems in the Salix business.
Some Valeant shareholders simply do not care about this news. They don't want Valeant sell Salix and believe Valeant will be better able to create value by simply investing in the division.
Valeant plans to do this. The company has already expanded the Salix sales force and is developing its flagship drug, Xifaxin, for new indications and a new formulation called 'next generation Xifaxin'.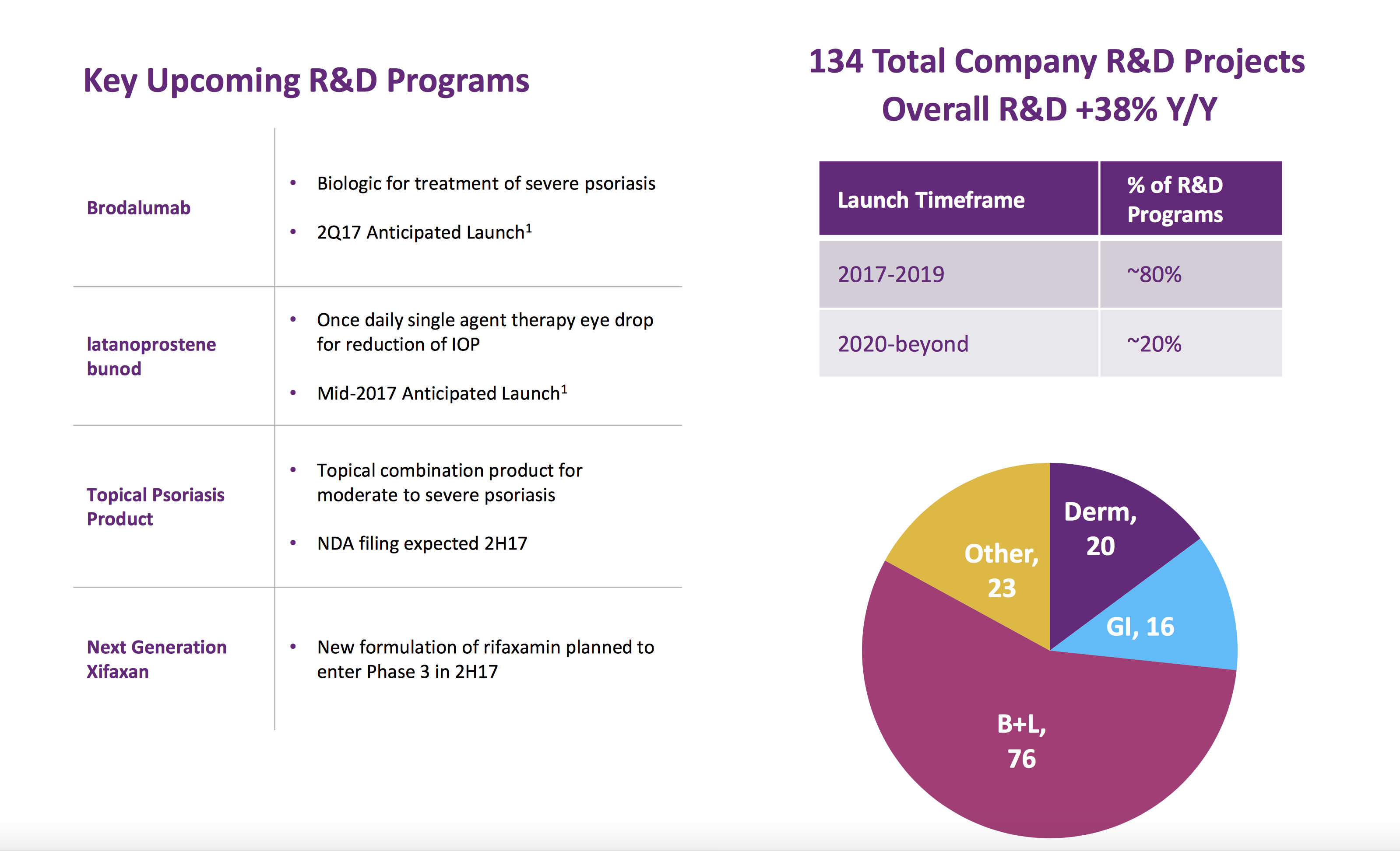 Source: VRX third quarter PDF
Conclusion
The pharmaceutical drama continues, but instead of an awkward courtship, it has become a love triangle. Takeda has bought ARIAD instead of Salix, and this move is ideal for both the Japanese firm and its acquisition. While ARIAD doesn't synergize with Takeda's gut drug portfolio, it makes up for this with its rock-solid pipeline and synergies in Takeda's Japanese home market.
As for Valeant, the news is mixed depending on your investment goals and direction. If you are short, a huge risk factor has lifted from your back. You no longer have to worry about a surprise $15 billion acquisition doubling Valeant stock overnight.
I don't think most Valeant short-sellers realized how great the danger was shorting this stock while acquisition rumors were swirling. This is the reason why I am not short VRX (aside from my experimental position) despite my bearish outlook.
Valeant short-sellers can now comfortably hold their short positions until the fourth quarter result if they believe it will disappoint. Pharma rumors can be used to make a decision on this catalyst. Remember, Valeant's third quarter disappointment was leaked, and this rumor turned out to be true.
Click on the icon next to my moniker, and follow International Perspective for the latest news regarding pharma rumors and what to expect in Valeant's fourth quarter.
Disclosure: I/we have no positions in any stocks mentioned, and no plans to initiate any positions within the next 72 hours.
I wrote this article myself, and it expresses my own opinions. I am not receiving compensation for it (other than from Seeking Alpha). I have no business relationship with any company whose stock is mentioned in this article.
Editor's Note: This article discusses one or more securities that do not trade on a major U.S. exchange. Please be aware of the risks associated with these stocks.