Brief Business Description
Gladstone Land (NASDAQ:LAND) operates as a real estate investment trust (REIT) focused on purchasing and leasing farmland within the United States. The company has been focused on increasing its tenant base and increasing the diversity of its farm portfolio, including a variety of crops. It currently owns 57 farms, which were valued in the most recent quarter at $386 million. Gladstone Land has a large amount of financing available to pursue acquisitions through both equity and/or debt issuances, and through its $150 million term loan MetLife facility. We view the company's ability to utilize the capital markets as a competitive advantage, given many of its competitors are small private investment vehicles. Gladstone Land currently trades for a market capitalization of $110 million with a trailing 12-month revenue of roughly $16 million.
Source: Gladstone Land Investor Relations
Investment Overview
Gladstone Land offers investors an opportunity to own farmland throughout the United States. The company does not manage the farms but leases them to farmers on a triple net lease basis. We view this strategy as favorable, as it provides investors with a greater ability to forecast revenue, as most of these leases are for greater than five years with annual escalation clauses.
The company also is benefiting from numerous favorable demographic trends. According to real estate website Wildlife Properties, U.S. farmland has been increasing in value every year since World War 2 except for the four years (1983, 1985, 1986, and 1987). Additionally, Gladstone Land is likely to benefit from the growing population, which is predicted to reach 9.7 billion by 2050 according to the United Nations Department of Economic and Social Affairs. This increase in population is also projected to be accompanied by a decline in the amount of farmland available. According to the U.S. Department of Agriculture, total farmland in the United States has decreased by one million acres since 2014, equaling roughly 18,000 farms. The increasing demand and need for agriculture, coupled with a decreasing supply of farmland, will likely increase the value of Gladstone Land's diversified farmland portfolio. The company has aggressively continued its acquisition of farmland to benefit from this trend. During the third quarter of 2016, the company acquired nine new farms consisting of roughly 10,344 acres for approximately $40.4 million. These acquisitions were done at an average capitalization rate of 4.8% according to the company's press release, with the opportunity to move this metric higher in the coming years. The company also historically has been able to command greater lease rates upon agreement expirations with its clients.
Gladstone Land has also been able to finance its acquisitions at a lower cost of capital than other farmland purchasers. Its borrowing facilities range from interest rates of 2.92% to 3.2% for its credit facilities, according to company documents. Recently, the company also priced a preferred stock offering of $28.75 million with a 6.375% coupon, providing adding cash when needed. We believe Gladstone Land will be able to use the capital markets when needed at favorable terms given the predictability of its revenue streams and the asset oriented nature of its business. The company also had a strong third quarter in terms of adjusted funds from operations (AFFO) and was able to fully cover its distributions for its fourth consecutive quarter according to its press release. AFFO is derived from CFFO after being adjusted for non-cash items such as straight lining of rents and amortization into rental income, according to the company's financial statements.
The company also has historically functioned as an inflation hedge according to a recent Wall Street Journal article. Farmland likewise does not correlate as much with stocks and other asset classes making it a good addition to further diversify a portfolio. Farmland prices have also increased substantially over recent history. High net worth investors have been looking to invest in this class through custom funds in order to receive relatively consistent income streams in the form of rents from farmers. There was not a way retail investors could directly invest in farmland until the recent initial public offerings of these two U.S. farmland REITs, the other one being Farmland Partners (NYSE:FPI). Gladstone Land has been steadily growing its revenue (see below) and has maintained a consistent net asset value (see below), trends we expect to continue over time.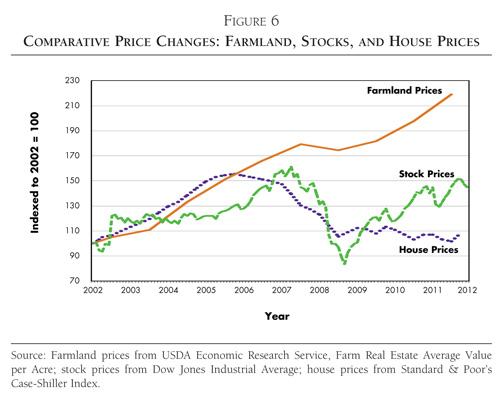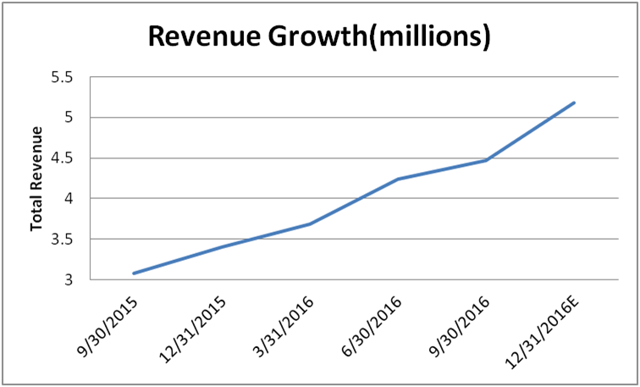 Source: Gladstone Land Financial Filings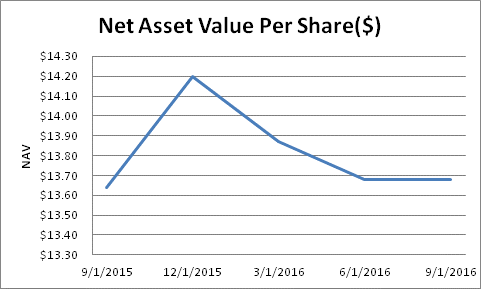 Source: Gladstone Land Financial Filings
The company also has been very active in maintaining and cultivating relationships with both farmers and regional land brokers. We view this as a good way to source timely deals as they arise and find unique regional investment opportunities for investors. Gladstone Land lists a number of testimonials on its website, and we view its strong relationships with the various farmland property markets as a distinct competitive advantage. Given the competitive nature of sourcing farmland and its obvious regional basis, having these relationships is necessary to provide attractive returns for investors.

Source: Gladstone Land Website
Strong Management
The company is led by David Gladstone who is the company's chief executive officer and its largest shareholder. Mr. Gladstone brings extensive experience running public investment vehicles through his leadership at Gladstone Companies, one of the world's leading investment managers. David Gladstone also owns roughly 19.5% of the outstanding shares of the company and has consistently purchased shares in the open market. More information concerning his background can be found on his public LinkedIn profile, but he is also a graduate of Harvard Business School. The CFO of the company, Lewis Parrish, brings a strong background as an experienced public accountant. Additionally, Mr. Parrish has been purchasing shares around current prices. While there are numerous reasons insiders sell shares, there is usually only one reason they purchase shares: they feel they are undervalued.
Catalysts
There are numerous catalysts which can move Gladstone Land's shares higher. Firstly, new acquisitions will continue to increase the company's earnings and will put the stock on larger funds' radars; as of now, the company's small size prohibits many larger funds from investing in the stock. Additionally, a dividend increase (as a result of larger rental cash flows from acquisitions) may create increased demand for its stock given the current low yield environment within the United States. Finally, the company also has the potential to improve its margins by leasing multiple properties to tenants in closer geographic proximity, which allows the tenant to reduce their operating costs and minimize manual expenses. As Gladstone Land's tenants enjoy greater economies of scale, the company will have a greater ability to command higher capitalization rates from tenants, boosting its earnings power. Finally further efforts by the company to boost its investor relations should benefit its stock. We noticed an active initiative to do so from a recent job posting on the company's website seeking an investment banking managing director, with one of the job's responsibilities consisting of building analyst coverage (see below).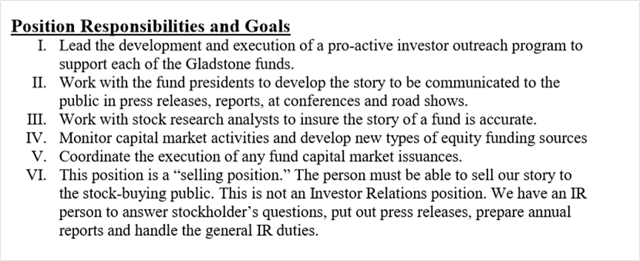 Source: Gladstone Land Career Page
Valuation
Given the more asset oriented nature of this business, we feel the best way to derive a price target is to use net asset value as opposed to a discounted cash flow. We believe net asset value provides some floor to the stock's downside movement in comparison to technology companies such as Facebook (NASDAQ:FB) or biotechnology companies such as Gilead (NASDAQ:GILD), given, even in a liquidation scenario, the land can still be sold for millions. The net asset value as of the third quarter of 2016 was $13.68 per share, but we also provided a sensitivity analysis to see how much the actual net asset value could vary from projections and still provide investors an attractive return. Given this is an independent valuation and land valuations tend to be less subject to financial assumptions than other asset classes, we feel confident with the fact that the valuation would have to be overly optimistic by over 10% before investors suffer losses. Given slight assumptions involved in land valuations, we are setting a 12-month price target of $12 per share; coupled with the 5% annual yield, this would offer investors a return over 12% over 12 months if our price target is achieved.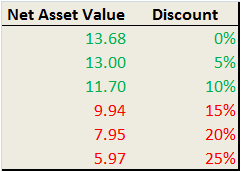 Source: Gladstone Land 10-Q Filing/Author Analysis
Risk Factors
There are various risk factors to investing in Gladstone Land. Gladstone Land is a micro-cap stock, with a current market capitalization of only $111 million, which poses certain liquidity and operational risks. Additionally, 24.8% of LAND's revenue is currently derived from one tenant (Dole), although the company continues to diversify its tenant base. Additionally, although historically farmland has functioned as an inflation hedge and has grown in value, there is no assurance this trend will continue going forward.
Summary
Gladstone Land offers an attractive dividend yield with the management targeting to raise this going forward. In addition to the attractive yield, the company is significantly undervalued relative to its much higher net asset value of approximately $14 per share. Aside from being a well-run business with a strong CEO, we see numerous catalysts for the stock in the near term including: continued acquisitions of farmland at attractive capitalization rates, company raising the dividend rate, and larger investor relations efforts to promote the investment thesis to new investors. As retail and institutional investors continue to learn of this small capitalization growth story, we expect the stock to reward long-term shareholders.
Disclosure: I am/we are long LAND.
I wrote this article myself, and it expresses my own opinions. I am not receiving compensation for it (other than from Seeking Alpha). I have no business relationship with any company whose stock is mentioned in this article.