Opening
It didn't take long for the market to respond to comments made by President-Elect Trump. At first, the reaction was sharp and violent, then like a sunrise, a feeling of peace and hope emerged.
During the press conference it was mentioned, once again, that the soon to be President said drug companies were getting away with murder and is calling for a new bidding process. With that the Nasdaq Biotech ETF (NASDAQ:IBB) fell from $285.50 to $275.50 in a nearly straight line. That is a near-4% drop in the ETF and the carnage across some individual names was far worse.
Breakdown
When I heard and then later read what he said, it was that we don't bid properly. What does that mean? To me, this only means that there is little-to-no competition, and he plans to figure out ways to give incentives to companies to bring drug prices down on their own to remain competitive. I just spoke about this the other day in my article The One Sector That Could Be Heating Up.
Now on to the part that I found encouraging through all of this mayhem. Perhaps we are learning about the conviction of the buyers we have seen in the biotech group. It would be easy for traders who just made a fairly good return to start the year to sell and the short sellers to pile in. However, this hasn't happened yet. The momentum to the downside seemingly stopped, in our magical, special place.
It may be too early to tell, however, signs of holding support are encouraging for two reasons. The first reason is that sector is much stronger and the conviction we have seen in the industry is much stronger than I first thought. Second, it tells me the shorts are not eager to pile into this group.
Also, from a technical perspective, it is encouraging as well, as the IBB quickly broke lower and almost immediately traded to the $276 area of support that I wrote about the other day. The IBB snapped higher, and about an hour later, retested that level.
IBB 30 Second Chart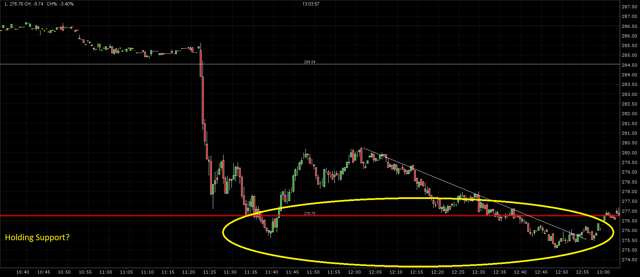 (Interactive Brokers TWS)
IBB Daily Chart
(Interactive Brokers TWS)
In all likelihood, there were no humans that were even involved in the initial push lower in biotechs within seconds of the mention of the word drugs. It was the machines, the algos, reading headlines and playing catch-up. People (at least I can't) think fast enough and act quick enough to be able to listen to and process the information and then take action.
I think anyone who is an investor at this point should realize that the Trump Administration is going to be very different than past administrations. We will all need to get used to the fact that he may very well say something off the cuff that could potentially be damaging or helpful to a sector or company. However, this will be the world in which we all need to get adjusted to. The market will have to "price in" the Trump Effect. We will know if the Trump Effect has been priced the day the market doesn't react.
Today's news about drug pricing is nothing new at all. We have been hearing about it for months now. There was nothing said, in my opinion, today, that we have not heard about over the course of nearly the past year.
If the IBB and the group manage to survive the rest of the day and hold these support levels around $276, I happen to think it is incredibly bullish for the sector and the market in general.
Summary
In my opinion, I learned nothing new today from the press conference I didn't already know regarding drug prices. In fact, I may have even gotten another clue which points to me the new administration is looking to spur competition in pricing within the sector. Competition is a good thing, not a bad thing. After all, more competition likely brings more consolidation, think of it that way.
Remember in our research area we offer video market commentaries and track market themes and trends. If you'd like to get a full listing of the different items we currently have a rating or view on, you can find a list in our research area. Remember, if you like reading these commentaries, make sure you follow us with that little "+" button at the top of the page next to our name.
Watch Our Reading The Markets Video where we talk about potential Trump Policies and their impact on the markets.
Disclosure: I/we have no positions in any stocks mentioned, and no plans to initiate any positions within the next 72 hours.
I wrote this article myself, and it expresses my own opinions. I am not receiving compensation for it (other than from Seeking Alpha). I have no business relationship with any company whose stock is mentioned in this article.
Additional disclosure: Mott Capital Management, LLC is a registered investment adviser. Information presented is for educational purposes only and does not intend to make an offer or solicitation for the sale or purchase of any specific securities, investments, or investment strategies. Investments involve risk and unless otherwise stated, are not guaranteed. Be sure to first consult with a qualified financial adviser and/or tax professional before implementing any strategy discussed herein. Upon request the advisor will provide a list of all recommendation made during the past twelve months. Past performance is not indicative of future performance.