Boeing's (NYSE: BA) 2016 order and delivery numbers are being pored over by many analysts. What can we distill from the data? Looking at the 2016 numbers, one must step back and use previous years as context.
To start with, look at the history of the business from the perspective of the top ten customers. The top ten are defined by cumulative orders or deliveries over the period. As we can see, the top ten customers have a significant impact - the typical 80/20 rule does not apply.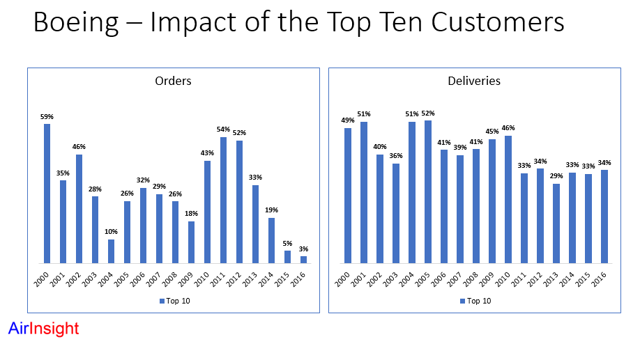 But even as we see that the top ten customers have this impact, note that these customers have cut back on orders since 2012. Orders take time to deliver, so we can see that the historical order surge is still working itself out in deliveries.
But Boeing can be expected to start slowing production, as the company sees the same skyline we do here. 777 production is likely to have another cutback. Possibly the same for the 787. Indeed, the latest pending layoffs are an indicator of increased production automation and better pacing of production with the backlog.
Which are the customers driving these decisions at Boeing? The following charts lay that out.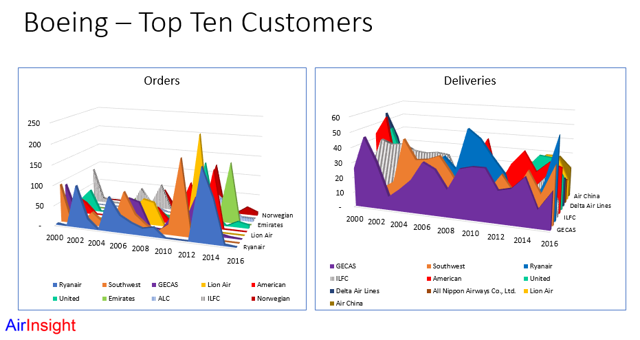 As we see, the top ten order customers are the names you'd expect (perhaps excluding Lion). The top ten buy in spurts - sometimes three or four times per decade. These customers are known to have viable business models. In other words, these are customers Boeing can rely on - they will take delivery.
Among the top ten delivery customers we also see well-known brands. Pay special attention to the big lessors, GECAS (a division of General Electric (NYSE: GE), ILFC (a division of AerCap Holdings (NYSE: AER)) and Air Lease Corp. (NYSE: AL). It is these customers that create market liquidity. As the business cycle fluctuates, it is their fleets that can be moved around from weaker markets to stronger ones. OEMs like having lessors making markets.
We suggest that Boeing's top ten customers are the strongest industry brands. They account for a lot of the company's orders and deliveries. That said, orders peaked some time ago, and Boeing is going to see a book-to-bill ratio under 1 in 2017, as it did in 2016.
So while deliveries look to be stable for some time - the backlog is large, especially on the 737 - there is a concern about when orders start to come back.
Disclosure: I/we have no positions in any stocks mentioned, and no plans to initiate any positions within the next 72 hours.
I wrote this article myself, and it expresses my own opinions. I am not receiving compensation for it (other than from Seeking Alpha). I have no business relationship with any company whose stock is mentioned in this article.